6 Awesome Ways to Celebrate Your Baby's Milestones
---
As a mom of three with my youngest turning 1 this month, I can attest to the fact that babies are absolutely a blessing. Their first year will surely be full of many milestones, and a parent, watching them develop new skills and reach different developmental benchmarks is exciting.
As they grow, we all choose our own ways to acknowledge our child's growth achievements as they occur, so I would love for you to use this as a guide to celebrate your child's awesome big moments in your own way!
Whether you're looking for ways to commemorate your baby's first step or the first time they roll over, there is sure to be a unique way to make memories with your child. Check out these six great ideas to give you a head start!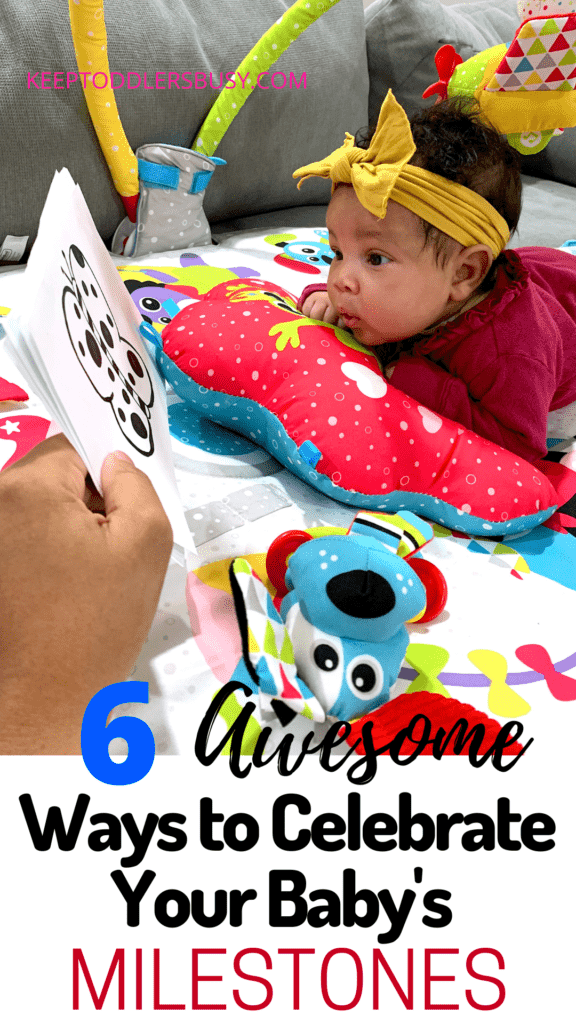 Create Customized Clothing
This is a fun one. There are so many special milestones in a baby's first year, their first smile, when they start to sit down, and of course, their very first steps. And what better way to remember these precious moments than by creating customized clothing?
You can opt to make shirt, onesie, or even baby shoes that feature your child's name and age to celebrate the moment. Whether you do it yourself or purchase them, personalized clothing is always a hit. I always say baby may not remember, but it's always great to have cute pictures for the entire family to look at later.
Take Photos (printed) and Videos
I know this is pretty much a given, but even as a blogger you wouldn't believe how many photos I have missed that I wish I would have taken!
And as you can see below, they don't have to be perfect! I try to at least get in a few photos instead of always being the one to take the photo, i.e. proof of mom 🙂
I am a little old school and believe it's still important to create a dedicated photo album or even a video montage that features all of their special moments from the past year. Anything goes, from newborn portraits to baptism pictures to first birthday shots and everything in between.
I made it a point to try to have a book for each baby so that they can keep it in their rooms as they get older. I add to it little by little.
Create Keepsakes from Your Baby's Favorite Activities
Creating keepsakes is a great way to celebrate your baby's milestones. An example would be creating high-contrast cards with your little ones' favorite images and then dating them.The high-contrast images help your baby to develop their visual skills, and the cards are a fun way to track your baby's progress. To create high-contrast cards:
Print out black-and-white images of your baby's favorite things. You can also add text to the cards if you wish.
Cut out the images and glue them onto cardstock.
Decorate the cards with ribbons, buttons, or other embellishments. Indeed, your baby will love looking at these beautiful cards.
Creating images with your baby's favorite things and a date can be a great keepsake for years to come.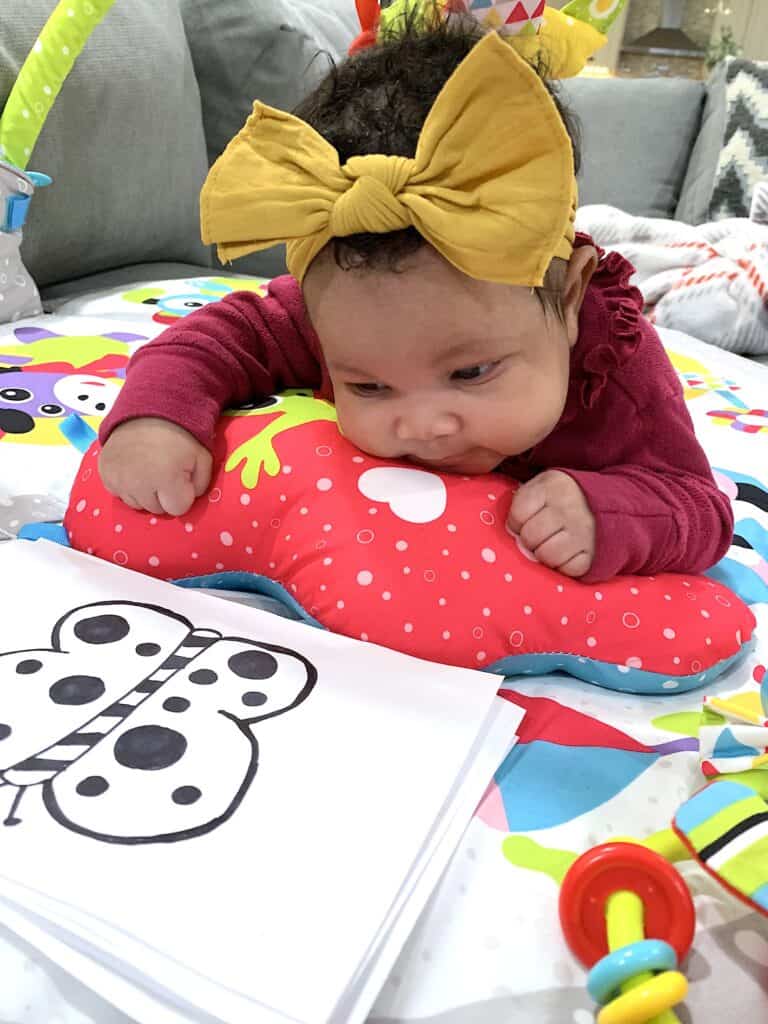 Throw In A Themed Celebration
Throwing in a themed party (big or small) is a great way to show off your creativity and personality and you and baby have a memorable moment. It can be as small with just immediate family (my fav) or you can invite a large party as well.
Regardless how you choose to celebrate, carrying out a theme with decor, outfits, a cake, and whatever else you like can be super fun!
While the kids are young, I love to do cute decorations and a cake while skipping the large guest list, but that's just me! Take a look at one of our traditional birthday mornings below!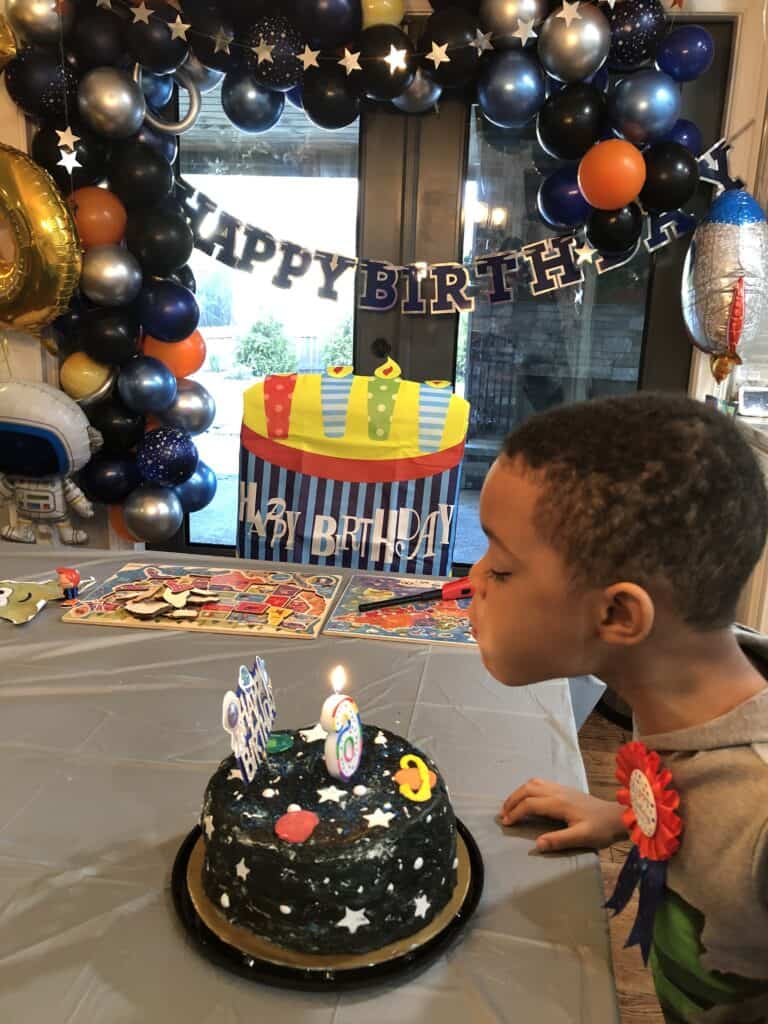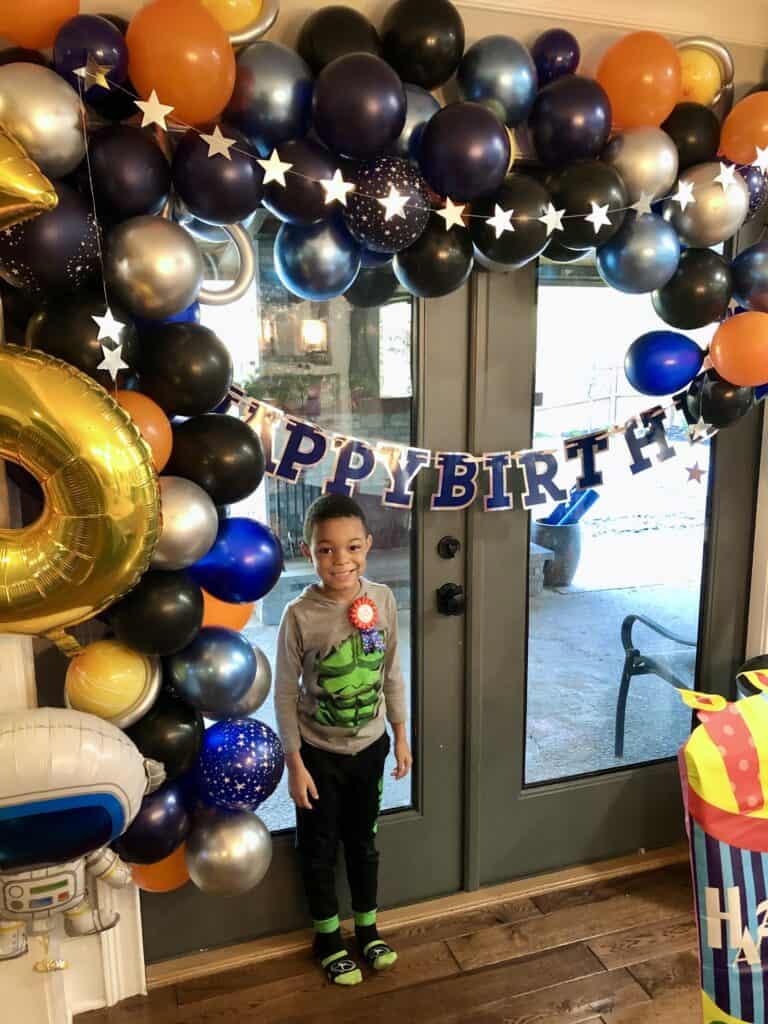 Frame Milestone Certificates As Artwork
A cute idea for possibly a child's bedroom is to frame milestones in a creative or unique. Some great tips for this idea include:
Choosing multiple frames to build a collage on the wall. You want the frame to be an accent though, not the focal point.
Find milestone certificate templates online like the one here.
Use acid-free matting to protect the certificate. This will help to prevent the certificate from yellowing over time.
Match the frames to the room's theme if possible.
Choose what is important to you! Have fun with it!
Start A Blog
Now I may be a little biased (hehe), but what better way to celebrate your baby's developmental stages than by starting a blog? A blog is a perfect way to share your baby's special moments with family and friends or it can even turn into something that helps others around the world.
It can also be an excellent way to meet other parents going through similar experiences. You can write good blog posts, by sharing tips on dealing with everyday challenges or funny stories about parenthood, for example.
Remember that as long as you enjoy what you're doing, starting a blog can be a rewarding experience for years to come and so many of your memories can be in one place.
Children are bundles of joy, and their first year is a magical time full of beautiful milestones. Whether you throw a themed party for your little one's birthday or craft thoughtful visual memories to commemorate their achievements, there are many ways to celebrate your baby's milestones. So go ahead and embrace the wonder of parenthood – you won't regret it!
Please comment below and let me know how you celebrate your children's milestones!! I would love to see some additional ideas!
I've been an activity mom for almost 9 years and have over 15 years of experience crafting, writing, and creating. My mission is to bring fun, balance and learning to your busy homes with activities, tips, inspiration, and organization!