My Best Tip on How to Remove Stains Carpet Cleaners Won't Remove
A few days ago I experienced one of my first epic mom fails in a very long time lol. Don't get me wrong, I have experienced many in the past (haven't we all?), but I was pretty happy about keeping my head on straight and making fairly good decisions when it comes to my 3 year old and 15 month old 🙂 Well that all changed recently and I'll tell you how below. Fortunately, this epic fail turned into a blessing in disguise because I am now able to share my new secret on how to remove stains carpet cleaners wont remove. Quite frankly, I'm ecstatic lol.
So recently I decided that it would be a good idea to give both of my children a mix of water and RED Punch. And I'm not talking about that watered down juicy type of red. I'm referring to the punch that without a doubt has the strongest of red dyes known to man, perfectly formulated to stick to any fabric or carpet with no way of being removed. Let's not forget the fact that I try not to give my kids things with dye in it to begin with, except for this day. Sigh.
So here we were, my kids and I, big red splotches on the floor, even though my kids usually finish their drinks pretty quickly and put the cup on the table. Not that day. To make matters worse, the red punch was on my cute little children's rug with letters and pictures. As you can see in the picture below, red punch pretty much ruins the cuteness factor.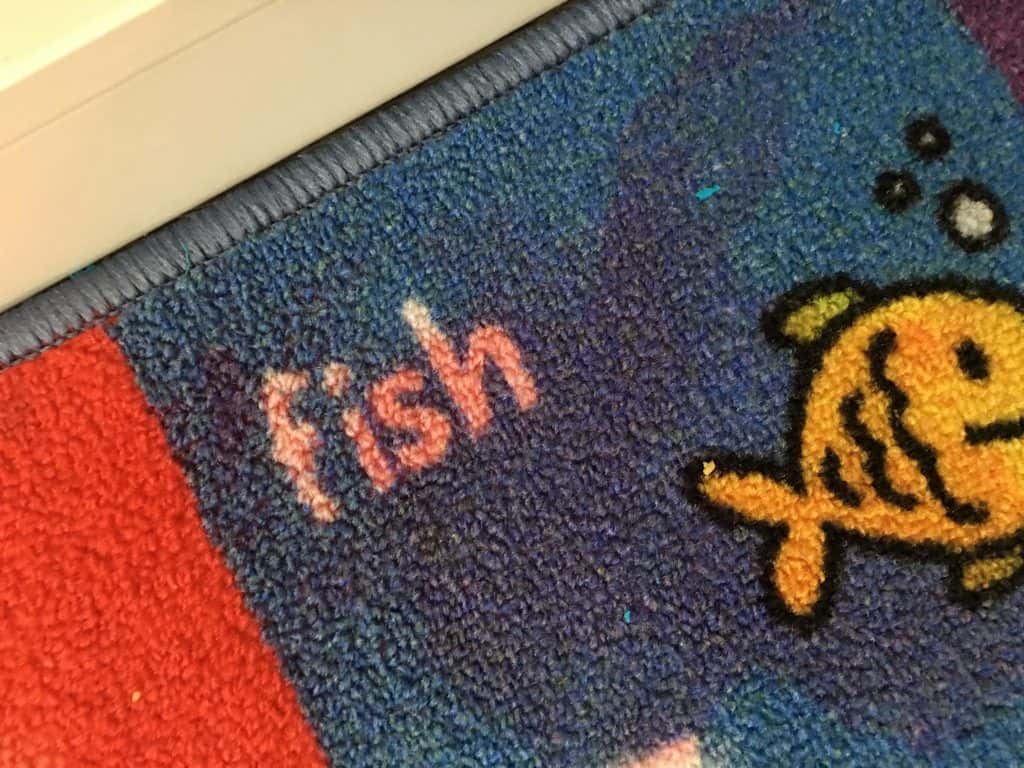 So I scoop the kids up and head out to the store for some better carpet cleaner than what I had in the laundry room, thinking that if I get to fast enough we can get the stain out fairly easily.
TWO DAYS LATER I was still trying to get the stain out and sitting here wondering what to do. I decide to google carpet cleaning and red punch, but nothing that comes up seems to work. I keep researching and finally, about 15 pages down, I finally find my MIRACLE SOLUTION in a forum!!
Take a look at the easy steps below and how I ABSOLUTELY SLAYED this stain! While you're here also make sure to check out my two latest posts on learning apps for toddlers and arts and crafts for toddlers!
Remove Stains Carpet Cleaners Won't Remove
Remove That Stubborn Stain: Step 1
Grab your materials!
1. For the solution, all you will need is water and a little dish washing liquid (or you can use any carpet cleaner you may have lying
around). Both work.
2. You will need an OLD towel. I can't stress this enough, please don't use your guest towels :0
3. Lastly, you will need an iron.
4. Optional: You may want to use a spray bottle for the solution. all the options work great. I just poured my solution on the stain and tried the carpet cleaner on another stain, but I think a spray bottle would work great for the water and dish washing liquid.
Step 2 For Stain Removal

1. Mix the water with a small amount of dish washing liquid. (mix in a spray bottle if you like)
2. Squirt the solution onto the stain until the area is saturated.
3. Put an old towel over the stain and solution
4. Put the medium heat iron on the towel until you see steam starting to rise. Allow the iron to remain there anywhere from 15 seconds to a minute or two.
At this step you will start to see the stain left up and be transferred to the towel. All of the color on the carpet will show up quickly on your towel.
Step 3
Repeat if necessary. Most of the stains came out with one "steaming". But there were a few really large areas in which I had to repeat the cleaning steps.
Step 4
Clean up time! There was some residue on my iron when I was finished removing the carpet stain. This residue rubbed off quite quickly with just a paper towel and water.
Some of the carpet is still wet but whoa baby what a difference!
What's Actually Happening?
You are basically spot steaming the spill out of your carpet! Cool right? Just Remember not to leave the iron on the towel for too long if you are removing stains from dyed carpet like the one you see in the pictures. You may just want to check the towel a few times for color. I noticed some of the color transferred from the rug unto the towel, but it made no difference on the actual carpet.
Bonus
Here is a second tip that is sure to come in handy with kids as well. If your child or children just so happen to have their way with a permanent marker,  nail polish remover will instantly clean the marker from most surfaces. Don't ask how I know 😩
SIDENOTE: Just my 2 cents for the parents dealing with marker mess! I distinctly remember writing on walls as a kid.  I mean a real memory of my thought process at the time. I also remember distinctly not thinking of the consequence of writing on the walls. That includes that fact that I wasn't supposed to and the fact that pen doesn't look good on my wall. And I was like 7 lol. There was just this huge urge to draw lol.
So when my kids do things like draw on the floor, I let them know what's appropriate, but I also remember that this is what kids do. I take responsibility for my part as well, and we move on.  It can be sooo fustrating so I'm just offering my 4-1-1 😉
Bonus #2: Here is an Awesome Idea for Cleaning Clothes Stains!
You can sign up here to receive some more of her great advice through YouTube 🙂
So tell me parents and caregivers, do you have any miracle cleaning tips you can share that will make our lives easier?? Please tell me in the comment section below if you do! Also, don't forget to sign up for my newsletter on the right side of this page to get all of my updates and also 2 free milestone e-books!
A small request: If you liked this post, please share this?
Many people don't share because they feel bloggers don't really need a social share. But the reality is that I would really appreciate it to my core!
Shares tremendously help the growth of my blog.
Examples including pinning on Pinterest, Facebook share, Instagram, and Google+!
Just take a few seconds and find the social share buttons waaay at the top right corner of the page 🙂
Disclaimer:
None of the authors, contributors, administrators, or anyone else connected with KeepToddlersBusy.com, in any way whatsoever, can be responsible for your use of the information contained in or linked from these web pages. Please take all steps necessary to ascertain that information you receive from KeepToddlersBusy.com is correct and has been verified.