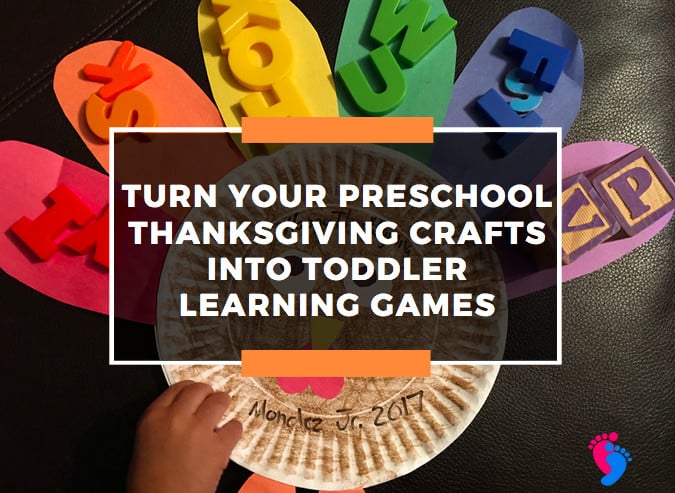 Turn Your Preschool Thanksgiving Crafts Into Learning Games
Tis the season to be THANKFUL! Thankful for our family and friends, thankful for life, and thankful for our wonderful, excitable, tiring, loving, kids 🙂
Since we are in the season of thanks, I decided to start doing some preschool Thanksgiving crafts with my toddler. However, many know that my motto is that most fun activities our kids are involved in can easily be turned into toddler learning games as well! For my son, it almost always steps up the fun fact factor. (I call that a win-win).
–
–
Let The Learning Begin!
–
Below I take some time to explain how we did this easy preschool Thanksgiving craft and quickly turned it into COLOR SORTING, which is one of the toddler learning games that my son loves. It's Turkey Time!
–
Supplies (Dollar Store Finds)
–
I personally already had all of these supplies in the house, but for those who don't, the most you need to spend in $5.00 and you will get numerous activities from this supply list!
Colorful Construction Paper
Glue Stick
Paper Plate
Scissors
Crayons (Brown)
–

–
–
Preparation
The preparation is easy, short and sweet. Obviously we don't want our toddler handling scissors so this should be done ahead of time.
Cut out two white circles for the eyes, and two smaller black circles for the pupils.
Cut out the nose in the shape of a small yellow triangle.
Cut out the turkey wattle in the shape of a red heart that you will turn upside down when gluing.
Cut out two orange turkey feet
Put 6 sheets of construction paper together. I used rainbow colors in this example. (Red, orange, yellow, green, blue, purple) Next cut out the tail feathers all at once in the shape of a thick bat. Yes that's my description lol.
–
Get Your Toddler Involved in Putting It All Together
–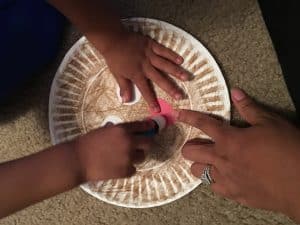 –
This step depends on your toddler's age. I involved my son, but also helped him along the way.
Allow your toddler to color two paper plates brown. Afterward I helped him to fill it in even more.
Next, help your toddler to apply stick glue onto the cut out face pieces. I was a little nervous about this part but he did soooo well! I suggest not doing it all at once, however. Glue, then stick, glue, then stick.
Next, help you toddler put glue on the bottom half of every feather and then paste them onto the back of the plate, along with the feet at the bottom.
Next, help your toddler put glue on the entire white side of the second plate, then secure the feather with the second plate so that the brown side of the plates are showing on the back and front.
Violà!! You have a Thanksgiving Rainbow Turkey!
You can write whatever you like on the turkey!
–
–
Color Sorting
–
Now you can make this a color sorting activity that helps your toddler learn and master colors! Just grab whatever toys, colors, or supplies you have laying around.
–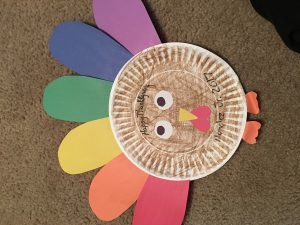 –
Bonus
–
Color sorting learning games can be done at ANY TIME using toys you already have in the house. Take a look at an activity my son and I do on a regular basis 🙂
–
–
If you like this activity, let me know below! Do you have preschool Thanksgiving activities planned for your toddler? Share below! Stay tuned for more Thanksgiving activities to come!
I've been an activity mom for almost 9 years and have over 15 years of experience crafting, writing, and creating. My mission is to bring fun, balance and learning to your busy homes with activities, tips, inspiration, and organization!