Fun and Free Indoor Activities for Your Toddler: Outside the Home
On this site, you will find numerous indoor activities and crafts to do inside the home, but I also to make sure that we take care of the days when we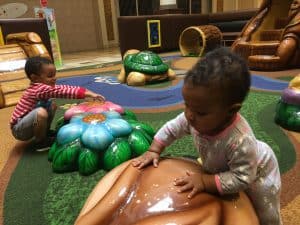 have a bit of cabin fever as well. Sometimes our toddlers just want to get out of the house! You can tell when they are not sleepy, hungry, or sick, but you are getting the constant whining from your otherwise perfect toddler (haha)! It's playtime, but quite frankly, they want a change of scenery.
If you are willing to do the research, there are multiple indoor activities for kids that you can participate in at little to no cost, but I want to talk about one in particular that is simply Fun, Free, and Easy! Are you Ready?!
Mall Play Areas!
You just can't beat shopping, food, and play all in one place. Now, I am not
referring to those arcades where you have to pay for tokens and your child gets a 2 dollar prize for the 20 dollars you spent. I am referring to the seating areas often located in the middle of the mall that will most likely have structures for climbing, crazy mirrors, and other little gadgets for kids to entertain themselves with for at least an hour. Hey, we take what we can get!
How Do I Take Advantage?
This part won't take to long. Start by making a list of all the malls in your area that you are willing to travel to at any point in time. It may not be everyday, but
I would include them all. Next you will call, or look online, to see if that particular mall has a kids play area.
Unfortunately, not every mall has one and some are also more elaborate than others. But trust me, do not let that deter you. My toddler has just as much fun at the mall with the simple play area where he can run around by himself in the middle of the day!
Most Important Thing to Remember
Have fun!!