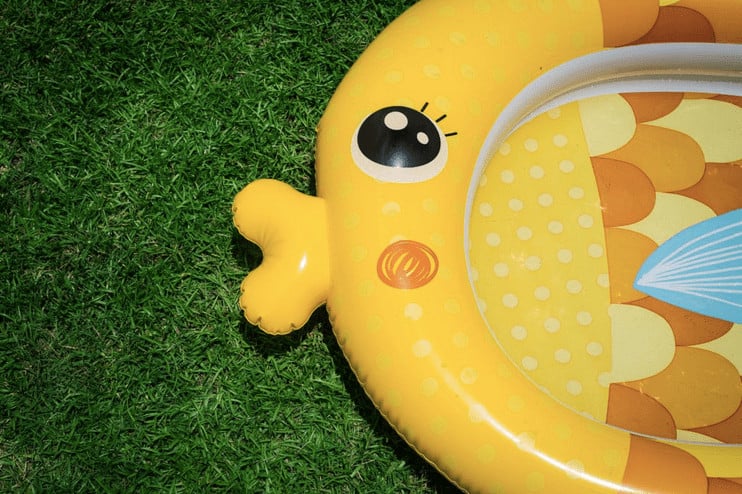 30 Genius Kid Friendly Backyard Ideas On A Budget
---
Hi there and welcome to Keep Toddlers Busy! Today I want to take share a few ideas and to talk about kid friendly backyard ideas on a budget. I few months ago I published a post about adding kids playroom storage ideas into my home. A lot of people loved the post so I wanted to expand the idea into the backyard as well.
Kids need a space to play inside so I wont go crazy), but they also need things to do outside as well. As always, It's takes a lot of research to do these posts but its so worth it because I always get so many ideas!! So here is some of the awesome research I've been doing and I plan to update the site with some of my projects.
Whatever the size of your backyards; today I've collected all kinds of awesome ideas for how to tackle backyard designs for kids and really make good use of your space! Be sure to check out our Amazon Recommendations for more deas!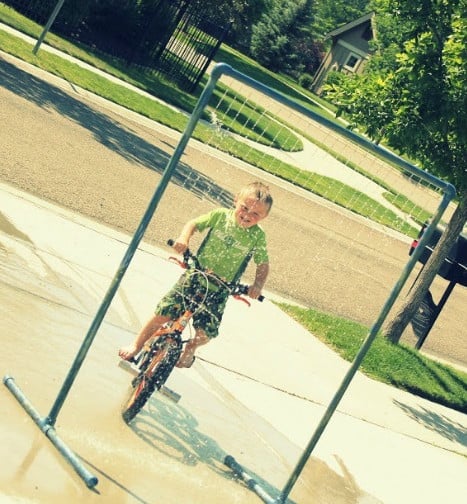 If you need ideas for more things to do with the kids in the backyard of simply just some ideas for inspiration, make sure you check out my post on Backyard Games For Kids and hopefully the list below will inspire you even more!
I started with some serious Pinterest searching. If you love Pinterest too and are looking for even more kid's design ideas, then check out my Pinterest board on Playrooms and Kids Bedrooms and kids backyard ideas!! Don't forget to follow me on Instagram as well!
Backyard for Kids Design Tips
Here are a few kids backyard design tips!
1.Think about comfort when picking your seating. We want the kids to stay there for a while!
2. Recycle old furniture. Kids don't have to have everything new! What can you re-purpose to save money?
3. Don't be afraid of DIY. Sometimes it just takes planning and then it's not as hard as it looks. And you save money.
4. Use color whenever possible. (if you want) Kids love it!
5. Allow for a mess to be made. Kids are messy. You will save yourself some stress if you plan for it.
6. Incorporate things that your kids love into the design or plan.
7. Give kids room to run
8. Try to create separate spaces if possible!
---
Kids Fun Backyard Ideas!
We hope you like the products we recommend. Just so you are aware, Keep Toddlers Busy may collect a share of sales from the links on this page. As an Amazon Associate I earn from qualifying purchases. Read more about our links in my disclosure policy.
Kid Friendly Backyard Ideas for Toddlers
1. Small Splash Pad and Umbrella
What could be better than water fun in the backyard for a child? The great thing about a splash pad is the clean up is super easy and it's not expensive as a pool. Throwing in a nice stand alone umbrella is the cherry on the top! This cute idea comes from collectivelycasey.com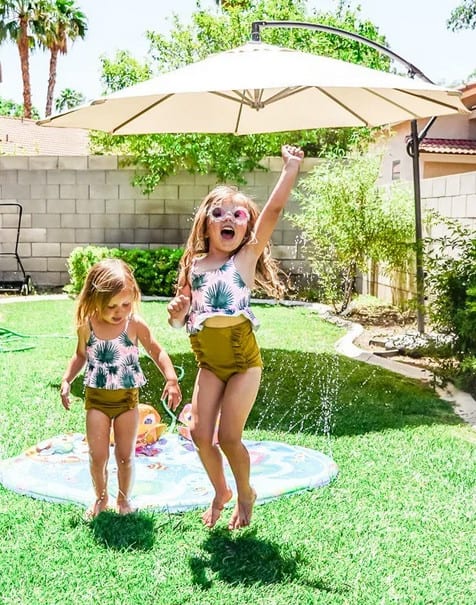 Here is my baby girl running to the splash pad before I could change her clothes haha. I used this splash pad and it was great.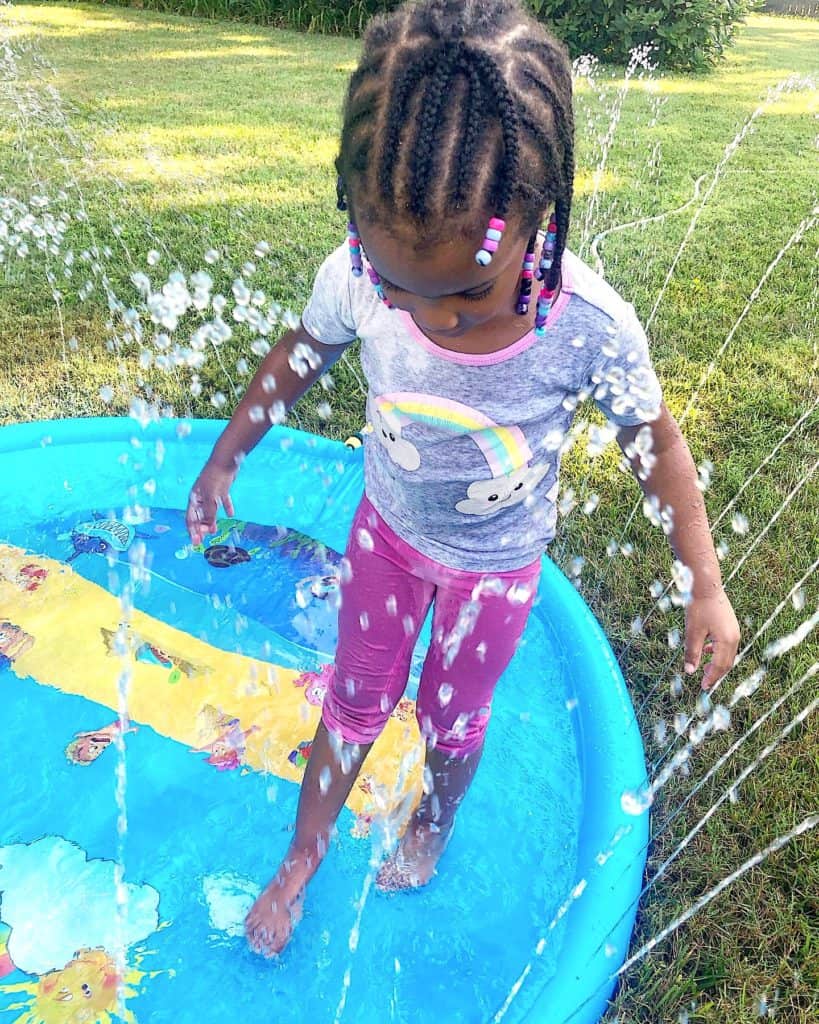 2. DIY Outdoor Chalkboard
This awesome idea can actually be built with wood and chalkboard paint or you can buy the chalkboard! It's a great project for a handy person. Supplies for the build include the 2 Hardie boards, chalk paint, wood for the frame, outdoor paint for the frame, hooks to hang buckets, liquid nails / real nails and bolts for fence attachment.
Acrylic Painting Stand
3. Refurbish with Paint
Well, they are kids. Toys (and furniture) will get played with and will get old. The great thing is that we can always make it new again with outside paint!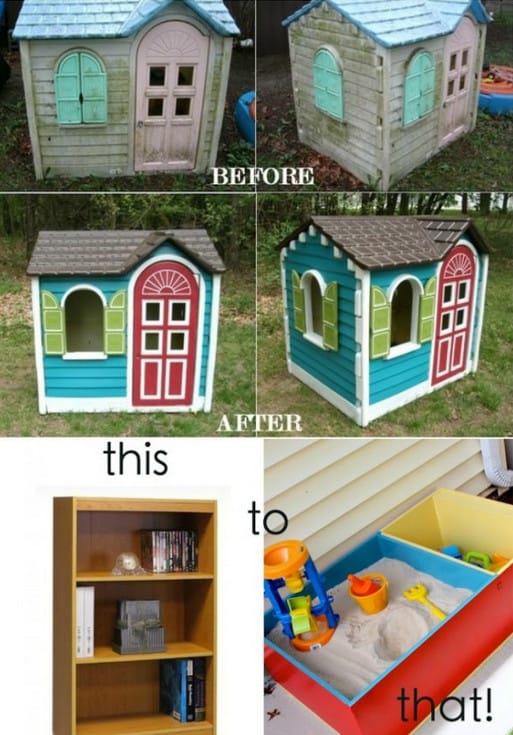 4. Outdoor Kiddie Lounge
So in love with this idea and it even would look good in a playroom. Find a circular kiddie pool like this one, add some pillows and blankets, and Violà!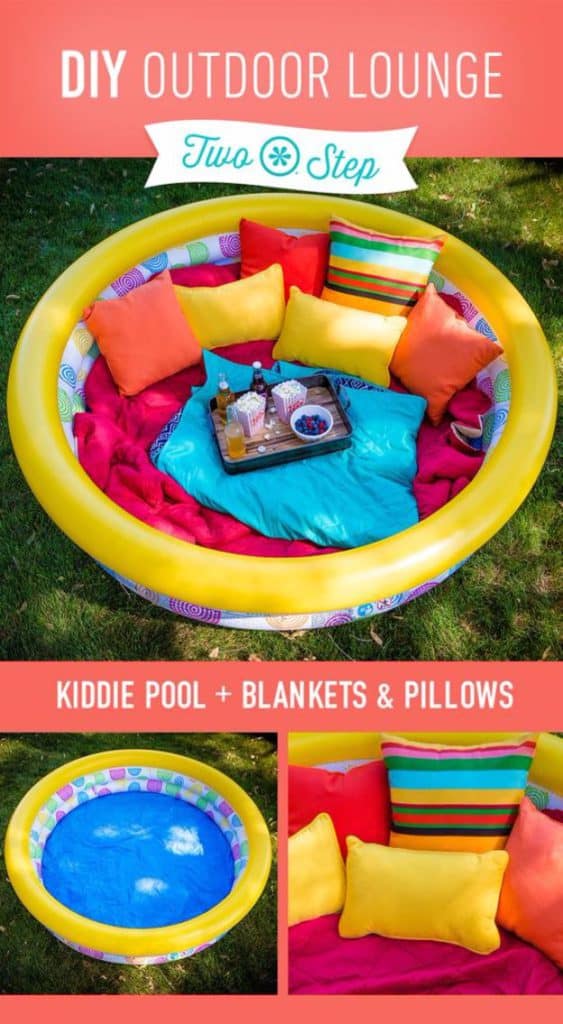 5. DIY Sandbox and Gravel Pit
Such a cool idea! I've seen sand boxes but not gravel boxes. All you need is a couple of garden trays (or plastic kiddie pools), play sand, gravel, toys, and a kid! Get the how-to at theimaginationtree.com!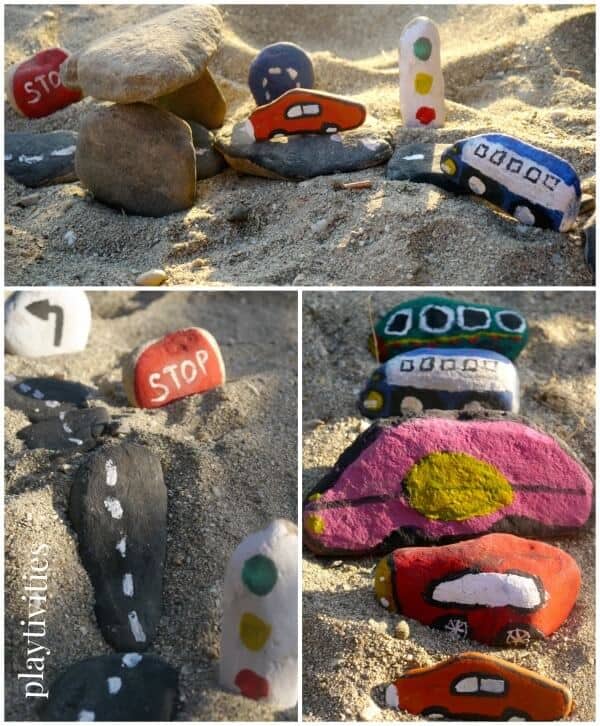 6. Classic Slide For Young Kids
Both my 5 year old boy and three year old girl still love their little slide. You just can't go wrong with this addition. Get the red one here!

7. Jungle Kiddie Pool
You can't go wrong with a kiddie pool! Especially on a hot day! Quick and easy to fill up and hours of fun. Pretty basic but I had to include it. Shop this cute jungle kiddie pool here.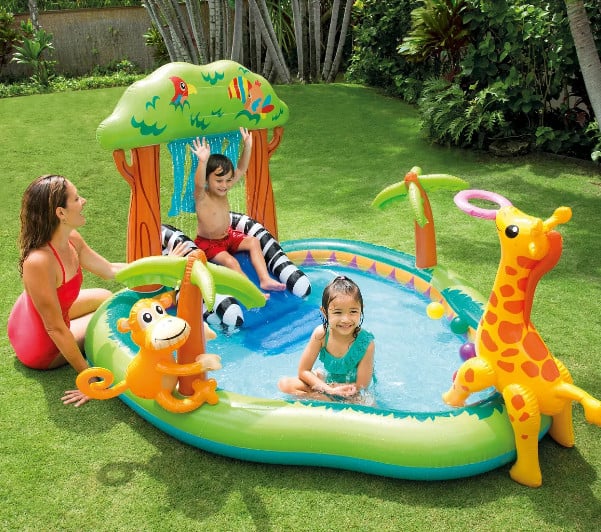 8. Sand and Water Play Table
I'm telling you right now, if you have young kids then you NEED one of these in your life!! My kids play with their table Every. Single. Day. If you don't have one, check out the water table below! You will be glad you did.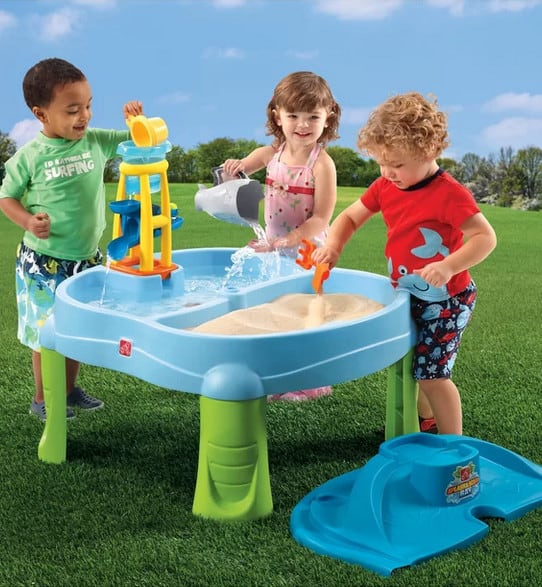 More Backyard Ideas For Kids
9. DIY Sandbox Tent
This is another one of my favorites. DIY is often times the best way to go if you want quality but don't want to pay an arm and a leg. Get the how-to of the build at Tarynwhiteaker.com!
If you are not super handy, you can try this pre-made version! (on the more expensive side but still pretty awesome)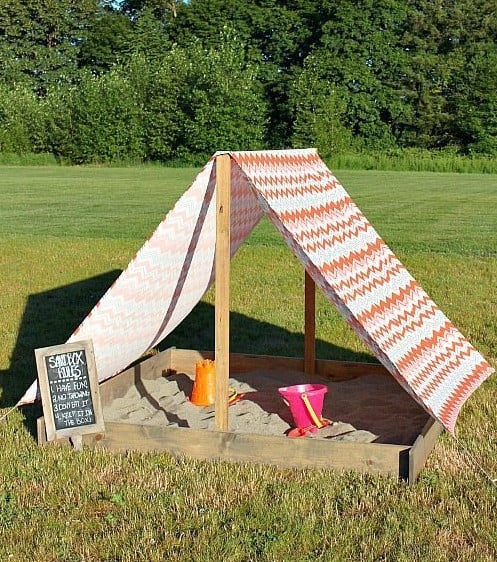 9a. Backyard Tight Rope
I found this cute idea at Kid's Activity Blog! According to the author, all you need is soft rope, two trees, and adventurous kids! Even her 18 month old loved it! She stated "A backyard tight-rope will help your child develop his or her sense of balance, co-ordination, gross-motor skills, core strength, muscles and climbing skills".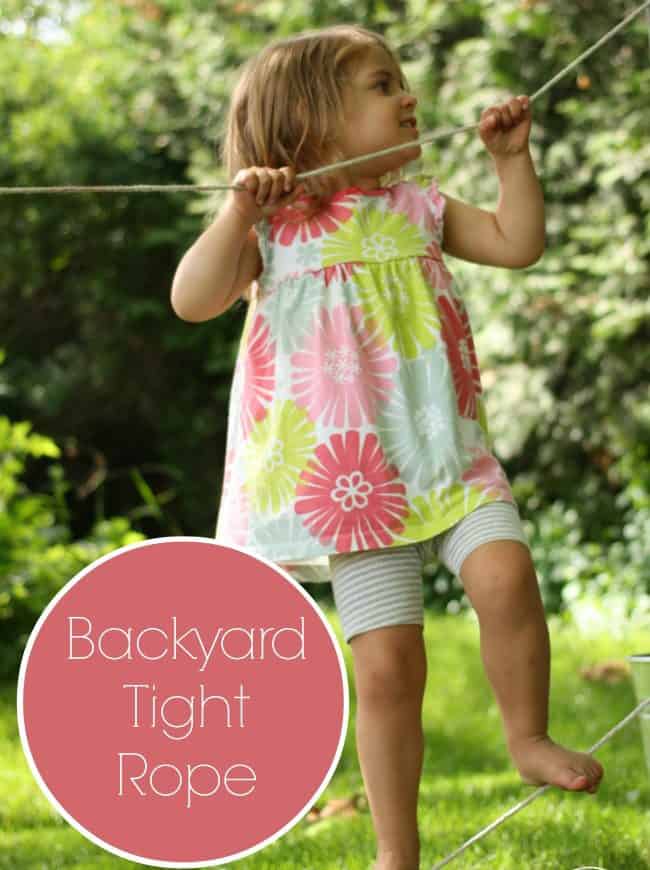 10. Inflatable Outside Paint Easel
Another favorite that is sure to please the kiddos. What's more awesome than a paint surface that you can hose down outside?

Backyard Ideas for Kids of All Ages
11. Slip and Slide
Feeling adventurous? Add a slip 'n slide! They have been around for years and honestly kids, teens, and adults still love them. You can find this version here, but honestly there are so many fun versions out there.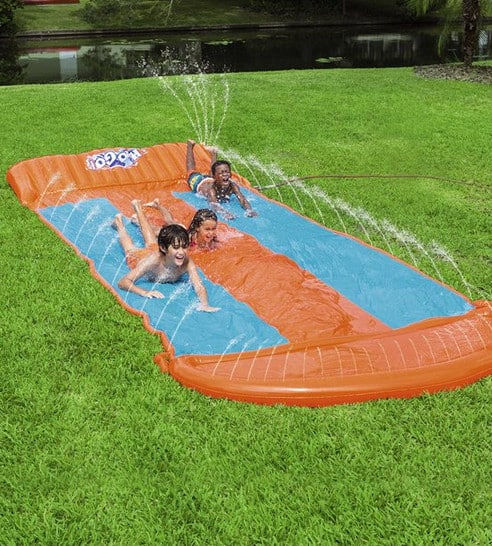 12. Rainbow Numbered Hopscotch
I have seen this idea a couple of times and I must say, it just looks so inviting. My kids, again, would adore this and it's a budget friendly project. All you need is outside paint and some cheap concrete pavers (curbside at Home Depot) of your choice!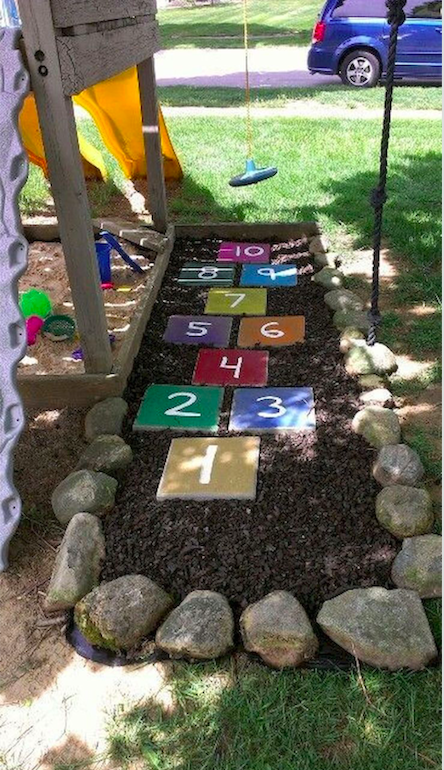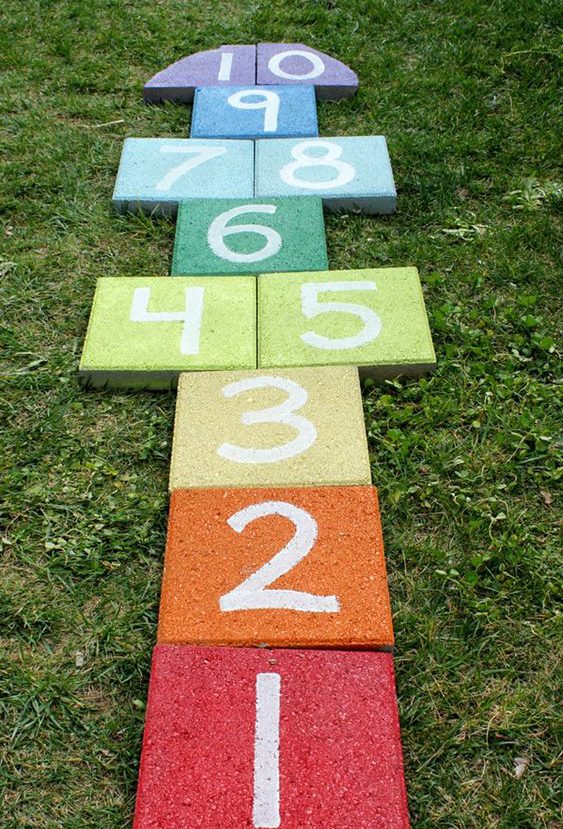 13. Natural Rock Toy Car Roadway
I adore this idea because it's both easy and a budget friendly backyard play space idea! Grab some cheap concrete pavers (curbside pickup at Home Depot), wood slices, some rocks, chalk/paint, and you are set!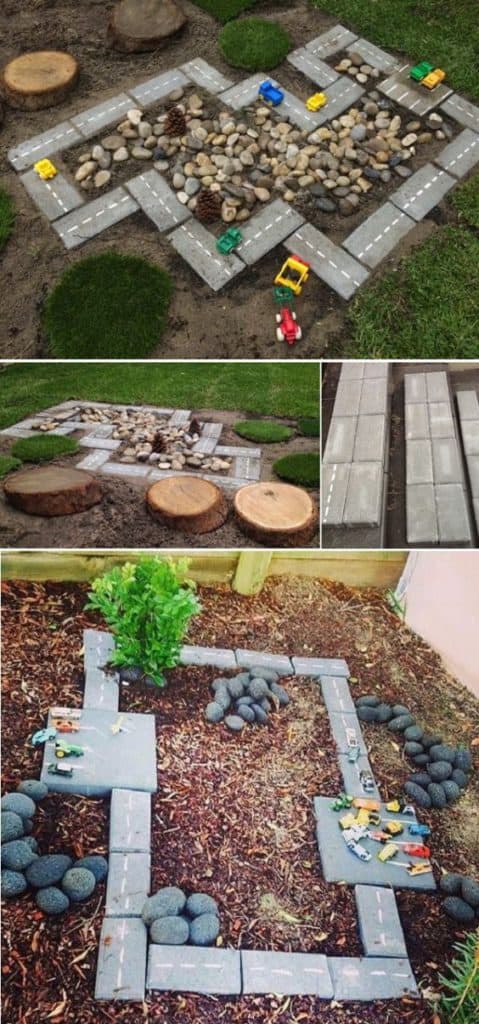 Add flexible road way play to you deck, sandbox or pool! Check out this awesome toy road at here.
14. Wood Balance Beam
So simple yet so much time spent on something like this when I was a kid. After I really started getting into the materials phase of my planning, I realized that you can actually order this wood at Home Depot and then do curbside pickup!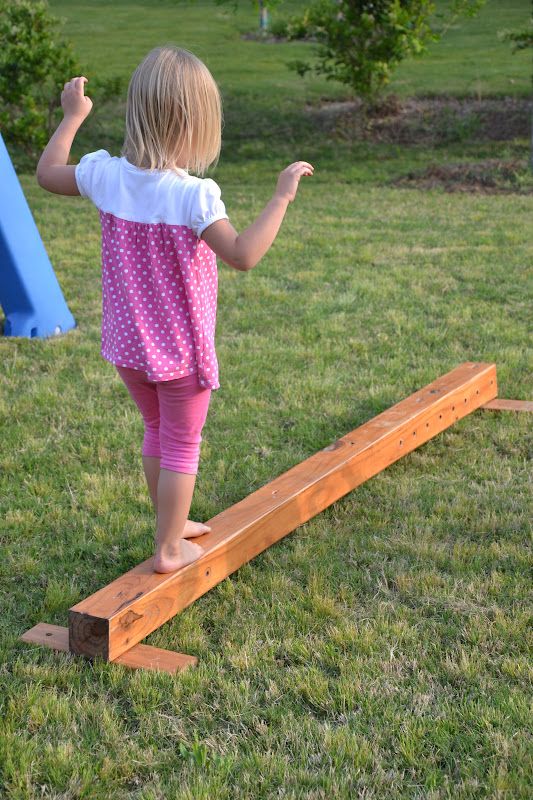 15. DIY Tire Sandbox with Umbrella
This is so cute, I love it. Yours may not look exactly the same, but combine a painted old tire, sand, and a little umbrella, and Violà! You will have a beauty! Go to a junkyard and pick up a tire if you don't have one!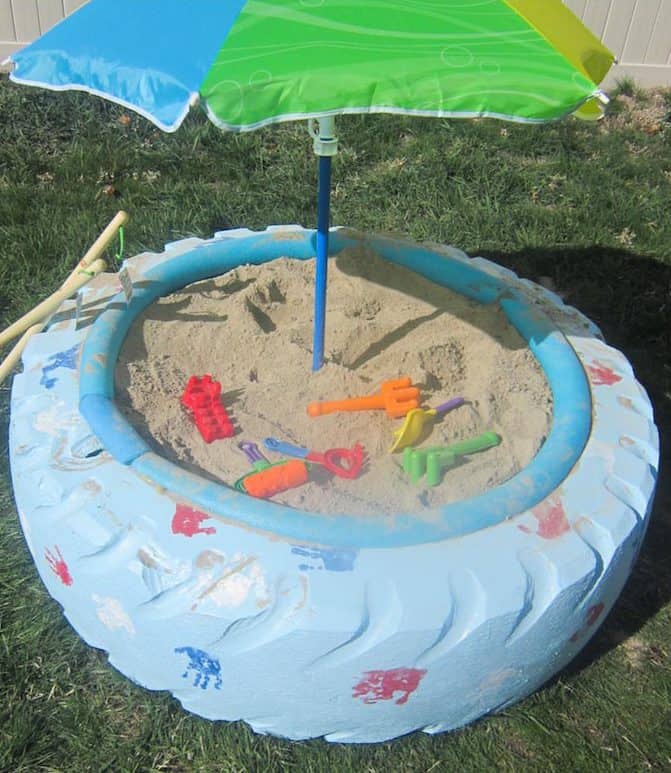 16. Repurposed Tire See-Saw
Another great DIY that will be loads of fun 🙂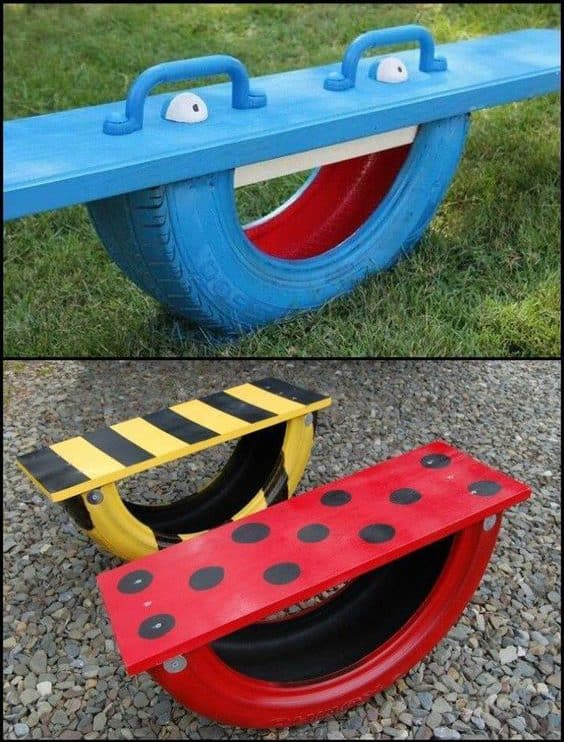 DIY Backyard Ideas
17. Water Balloon Toss
This is a great game to have in the backyard for all ages. You can get creative and make a board, or buy one. Then grab some self sealing water balloons and let the fun begin.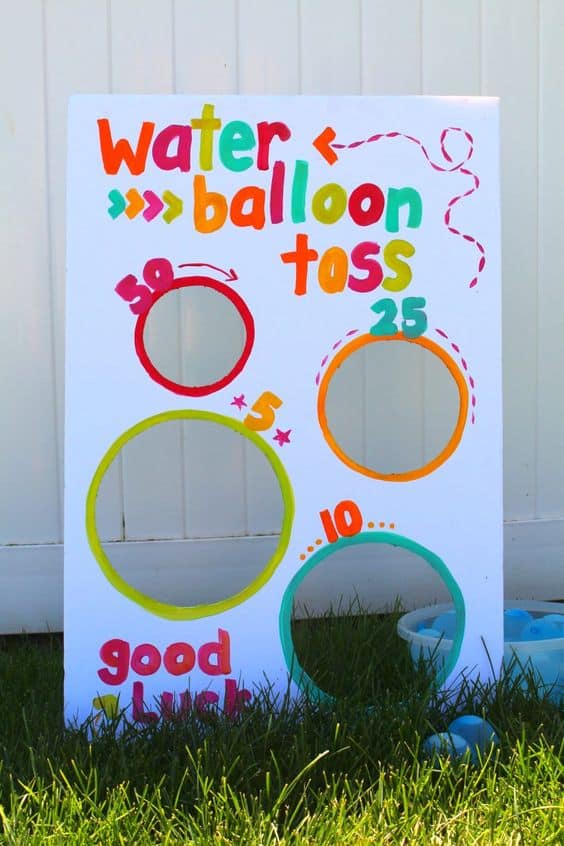 18. Rainbow Balance Stumps and Tire Sandbox
This is so colorful and playful! I knew I didn't have any stumps at home so did some research and found out that I could buy stump slices on Amazon! Pretty cool lol. Go to a junkyard and pick up a tire if you don't have one!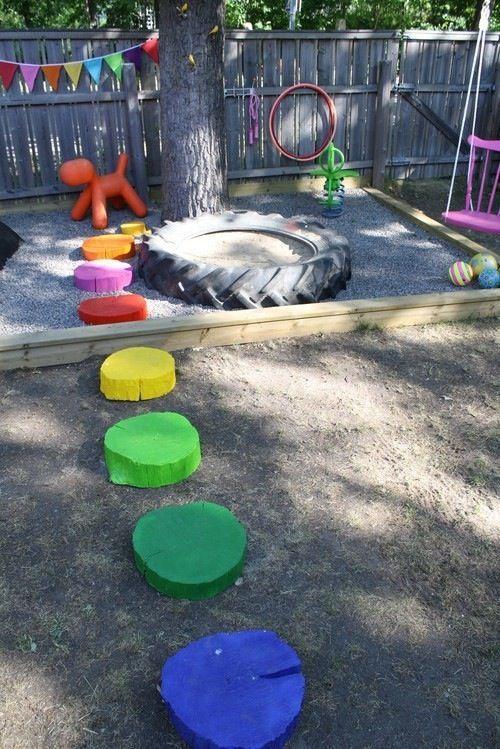 19. Kids Backyard Oasis
The cozier, the better. Make it inviting for little one! Try a similar tent here and the rest can easily be found! Great for a smaller backyard!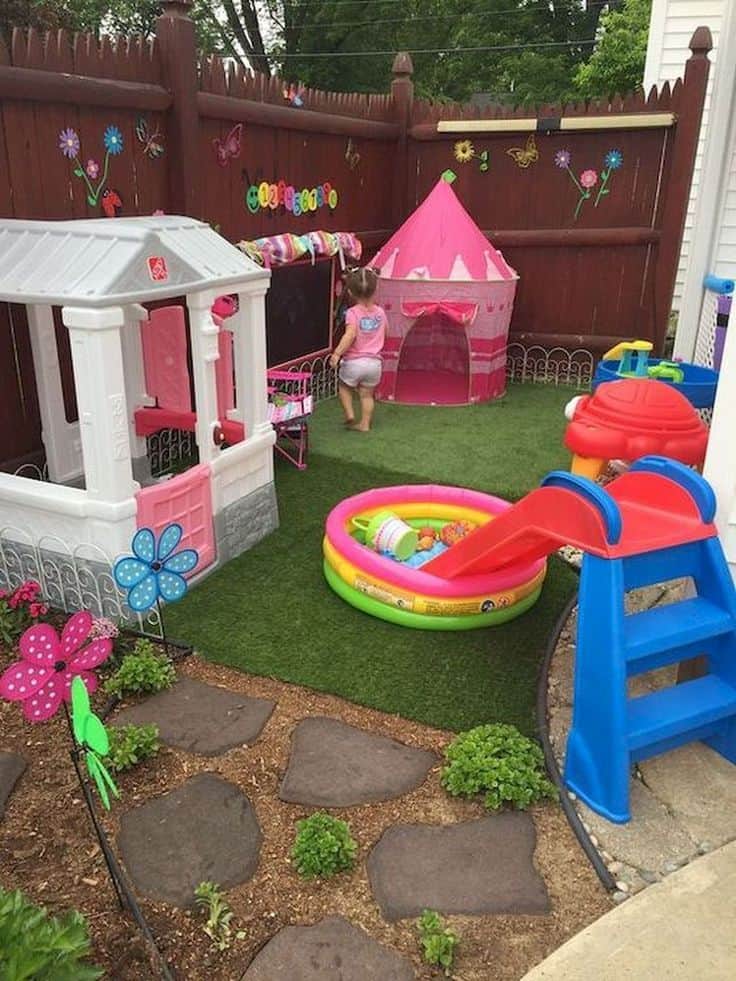 20. Soccer Net
We can't forget about sports if you have the space! A soccer net or a basketball hoop will go a long way with the kids!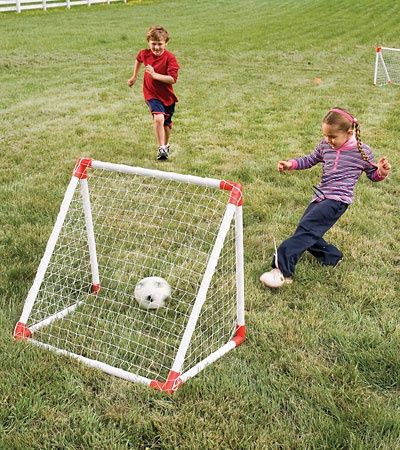 21. Backyard Busy Cart
This to me is a genius backyard hack. Having a read-made cart available to go outside at a moments notice would literally save me hours every week due to all the time I spend looking for things lol. I got this idea from bystephanielynn.com! Shop the look here.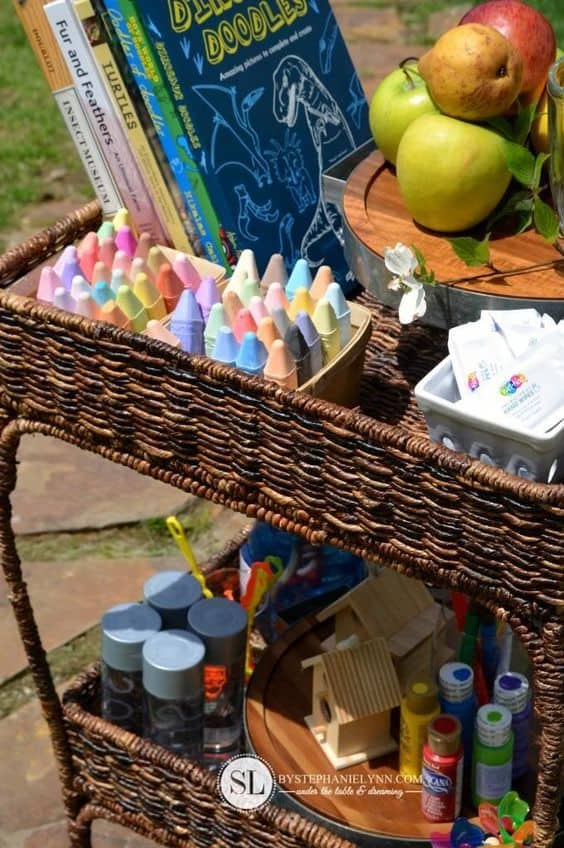 22. Rainbow Tire Balance
Another great tire idea 🙂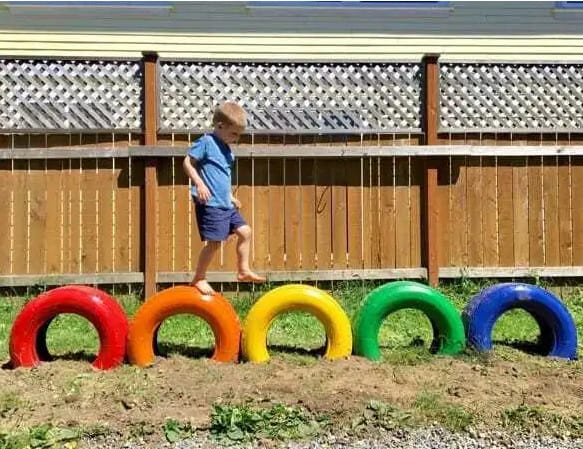 23. Toddler Climber and Swing Set
I love this so much. I know I say that about everything but I only include what I love in my posts lol. This isn't exactly super soft on the budget, but I think it's a great addition to the list! You can find this climber and swingset here.
24. DIY Backyard Movie
Is this cute or what? 🙂 If this is your style, check out the how-to at toolboxdivas.
25. Cardboard Card Movie Seats
This is just the cutest thing ever. Find out how to make a car seat here –> lifeispoppin.com.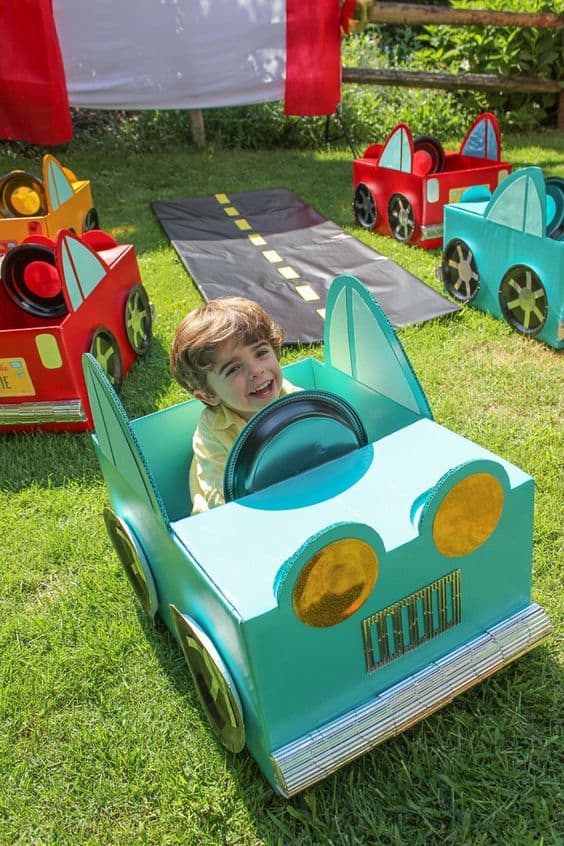 26. Backyard Mud Kitchen
Turn an old cabinet, shelf, or bookcase into an outdoor play kitchen just right for mixing up mud pies other nature-based delights. I would use some old utensils around the house and possibly a cheap shoe rack and even a play sink! They also have full mud kitchens available as well. Great for pretend play and just adorable.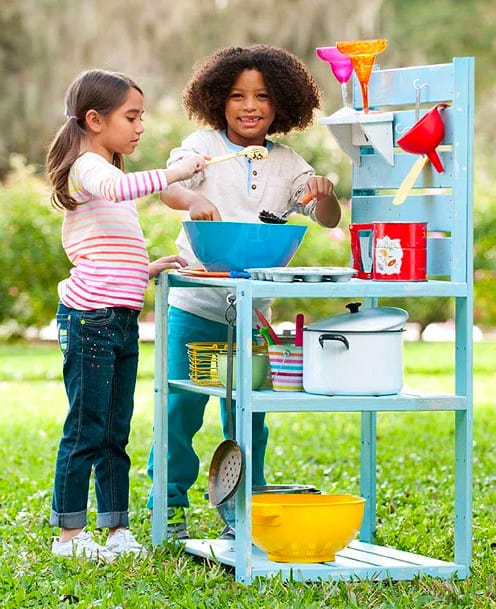 27. Free DIY Teepee
Very creative idea! I mean it's different but its almost whimsical to me.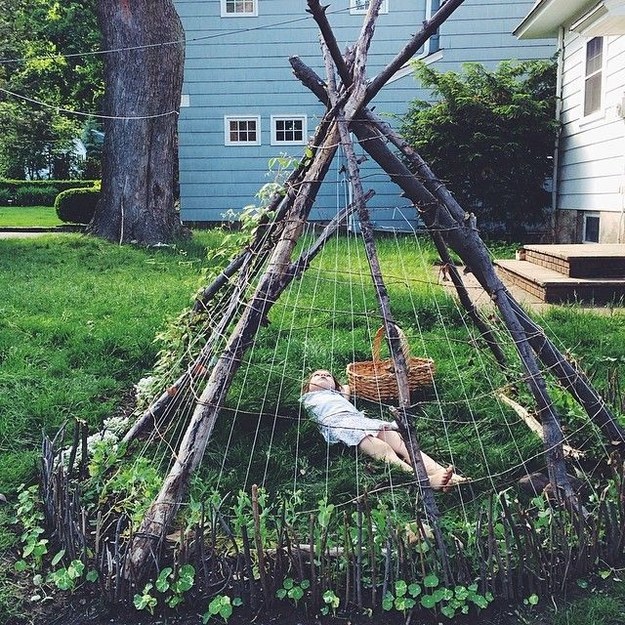 28. Family Inflatable Pool
This is perfect for the family. You cant go wrong with an inflatable pool.
29. Sandbox with Cover
Why is this soo awesome?? My kids would love it. Get the how-to here.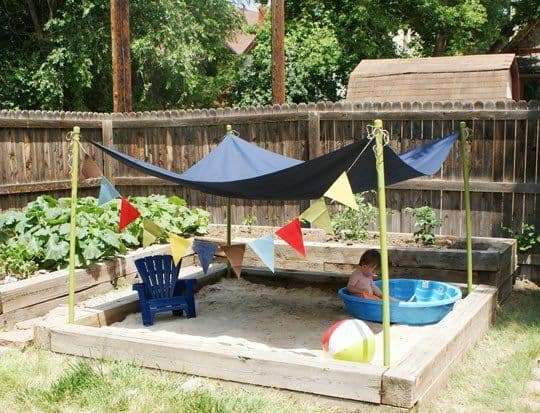 30. Picnic Table with Umbrella
This is super cool for eating in the backyard, especially if you have a deck or patio! This picnic table with umbrella is somewhat of a staple for backyardss in the summer 🙂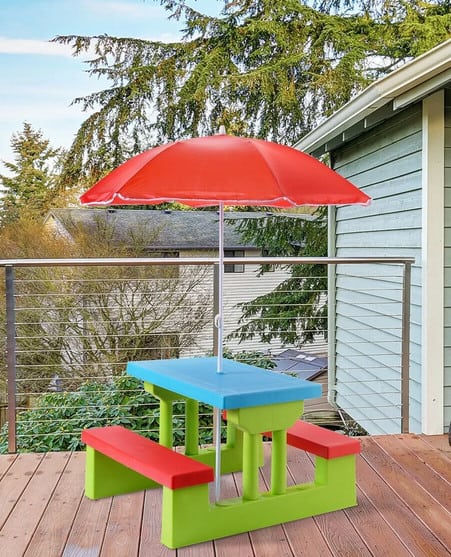 31. Hangout Pod
This is a pretty cool idea that I feel would actually keep the kids occupied! Find it here!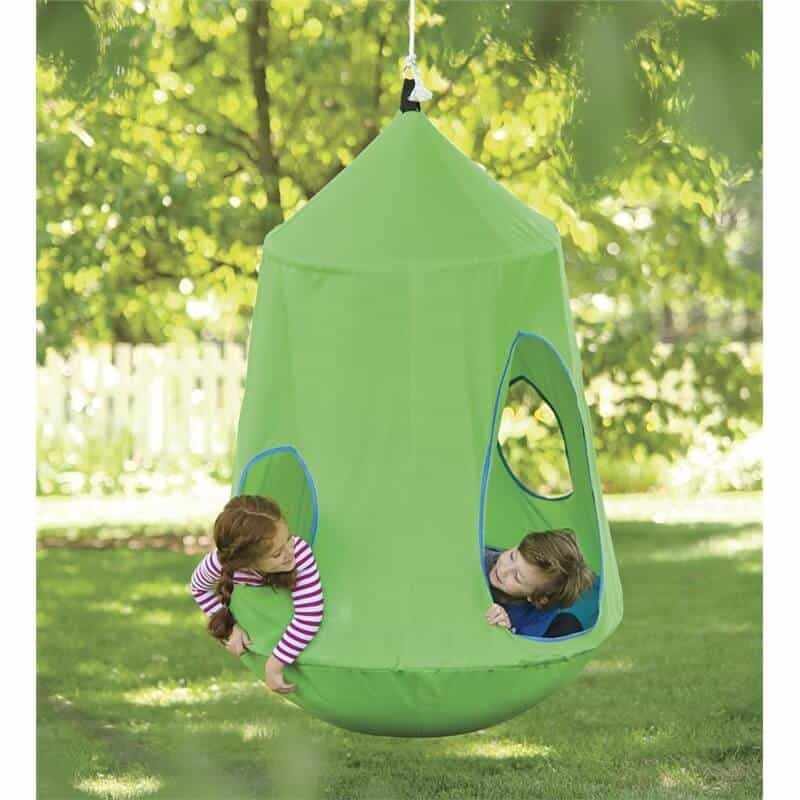 Looking For More Ideas?
---
---
32. Tree Swing and Giant Games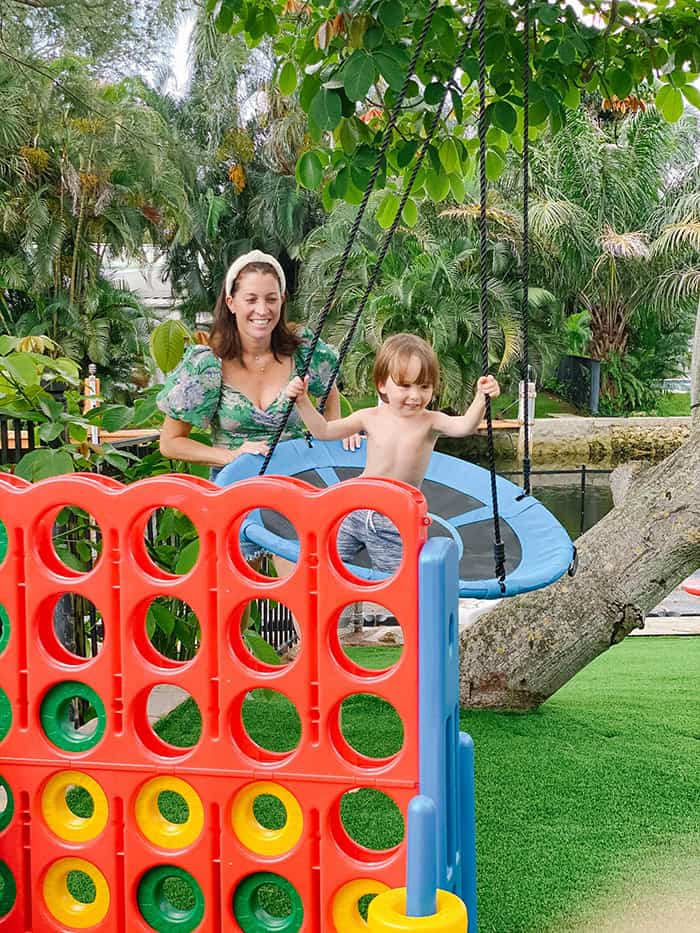 33. DIY Lemonade Stand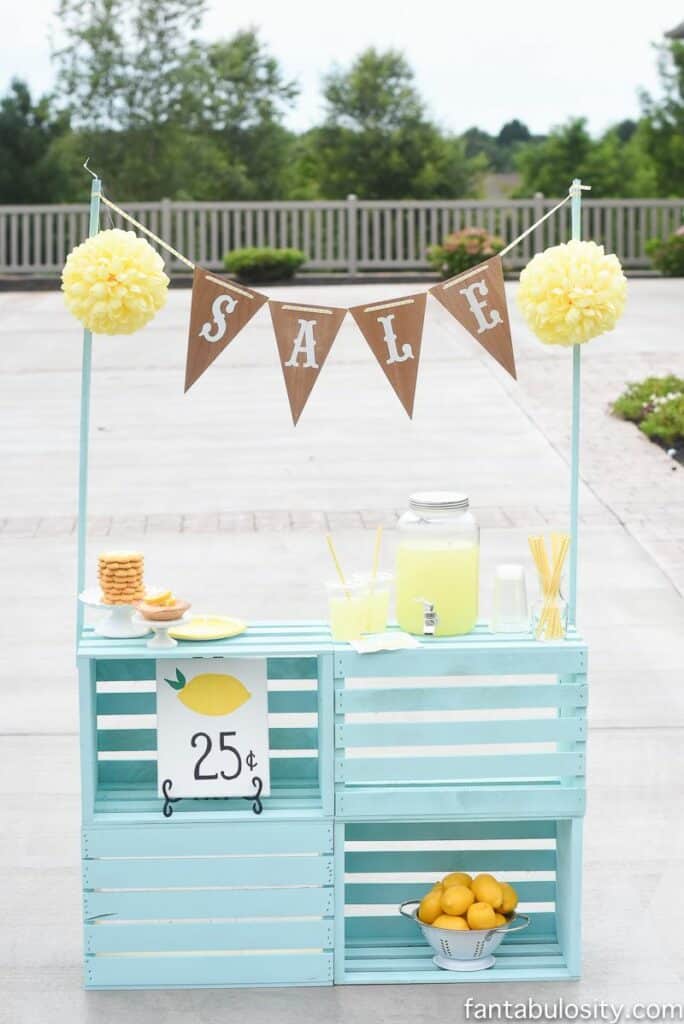 34. Garden Playhouse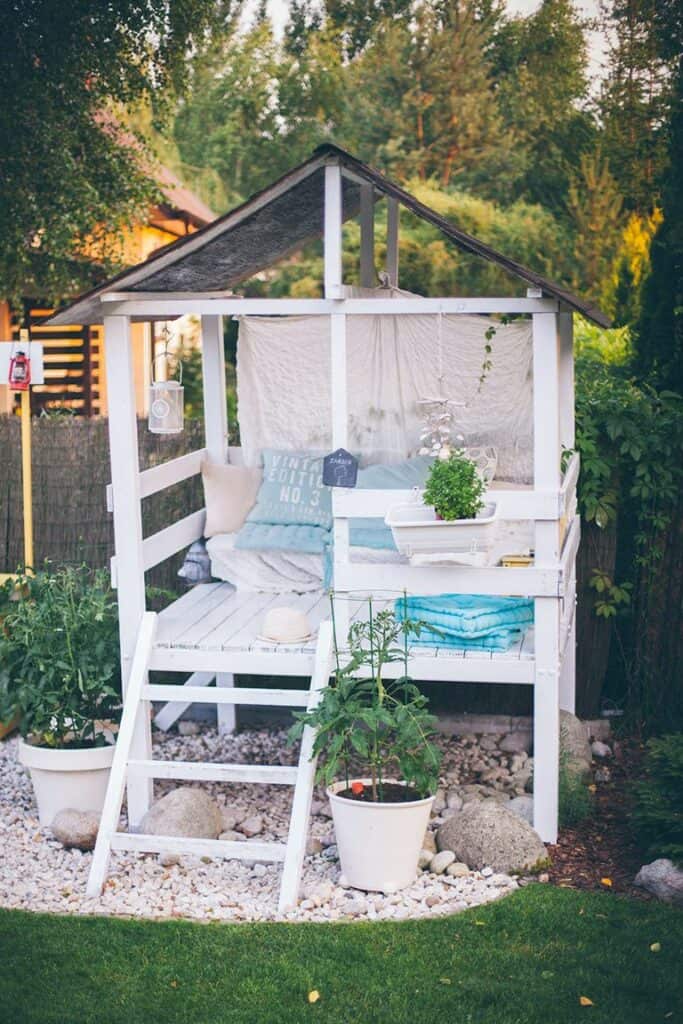 Having fun outside is such an important part of our child's life. If not just for the simple fact that they spend a significant amount of time there. I truly hope that this post is utilized and I hope you enjoyed this list.
It should give you some kid friendly backyard ideas that are budget friendly to try with you family! Also check out my post on Backyard Games For Kids as well.
Do you have any other ideas that you think I should add to the list? Please let me know in the comment section below! I would love to hear from you!
Also, remember to sign up for your FREE weekly activities planner on the top or the right side of the page and check out my printables page!