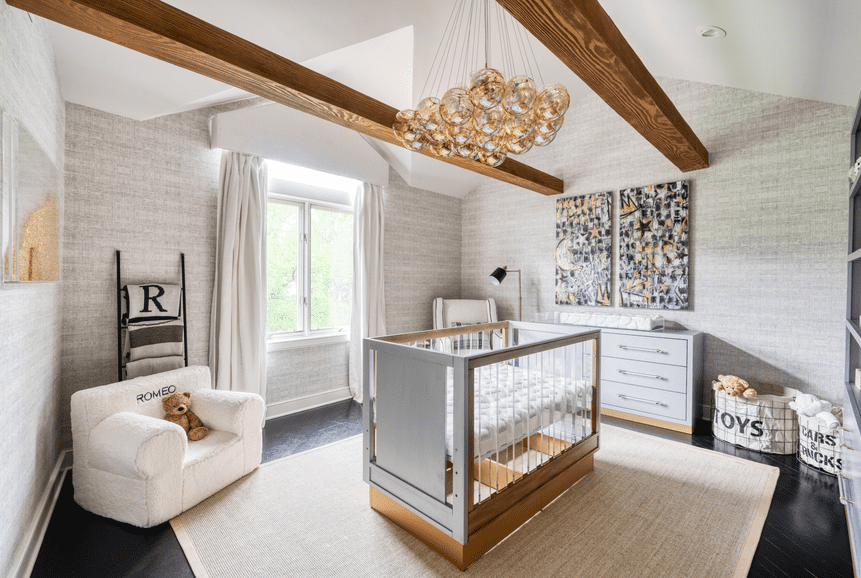 You Will Love These 40+ Gorgeous Baby Boy Nursery Room Ideas
---
If you haven't seen on my Instagram page already, I've got some great news! We are expecting a baby girl this year and we are over the moon. So naturally I wanted to take some time to talk about nursery ideas to satisfy my nesting urges and also provide some great ideas all in one place.
This time I did baby boy nursery room ideas but I also did a post on baby girl nursery ideas :))
Most of what you will see here at Keep Toddlers Busy is activities for toddlers, preschool and even beyond, but parenting involves so much more and I can't help myself! So I love to talk about tips and home life (including storage and decor) as well.
Also, a few months ago I published a post about adding kids playroom storage ideas into my home as well as a similar post on kids bedroom storage.
A lot of people loved the posts so that's another reason we are doing a nursery version as well!
I scoured the internet looking for some of the best tips and inspiration, and I have finally put together my compilation.
–
A Few Do's and Don'ts of Putting Together Baby's Nursery
Here are a few tips that are think are important for setting up a great nursery!
–
Designing a nursery for your sweet baby can be a great experience, but it can also seem hard to know exactly where to start! My suggestion is to take some time to sit down and plan out your wants,needs, and essentially your plan! Use these tips below to get started!
DON'T FORGET FUNCTION- It is so easy for me to get caught up in the pretty stuff, and then I always have to remember that the room needs to function 🙂 Don't forget the necessities! A place for baby to sleep, have diaper changed, be rocked, store essentials, and play!
NEUTRAL OR GENDER SPECIFIC?– Choosing whether you plan to go with traditional gender oriented colors or go with a more neutral look will help you to narrow down some of the ideas. In this post, I have divided the nursery ideas into sub-categories for your convenience. (yes just for you)
PICK A THEME OR COLOR SCHEME– Picking a theme or a color scheme is a great way to narrow down your vision. I hope the ideas below provide some inspiration
PLAN FOR YOUR NURSERY SIZE- The size of your nursery can have a huge impact on things like crib size, changing table size, and storage. Take some time to measure the room so you can plan for the space.
PLAN FOR STORAGE- Storage is EVERYTHING. This time it won't just be clothes and toys, but you have to plan for diapers and all of the necessities! (think diaper caddy)
DON'T STRESS ABOUT TIMING- With my son, I stressed about having the nursery done in time only to realize that I didn't use the room for multiple months. While I think it's easier to get those things out of the way before baby comes and time is more limited, I also wouldn't stress about having every single little thing in place!
–
Check out my top Nursery picks for on Amazon HERE!
We hope you like the products we recommend. Just so you are aware, Keep Toddlers Busy may collect a share of sales from the links on this page. As an Amazon Associate I earn from qualifying purchases. Read more about our links in my disclosure policy.
Baby Boy Nursery Room Ideas!
Neutral Baby Nursery Room Ideas
–
1. Neutral Green Nursery
There is something great about a simple design that both genders can enjoy. The crib and accent wall are perfect but I also love the wall animals for the kids.
2. White Gallery Wall Nursery
This is a beautiful look if you are handy! Grab some wood from Home Depot, pictures, and some paint to make this happen!
–
3. Natural Neutral Nursery Decor
I love a natural look and theme! Find a similar crib here!
4. Cute Bunny Themed Nursery
So in love with this adorable space! Perfect if you don't want a pink nursery but still so sweet!
The bunny photos and crib go so well together. I was beautifully coupled with a fur rug, bead chandelier, and jute rug.
–
5. White, Color and Patterns
This collection with a mix of patterns is simple and sweet!
6. Gray and Yellow Nursery
What a sweet way to decorate a nursery! It's a clean neutral look for the mommies that love light and airy! I found the glider on Amazon and I love a crib !
7. Cool Gray Nursery
If a lot of color isn't your thing, this nursery design is perfect for you! Shop the collection below!
8. Small Simple Neutral
So organized for the small space. Perfect! The storage ladder is a great addition.
9. Water Color Leaves Nursery
Another favorite that is sure to please. These simple modern cribs are so customizable! Shop the wall decals here!
10. White Nursery
This is another one of my favorites for neutral nursery rooms! I love whites dots paired with the creams.
–
11. Modern Animal Nursery
Perfect for the little ones if you like animals.. I love the animal wall art and wall paper!
–
12. Gray Nursery
This simple look is cute and perfect for the new babies!
–
13. Serenity Nursery
You can't go wrong here for a girl or boy 🙂
–
All Things Blue: Baby Nursery Ideas
14. Light Blue Accent Wall Nursery
–
I love the beautiful blue wall accent and whimsical white glider with a simple white crib!
15. Coastal Nursery
This is gorgeous, I love it. The color is great for kids and there are awesome goodies everywhere in this room!
–
16. Modern Baby Blue Nursery Room
–
17. Serene Nursery
Love this shade of blue! The perfect combination of simple, colorful and cute. Perfect for a blue nursery.
–
18. Coastal Blues Nursery
–
This is a great look, one of my favorites. A simple look with a splashes of blue everywhere. The painted dresser, rucg, wall paper and crib work well together for a sweet nursery.
19. Moody Blue Nursery
IN LOVE with this accent wall! It's and entire MOOD for baby 🙂
–
20. Navy Space Theme
I may be biased because my son loves space, but this is Beautiful! Shop the looks under the photo!
21. Space Nursery 2
–
This look is so beautifully fun, just too adorable. I love the entire look. Shop similar looks below the picture.
22. Glamorous Blue Room
I love this idea for the moms who love blue! Blue on Blue can be beautiful if done right. Check out the blue
-F
23. Serene Scene
–
What a calming room for a nursery. It brings the ocean and the sky to mind. Check out the wallpaper below the picture!
–
24. Nautical Blue Nursery
Is this cute or what? 🙂 If you like the traditional look, this is for you! Find similar looks here!
Rug | Art Work | Gray Glider | Crib and dresser
---
Psst.. Need a room for the baby but working with a smaller space? Check this out!
---
Sibling + Baby Room
25. Rustic Twin Nursery
–
Wow this room was styled so beautifully. Super cool with no painting required! You can take something very simple and just make it gorgeous with pops of neutral color. I love the wall art, dark gray crib and brown leather rocker.
26. Whimsical Shared Nursery
–
Whimsical and neutral, this nursery from Style Me Pretty is perfectly designed to grow with your babes.
–
27. Neutral Star Shared Room
Another neutral shared room will cool star decals! Shared rooms don't have to be huge if you can plan out the space. Love the star decals and storage bed.
28. Black and White Shared Room
29. Three Sibling Shared Room
Bunk beds and a crib are great for three sibling rooms! Add a canopy tent and dresser and you are set.
30. Neutral Sibling Nursery
Magazine Inspired Nursery Rooms For Boys
31. Navy Nautical Room
Great look for a small space!
32. Bold Jungle Nursery
What a gorgeous idea for a nursery. Light and airy look with a unique spin with the bold jungle wall paper.
33. Stylish Nursery Room
This is magazine worthy! The materials are beautiful. Check out some similar looks that I found below!
Clear crib | Gray suede Rocker | Navy Curtains | Blue Ottoman
34. Contemporary Nursery
35. Light Space Room
A Unique and Beautiful way to design a nursery!
36. Gray Vehicle Wall Nursery
37. Space Flight Nursery
This is actually a pretty sweet set up for a nursery. You have all the basics plus storage.
38. Little Man's Nursery
This look is just beautiful! I want it all. That is all. haha!
39. Boy's Traditional Nursery
40. Natural Materials
Gorgeous! Find the beautiful flower wall paper here or make it yourself!
I personally plan to incorporate some of these ideas on a rolling basis. I think some will be better while the kid's are young, and some may be a little better utilized once the kids are a little older.
Do you have any other ideas that you think I should add to the list? Please let me know in the comment section below! It's not the easiest thing searching for kid's nursery ideas I've come to find out so any bit up advise is gold.
Also, remember to sign up for your FREE weekly activities planner on the top or the right side of the page and check out my printables page!