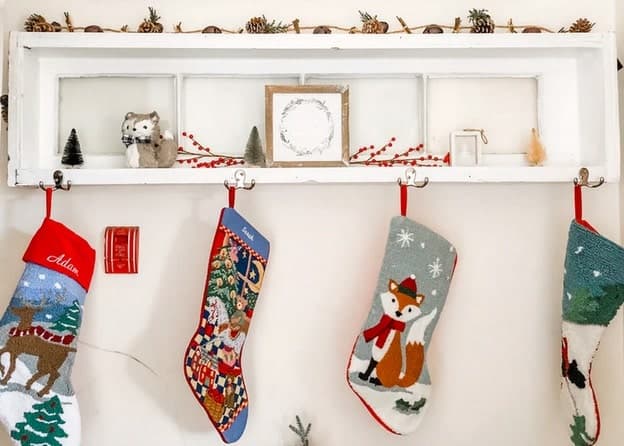 The Cool List of Kid's Stocking Stuffer Ideas
---
Happy Holidays! Are you shopping for your kids or maybe your grandchildren and wondering what to get them this season? Well my kids are literally asking for everything they see every. day. lol.
I know many of those products will only get one day of use, so I have been scouring the internet to find super cool kid's stocking stuffer ideas that can bridge the gap for my kids wants. They get a few big things, and then cute gifts as stockings stuffers!
I'm excited to share an amazing compilation today and I believe that kids will actually enjoy and use these.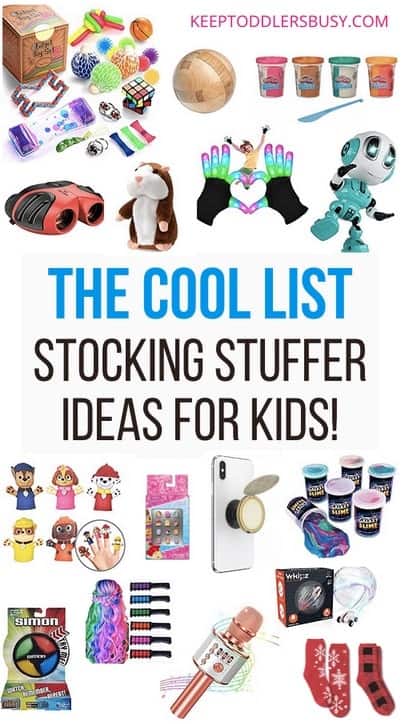 To make it easier, I included links from the widely used Target and Amazon. I know for me, it's easier to get all my gifts in one place online. (I'm still in that phase where taking my kids in the store is often super annoying )
If you love these gift ideas shown below, be sure to check out my other recent Holidays posts on toddler learning toys or Christmas games for families post! Also, head on over to Pinterest and follow me for daily updated Holiday craft ideas and decor!!
Stocking Stuffer Ideas For Kid's
We hope you like the products we recommend. Just so you are aware, Keep Toddlers Busy may collect a share of sales from the links on this page. As an Amazon Associate I earn from qualifying purchases. Read more about our links in my disclosure policy.
Be sure to click the picture to get more details!
1. SOKY Talking Robot for Kids
So cute! Not only a toy, but also your little one's companion.
Let's talking to him and it will speak what you say in a fun cute voice.
2. Disney Princess Press On Nails
Nails with Princesses? My daughter would looove this!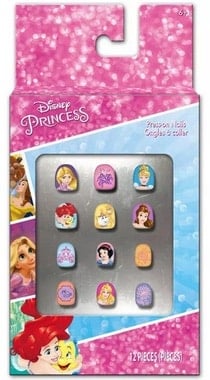 3. Sensory Fidget Toys Set
These toys can be played, squeezed, stretched, flipped, pressed, and more. A great busy toy for ids and also a stress and anxiety reducer.
4. LED Light Up Gloves
These are so cool!
5. Play-Doh Scents Holiday Mystery 4-Pack
You just can't go wrong with play-doh for kids. This is a little spin on the classic sensory toy.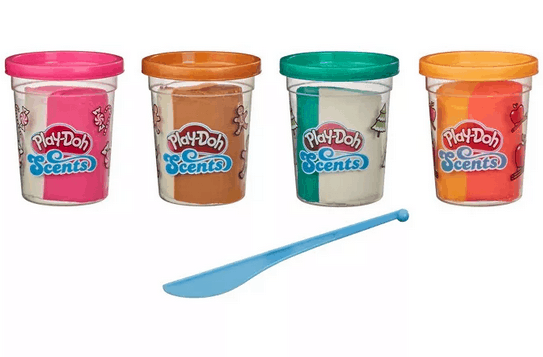 Shop this Stocking Stuffer Here
6.Nickelodeon Paw Patrol Bath Finger Puppets
My kids have been playing with these for years and they use them in different ways. At a great price, they are perfect for stuffing stockings
7. Rabbit Ear Hair Tie Bands
The best stocking stuffers are items that kids use all the time, but with a cute little spin. These are the cutest!
8. Galaxy Slime
What kid doesn't love slime?? The solar system has been really popular this year so I think this is perfect for Christmas day.
9. Kids' Holiday Cozy Socks w/ Gift Card Holder
Find the adorable holiday socks here!
10. Colorful Egg Splat Squishy Toys
Another cool squishy toy to add to the list! Kids love this stuff and the colors allow for more than one child to enjoy it. I believe in silly play just as much a play specifically for learning.
11. Simon Micro Series Game
This is such a classic game. I love that it was redesigned into a mini toy that is perfect for holiday stockings.
12. Kids Karaoke Bluetooth Microphone
The karaoke microphone is a classic and it's even better with bluetooth. I'm not sure I have ever met a kid who doesn't love this toy, even if it's in their personal time.
13. Burt's Bees Lips Cell Phone Grip & Stand
Shop this gripper here! Phone Stand and lip balm? This is genius. I want one and it's perfect for this list.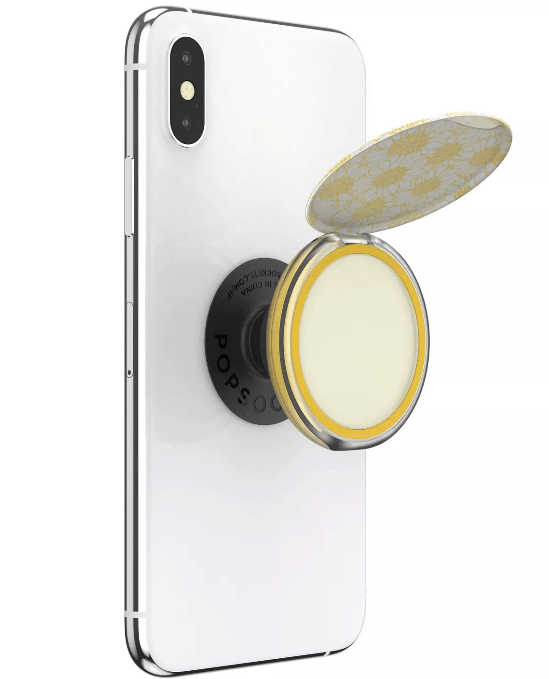 14. Cool Sneakers Ankle Socks
Again, a high use item for kids, but with a little twist! I love these cute sneaker socks!
15. Washable Hair Chalk for Girls
Hair color is like a right of passage for kids. The great thing is that this hair chalk is super easy to wash out, but super fun!
16. High Speed Pocket Racer, Glow in The Dark
This one is super cool!
17. Wooden Puzzle Magic Ball Brain Teasers
I thought I would add a cute little brain teaser in here! This one is for older kids and will definitely keep their minds occupied for a while!
18. Do You Want to Build a Snowman?
The amount of times my kids have uttered these words since seeing Frozen about 500 years ago is pretty impressed and astounding lol. This is a perfect little gift for many frozen lovers out there.
19. Talking Recorder Hamster Plush Toy
This is similar to the talking robot, but even cuter 🙂
20. Go Fish Alphabet Game Cards
Okay I decided to add a great learning activity. A little twist on Go Fish! for the kiddies 🙂
21. High Resolution Compact Binoculars for Kids
Exploration is the key to fun and learning for our kids! This is perfect for all types of ages and interests!
22. Crayola Twistables Crayons Coloring Set
This is a great twist on the traditional crayon! Kid's wil. always need another box so why not a twist up set of crayons?
23. Walkie Talkies for Kids
In all honesty, I want these walkie talkies 🙂 Another classic for the list that kids will love. I almost forgot about them and it's a shame that my kids know nothing about them yet. LOL
24. LCD Writing Tablets for Kids
This is a great toy to promote writing and drawing, but still with a cool look. I love it!
25. Fricon Foam Rocket Outdoor
And last but not least, this toy is great to take outside and have some fun. My son has one and loves it 🙂
26. Vtech Rock and Bop Music Player
How cool is this for the kiddies?! Perfect stocking stuffer.
27. Bag Of Reindeer Farts Cotton Candy
Ha! Christmas funnies are a must!
28. LOL Surprise All-Star BBS Sports Series
All the kids love LOL! This is a special addition!
For even more ideas, check out Buzzfeed's article on Stocking stuffers!
I hope you enjoyed this cool stocking stuffer ideas! I think the kiddies will really love these. I hope it brings joy to your family during this time, even if it's just your immediate family this year.
Please comment below and let me know any additional ideas that you have planned for the family over the season. I would love to see a if these stocking stuffers were a success.
Also check out my post on a great preschool Christmas crafts for more fun ideas!
Also, remember to sign up for your FREE weekly activities planner on the top or the right side of the page and check out my printables page.