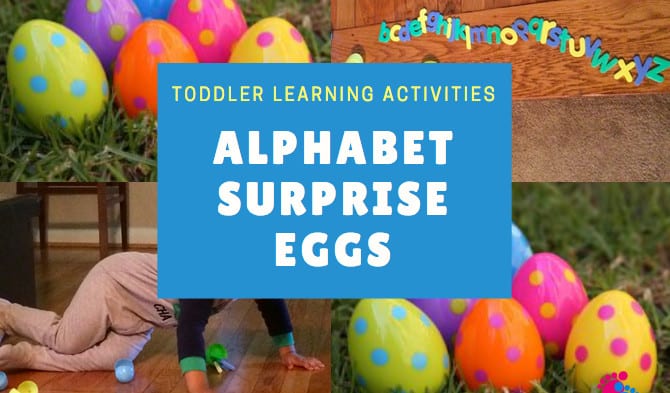 Easy Toddler Learning Activities: Alphabet Surprise Eggs
---
Sometimes the simplest things can turn into the absolute best toddler activities! This "Surprise Eggs" activity may sound like something to do on Easter Sunday (that's how it started), but after seeing that my son was literally having the time of his life with his special egg surprises, I said to myself, "Why save this for only one day a year??". Below I explain how this simple activity can and should be a part of your toddler's learning activities!
–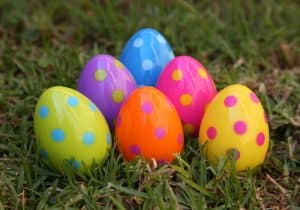 –
Satisfies a Toddlers Inherent Need to Explore
–
Have you ever wondered why your toddler is constantly climbing and jumping, tearing things up, taking toys apart, and generally getting into Every. Single. Little. Possible. Thing? Especially if they were told not to do it! I promise you it's not because your toddlers likes testing your patience, although it seems that way sometimes.
I always have to remind myself that they are new to this world and they have a need to explore. I believe that uncovering surprises and finding out whats inside an object satisfies this inherent need to explore. I talk in more detail about this in one of my previous posts about inspiring a child to learn.
The great thing about this activity is that it can easily be repeated on any day of the year, not just the Easter holiday, and I can almost guarantee (I said almost!) you that your busy toddler will love this simple, fun, and easy activity.
–
This Fun Toddler Activity Can Be Educational (No Candy Necessary!)
–
The one valid gripe from parents regarding plastic Easter eggs is that they can be unhealthy for our children due to the high volume of jelly beans, chocolate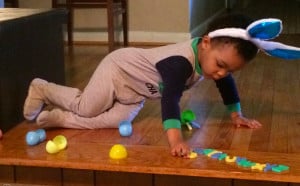 bunnies, candy eggs, etc. stuffed inside the eggs. (Yummy) After all, some of us are still rationing out that Halloween candy at this point! I'm not one of them, I'm the parent that eats the extra candy lol.
Nonetheless, I am happy to say that this activity can be CANDY FREE. In the past I have used small foam letters, shapes, numbers, animals, and other small toys to fill the eggs. Watching my toddler find out what's inside is such a treat. In the picture shown to the left, it happened to be Easter and I chose to do the alphabet letters inside the eggs because my son was currently obsessed with the alphabet.
I picked them up at the dollar store the day before. And you guessed it, I paid $1.00 for the letters and reused my plastic eggs from the previous year. I would just suggest to use something that your child is currently interested in, or anything that you would like them to learn.
–
Simple and Possibly Free
–
Not only is this activity simple, but it can also be of no cost to you! I have used toys already in the house in the past and my toddler still had a great time. The element of surprise when opening each egg is enough to garner utter excitement from your child.
The great thing is that if you do need a few supplies to pull this activity off, you can visit the nearest dollar store and make a fun, repeatable, activity come to fruition for just a few dollars. Now if you are feeling fancy, check out these  Polka Dot Plastic Eggs
that I Love. Sometimes I'll spend a few extra dollars if I know I will continue to reuse. And Voilà! You have another great activity in the books!
–
We hope you like the products we recommend. Just so you are aware, Keep Toddlers Busy may collect a share of sales from the links on this page. Read more about our links in our disclosure policy.
—
So give it a try and get ready to say, "Awesome! Show me what's in the next egg! " (Over and over again 🙂 )
Have you tried other surprise activities for your toddler? Tell me about it below!
–