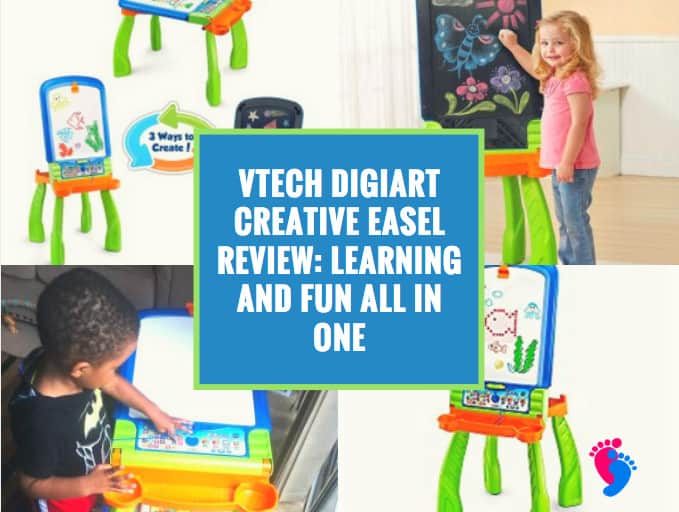 VTech DigiArt Creative Easel Review
---
Product: VTech DigiArt Creative Easel
Size: 19.9 x 18.9 x 42.2 inches, About 8 pounds

Batteries: 4 AA batteries required. (included)
Guarantee: Manufacturer's warranty can be requested. Click here

My Rating: 9 out of 10
---
Keep Toddlers Busy is a participant in the Amazon Services LLC Associates Program, an affiliate advertising program. As an Amazon Associate, I earn from qualifying purchases. Read more about these links in my disclosure policy.
–
DigiArt Easel Review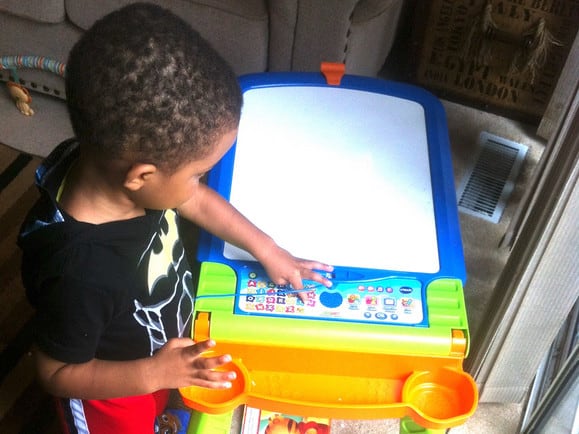 –
Product Overview
Transforms from a light-up dry-erase board to a chalkboard and drawing table for a variety of ways to learn and be creative; over 40 inches tall

Learn to draw more than 100 objects and shapes step-by-step by following the lights using the magic pen; 6 different activities to explore

Use the magic pen and follow the lights to learn letter and number stroke order for uppercase letters A-Z and numbers 1-20; follow the lights using the magic pen or create your own picture.Light-up area in the center of the dry-erase board is 5×5 inches with 121 LED lights that display engaging animations

Light-up area in the center of the dry-erase board is 5×5 inches with 121 LED lights that display engaging animations
–
Entertains Toddler with 3 Settings
–

The thing about toddlers is they get bored easily! They require constant entertainment and that often involves toys. Mounds and mounds of toys. My goal is to often find toys that are great learning toys for kid as well.
So the great thing about the easel is that children can explore their creativity and draw anything they want while listening to 10 classic songs. This was essential for me because learning happens in many ways, including traditional academic learning, but also creative learning.
Even though it is intended for ages 3 and up, my son received this for Christmas when he was just turning two years old. (At this point he was already counting and saying his ABC's early so we thought it was still appropriate.
Because it had a number of uses, he was able to spend a good amount of time playing with the toy which allowed mama to have a break 🙂 I love planning activities with my son but sometimes I need him to entertain himself for a little bit.

Grows with My Child So That I Can Use the Toy Long Term and Save Money
–
We all have experienced at one point or another buying a toy that is only played with for a short amount of time before it is discarded. Throwing away money is not something that I like to do. So one thing I like about the easel is that it includes activities that span different levels of learning. It allows for long term use of the product.
For the first six months, my son basically did free draw and played the songs. As time went on, he started to spend more time with the alphabet, shapes, and number drawing. He loves it so much that I have to keep batteries in the house though. This toy is always playing in the back ground, my son loves it.
–
–
Check Out These Videos Summarizing the DigiArt Easel Experience
–
How to Assemble
–
My husband was able to complete the assembly of this product under an hour but I wouldn't say it's the easiest to do. Here I have included a great video to aide in this process so that it won't be a hindrance for anyone.
Oh the joys of searching for educational toys that your child actually enjoys! This easel hits the mark for me. This product Allows Your Child to Learn AND Have Fun.
If you need further instruction, take a look at the Vtech Digiart Creative Easel Manual
–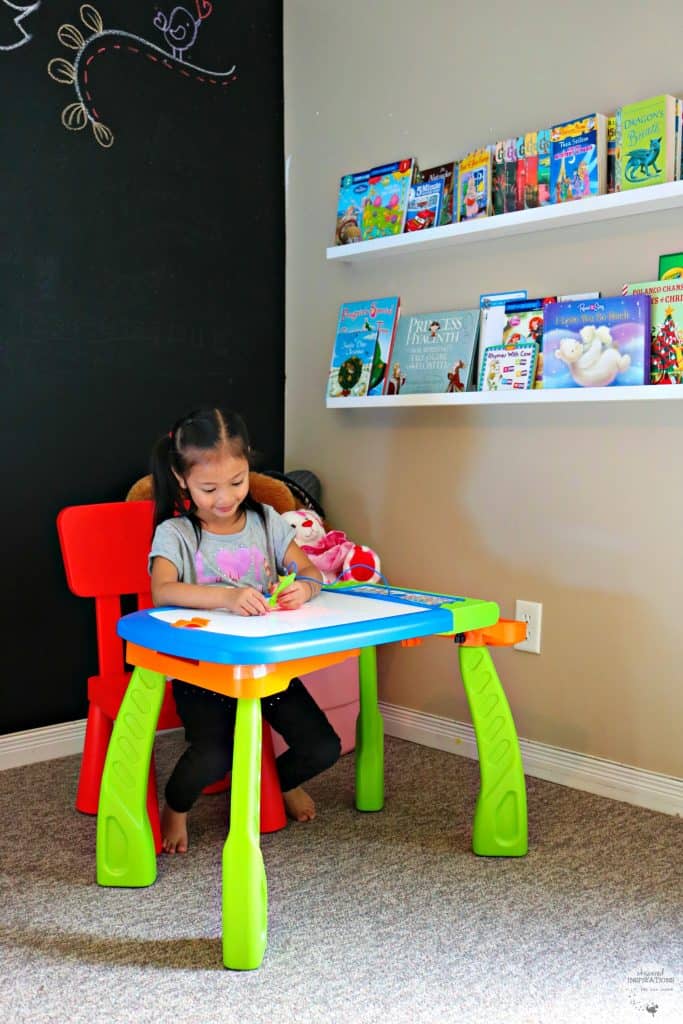 –
Allow Time to Put Together and Learn Transitions

The one major con of this product is an aspect that I have noticed in many products that serve multiple roles. Because this easel starts as a white board, doubles as a chalk board, and then can be converted into a table, you have to put together a pretty complex toy.
Don't get me wrong, it's great that my son is able to use all three functions of the easel, but the actual process to switch between the the functions could be easier. My suggestion would be to take some time with this aspect of the toy. Take time to put it together and also take time to learn exactly how to switch between each way to use the toy.
If you take the time to do that in the beginning, it won't be a burden to you once the toy is in use. It requires an adult to transition between activity, so it makes sense to know how it works! Breath, it's totally worth it!
–
Pros and Cons

This chart is a more generalized summary of this review. Within the Chart, you can clearly see that the pros of this product far out weigh the cons in my opinion. Take a look!

–
In Conclusion…
I think this is a great product!
This can help your child to learn To Draw, Write And More. This fun, interactive easel can be transformed from a dry-erase board to a chalkboard and drawing table for more ways to play, combining learning and creativity. Use the magic pen to light-up the LED lights on the dry-erase board to add a fun element to the drawings in easel and drawing table modes.
It is by no means perfect in every way, but it is one of the first technology easels of its kind made for young children. I think they did a great job of making this toy come together the way it did.
I think the next step is a higher resolution of pixels for the electronic feature, but my son doesn't seem to mind or notice. You can find the VTech DigiArt Creative Easel in most chain stores such as Toys R Us and Target, but you will find one of the best deals on Amazon.
–
If you have tried this or would like to try it, let me know below! I would love to see other reviews on this product! Also, make sure to browse my site check out my other reviews such as my 2019 Best Learning Toys List!