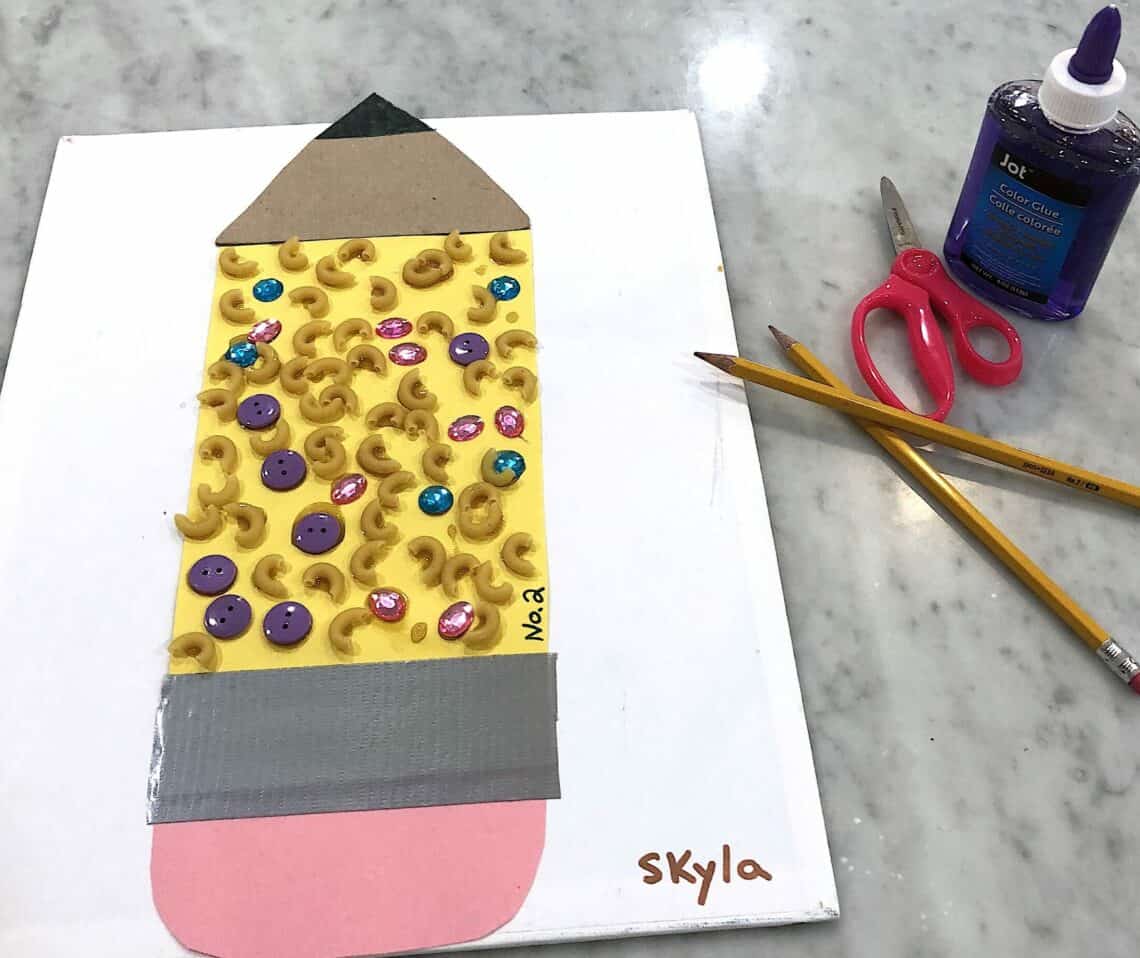 An Easy Back-To-School Craft To Get Kids Excited For School
---
Tis the school SEASON! I'm so excited to share this easy Back-To-School craft to get your kids excited for school. Let's face it, we all need to get our minds right and this activity somewhat helped me as well, strangely. Your kids will absolutely love it and you will too because it's pretty easy to set up.
I mean seriously, give me the name of ONE child who doesn't love gluing random materials and I will be shocked. shocked.
There is also something about macaroni that just mesmerizes a child over an over again, and it's a long standing tradition. As long as you prepare for a little mess ahead of time, activities using macaroni and glue can be fun and simple. There are so many possibilities.
–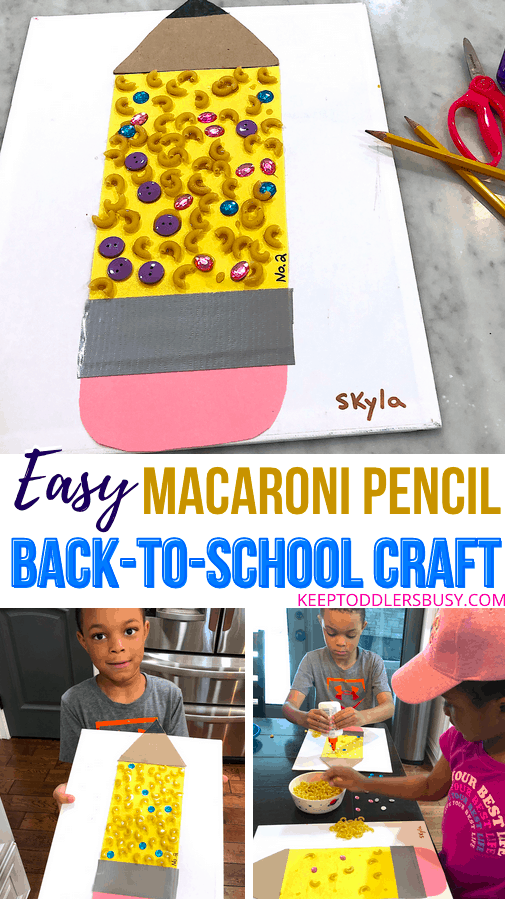 If you love this fine motor activity, check out my recent post on button names crafts and also my summer crafts post! Also, head on over to Pinterest and or Instagram and follow me for daily update craft ideas!
–
Macaroni Pencil Back-To-School Craft
Let's get too it! The supplies are super simple and you may have most of them already at home. I truly believe that it's important to not only to have fun things for kids to do we we can have some time to sit and rest, but I also believe that it shouldn't cost us a lot of money to do it. As you will see below, I frequent the Dollar Tree and reuse as much as I can. Take a look!
–
Back-To-School Activity Supplies
Construction Paper Yellow, Pink, and beige or brown work just fine
2. Glue
3. Markers for the pencil tip.
4. Uncooked Macaroni
5. Duct Tape or Metallic Paper
6. Jewels. Or you can use literally anything you want!
7. This part is optional, but we used craft canvas to paste the pencil onto for the lasting effect.
We hope you like the products we recommend. Just so you are aware, Keep Toddlers Busy may collect a share of sales from the links on this page. As an Amazon Associate I earn from qualifying purchases. Read more about our links in my disclosure policy.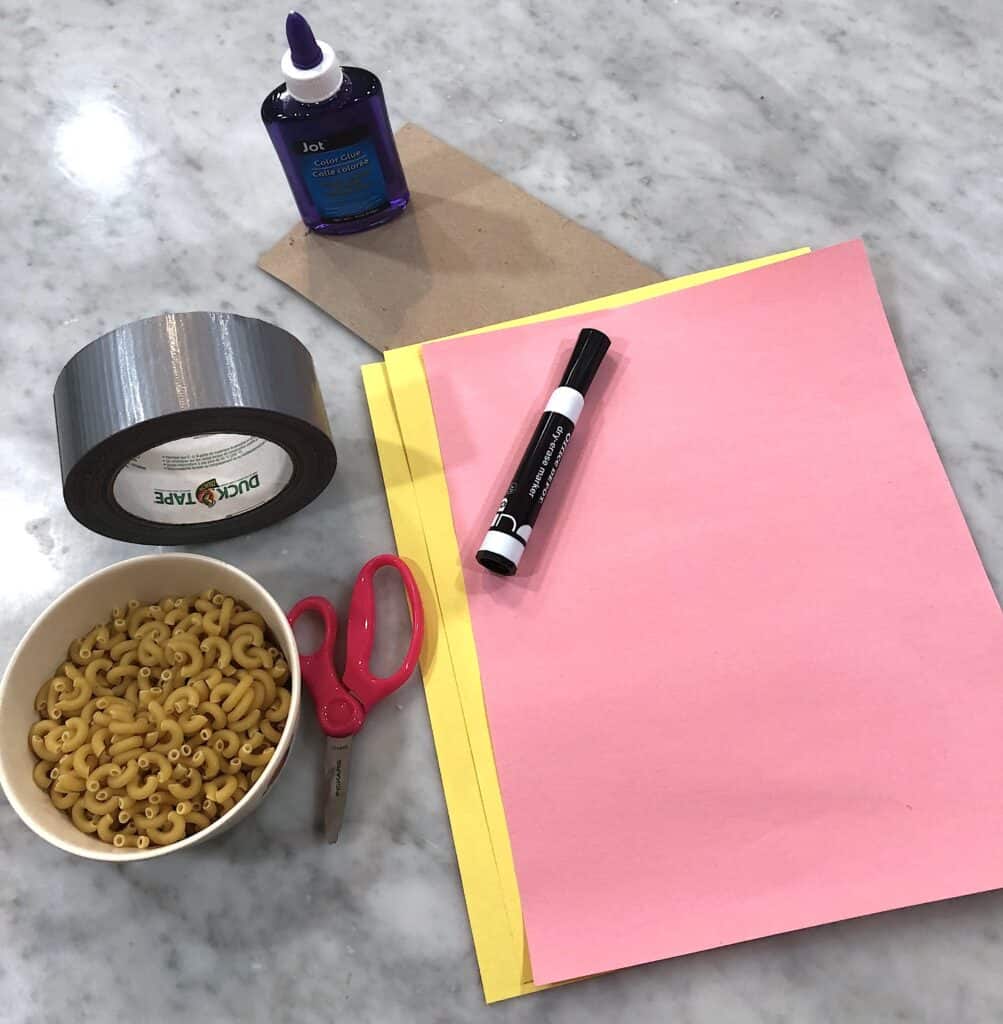 Cut, Paste, Decorate!
I'll just let the pictures do the talking here for the most part. But before I do, just a few tips and suggestions!
Cut all of the giant pencil pieces beforehand, then paste! If you do it this way you can measure sizes easily and get the setup done quick. Alternatively, you can involve the kiddies in the setup as well, but still do all the cutting first.
2. Instead of using metallic paper, it was super easy to hold the pink and yellow paper down with duck tape. (and it provided the perfect look) I went slightly over the pencil line, with the duct tape, on both sides so that it would adhere to the canvas background.
3. Using a thick canvas really makes it look great. You can find them in the craft section at the Dollar Tree.
4. Help the kids add SMALL glue dots to the paper first! The macaroni dries really quickly with small dots of glue and adding the macaroni became the best part for my little Skyla.
5. The last step is to add the decorations!
–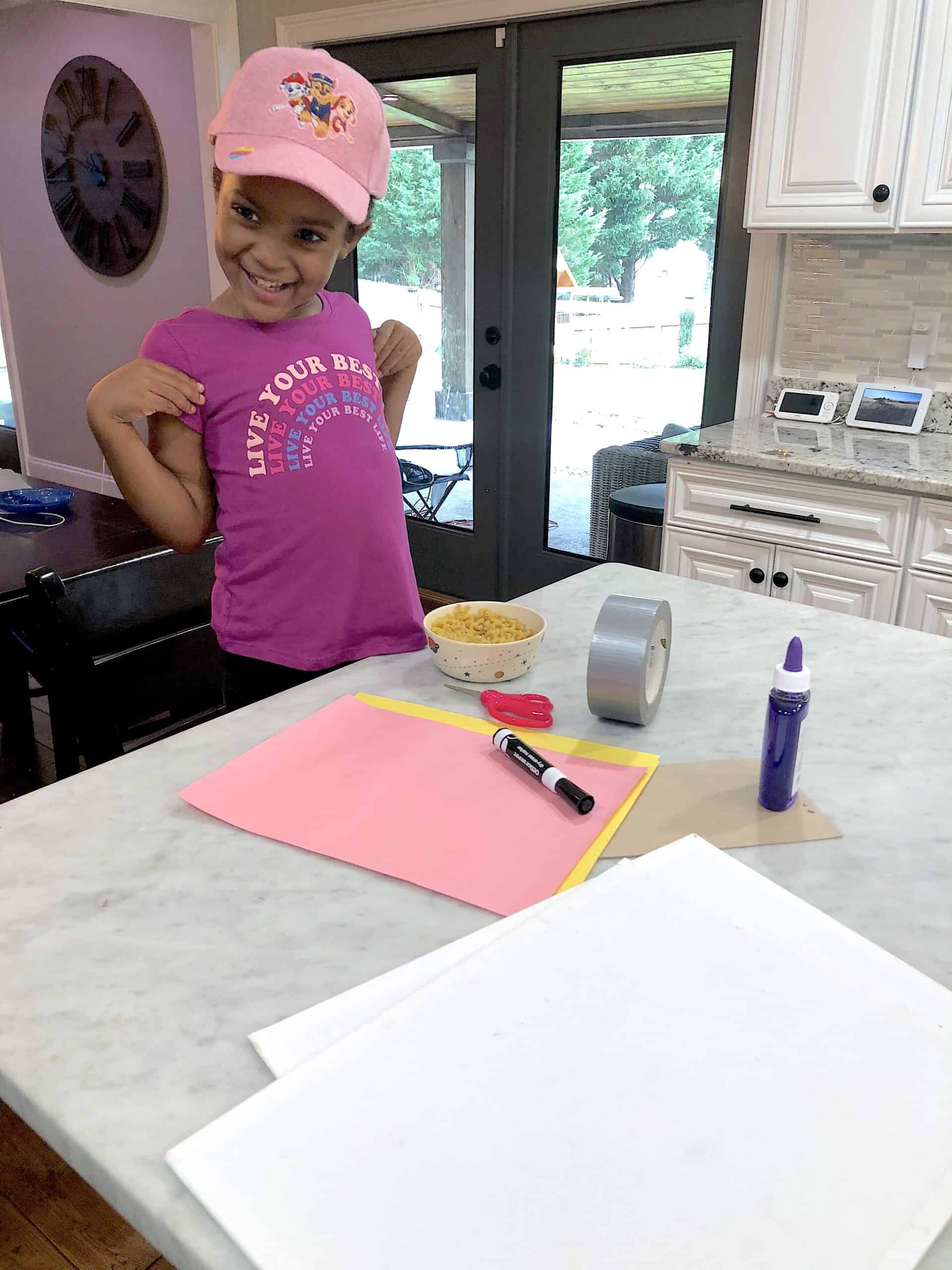 –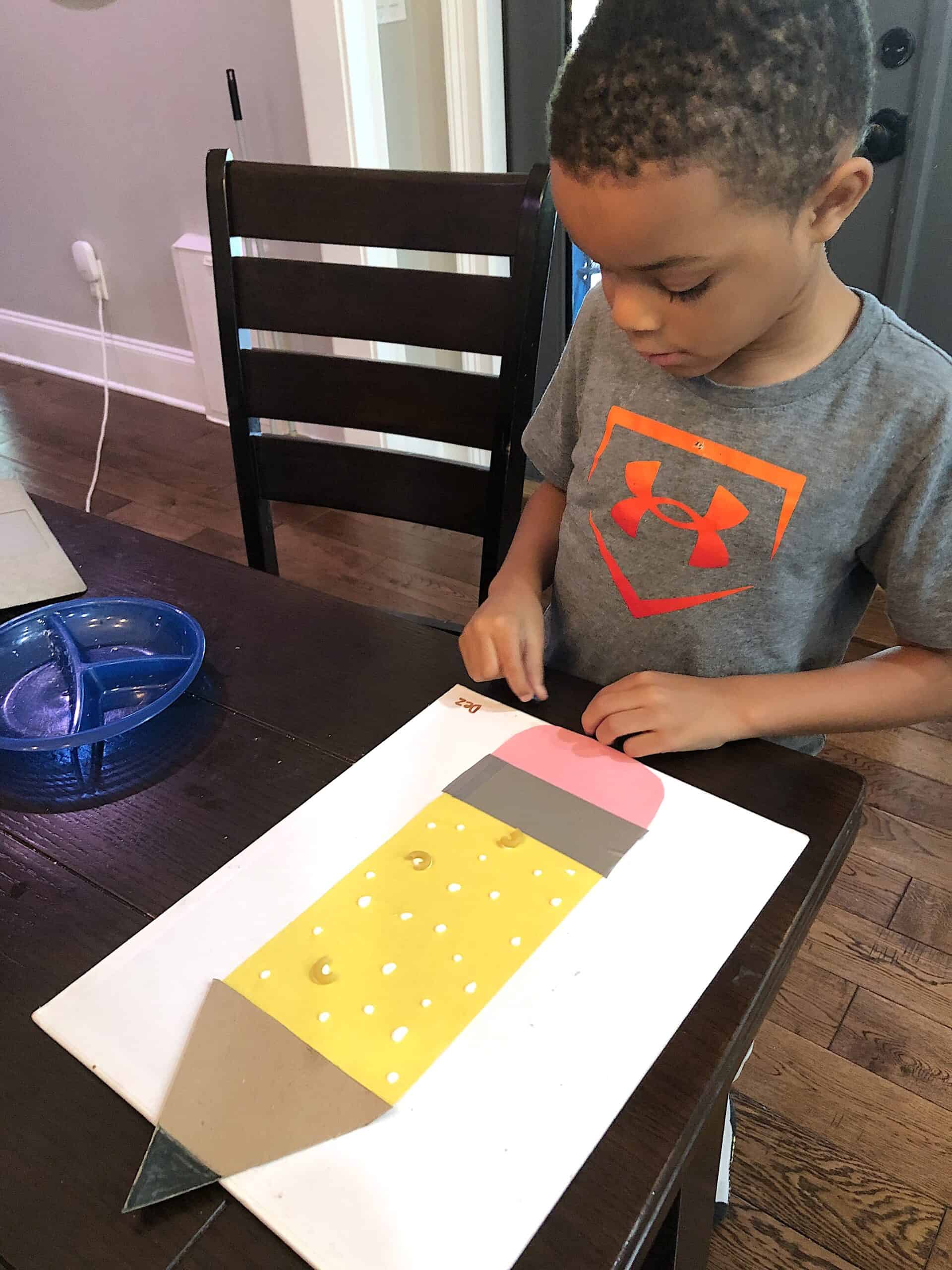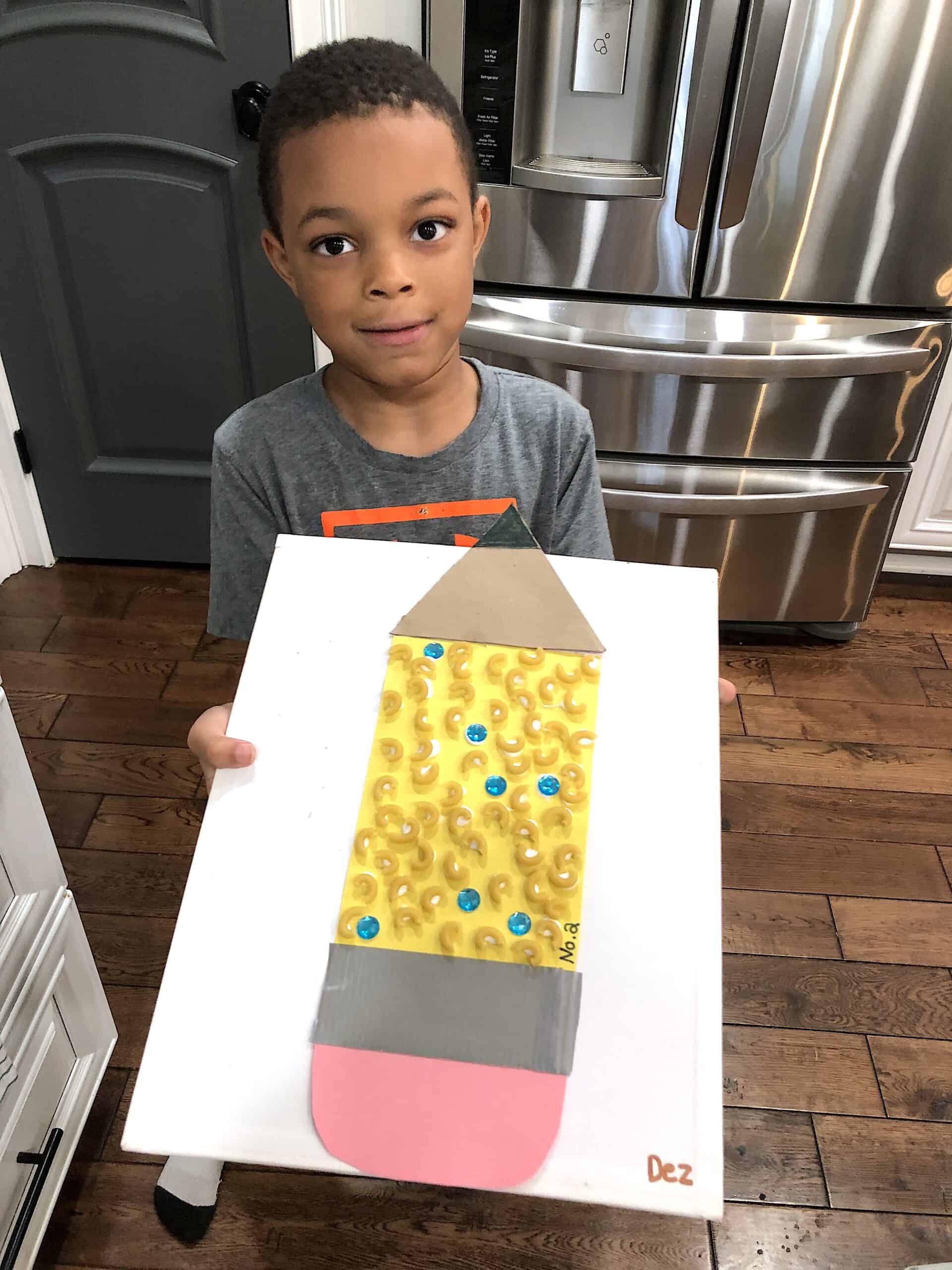 I hope you enjoyed this super fun Easter craft for preschoolers! I would love to see some of your craft ideas below so please share!
Play Dough is a favorite pass time for children that has provided literally decades of fun for all ages. Through the years many parents and even toy companies have come of with numerous ways to have fun with this awesome material.
Also, remember to sign up for your FREE weekly activities planner on the top or the right side of the page and check out my printables page!
–
I've been an activity mom for almost 9 years and have over 15 years of experience crafting, writing, and creating. My mission is to bring fun, balance and learning to your busy homes with activities, tips, inspiration, and organization!