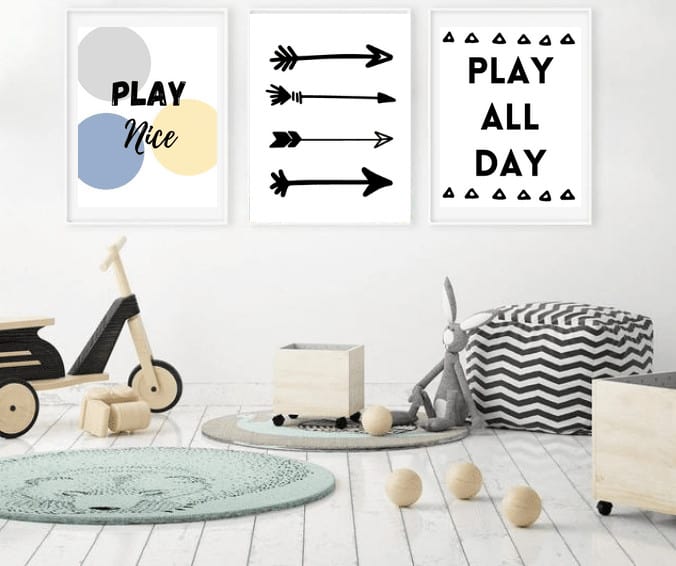 20+ Gorgeous Free Wall Art Printables For Kids
---
Let me just get this out. I am in love with free wall art printables!!! This is fairly new for me and I fell hard 🙂 Don't get me wrong, kids crafts and activities will always be my first love, along with product reviews and kids decor lol, but I can seriously get into this!
I am somewhat of an artsy and crafty person, so I have been enjoying the process of coming up with designs and making nursery wall art. That fact that we can print these beautiful creations out and add them to out playroom design or kid's bedroom decor is just amazing to me. ( and cheaper).
SN: I also love kids design in general so make sure you check out my post for playroom storage ideas.
If you love it too and are looking for even more kid's design ideas, then check out my Pinterest board on Playrooms and Kids Bedrooms and kids backyard ideas!! Don't forget to follow me on Pinterest too!
Whew that's a lot but I promise you will love the content 🙂
So today I decided to give away some of my recent printable wall decor for kids! You can use it not only for your home you can also give them as a present for your friends and family! It's something small and inexpensive, but beautiful!
I also did some more research and included some other great wall decor printables from some talented ladies as well!
They are all super adorable so check them out.
20 Adorable Nursery Wall Art Printables
Keep Toddlers Busy Free Wall Art Printables
This wall art is designed to fit a variety of personalities, whether it be the kids or the parents picking the decor! You will get FREE 8×10 Printables of each design below sent right to your email.
I truly hope you enjoy them as much as I enjoyed making them 🙂 Just input your email and get them all send to you instantly in one document!
I also have a host of printables at my shop! You can get me activities planner for free at the Keep Toddlers Busy shop and check out the rest of my store!
Enjoy!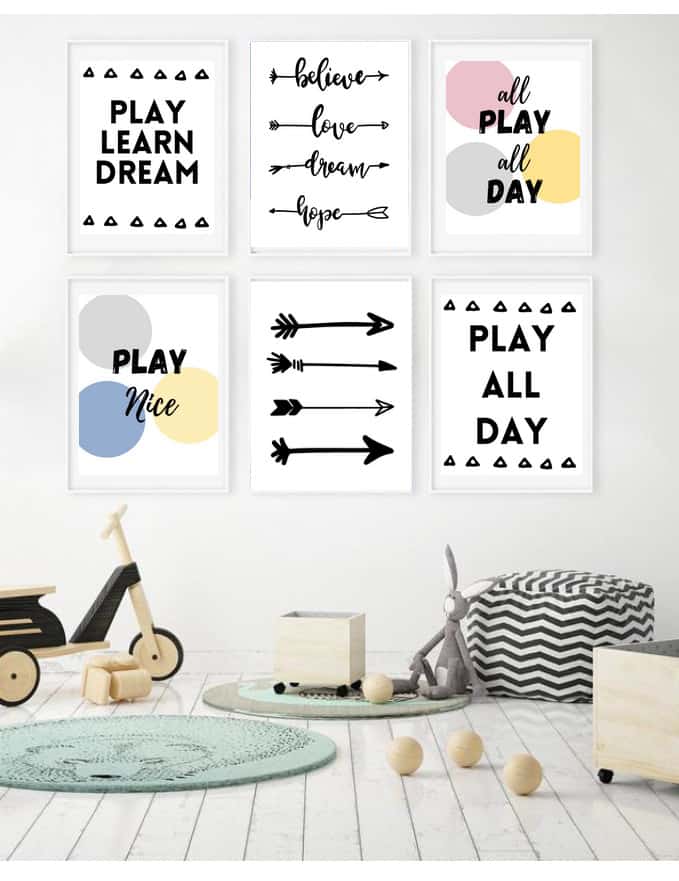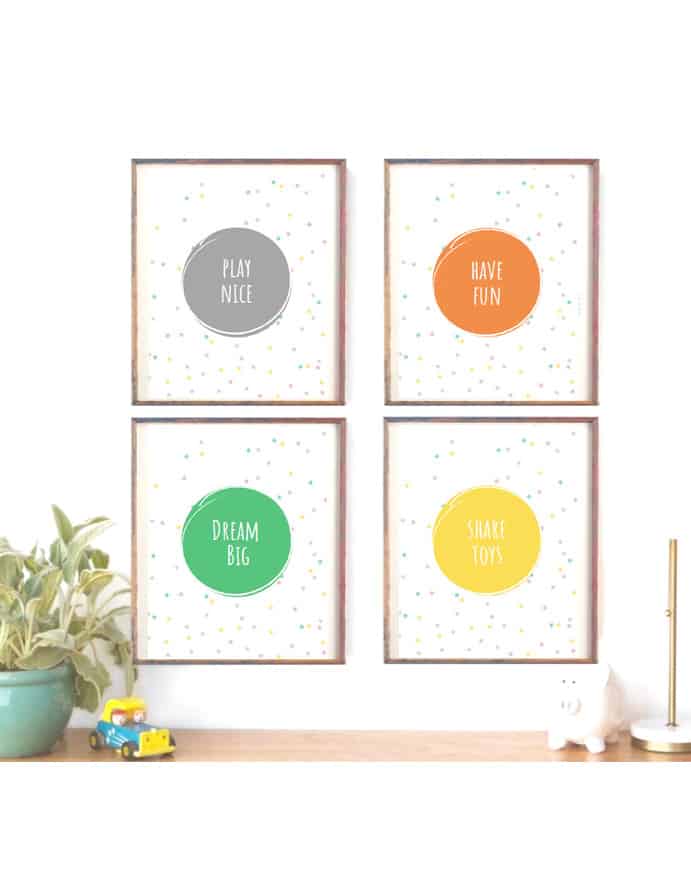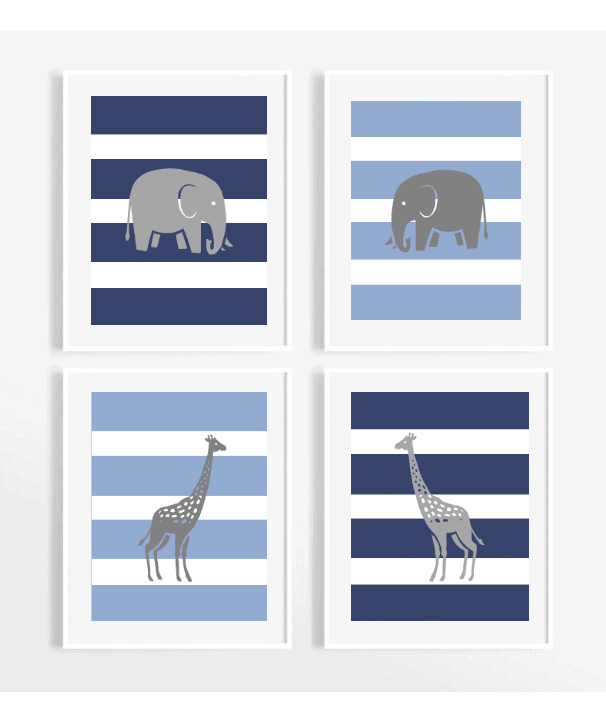 Keep Toddlers Busy is a participant in the Amazon Services LLC Associates Program, an affiliate advertising program. As an Amazon Associate, I earn from qualifying purchases. Read more about these links in my disclosure policy.
Printable Wall Art For a Little Girl's Room
I love this design! Simple and cute with a little bit of advice. You can find this art as Life is Sweeter By Design.
Set of 4 Cute Animals
These animal wall art animal prints are ADORABLE for your little child's room! You can find these free nursery printables at Mom Dot!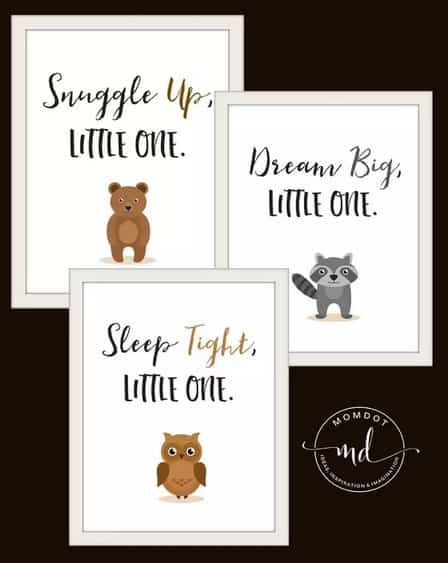 Gorgeous Floral Alphabet Wall Art
I love how creative this wall art is with the addition of the flowers to the alphabet. You can find this for free at Burlap and Blue 🙂
Feeling Crafty? Check out the video below and learn how to do you own DIY Canvas art for the nursery or playroom!
Well that's it! I hope you enjoyed your wall art for possible your child's bedroom decor or whatever you like!
Even if you do not use these, I hope they inspired you during your decorating process. (Lord knows I needed inspiration)
Do you have any other decor ideas that you would like to share with me?? Please let me know in the comment section below! I would love to hear from you!
Also, remember to sign up for your FREE weekly activities planner on the top or the right side of the page and check out my printables page!