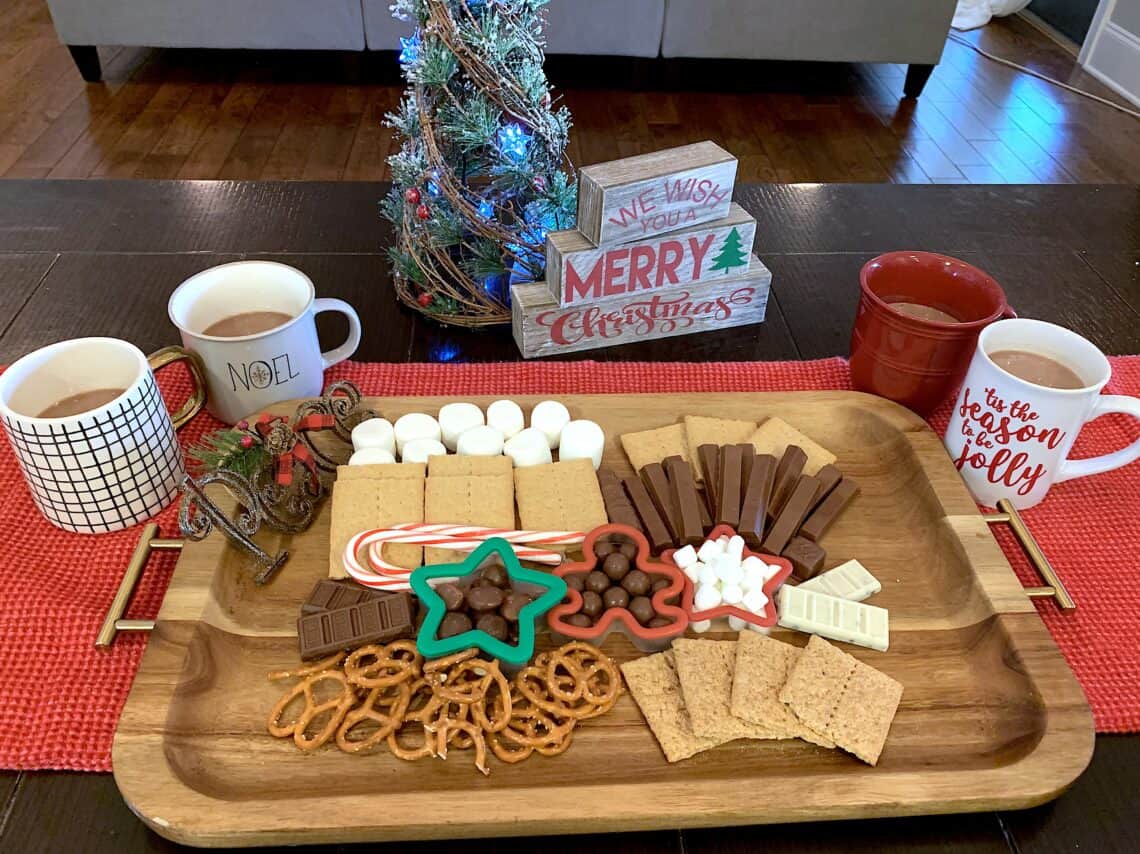 Turn Your Halloween Candy Into An Amazing Hot Chocolate Board
---
Hey there, calling all hot chocolate lovers! I love the holidays so I have jumped feet first into the seasonal crafts and also fun seasonal food ideas for the kids. This one is easy enough for kid participation at all ages.
If plain hot cocoa alone is getting a little old this year, I would recommend trying this super quick, super fun and easy winter dessert/drink for kids.
This is perfect for the season and so fun for the kids!
It's a great opportunity the get the kids "cooking, or you can have it prepared for a cozy afternoon 🙂
A highlight of this awesome winter dessert is how easy it is to use a a few cookie cutter props to get a festive look. (I found this Christmas cookie cutters at my local grocery store. Check it out)
Here you can see how easy it is to pull the wrappers off, add some marshmallows and cookies cutters, and make something really cute.
MY TIP: Make the hot chocolate first if you have young kids so you can give it time to cool down!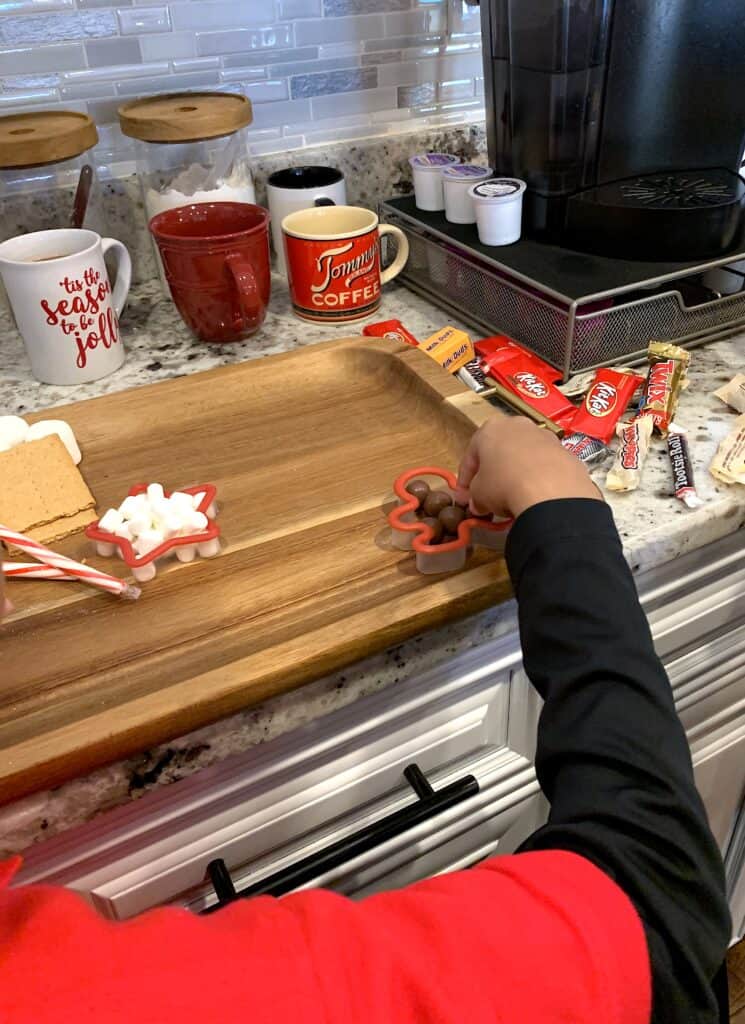 Also be sure to follow me on Instagram and Pinterest for daily updates, posts and stories!
Candy and Cocoa Hot Chocolate Board
If you love cute Fall and Winter themed desserts, then take a look at the how-to below! I included a few materials, easy instructions, and some pictures to check out the process.
My Hot Chocolate Tray Ingredients
Keep Toddlers Busy is a participant in the Amazon Services LLC Associates Program, an affiliate advertising program. As an Amazon Associate, I earn from qualifying purchases. Read more about these links in my disclosure policy.
Easy Instructions
Decide ahead of time if the kids are participating LOL
Then, take out the hot cocoa and make the drinks first if you have young children! This will cut down on some wait time while you make you tray.
Next take out the cookie cutters and other materials shown above.
After hands are washed have the kids start unwrapping the candy
Next put the cookies cutters in the middle and decide what will go inside of them

Next add the crackers, pretzels, more marshmallows, and whatever you like around the cookie cutters.
Then keep adding more layers of food depending how many people you are entertaining.
Set it all up on a table or bar and you are set!
Also make sure to start putting away any extra candy while the kids are eating and drinking. That made things go a whole lot more smoothly.
Take a look below!
Did you try this idea?
Share it with the world! Mention @keeptodlersbusy or tag #keeptoddlersbusy
The kids really enjoyed this fun hot chocolate board so grab a tray and have some fun with this seasonal version of cocoa!
I hope you enjoyed this post on how to make a fun and simple tray!
Comment below and let me know how yours turned out and also remember to sign up for your FREE weekly activities planner on the top menu of this page!
I've been an activity mom for almost 9 years and have over 15 years of experience crafting, writing, and creating. My mission is to bring fun, balance and learning to your busy homes with activities, tips, inspiration, and organization!