30+ Stellar Learning Toys For Kids You Won't Want To Miss
---
Are you shopping for your kids or possibly your grandchildren and wondering what to get them? Sometimes it can be so hard t navigate the endless world of toys and fine the quality buys.
I know from experience that many toys will only get one day of use, so I have been scouring the internet to find stellar learning toys for kids that can bridge the gap for my kids wants. If we are going to buy toys, at least they can learn from them!
I'm excited to share an amazing compilation today and I believe that kids will actually enjoy and use these.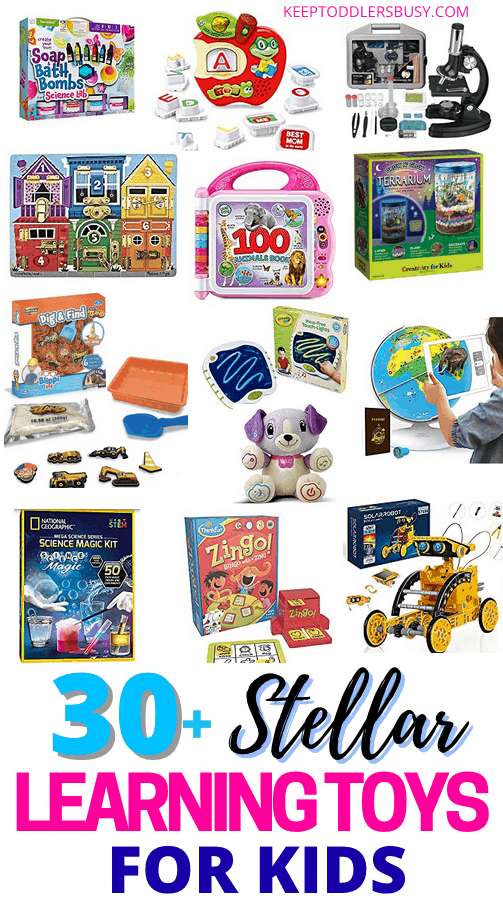 To make it easier, I included links from widely used Target and Amazon. I know for me, it's easier to get all my gifts in one place online. (I'm still in that phase where taking my kids in the store is super annoying LOL)
If you love these gift ideas shown below, be sure to check out check out my other post on toddler learning toys ! Also, head on over to Pinterest and follow me for daily updates on all things kids!!
Learning Toys For Kids
We hope you like the products we recommend. Just so you are aware, Keep Toddlers Busy may collect a share of sales from the links on this page. As an Amazon Associate I earn from qualifying purchases. Read more about our links in my disclosure policy.
Be sure to click the picture to get more details!
Toddler Toys
1. My First Crayola Touch Lights, Musical Doodle Board
My daughter would love this! My first Crayola touch lights is a mess-free, portable doodle board that lights up and plays music.
2. VTech Musical Rhymes Book
Interactive kids book has big easy-to-turn pages; nursery rhyme book comes with 6 classic nursery rhymes
3. VTech Wiggle and Crawl Ball
So cute! Interactive ball wiggles and wobbles on its own encouraging your little one to chase after it!
4. Just Smarty Electronic Interactive Alphabet Wall Chart
This is so cool! This wall poster helps your little one to develop new skills needed for preschool and beyond.
5. LeapFrog 2-in-1 LeapTop Touch
You just can't go wrong with this toy for kids.2-in-1 laptop toy for preschoolers features a screen that flips to convert from keyboard to tablet mode.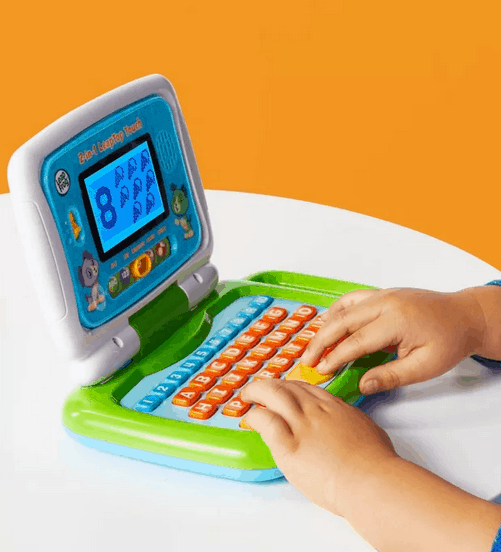 6.Nickelodeon Paw Patrol Bath Finger Puppets
My kids have been playing with these for years and they use them in different ways. At a great price, they are perfect for stuffing stockings and can teach pretend play, creativity, and even fin motor skills.
7. VTech Care for Me Learning Carrier Toy
This online exclusive vtech's care for Me learning carrier, includes an adorable plush puppy for role-play fun; interactive pet carrier that lets little ones take their plush pet anywhere.
<
8. LeapFrog My Pal Violet
What toddler wouldn't love this little cutie. Teach Violet your child's name and favorite things for personalized learning in 15+ activities.
9. Kids' Holiday Cozy Socks w/ Gift Card Holder
Find the adorable Blippi dig set here! (My kids love Blippi)
10. VTech Touch and Learn Activity Desk Deluxe
Another cool learning toy to add to the list! This interactive desk has so many great features.
Preschool and Kindergarten Toys
11. Melissa & Doug Wooden Latches Board
This is such a classic toy. You get that a lot with Melissa and Doug. This play board challenges kids to figure out how the 6 different latches work
12. LeapFrog Tad's Fridge Phonics Magnetic Letter Set Toy
This is really cute for mastering alphabet and learning phonics.
13. Melissa & Doug See & Spell Wooden Educational Toy
Shop this Meleiss and Doug puzzle toy here! It's perfect for this list.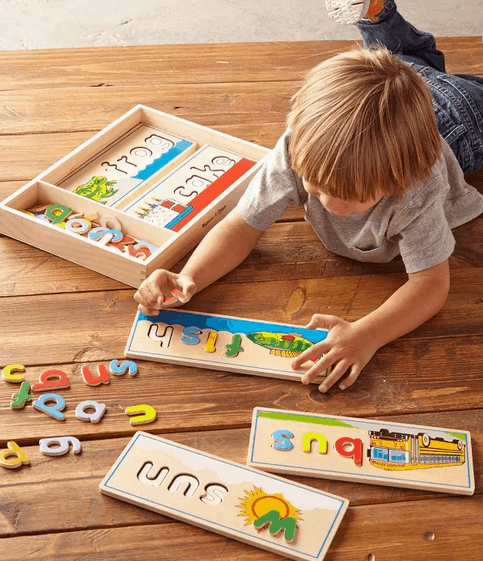 14. Sight Words Bingo – Language Building Skill Game
I believe this would be a high use item for kids, but with a little twist! Set includes 36 playing cards, 264 playing chips, caller's mat and cards.
/center>
15. LeapFrog 100 Animals Book
So fun! Kids get explore three play modes that teach about animal names, animal sounds and fun facts.
16. Melissa & Doug My First Daily Magnetic Calendar
This one is such an important part of learning but often left out!
17. TOPTOY Matching Letter Game
I thought I would add a cute little matching teaser in here! This matching letter games helps kids develop memory skills, strategic thinking, sociability, spelling and increases word recognition.
<
18. Zingo Bingo Award Winning Preschool Game for Pre-Readers and Early Readers
Trusted by Families Worldwide – With over 50 million sold, ThinkFun is the world's leading manufacturer of brain games and mind challenging puzzles.
19. Rainbow Counting Bears with Matching Sorting Cups,
This is classic for counting practice!
20. Go Fish Alphabet Game Cards
Okay I decided to add a great learning activity. A little twist on Go Fish! for the kiddies 🙂
Toys for School-Aged Kids
21. ThinkFun Gravity Maze
Exploration is the key to fun and learning for our kids! This is perfect for learning about force and critical thinking!
22. STEM 12 in 1 Education Solar Robot Toys
Have your child build a solid foundation in Science, Technology, Engineering, Crafts, and Robot knowledge with this awesome robot!
23. NATIONAL GEOGRAPHIC Science Magic Kit
In all honesty, I want this 🙂 My kindergartner loves science experiments and they are always fun. Bend metal with water, create a vanishing test tube, make a coin float, and much more.
24. LCD Writing Tablets for Kids
This is a great toy to promote writing and drawing, but still with a cool look. I love it!
25. Creativity for Kids Grow N' Glow Terrarium
I love this! Our kids can earn more than letters and numbers. This gardening craft kit allows kids to craft, plant, water, nurture and grow their own mini ecosystem. Shop this toy here!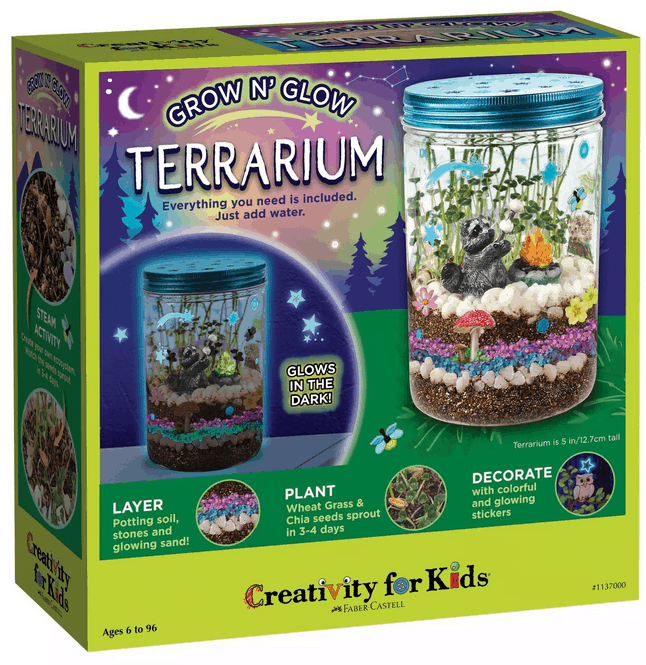 26. NATIONAL GEOGRAPHIC Glowing Marble Run
How cool is this for the kiddies?! The learning guide inside teaches about the physics of motion and aerodynamics.
27. Shifu Orboot (App Based) Interactive Globe
They make such amazing toys these days! The Orboot Globe + app takes your child on an augmented reality based journey around the world.
28. Soap & Bath Bomb Making Kit
This is perfect for kids that love crafts and experiments! Create soap, bath bombs & bath salts 🙂
29. NATIONAL GEOGRAPHIC Break Open 10 Premium Geodes
This is super cool and provides a learning experience! Break open these rocks to reveal amazing crystals inside!
30. Kids Beginner Microscope STEM Kit
This is perfect for your little beginner scientists! The microscope is equipped with advanced features and accessories!
Check out this video for more top kids toys for 2020!
For even more ideas, check out Good Housekeeping article on the best toys for 2020!
I hope you enjoyed these awesome, fun filled learning toys for kids! I think the kiddies will really love these. I hope it brings joy to your family during this time, even if it's just your immediate family this year.
Please comment below and let me know any additional ideas that you have planned for the family over the season. I would love to see a if these toys were a success.
Also, remember to sign up for your FREE weekly activities planner on the top or the right side of the page and check out my printables page.
I've been an activity mom for almost 9 years and have over 15 years of experience crafting, writing, and creating. My mission is to bring fun, balance and learning to your busy homes with activities, tips, inspiration, and organization!