An Easy Suncatcher Craft Kids Will Love For the Holidays
---
We are in full swing with holiday crafts mode right now, so here is a cute and easy suncatcher craft kids will love for the season! A few days ago both my 5 year old and three year old daughter did some fun kindergarten sight word activities post that involved matching and and letter sounds too. So remember to check that out as well!
These activities are also great for preschoolers, toddlers, kindergartners, and beyond! Just grab some of the supplies below and honestly you can be as creative as your kids will allow 🙂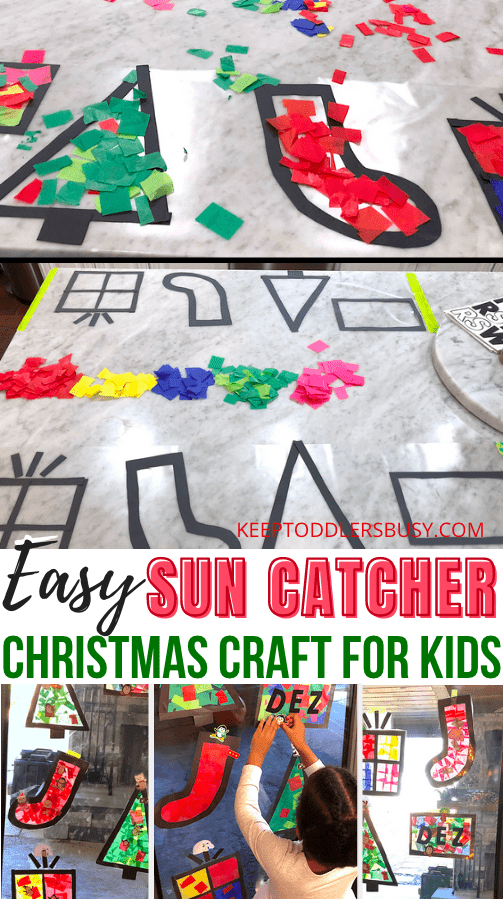 The set up for this was easy but did take some prep time. It took some time to get all of the supplies prepared and setup so the kids could just enjoy it. So take a look at how we did this Christmas project!
If you love Christmas activity ideas, check out my recent post on preschool Christmas crafts and also my learning toys post! Check the wrap-up of this post at the bottom to find more awesome learning activities. Also, head on over to Pinterest and follow me for daily update craft ideas!
Easy Suncatcher Craft For Kids
Materials
The Materials were super fun for the activity and the outcome was so adorable! It looked so good that we decided to keep it up on the door.
Con-Tact clear adhesive paper or clear adhesive liner ( this is what I used, bought from Walmart pickup :))
Construction Paper. I usually buy three or four bundles at a time because they can be used for sooo many things.
3. Colored Tissue Paper, Christmas Stickers, and whatever extra material you like.
4. Washi Tape
5. Letter Stickers if you like
6. Scissors
Keep Toddlers Busy is a participant in the Amazon Services LLC Associates Program, an affiliate advertising program. As an Amazon Associate, I earn from qualifying purchases. Read more about these links in my disclosure policy.
Preparation (20 minutes)
I prepared this activity ahead of time while the kids were playing in another room.
First start with laying down the contact paper on a flat surface for your kids. Make sure its stick side up.
Next secure the sheet with washi tape or paint tape.
Then grab your black construction paper and cut out your shapes of choice. I chose the easiest shapes to make it easier to cut the centers out.
Make sure to double the paper if you are preparing the activity for more than one kid. (take some of the work out!)
Then lay the strips onto the sticky side of the contact paper.
Next, grab you tissue paper squares or cut your tissue paper into squares!
Your little one will then be able to fill in the centers of your black shapes!
Next cut the unused parts of the contact paper to put on the back of the holiday shapes!
Once you are done, turn the shapes over to see the creation!
We put them on the door using washi tape and the kids added stickers for fun!
Take a look below!
Sticker and Decorating Fun
I chose to take it a step further and let the kids keep decorating their sun catchers.
This part is certainly open to preference, but I will say it was one of the funnest parts of the craft for the kids 🙂
For more Christmas activities, check out a great list at The Best Ideas For Kids!
Check out another Holiday idea from my Instagram page and be sure to follow for more ideas!
I hope you enjoyed this fun suncatcher crafts for the kiddies! Please comment below and let me know some sensory activities that keep your kids entertained! I would love to see some additional ideas!
Also check out my posts on great holiday family games for more ideas!
Also, remember to sign up for your FREE weekly activities planner on the top or the right side of the page and check out my printables page.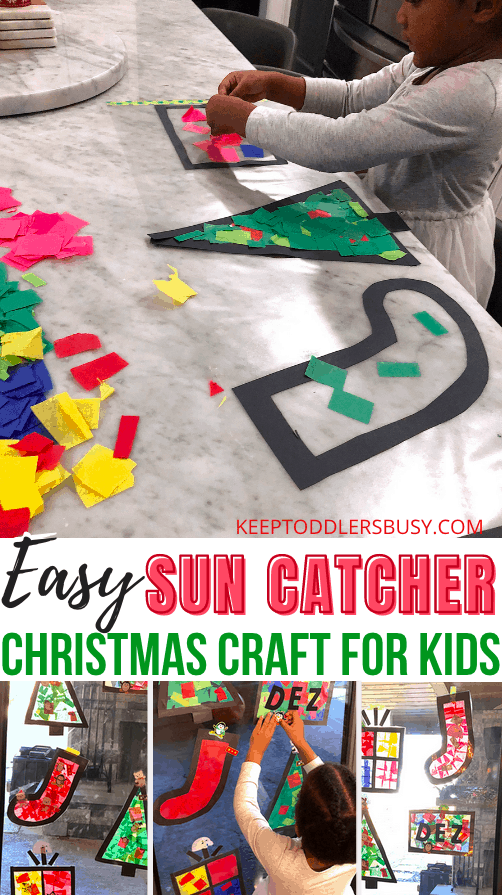 I've been an activity mom for almost 9 years and have over 15 years of experience crafting, writing, and creating. My mission is to bring fun, balance and learning to your busy homes with activities, tips, inspiration, and organization!