Preschool Christmas Activities: Shape Tree
---
–
So today is Thanksgiving and I'm sitting on the couch Not watching football with my hubby (today) and thinking about all of the preschool Christmas activities I will be getting into with the kids for the next month!
I LOVE the holidays and I always get excited about it! Tree and decor are up, and now it's time to bring the kids in.  I have to say that I have had so much fun making crafts this year and I'm super excited that my almost 5 year old is able to participate more with his crafts and be more creative.
–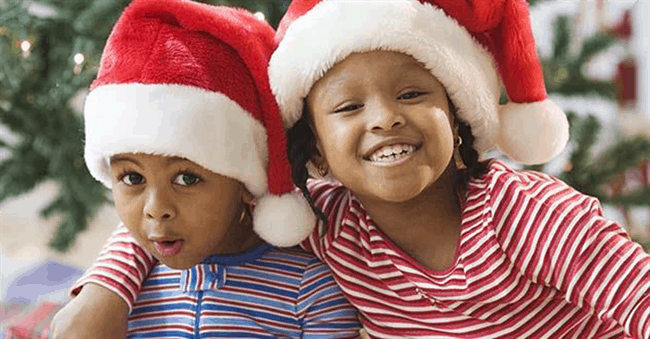 –
It is great to make keepsake ornaments, picture frames, and other adorable projects like the ones that I featured in my Christmas crafts post, but I also make it a point to provide fun learning experiences with my holiday projects as well. Even if my toddler already knows about shapes or letters, it's great to continue to expose him so that these concepts really become ingrained.
Thus, we have the Christmas shape match tree! These types of projects are preschool Christmas activities toddlers will love because they are festive, easy, and a great way to learn and explore. A plus is that the preparation doesn't take long at all and the activity (or learning toys) can be done over and over again.
For toddlers, it is always great to have multiple activities they can tap into as they go throughout the day to help with restlessness. Take a look and enjoy!
–
Christmas Activity for Kids: Shape Tree

 Supplies ("Dollar Store Find")

I love to make project posts using dollar store supplies because I just don't think you need to spend a lot of money to entertain young children!
Like me, you will most likely have some of these supplies in the house. But for those who don't, the most you need to spend in three to four dollars and you will get numerous activities from this supply list!
Green Poster Board
Glue Stick
Scissors
Marker
Felt Squares or construction paper
–
Preparation
The preparation is easy, short and sweet. Obviously we don't want our toddler handling scissors so this should be done ahead of time.
1. Pre-cut your Christmas tree! The trick here is to try to use as much of the large poster board as possible. A great way to get started is to outline a tree in pencil on the back first so you don't waste a poster board if you make a mistake. Next start cutting! Just remember it does not have to be perfect AT ALL.
2. Next cut out your shapes. I used FELT SQUARES because they are actually very durable, but construction paper can be used as well. Just keep in mind that you will most likely be cutting new shapes periodically if your toddler likes to rip up paper like mine does.
–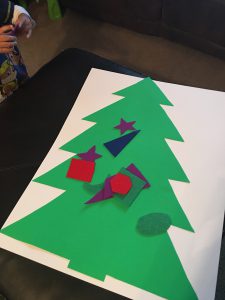 –
Get Your Toddler Involved in Putting It All Together
–
This step depends on your toddler's age. At 2ish, I involved my son slightly, but I did most it.
Allow your toddler to help outline the shapes that you cut out! Alternatively, you can do this step yourself since most of the fun starts after the set up.
Violà!! You have a Christmas Shape Tree!
Help your toddler to match the shapes!
Bonus: Letters and Numbers
–
The funny thing about this activity is that my son started BEGGING me to "marker some letters". So much so that I think I should have done a letter Christmas tree lol.
The great thing about this activity is that you can outline whatever your toddler loves, whether it's letters, numbers, animals, planets, etc!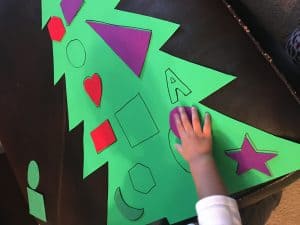 –
Low on time? Check out this pre-made Christmas Tree Matching set that gets my stamp of approval!
–
We hope you like the products we recommend. Just so you are aware, Keep Toddlers Busy may collect a share of sales from the links on this page. As an Amazon Associate I earn from qualifying purchases. Read more about our links in my disclosure policy.
–
---
MORE CHRISTMAS ACTIVITIES YOU MAKE LIKE
–
I really hope that you enjoyed this list! What are some of your favorite holiday crafts and activities? Please share below. We'd love to try some new activities!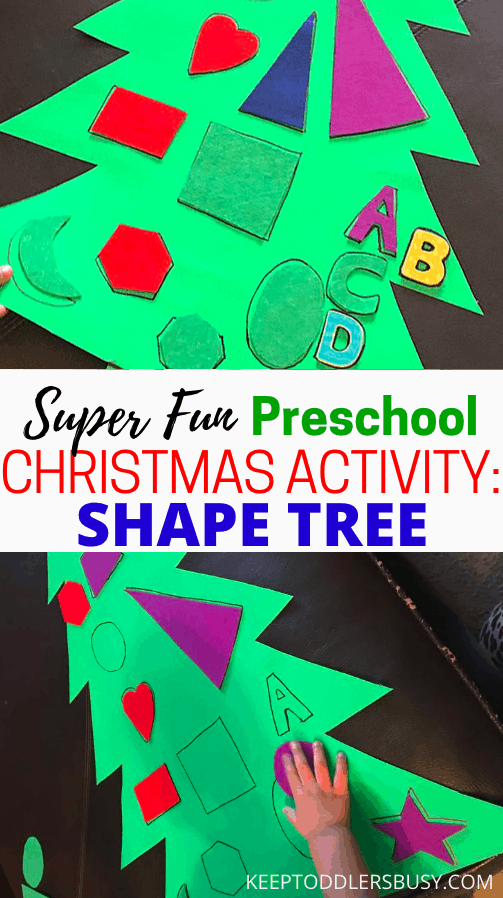 I've been an activity mom for almost 9 years and have over 15 years of experience crafting, writing, and creating. My mission is to bring fun, balance and learning to your busy homes with activities, tips, inspiration, and organization!