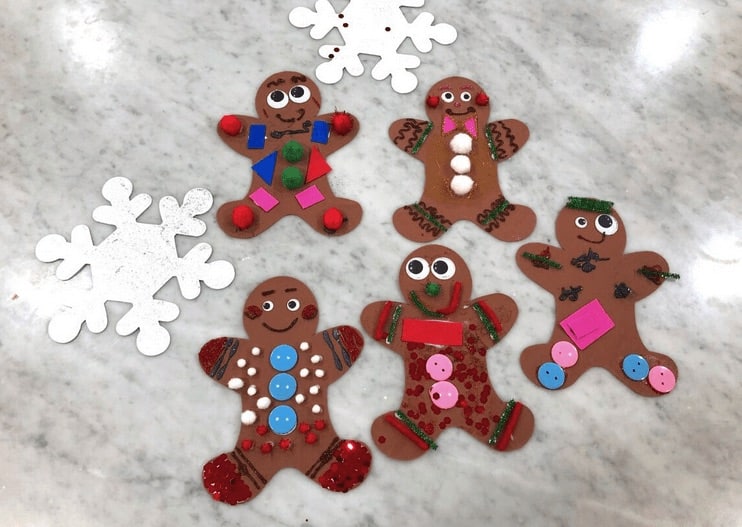 Christmas Crafts For Preschoolers: Gingerbread Decorating
---
If you are looking for great Christmas crafts for preschoolers, you landed on the right blog! The kids had a great time decorating their gingerbread people with glitter, buttons, pom poms, and anything in the house that we could find.
Instead of doing the usual cookie decoration activity, we decided to try these foam gingerbread people. Both of my kids have been decorating a lot lately so we decided to keep it going and had a great kick off the holiday craft season.
This year in particular I plan to celebrate anything that I can celebrate and do it big while we are at home.
Before you take a look below, if you love Christmas activities, check out my recent posts on Christmas tree crafts or Christmas games for the family. Also, head on over to Pinterest and follow me for daily updated craft ideas and much more!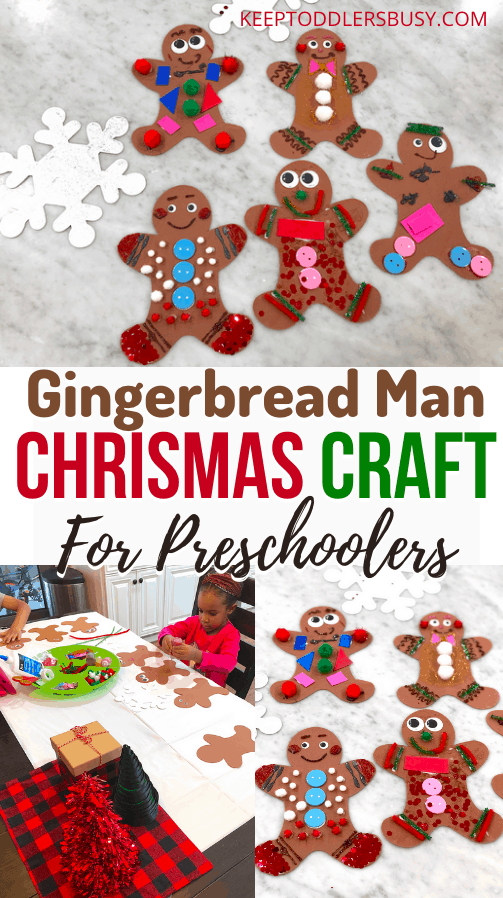 If you have already start shopping this year, also stop by and take a look at my toddler learning toys post or my cool stocking stuffers post!
I hope you enjoy!
Christmas Crafts For Preschoolers
Gingerbread Decorating Materials
Large roll of Brown Paper or a White plastic table cloth like the one I have in the pictures to catch the mess. You can get thicker butcher paper rolls online here but this time I chose the table sheet.
2. I use paint tape to hold the paper down because it comes up easy and doesn't leave residue behind.
3. Foam gingerbread people (I got mine from the Dollar Tree)
4. Glitter glue, regular glue, glitter, Christmas Pom Poms, small buttons, Christmas Stickers, etc
5. Craft Tray
6. Oh and Googly eyes!
We hope you like the products we recommend. Just so you are aware, Keep Toddlers Busy may collect a share of sales from the links on this page. As an Amazon Associate I earn from qualifying purchases. Read more about our links in my disclosure policy.
Christmas Craft Setup
1. I started by spreading the white plastic table cloth and taping the edges to the table so the paper wouldn't move.
2. Next I put all the supplies together on the table and also laid out the gingerbread people with their eyes already glued on the faces. This just helps the process go smoother in my opinion!
I honestly try to stay away from glitter but the kids love it so much lol. So every once in a while I take out the glitter and pray for my sanity 🙂
4. After getting setup I allowed them to be creative! I helped to guide them and give them ideas, and they ran with it.
5. We started with squiggly lines using the glitter glue, then we used regular glue and sprinkled more glitter on top of the glue. We then added buttons, pom poms, and anything else we had in the tray.
6. Make sure you save the glitter for reuse!
Take a look at the pictures below!
Before you do, check out another Christmas activity on my Instagram page and be sure to follow!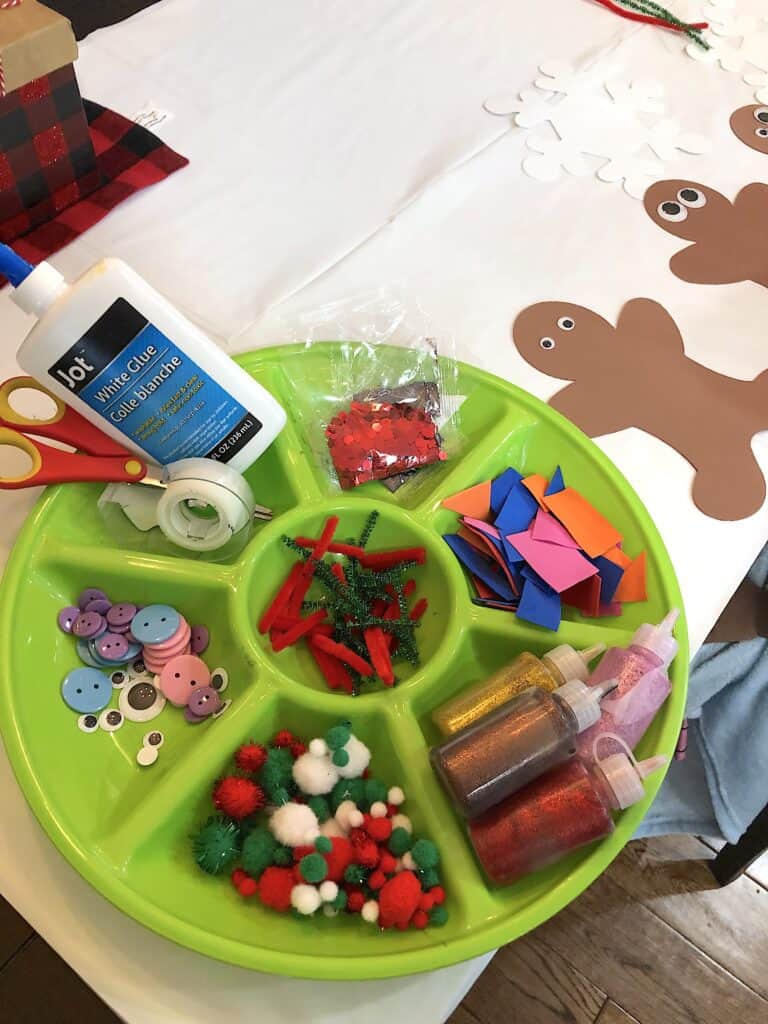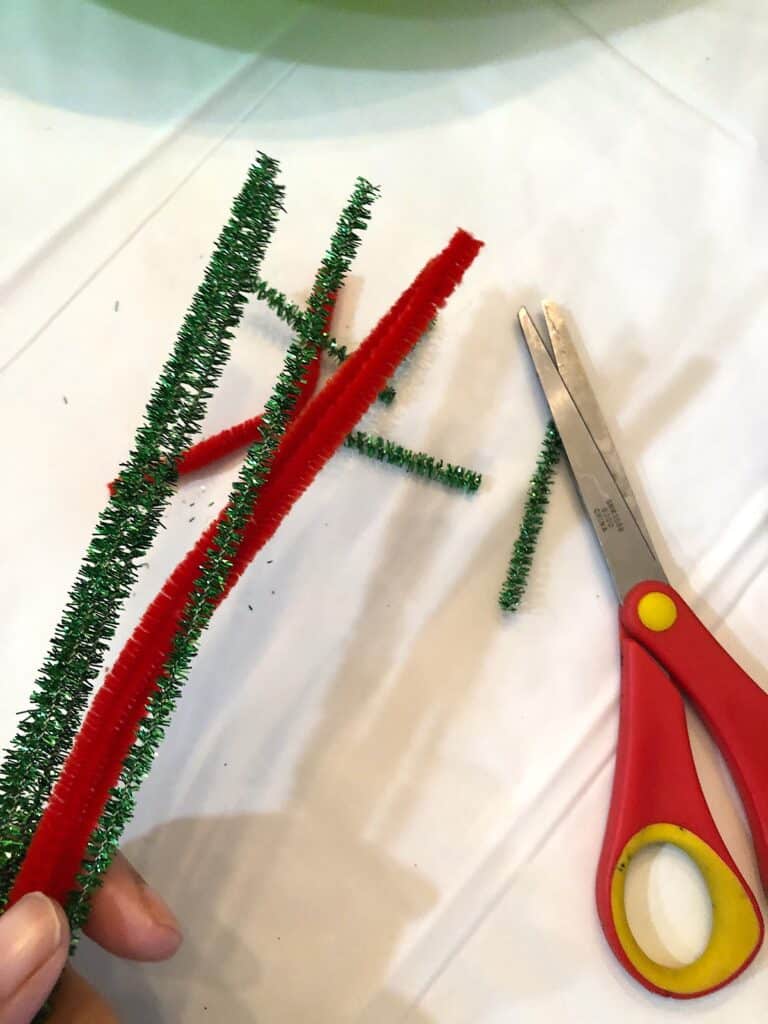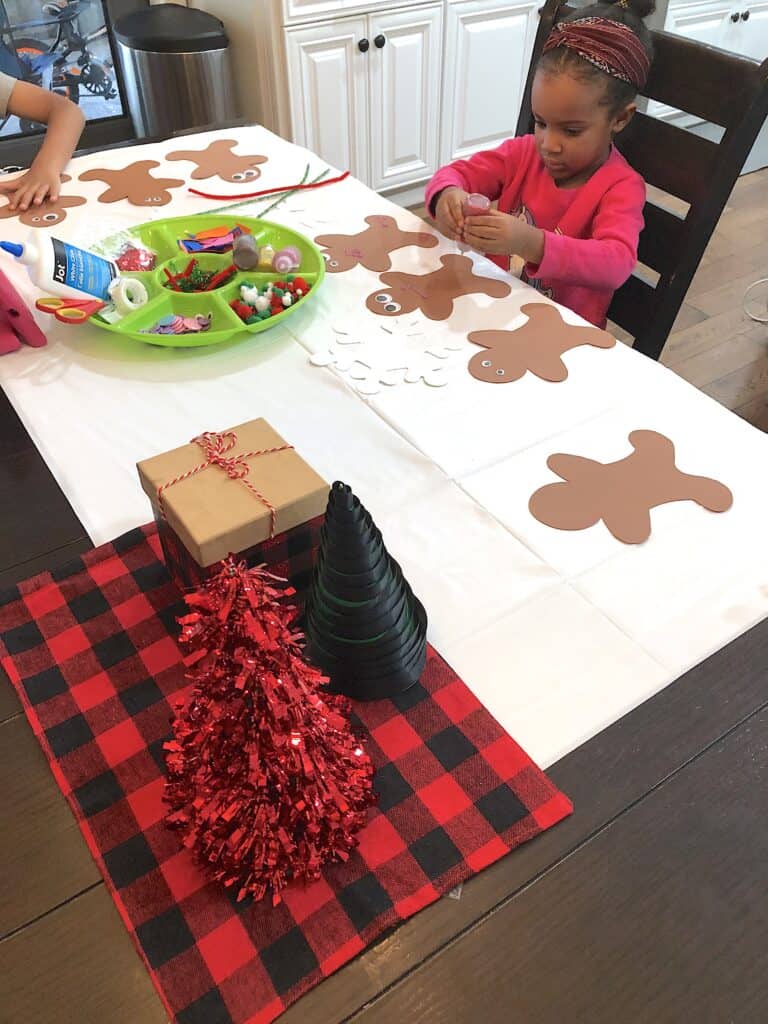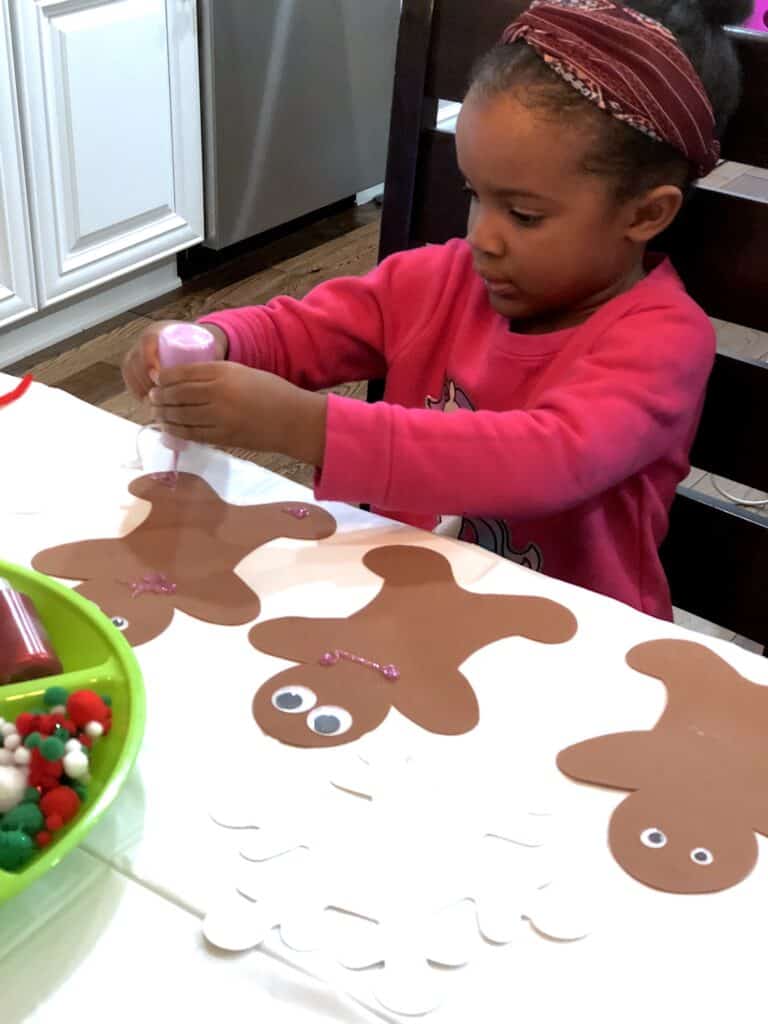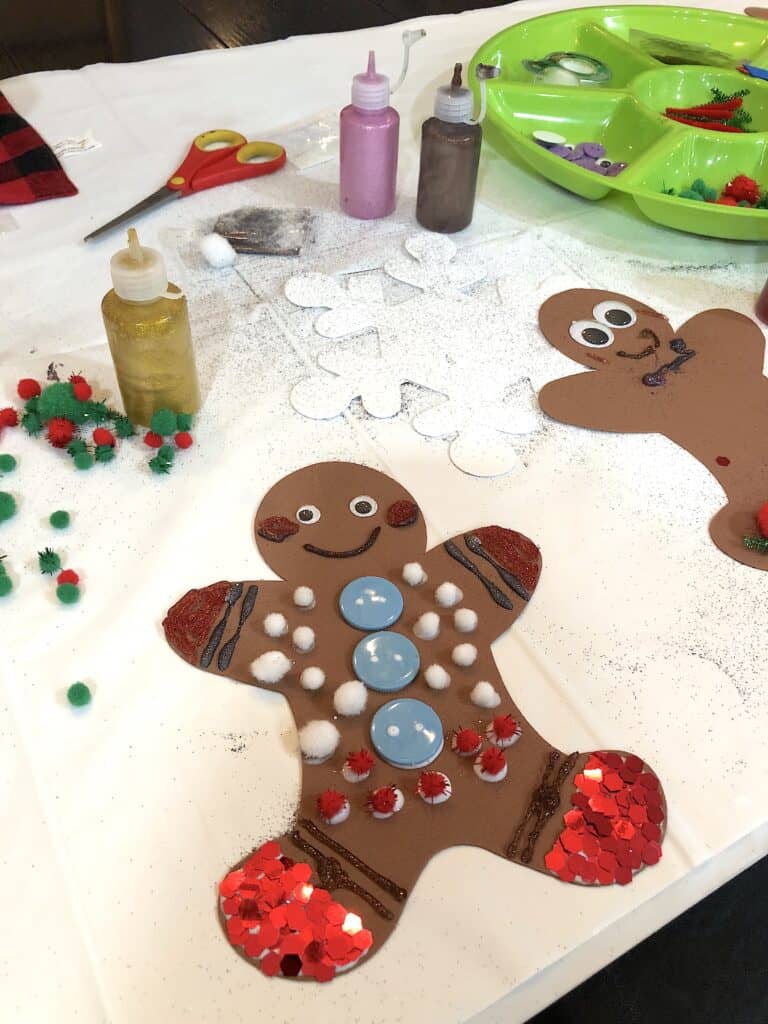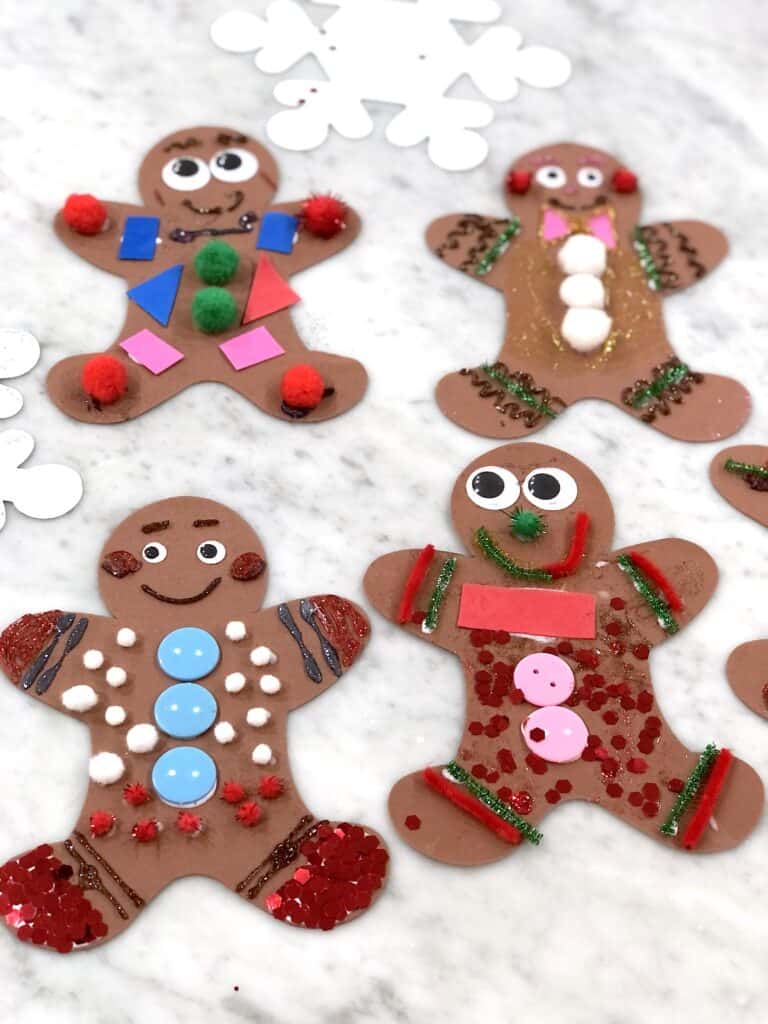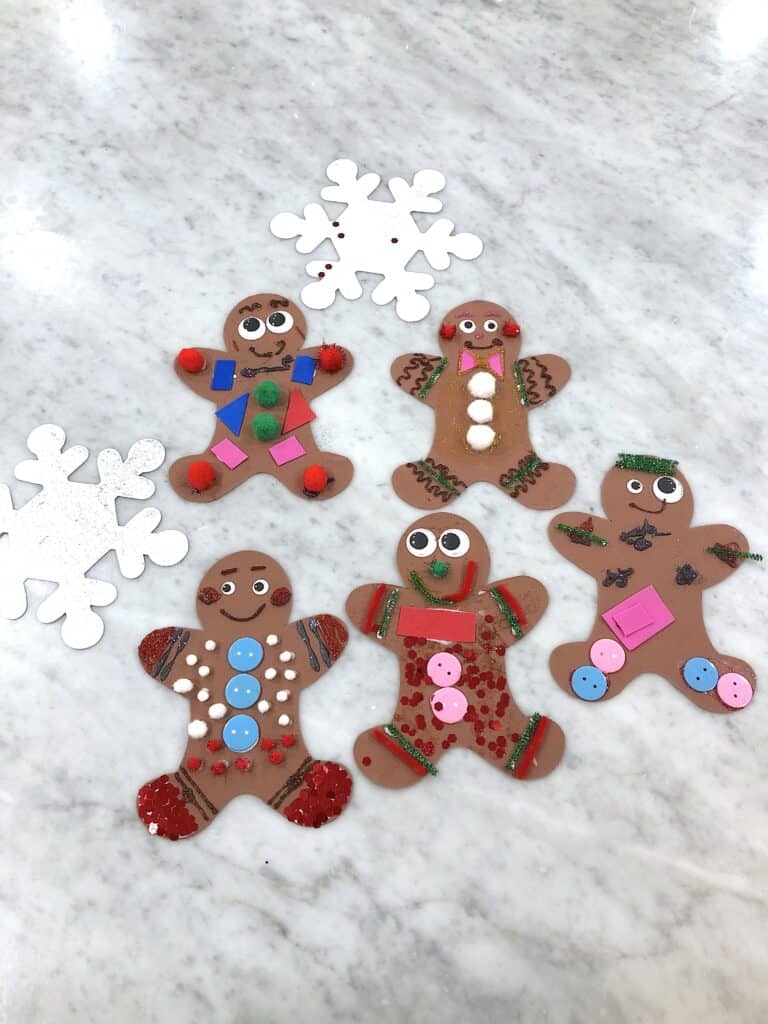 ---
I hope you enjoyed this fun Christmas craft idea for preschoolers! I wanted to try something different this year instead of decorating cookies and it turned out to be really fin for the kids. If you have already started your Christmas crafts, please share below. Or let me know if you try this one!
Also check out my posts pages on great Halloween and Holiday crafts for more fun ideas! Best Ideas For Kids also has amazing holiday craft ideas for kids.
Also, remember to sign up for your FREE weekly activities planner on the top or the right side of the page and check out my printables page
I've been an activity mom for almost 9 years and have over 15 years of experience crafting, writing, and creating. My mission is to bring fun, balance and learning to your busy homes with activities, tips, inspiration, and organization!