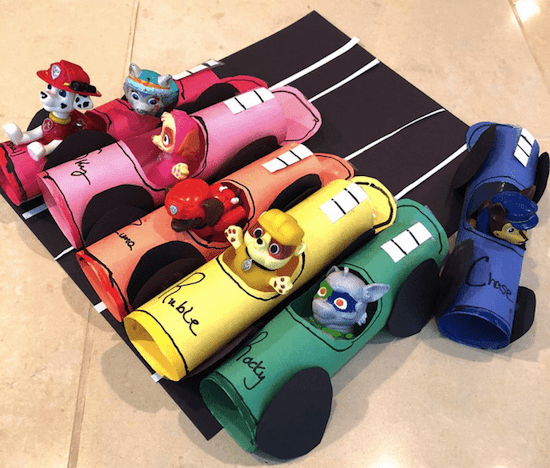 85 Easy Toilet Paper Roll Crafts Kid's Will Love
---
Need some fun activities to do with your kids at home? Well I'm excited to share an amazing compilation today. Below I talk about easy toilet paper roll crafts kids will absolutely love. I always love to recycle for crafts, and this is an easy way to do that.
You will see some of my kid's toilet paper roll projects below as well as a host of activities from awesome activity and craft mom bloggers.
The set up for most of these are super easy, so you should be able to set these activities up for some fun with the kids. Take a look at how we did our paw patrol car and space rocket ship activity below!
If you love activity ideas, check out my recent post on dot marker activities or summer crafts and activities post! Also, head on over to Pinterest and follow me for daily update craft ideas!!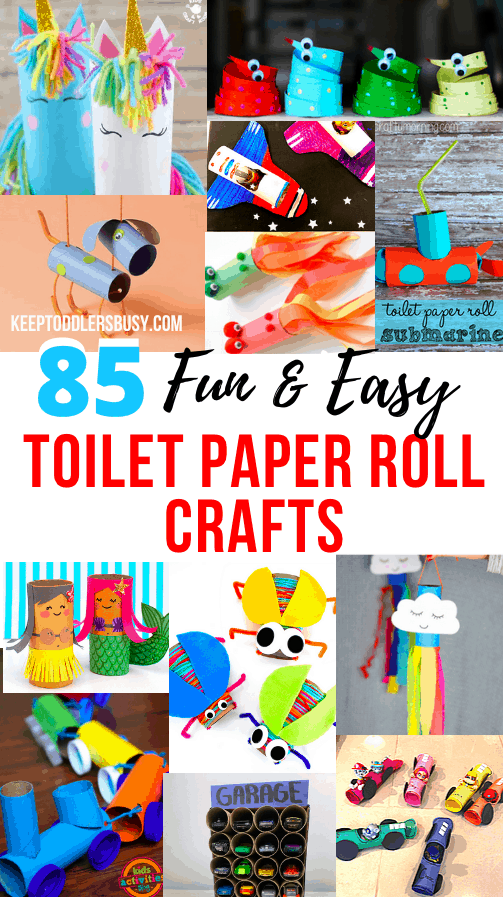 Easy Toilet Paper Roll Crafts Kid's Will Love
Summer
Given that it's summer time here, I thought it would be only fitting to start with this. Kid's summer crafts are so fun and these mommies have outdone themselves!
1.Paper Roll Hula Girl via mollymoocrafts.com
2. Seedling Pot via www.carolynshomework.com
3. Rainbow Wind Sock Via Easy Peasy and Fun
4. Flowers and cacti from Pink Stripey Socks.
5. Toilet Paper Roll Bird Feeders from The Moffatt Girls
6. How to Make Rain Sticks from Happy Hooligans
7. Puppy Puppet from Parents.com
8. Apple Tree by Teaching 2 and 3 Year Olds
Vehicles
My kids love kid's vehicle crafts to use with their toys so you will see a few of mine here! Craft and toy combos are awesome.
9. Paw Patrol Vehicles by Keep Toddlers Busy- This was supposed to be toilet paper rolls but they were thrown away haha. So in the event that you don't have toilet paper rolls, you can you rolled construction paper for your crafts!
10. Rocket Ship via Keep Toddlers Busy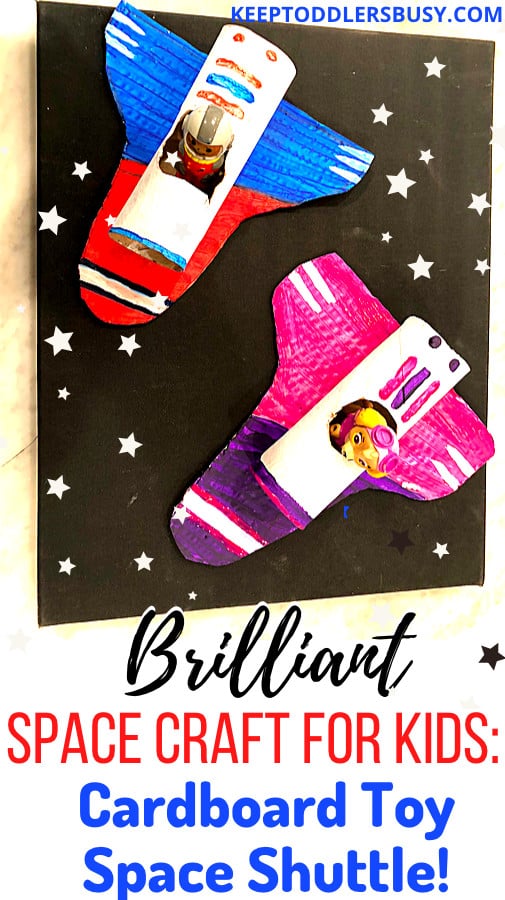 11. Another Paper Rocket via kidthings.net
12. Race Cars via www.dosmallthingswithlove.com
13. Toilet Roll Train via Kids Activities Blog
14. Race Car Tube Challenge from Make and Takes
15. Submarine Craft by Craft Morning
16. Toilet Paper Boat Craft by We Know Stuff
17. Toy Car Garage by Mama Cheaps
18. Paper Plane Craft via Mollymoocrafts.com
Sensory
I had to include sensory after seeing some awesome ideas from some of the Top activity mom bloggers! Take a look below for great sensory learning crafts.
20. Pooping Bunny Pom Pom Drop via Happy Toddler Playtime
21. Ball and Cup Game via Hello Wonderful
22. Sticky Wall Pom pom drop by Happy Toddler Playtime
23. Kaleidoscope via Thecraftingchicks.com
24. Tubes and Caps Bin by Happy Toddler Playtime
Animals
You can't go wrong with animals. You just can't. Take a look at these amazing paper roll animal crafts!
25. Paper Roll Dragon onelittleproject.com
26. Shark Binoculars via www.pinkstripeysocks.com
27. Toilet Roll Octopus via kidsactivitiesblog.com
28. Owls via creativejewishmom.com
29. Tube Snakes via eighteen25.com
30. Colorful Owls via Curious and Geeks
31. Roll Bunnies via The Best Ideas for Kids
32. Paper Roll Fish via The Craft Train
33. Unicorns via Kids Craft Room
34. This frog from Learn Create Love
35. Octopus Craft via Crafty Morning
36. Peacock Craft via Easy Peasy and Fun
37. Polar Bear via Crafts by Amanda
38. Wrist Parrot by Popgoesthepage.princeton.edu
39. Squid Craft by Crafty Morning
Shapes, Numbers, Letters and Colors
This is a creative way to talk about shapes and the alphabet! Take a look at these great toddler learning activities from awesome moms.
We hope you like the products we recommend. Just so you are aware, Keep Toddlers Busy may collect a share of sales from the links on this page. As an Amazon Associate I earn from qualifying purchases. Read more about our links in my disclosure policy.
40. Shape stamps from Mama Papa Bubba
41. DIY Color Scopes by teachpreschool.org
42. Little Blue and Little Yellow Art by Teaching Two and Three Year Olds
43. Alphabet Ping Pong Drop by The Imagination Tree
44. Building with Cardboard Tubes with Playtivities
Bugs
My children are going through an issue with bugs right now, so these kid's bug crafts are a great way to make bugs fun!
45. Bee craft via Thimble and Twig
46. Cardboard Tube Mini Beasts from Red Ted Alert
47. Toilet Paper Roll Dragonflies from RTA
48. Lady Bug craft by Arty Crafty Kids
49. Yarn Bugs by Our Kids Things
50. Ant Craft by Toddly Mummy
Cartoons and Movies
Who doesn't love a good cartoon craft! My daughter will definitely be doing Olaf. Take a look at the how-to on these awesome toilet paper roll crafts and activities!
51. Tea cups via krokotak.com
52. Sesame Street characters From Love and Marriage
53. Olaf From Frozen from Crafts by Amanda
54. Paper Roll Teenage Mutant Ninja Turtles from Crafts by Courtney
55. Super Hero Cuffs Craft by Reading Confetti
56. Robot Craft via Glue Stick Gum Drops
57. Star Wars Toilet Tube Characters via Hello Wonderful
58. Inside Out Toilet Roll Craft from Meaningful Mama
59. Circus Performer Craft via The art room plant
60. Minion Craft from All Free Kids Crafts
61. Statue of Liberty Craft via A little Pinch of Perfect
62. Toy Story 4 "Forky Craft" by Simple Everyday Mom
63. Ice Castle via Redtedart.com
Books
Kid's book crafts are a great way to get some learning in with the fun. Take a look!
64. Three little pigs from Red Ted Art
65. The Lorax from Sassy Dealz
66. Horton Hears a Who Craft via Artsy Craftsy Mom
67. Toilet Roll Spiders via Molly Moo Crafts
68. Ninjas via Kidsactivitiesblog.com
69. Captain Underpants from the Craft Train
70. Horton Hears a Who Craft by Artsy Craftsy Mom
71. Pete the Cat Craft by Kathy Griffin Teach
Holiday
Bookmark this site for when the holidays come around! The awesome kid's holiday crafts will be a great way to entertain!
72. Toilet roll mummies by Happy Hooligans
73. Valentine Puppy Via The craft Train
74. Christmas Characters via Best Ideas for Kids
75. Cat Gift Boxes via Red Ted Art
77. Toilet Paper Marshmallow Shooters by Honey I'm Home DIY
78. Love Bugs via Typicallysimple.com
79. Snowmen via craftaholicsanonymous.net
80. Fireworks via Learning4kids.net
81. Christmas Tree via Theresourcefulmama.com
82. Easter Bunny Stamp via Newyoungmum.com
83. Gingerbread Man Craft via Meaningfulmama.com
84. Santa Binoculars with Viewsfromastepstool.com
85. Paper Roll Turkey Craft with Theresourcefulmama.com
---
Check out this video for more cute TP roll ideas!
I hope you enjoyed this fun giant name painting post! Please comment below and let me know some activities that keep your kids entertained! I would love to see some additional ideas!
Also check out my posts on a great pom pom frame craft and popsicle stick crafts for more fun ideas!
Also, remember to sign up for your FREE weekly activities planner on the top or the right side of the page and check out my printables page