Toddler Fine Motor Skills Activities: Star Fish Decorating
---
Are you looking for some awesome toddler fine motor skills activities today that the kids can have a great time with? Well this little fine motor craft is just the cutest and its easy to set up!
I consider this a fairly low to medium prep activity, which is my favorite kind of activity. (You're welcome) Actually it depends on how much you want to do.
You can do this craft activity with materials that you may already have in the house already (cereal, and play-doh or paper), along with the free cutout shown below. A little cutting and then the kids are set to go.
The great thing is the craft is actually tiring for the because the kids have to concentrate. I heard my daughter say "Whew!" lol
Free Sea Star Printable and Free Octopus Printable
If you are looking for more fine motor activities, visit my post on more fine motor activities. Also, head on over to Pinterest and follow me for daily update craft ideas!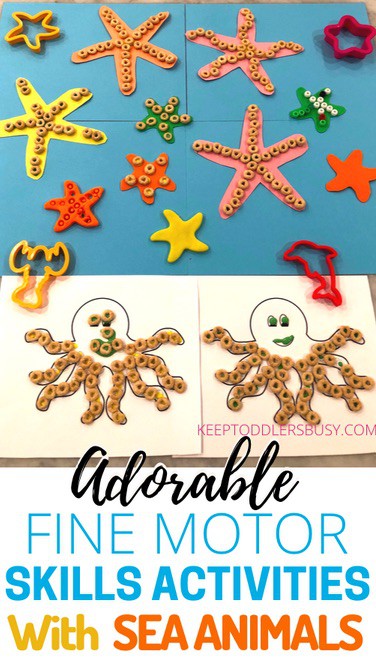 Toddler Fine Motor Skills Craft
Keep Toddlers Busy is a participant in the Amazon Services LLC Associates Program, an affiliate advertising program. As an Amazon Associate, I earn from qualifying purchases. Read more about these links in my disclosure policy.
Materials
1.A craft sorting tray is helpful for any craft. I got the one shown in the pictures from the dollar store
2. Any cereal with a loop or even hair beads if you have them
3. Construction Paper
4. Glue. My favorite is colored glue to make the crafts more fun
4. And type of dough or Play doh that will hold spaghetti upright
5. This time I used packing paper under the craft
Instructions
1.Cut out the starfish or octopus printable or cut out some starfish using construction paper. I like the latter better.
2. Draw faint lines for your toddler to follow.
3. Have your kiddie individually glue on each cheerio piece as straight as possible. Squeezing the glue out is great if you are working on finger strength.
My 3 year old was able to put the glue on by her but I did some for both kids to get a cute design as well.
1. For the play-doh, use a star fish cutter if you have one. You can also use the shape of a regular star.
2. Have your toddler or preschooler push beads or cheerios into the cut play-doh to decorate!
Take a look at the how-to with the pictures below!
For more some fine motor toddler activities visit Imagination Tree as well!
I hope you enjoyed this fine motor activities post for toddlers and preschoolers! Whether you were told by a doctor that it would be a good idea to work on fine motor skills, or you just want to add a level of developmental play to your routine, I hope you got some great ideas.
Please comment below and let me know some fine motor activities you do to keep your kids entertained! I would love to see some additional ideas!
Also check out my posts on a great pom pom frame craft and popsicle stick crafts for more fun ideas!
Also, remember to sign up for your FREE weekly activities planner on the top or the right side of the page and check out my printables page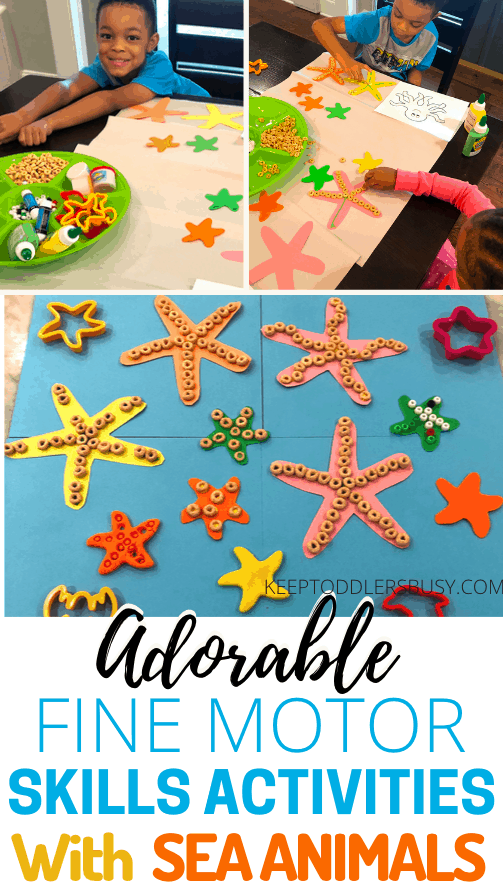 I've been an activity mom for almost 9 years and have over 15 years of experience crafting, writing, and creating. My mission is to bring fun, balance and learning to your busy homes with activities, tips, inspiration, and organization!