A Complete Homeschool Supply List for Virtual Learning And Beyond
---
This school year will be a little bit different for me. It's my son's first year of "official" school (Kindergarten), and it's also my first real experience with home schooling and distance learning. So I thought it would be fitting to dive into my online research and provide a complete homeschool supply list for the readers that come here to Keep Toddlers Busy.
Recently I did a post on homeschool room ideas that many people really seemed to appreciate, so this is somewhat of an addition to that. Even though we do a lot of crafts here, I know that homeschooling my late talking Kindergartner will not be easy for me, so I'm hoping this helps for anyone else who may be starting to prepare as much as it will help me!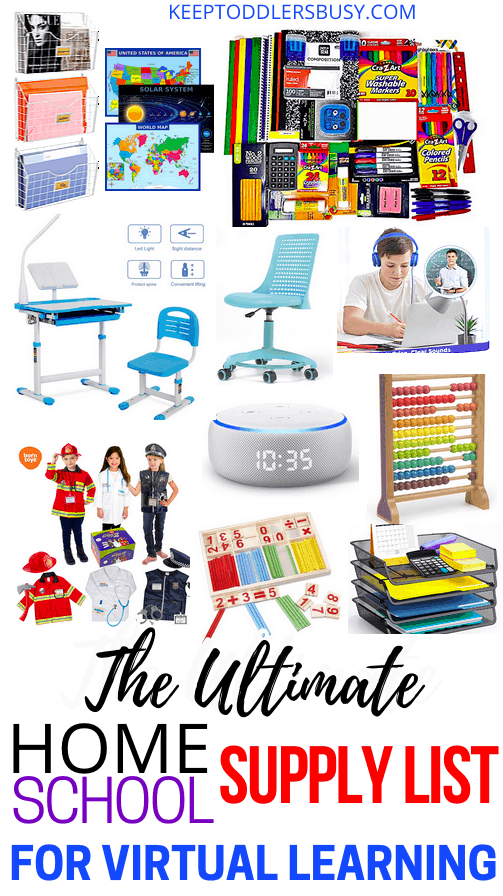 Going back to school takes on a whole new meaning for families with students enrolled in a virtual school. Home schooling is not the same as virtual or distancing learning. Although much of the preparation is the same, we are moreso overseeing what the teachers and then acting as a tutor. There are differences that some of us can get prepared for sooner than later.
So my goal is to make this a real school experience for my son, in terms of environment, organization, and routine/scheduling. This will be in an effort to facilitate the best environment for him to learn from his teachers and assignments.
So take a look below and let me know what you think! And before you check out the list, if you are on Pinterest and love it too, then check out my Pinterest account and follow me for more homeschooling ideas!


Also check out this resource for distance learning materials!
Virtual Learning Homeschool Supply List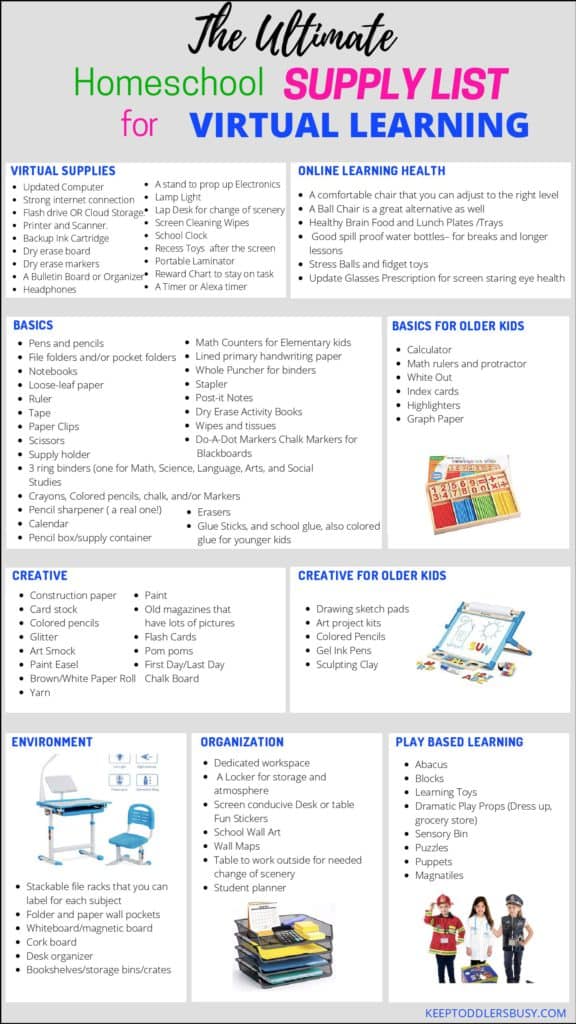 VIRTUAL MUST-HAVES
We hope you like the products we recommend. Just so you are aware, Keep Toddlers Busy may collect a share of sales from the links on this page. As an Amazon Associate I earn from qualifying purchases. Read more about our links in my disclosure policy.
You may not need everything on this list depending on what supplies you already have, but this exhaustive checklist will ensure you have what you need
Make sure you visit my Amazon Home School Must- Haves List for more ideas!
An updated Computer if possible. There are actually some fairly affordable smaller options that would work for children.
Strong internet connection
Flash drive OR Cloud Storage. Anything to makes sure we don't lose any work!
Printer and Scanner. Having both with make life so much easier. There are also scanning apps to download on your phone
Dry erase board and Dry erase markers
A Bulletin Board or Organizer to visually post assignments, reminders, and updates
Headphones– these will be a GREAT tool for virtual learning
A Timer or Alexa timer for assignments and transition
A stand to prop up an Ipad or Tablet for video learning
Lamp Light
Lap Desk for the occasional change of scenery
Screen Cleaning Wipes
Recess Toys to get moving after the screen
Reward Chart to stay on task
ONLINE LEARNING HEALTH
A comfortable chair– with online instruction, our kiddies may be sitting in one spot for a while as you engage. With this in mind, a comfortable chair that you can adjust to the right level to see your computer easily and aid in great posture would be great.
A Ball Chair is a great alternative as well
Healthy Brain Food and Lunch Plates /Cups- As I said earlier, I plan to treat this like the classroom. Healthy breakfast and lunch options are needed everyday for kids to learn, so I'm not going to slack on it. I picked up some trays similar to what kids have at school.
Good spill proof water bottles– for breaks and longer lessons (try the Snackeez!)
Stress Balls and fidget toys -for longer lesson and study periods
Update Glasses Prescription for screen staring eye health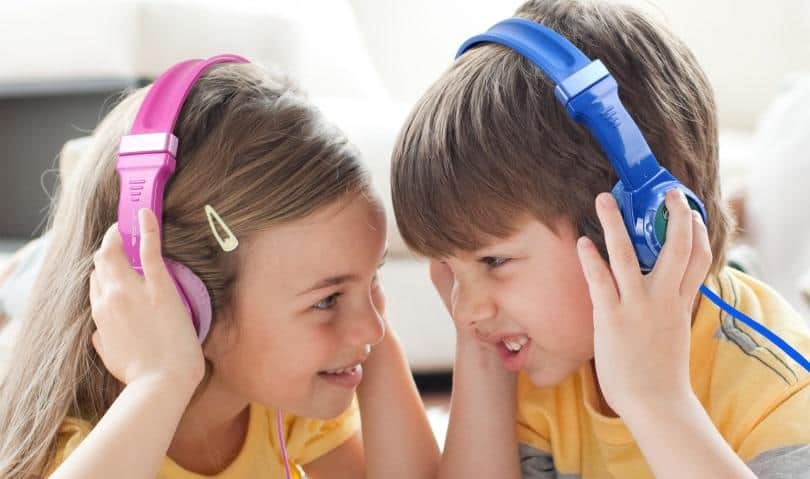 FOR PARENTS AND CAREGIVERS 🙂
I intend to celebrate our home school experience just like any other school year, for me and for my kids!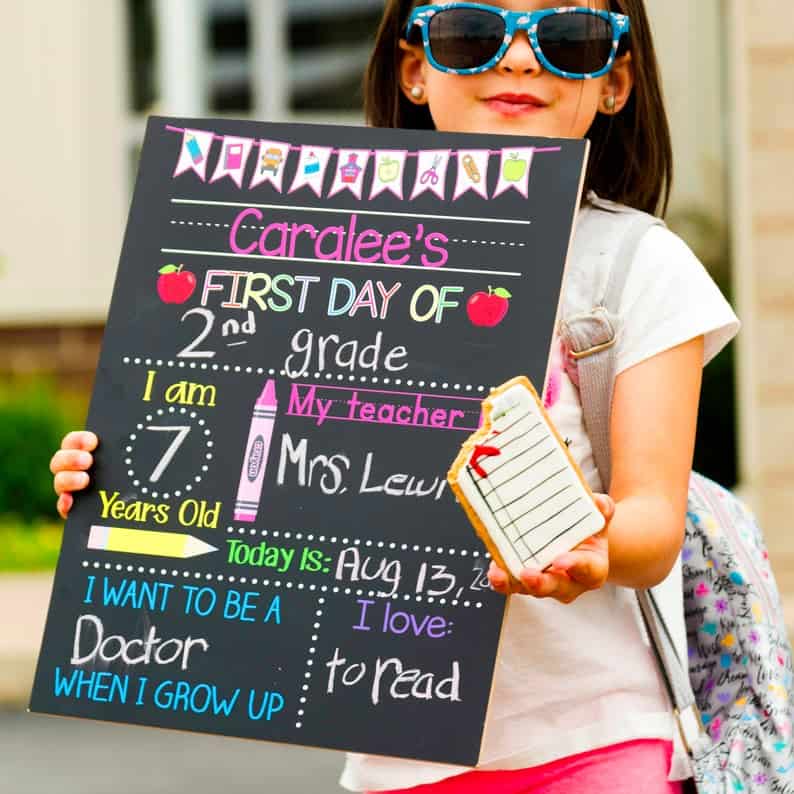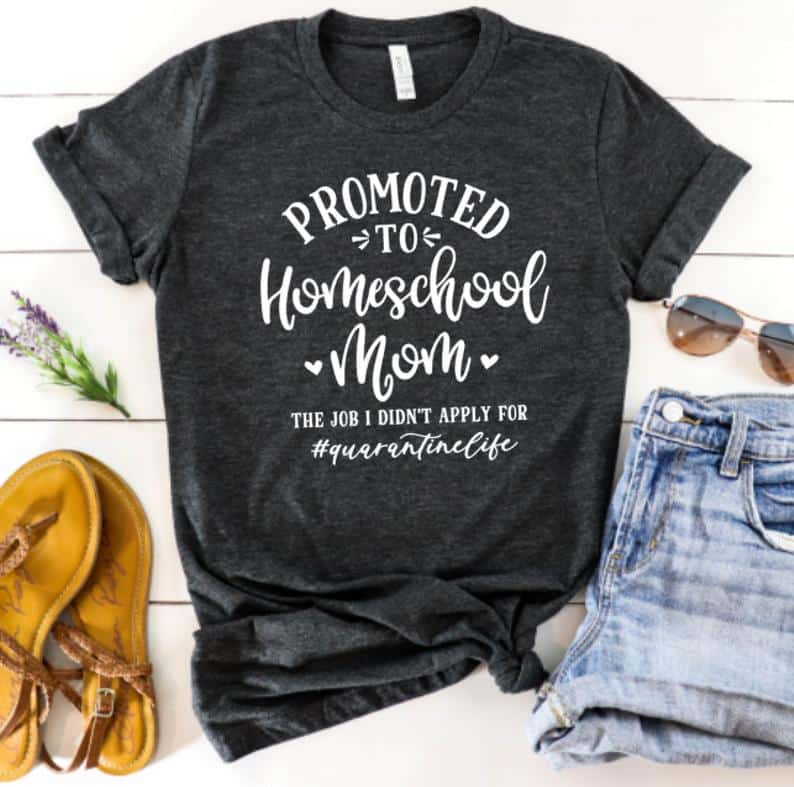 BASICS
You have to have the basics for any school environment, so make sure to check off this list! I recommend starting with a school supplies bundle pack if you are doing online shopping.
Pens and pencils
File folders and/or pocket folders
Notebooks
Loose-leaf paper
Ruler
Tape
Paper Clips
Scissors
3 ring binders (one for Math, Science, Language, Arts, and Social Studies
Crayons, Colored pencils, chalk, and/or Markers
Pencil sharpener ( a real one!)
Calendar
Pencil box/supply container- Check out this cute monster pencil case 🙂
Erasers
Glue Sticks, and school glue, also colored glue for younger kids
Math Counters for Elementary kids
Whole Puncher for binders
Stapler
Post-it Notes
Wipes and tissues
Chalk Markers for Blackboards
OLDER KIDS
Math rulers and protractor
White Out
Index cards
Highlighters
We hope you like the products we recommend. Just so you are aware, Keep Toddlers Busy may collect a share of sales from the links on this page. As an Amazon Associate I earn from qualifying purchases. Read more about our links in my disclosure policy.
CREATIVE
The creativity that our children express in school is a super important part of development, so we have to work hard not to leave this part out amongt all of the academics. Here is a list to get you started!
Construction paper
Card stock
Colored pencils
Glitter
Paint Easel, Check out my table easel review!
Yarn
Old magazines that have lots of pictures (great for art projects)
OLDER KIDS
Drawing sketch pads
Colored Pencils
Gel Ink Pens
Sculpting Clay
ORGANIZATION
No matter what kind of learner your child is, organization is the key to success. You need to create a learning environment that is free of distractions, completely accessible, and easy for your child to use.
ENVIRONMENT
The space that our kids think, learn, and play in is a super important part of the process and I think in many cases it can make or break the experience. If you need more ideas on making your home school space great, check out my homeschool room idea post.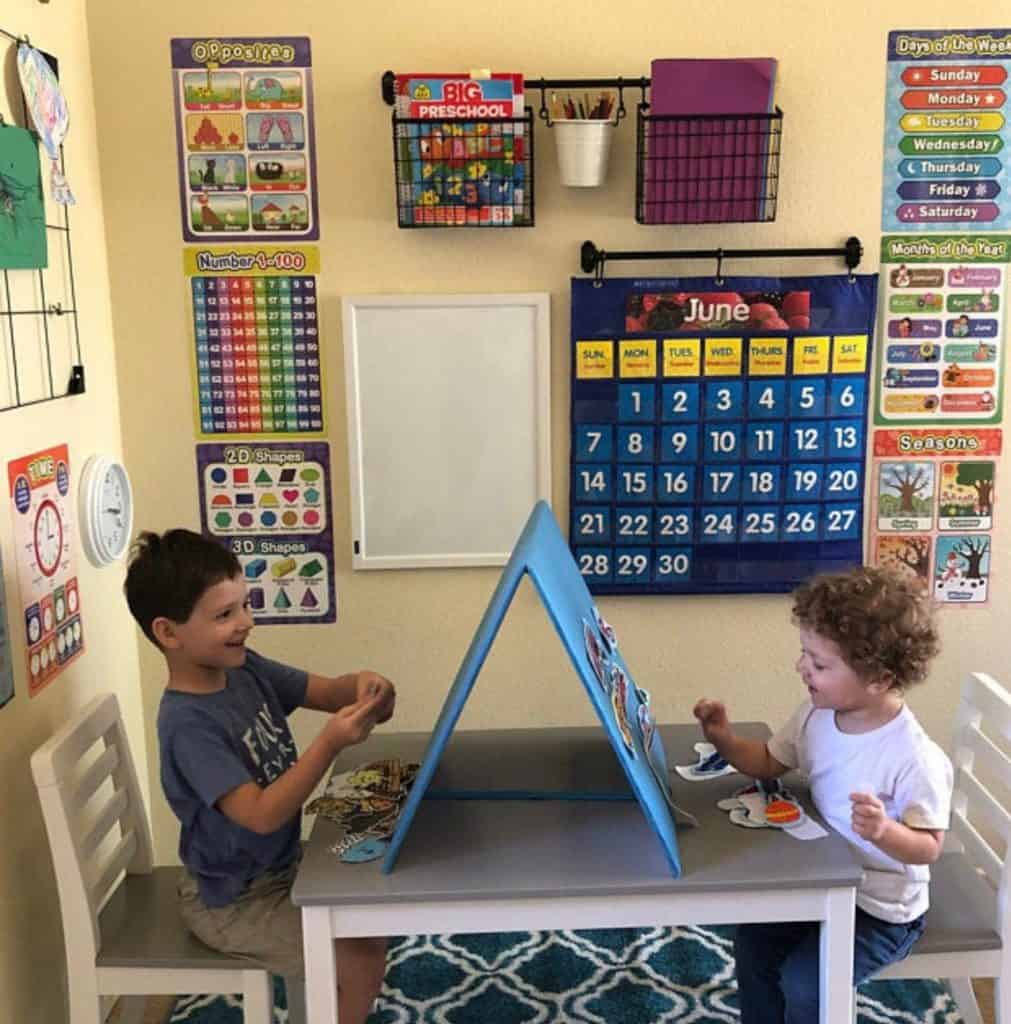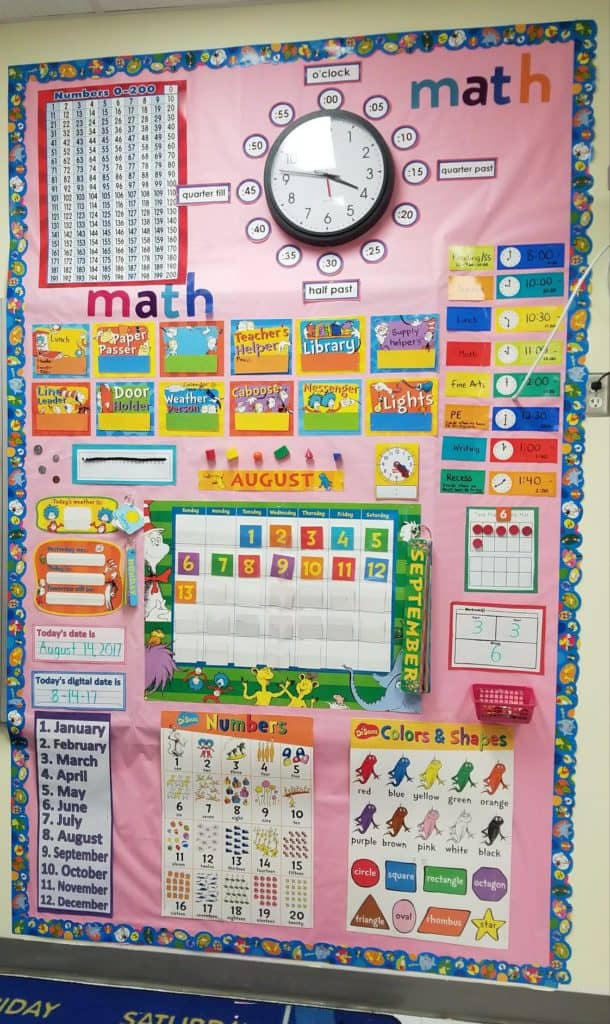 PLAY BASED LEARNING
Check out my recommended list for more toddler learning resources!
Remember that good school supplies do not always have to be expensive. Go to garage sales in your neighborhood to see if you can find gently used shelving and storage bins. These kinds of sales are also great for odds and ends you wouldn't want to pay full price for in the store.

I hope you found this homeschool supply list enjoyable and more importantly useful! I always feel better about changes when I can get super prepared so I actually felt better just writing it lol.
Please comment below and let me know if I missed some supplies! I would love to see some additional ideas on how you are setting up your home school or distance learning space.
Also, remember to sign up for your FREE weekly activities planner on the top or the right side of the page and check out my printables page