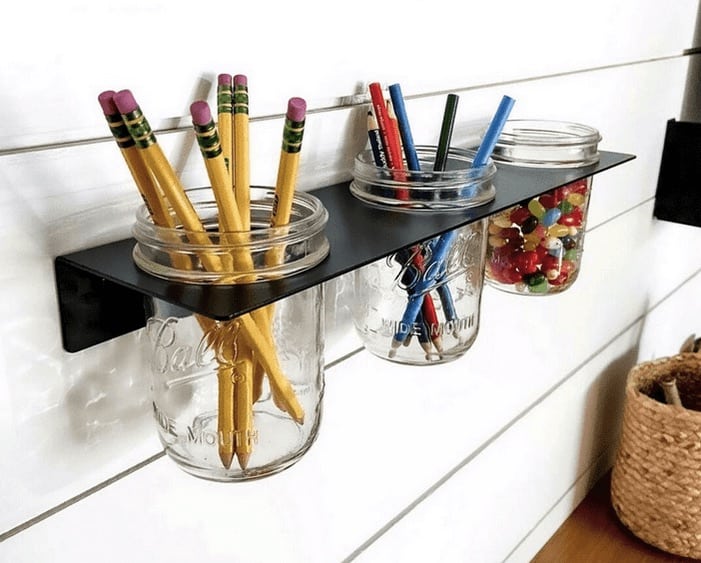 40+ Of The Best Craft Storage Ideas for Kids
---
Today I want to share some of the best craft storage ideas for kids! I have a huge love and a special place in my heart for crafting with my kids. I truly believe it helps with the development of our little kiddies and I will do it until I can't anymore. But all that crafting also tends to generate tons of supplies.
It is absolutely essential to get organized if you are planning on doing activities with the kids often.
There are a lot more parents then every before jumping int the world of activities and home schooling, so I hope that this post can be just a bit of inspiration for any parent looking for organization and balance! (I also recently did a post on closet organization ideas for kids if you are looking for more)
If you check out my kids decor page under "Kid's Home", you will also see a post for playroom ideas as well!
Last thing! If you are looking for even more kid's craft storage ideas or just kid's crafts in general, then check out my Pinterest account and don't forget to follow me follow me on Instagram!
Craft Storage Ideas
Crafts are a part of my fondest childhood memories, that why I love to do them with my kids. It helps so much to have an organized space where we can find what we need. I have included just a few short tips below to get you started if you are thinking about reorganizing!
–
Create a designated space! Environment is a key and the point of this post! Don't skip this step!
PLAN out your space and make sure you take the size of that space into account.
Be creative with storage, use different sized storage options for different materials.
Get some support. Don't do it all alone if you are taking on a big closet project. Let the kids help sort!
Give each type of item their own home. Use a glass or plastic container, for example, so you and your kids are able to see what you have. Rather than throwing everything in a big box to get mixed up, this option will provide ease and also save your sanity lol.
Take a look at the example below!
We hope you like the products we recommend. Just so you are aware, Keep Toddlers Busy may collect a share of sales from the links on this page. As an Amazon Associate I earn from qualifying purchases. Read more about our links in my disclosure policy.
Craft Storage Ideas For Kids
Craft Storage in Cabinets and Shelving
–
1. Floating Wall Storage and Art Display
This look is EASY to put together once you get the right products, but it looks designed! The Pottery Barn gray wall storage for crafts is awesome and the play table it a great match for a kids craft room. You can find the magnetic art display clips here!
2. Pantry Art Storage
This storage shelf look is fit for a kid's style and I love it! I saw it and had to include this in the list. See the how-to at Hello Wonderful.
–
3. White Elfa Kids' Activity Room
Oh container store shelving, I love you so much 🙂 This is greatif you have a large amount of toys and supplies. Shop the look here.
4. Kid's 5 Drawer Craft Storage Cabinet
So in love with this adorable multi- colored cabinet dresser. Shop this look with all the variations by clicking on the image.
–
5. Toddler Approved' s Craft Storage Closet
This would be such a wonderful craft storage area! You can find the amazing how-to and some great tips here at Toddler Approved!
Craft Storage Rooms and Spaces
6. Toddler Art Station
I love this look and the way it was put together. Check it out at Laura's Plans
7. Craft Room and Home School Space
This room design is perfect for study and storage! Get the how to at Oh Happy Play!
8. IKEA Storage Shelf and Storage Boxes
To see more on this home school room, check out my kid's homework station post!
I actually got the floor shelf from IKEA for $9.99. It was actually a silver metal plant holder that was meant for inside or outside. We decided to spray paint it black using Rustomleum Black paint, and it turned out great.
The gray supply holder and mint boxes came from IKEA as well. The mint boxes are filled to the brim with crayola paint bottles and lots of other supplies. The Gray Baskets at the bottom are an old Home Goods purchase from last year
9. Cabinet or Closet Shelf Storage
This one is another favorite I saw on Pinterest that is sure to please the kiddos and mommy! Check it out here!
10. Gorgeous Kid's Craft Room
I love, love, love this room! Find it at Lay Baby Lay!
Craft Storage Bins, Jars, Buckets, and Baskets
11. Boon White Stash Multi Room Organizer
Perfect for the little ones. All you need is a workspace and you can put this anywhere. The rest is up to you! Shop the look here!
–
12. Glass Storage Jars
Clear storage jars are always a great idea. Add labels and you have the perfect setup for organized craft storage solutions.
–
13. Door Organizer Craft Storage
The door organizer is pretty much a staple for all types of storage! Why not crafts?
–
14. Kids Animal Mason Jars
–
Such a great way to store essentials and display toys. I have seen it before and I'm always floored by this. Grab a few of the kids animals toys , some jars, gorilla glue, and some paint!
15. Craft Storage Turntable
This is super functional, I love it. The colors are customizable as well. Shop this Lazy Susan look here!
–
16. Revolving 16 Jar Spice Jar & Rack Set
–
Is this perfect or what ?! Shop the look here!
Below is a great design from stackable Caddy Organizer! I've always been a fan of this look.
17. Floating Wall Buckets
I have seen this look so many times, in so many different ways. It's such a cute way to store things for kids. Check it out here.
–
18. Crayon Storage Buckets
–
This is a great idea for a craft supply storage is super cute and perfect for kids. I found these cute little crayon storage containers here!
19. Personalized Craft Caddy
I love the Simple personalized storage caddy! The ability to carry it around is very important for many families and there is a lot of space.
–
20. Mason Jar Shelves – 3 Jar Holder
I love this unique look for storage. Black and wood is my style and you can add the color with the supplies. Shop the look here! I think I may get this one 🙂
We hope you like the products we recommend. Just so you are aware, Keep Toddlers Busy may collect a share of sales from the links on this page. As an Amazon Associate I earn from qualifying purchases. Read more about our links in my disclosure policy.
Craft Storage Carts and Wall Storage
21. The 10 Drawer Rolling Cart
–
This look is so colorful and fun, just too adorable. It's a kid freindly twist on the normal Rolling cart. Shop the look here!
22. Art Activity Cart
This can add such a great touch to a kid's space and the mobile storage is a plus!
-F
23. Blue Peg Board and Table
–
This is such a clever little idea! Paint a Peg board, get some hooks,and hang whatever you want!
–
24. White Peg Board for Craft Room
Is this cute or what? 🙂 The accessories added to the board are all from the Dollar Tree!
25. Peg Board w/ Built in Trays
–
Wow this peg board was styled so beautifully. You can take something very simple and just make it gorgeous and top notch. How cute would this be for a child?
26. Tall Jars with Lids
–
Soo much storage potential! Great for mom and tots!
–
27. Kid's Mobile Storage Organizer
I'm loving ths pink version of the roller cart!
28. Wood Wall Desk Design
If you need a little more storage than the multi-colored cart shown above, then here you go! Shop the look here.
29. Cart and Bucket Hack
I love, love, love this hack! So clever! I finally found the white buckets online that attach to the beautiful white cart. So just make your labels and you're golden.
30. Classroom Supply Organizer
A simple colorful caddy organizer can earn everything for craft organization.
Craft Storage Furniture and Tables
31. Weathered Gray Chalkboard Chest
A simple dresser organizers with chalkboard labels looks great paired with a giant crayon jar and 3-tiered rack!
32. Colorful Shelf Organization
This is much needed storage for toddlers, preschoolers, and school aged kids! Organization is the key and color tinted containers make it fun!
33. Wall Storage and Table
Check out A Beautiful Mess for this look!
34. Wall Table and Colorful Stools
These storage buckets and rails are really in right now! I love it. My kids would love to work at this table with these seats. I also love the wall shelves.
–
35. A 31 Compartment Cubby
If you have more supplies then you can count, then this one is for you! Grab some plastic bins and you are set.
36. Jar Shelf Storage
This is a genius idea. Use jars to organize supplies on a bookshelf. So easy.
37. Kids Activity Table
This Kids Activity Table and Drawing Desk with Stools, Storage Bins, Paper Roller and Paint Cups literally has it all.
38. A 12 Compartment Supplies Organizer
This one is similar to one shown a few spots above, but it's a little smaller! Shop this look here! 🙂
39. Kid Kraft Bin Storage Unit
This design isn't exactly for crafts, but if you are feeling creative, I think it could work great for construction paper and other larger supplies. You could even put jars in here. It's sochic for kids :
40. Crayon Caddie – Art Organizer
This desk is a hack from IKEA! It's actually a Svalnäs wall-mounted workspace combination. I love it and it took some digging to find the source lol. I WILL find a replica. If you don't want to go to IKEA, here's an alternative!
---
Looking For More Craft Room Ideas? Check This Out!
---
Crafts are such an important part of our lives right now and it is so helpful to have the right storage. I truly hope that this craft storage ideas post is utilized and I hope you enjoyed this list!
Do you have any other ideas that you think I should add to the list? PLEASE let me know in the comment section below! I would love to hear from you!
Also, remember to sign up for your FREE weekly activities planner on the top or the right side of the page and check out my printables page!