Easy Bead Sensory Activity for Toddlers
---
Are you looking for an easy sensory activity for toddlers that the kids can have a great time with? Well this little toddler sensory craft is is so fun for worth the little effort is takes to set up. It was actually an unplanned activity.
It was hair day at my house, which at my daughter's request involves beads right now, and she preceded to beg me to play with the beads. Well I got the bin out and she has found all types of creative ways to play in here bin. It's super cute.
This is a low prep activity that involves dumping things in the bin 🙂 The great thing is the craft is an all day, on again, off again, activity. She started in the morning, and came back after lunch to play again. THAT is a super win.
You can do this craft activity with materials that you may already have in the house already (cereal, and play-doh or paper), along with the free cutout shown below. A little cutting and then the kids are set to go.
If you are looking for activities, visit my post on more sensory activities. Also, head on over to Pinterest and follow me for daily update craft ideas!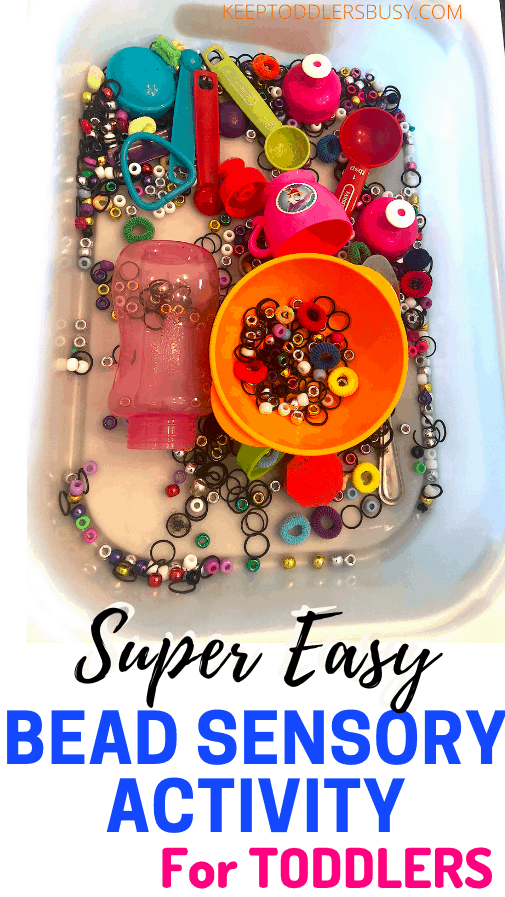 Toddler Bead Sensory Activity
Keep Toddlers Busy is a participant in the Amazon Services LLC Associates Program, an affiliate advertising program. As an Amazon Associate, I earn from qualifying purchases. Read more about these links in my disclosure policy.
Materials
1.You can use pretty much any type of hair beads if you have them! You can get them online or if you are inn the Dollar Store, they are actually in the craft section haha! We got gold, silver, and metallic colors packs.
3. A Bin to put it all in. This is super important if you want to stay mess free. I'm actually looking to get a sensory table to hold my bins pretty soon
4. Bowls, spoons, cups, and whatever else you like
Instructions
Grab Supplies
Dump in bin
Get a kid 🙂
Take a look at the pictures below!
For more some sensory bin toddler activities visit Happy Toddler Playtime as well!
I hope you enjoyed this bead sensory activity post for toddlers and preschoolers! Whether you were told by a doctor that it would be a good idea to work on sensory integration, or you just want to add a level of developmental play to your routine, I hope you got some great ideas.
Please comment below and let me know some activities you do to keep your kids entertained! I would love to see some additional ideas!
Also check out my posts on a great pom pom frame craft and popsicle stick crafts for more fun ideas!
Also, remember to sign up for your FREE weekly activities planner on the top or the right side of the page and check out my printables page