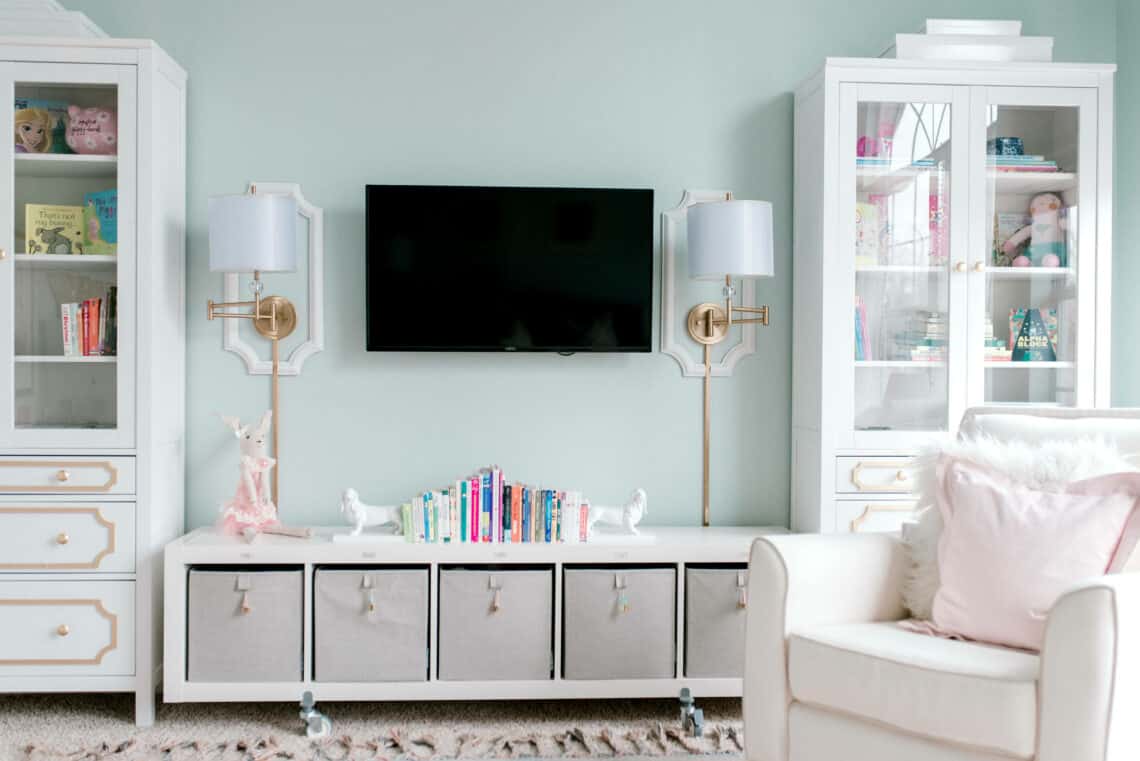 39 Fun Playroom Storage Ideas For Girls You Will Love
---
If you're looking for playroom organization ideas for girls specifically, you're in the right place. I have a pretty popular post on playroom storage ideas, but I always feel like it's easier to find decor ideas that are very neutral. (Neutral can be great for girls btw)
So I thought I would share some of the awesome research I've been doing on getting some ideas for the girls!! I recently redesigned my kid's playroom, you can find it here, but its very neutral because I have a boy and a girl. So below you will find the best girl room ideas 🙂 I also did a similar post for boys.
Whatever the size of your space; today I've collected all kinds of awesome ideas for how to tackle kid toy clutter and get your home's play space organized and tidy once and for all! Also stroll on over to check out my kid's homework station post as well.
–
I personally love to see my kids being creative and imaginative. I love to see them with books, experimenting, playing , or just running around. So hopefully the list below will inspire all of that!
If you are looking for even more kid's playroom ideas, then check out my Pinterest board on Playrooms! (also follow me on Instagram) For bedroom ideas, be sure to read my post on kids bedroom storage.
–
Playroom Design Tips
Before we get started, remember to keep these tips in mind. You will see examples of these tips in storage ideas below!
1.Designate areas for siblings. Kids love have personalized areas. Make it fun!
2. Use bright colors.
3. Use chalk board paint. Whoever came up with this deserves an award. Chalk wall? Yup!
4. Wall decals. These can add so much to a room with little effort.
5. Use cleanable and wipe-able materials. Paint, tables, floors, whatever. The easier to clean, the better. So much less stressful than expecting my kids be be clean all day.
6. Label your storage. This will change your life lol
7. Use a larger table for crafts. There are so many little small tables out there for crafts but my kids can use up an entire dining room table easily. Opt for the bigger tables if you can spare the room.
8. Integrate Furniture with Storage. Tucking toys inside the ottoman where they can't be seen literally keeps me sane.
9. Try make-believe corners. I corner for a play house, grocery store, or princess dressing room means entertainment on an ongoing basis. Check out some examples below!
10. Incorporate Fort/Tents. There is not a kid on earth who wouldn't love this. find a way or a corner to include it!
11. Include a Reading area. A nook for chill time is essential! Make it super inviting for your little one!
–
We hope you like the products we recommend. Just so you are aware, Keep Toddlers Busy may collect a share of sales from the links on this page. As an Amazon Associate I earn from qualifying purchases. Read more about our links in my disclosure policy.
Playroom Organization For Girls
–
Okay this playroom is perfection, I had to include this first! Just the right amount of neutral, pink, function, and design.
2. Tea Party Play Area
Use Double-Duty Pieces
Okay this technically looks like a bedroom, but it's perfect for a playroom! Mel Bean designed a playroom with multi-function furniture. The Restoration Hardware Baby & Child playhouse is actually a lofted bed while the Moroccan poufs can be rearranged for reading, crafting or lounging.
Using fill-able poofs like this would be great for storage!
–
3. Organizing Tiny Toys
This hack by Making Home Base is a must-have! Oh drawer storage, I love you so much 🙂
4. Play Stable Storage and Playroom
So in love with this adorable multi- colored, wood, and white storage for the toy horses. Shop this look with all the variations below.
–
5. Pretty In Pink Cubes
What a sweet playroom for a little one! I love the cube storage with baskets and the unicorn wallart.
6. Barbie Pink Playroom and Built-In
Perfect for the little Barbie and tea party lovers. Shop the look here!
–
7. Delta Children 4-Piece Toddler Playroom Set
This is another great, yet simple look with ample storage. Shop the look here!
8. Playful Pink Playroom
I included this in the playroom post because I love it so much! I love the clear container look and the whole colorful designed look. The rug and the woven hot pink wicker baskets are amazing as well!
9.Soft, Floral & Pink Playroom
This one is another favorite that is sure to please the kiddos and mommy! Check it out here!
10. Princess Storage Playroom
Of course we need dress storage!
11. Adorable Pink Couch Playroom
I love this entire design! Clean, simple, functional, and beautiful! Pink couch? Yes!
12. Qaba Kids Storage Unit Dresser Tower
Drawer storage and bins are always a great idea! Shop the look here!
–
13. Kids Jewel Blush Dresser and Storage
This dresser is what dreams are made of, am I right? Shop the look here!
–
14. Pastels and Whites
–
I love this look so much. It's such a great way to store essentials and toys. You can get the state rug from Overstock and the cube storage organizer with baskets here. I also love the multi-colored banner.
15. Soft Nugget Playroom
This is super comfy and cute, I love it. The colors are customizable as well. Shop this nugget here and canopy tent here!
–
16. Transitional Pink Playroom
–
Is this perfect or what ?!
17. DIY Dressup Storage
–
18. Stage Playroom with Dress Storage
–
This is super cute and a perfect play place and dress storage for kids.
19. Colorful Boho Playroom
I love this fun look!
20. Colorful Oasis
We hope you like the products we recommend. Just so you are aware, Keep Toddlers Busy may collect a share of sales from the links on this page. As an Amazon Associate I earn from qualifying purchases. Read more about our links in my disclosure policy.
21. Pink and Mint
–
This look is so colorful and fun, just too adorable. It's a kid friendly twist on the normal storing and super functional.
22. Pink and Animals
Does your little one love animals? Well this design is for you!
-F
23. Colorful Peg Boards and Storage Galore
–
So many supplies, so much storage. For smaller spaces, going up the wall is a must 🙂
–
24. Pink Play Market
Is this cute or what? 🙂 My daughter will be getting this for Christmas 🙂
25. Polka Dot Fantasy Playroom
–
Wow this look was done beautifully. You can take something very simple and just make it gorgeous and top notch with some color. How awesome would this be for a child's playroom?!
26. Stuffed Animal Zoo
–
Sometimes you have to throw in a piece to catch al the favorite toys. I love it! Get this look here!!
–
27. Pink With a Touch of Gold
I'm loving toy organization and the beautiful placements of gold! Perfect for playroom!
28. Play Market Playroom
This little play shop is just too perfect!
29. Pink Flamingo
This playroom from Georgia Zikas Design is full of bright colors and childhood whimsy. I love the stuffed pink flamingo in the center of the room.
30. Whimsical
This playroom from interior designer Maite Granda features a hand-painted mural, a whimsical chandelier, and a lovely house-shaped reading nook.
31. Dedicated Pastel Playroom
Simple feminine charm with subtle hints of very light pink. Not to mention, there is plenty of storage. Beautiful!
32. Fun Rainbow Playroom
Now this so cute and so useful! Organization and multiple areas of play are the cherry on top of this rainbow playroom.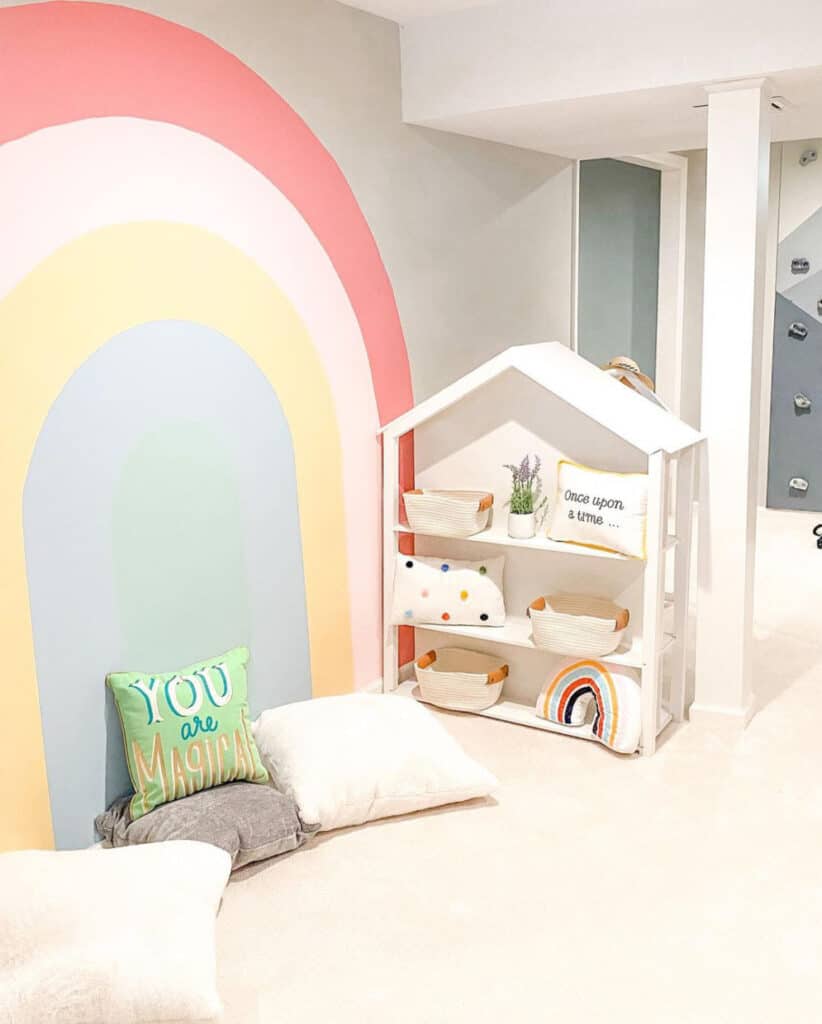 33. Magical Playroom
Check out this look! I'm a fan of adding a different touch:) I love the tree wall decals and birds. Even the rug reminds me of swaying grass!
34. Posh Playroom
My kids would love to chill in this room anytime!
–
35. Ultra Soft Fluffy Rug and Seat Storage
Not sure if I love this for my kids or me 🙂 Shop the look here!
36. Pastel Rainbow Playroom
This is just gorgeous. I love how the mint beanbag chairs, pastel tassel garland, and multi-colored table set came together. Even the pillows are cute!
37. Rainbow Book Storage
This Kids Activity Table and rolling cart with storage is awesome. But the rainbow bookshelf is soo cute! (off to rearrange my kids books :))
38. Modern Playroom
This multi-functional playroom from Sissy + Marley Interior Design is equipped with amazingly sleek storage to keep those toys hidden and leave ample room for play!
39. Chalkboard Cocoa Bookcase
This design is so simple, yet beautiful. Find it here!
I hope you enjoyed this list and that it gave you some great playroom storage and organization ideas to try with you girls! During this time of the year, it's always great to look into getting the playroom alll the way together as well. More toys tend to equal more clutter, so getting ahead of it all is always a great idea!
I would just use these ideas as sheer inspiration and incorporate them into your spaces with your kids and their particular home and play space needs in mind.
Do you have any other ideas that you think I should add to the list? PLEASE let me know in the comment section below! I would love to hear from you!
Also, remember to sign up for your FREE weekly activities planner on the top or the right side of the page and check out my printables page!