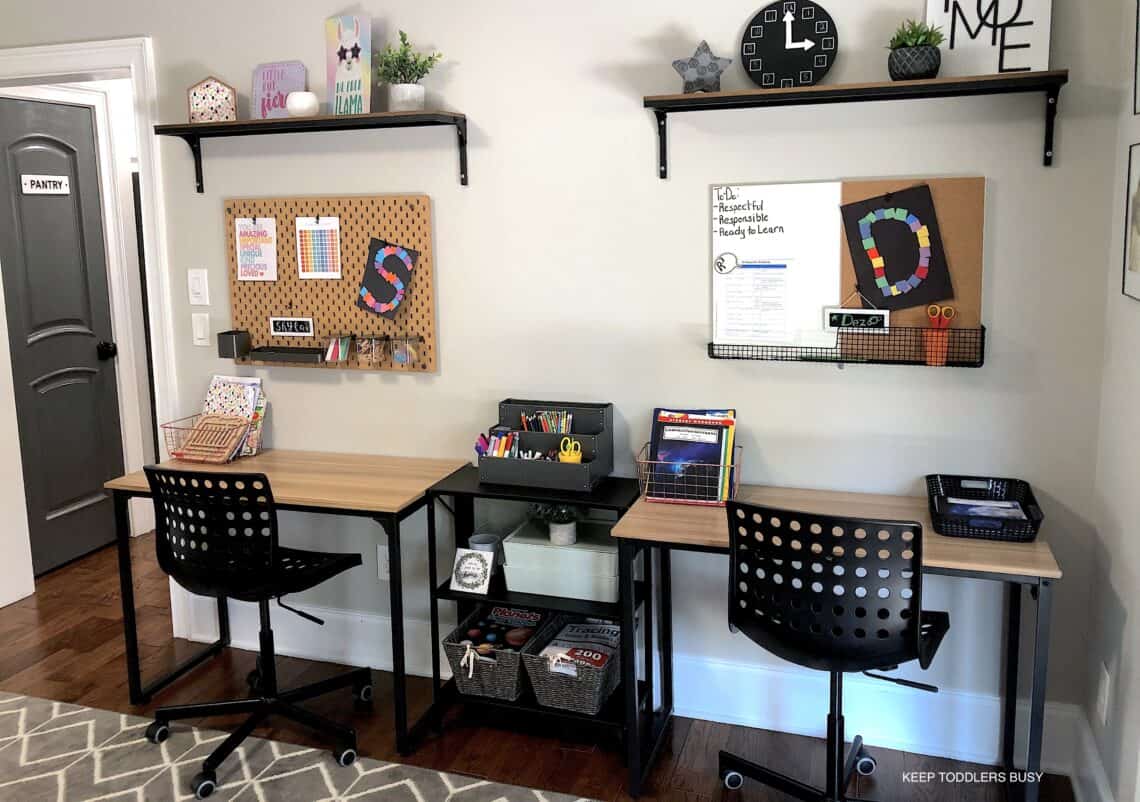 How To Make a Kid's Homework Station For Homeschool
---
Hi Everyone! If you've visited my blog before, you may have seen part 1 of my playroom reveal! (or if you follow me on Instagram or Pinterest) Well……. I'm super excited that we finally got to finish part 2 of our "combination" playroom/classroom/homework station.
I have to give it to my husband for really helping me out so much! I couldn't have done it without him.
We went with IKEA again for this side of the room and I couldn't be happier with how it turned out! Even though my "littles" won't be doing home school forever, they will have a space that they can come home from school and finish their work for the day.
So with that in mind, I went for a simple look that could be styled for a young child, but can also still work for older kids as well with a change of accessories. I hope you gain some inspiration from this design if you are putting together a homework space! ( also have a lot of great ideas on my homeschool school room ideas post.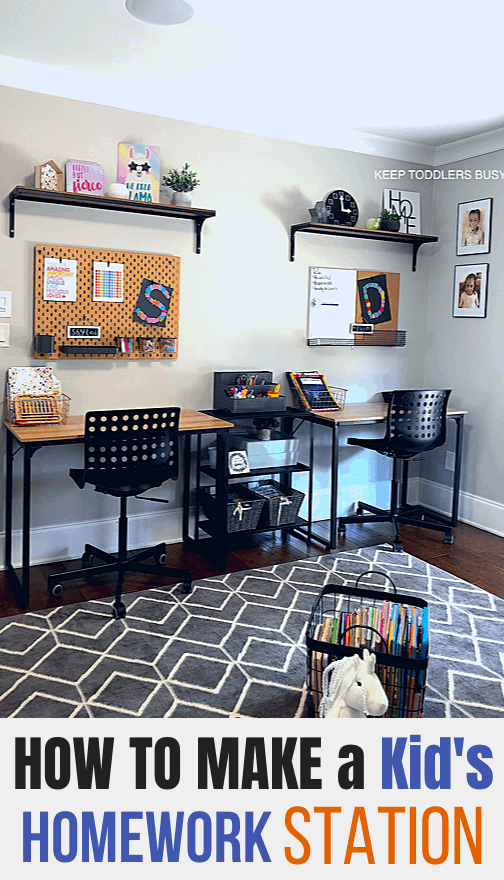 If you are trying to do a combination space, like me, or you just don't have a whole lot of space to work with, my advice is just to find one free wall. I realized that their whole awesome little space for school was basically on the wall. There is no need for extra square footage when you can storage things and have your reminders on the wall. Go figure 🙂
Designing the kids' space was so fun, even better for part 2. This budget-friendly mostly IKEA playroom and homework station is definitely now one of our favorites spots in the house and great for storing our school supplies!
Tips on Designing a Homework Station in a Small Space
Before I share part 2 , I thought I would share some tips on how to get started with a homework station in a small space. We had one wall and it worked out quite well. We just had to get that plan together to pull it off!
Find Storage on the wall and try to leave the floor clear.
Use pieces and furniture that have more than one use.
Look for Furniture that can fold away when done.
Write down preferences and desire for the room ahead of time. Plan out where you want your necessities.
Use Thoughtful design. Neutral walls, curtains hung higher, and lights pointing up to the ceiling create the illusion of bigger space.
Use storage wisely
Use smaller furniture.
For more ideas, check out this post by House Beautiful!
Homework Station For Kids
This is not a super large space, but its just enough room for the children to have some fun, play, stretch out, study, and of course give me some space. 🙂
FYI, if you want more decor ideas, check out my kid's decor page! Also check out a great post on how to create a playroom that will grow with your child.
Planning for the Study Space
The first step should always be to get your plan together.
My 5 year old son recently started virtual kindergarten at home this year and I also have my three year old, so our goal was simply to allow both of them to have a desk space to work on and also have a way to access a good amount of toys when my three year old gets bored.
I love blacks, whites, and grays, with wood. You will see that style in most of the house. Since the kids space is downstairs, I decided to keep that style, but add some touch of color for the fun. I will probably add a few more colorful features to decorate.
I will also show you below how I stuck to a budget, and shopped at IKEA, Dollar Tree, and Target (and repurposed and reused), to achieve this look. I really hope that you enjoy this look into our kid's space!
Here is a list of features that make for an effective homework station:
Desks with ample space
Homeschool or in person school supply storage
More storage and organization for school work and papers
A comfy, possibly adjustable, chair for each kid
Extra Storage shelf for craft supplies and books
Bulletin board or White Board to pin important reminders
Lamp if needed
Wall shelf storage if you need more
Accessories to personalize for your child
This list was everything we needed and everything else stayed the same. The wall color is a neutral Repose Gray that we used throughout the house and the floors are an awesome engineered wood that was here when we bought the house.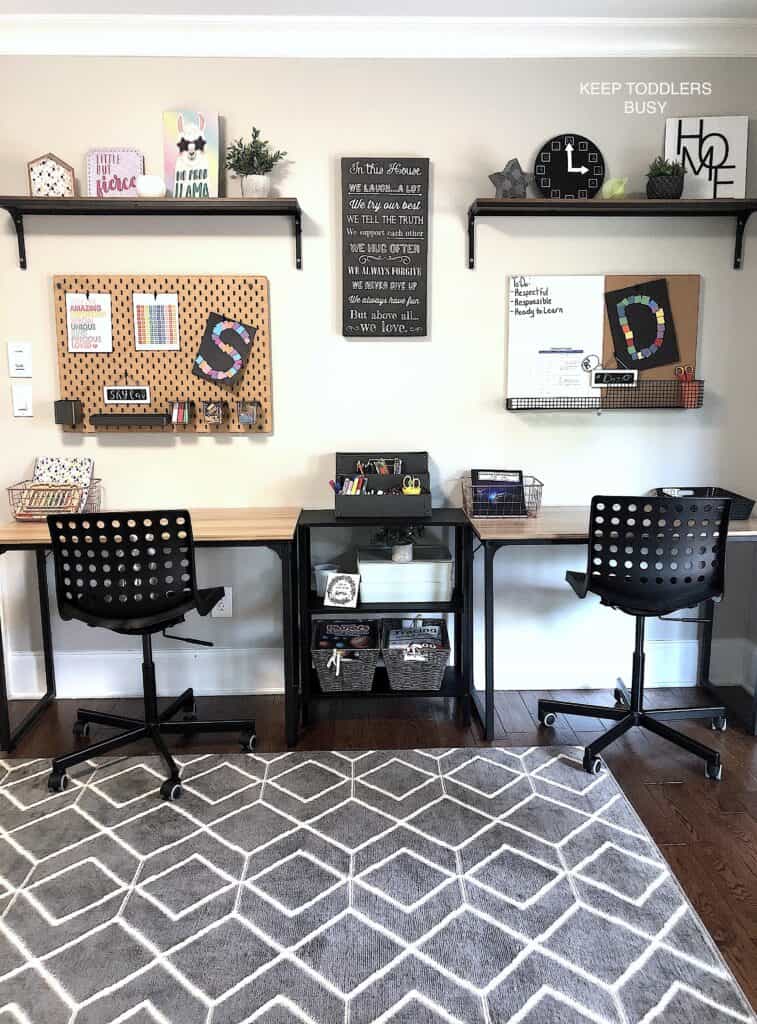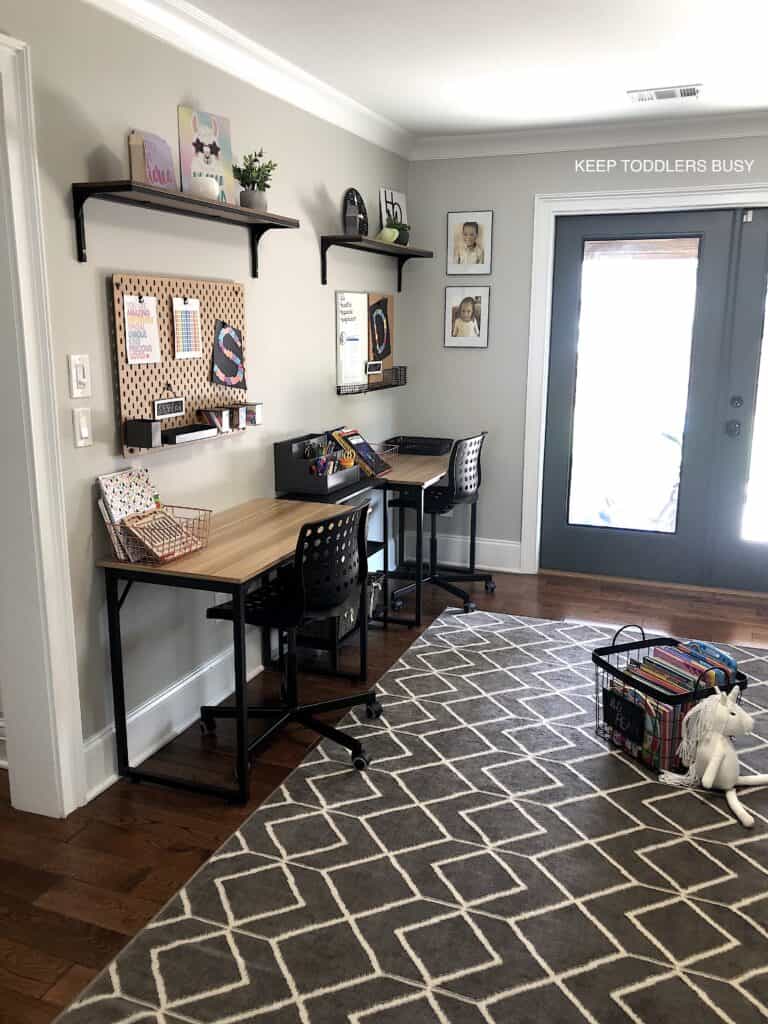 We hope you like the products we recommend. Just so you are aware, Keep Toddlers Busy may collect a share of sales from the links on this page. As an Amazon Associate I earn from qualifying purchases. Read more about our links in my disclosure policy.
The Homework Desks and Chairs
I shopped around online for many weeks to narrow down what desk I wanted to get for the kids. I wanted a sleek, simple look and I want there to be wood, but also some black to go with the decor in the rest of the house. I also wanted the price as low as humanly possible for the highest quality possible LOL (meaning less than $100). I was super happy with what we found and it wasn't hard to put together! We found it here on Amazon.
I got the rose gold wire baskets and the black homework tray from Walmart and was super please that they went well with the desk.
The swivel Chairs are from IKEA and they are adjustable. So they are perfect to grow with the kids.
Take a look at them below!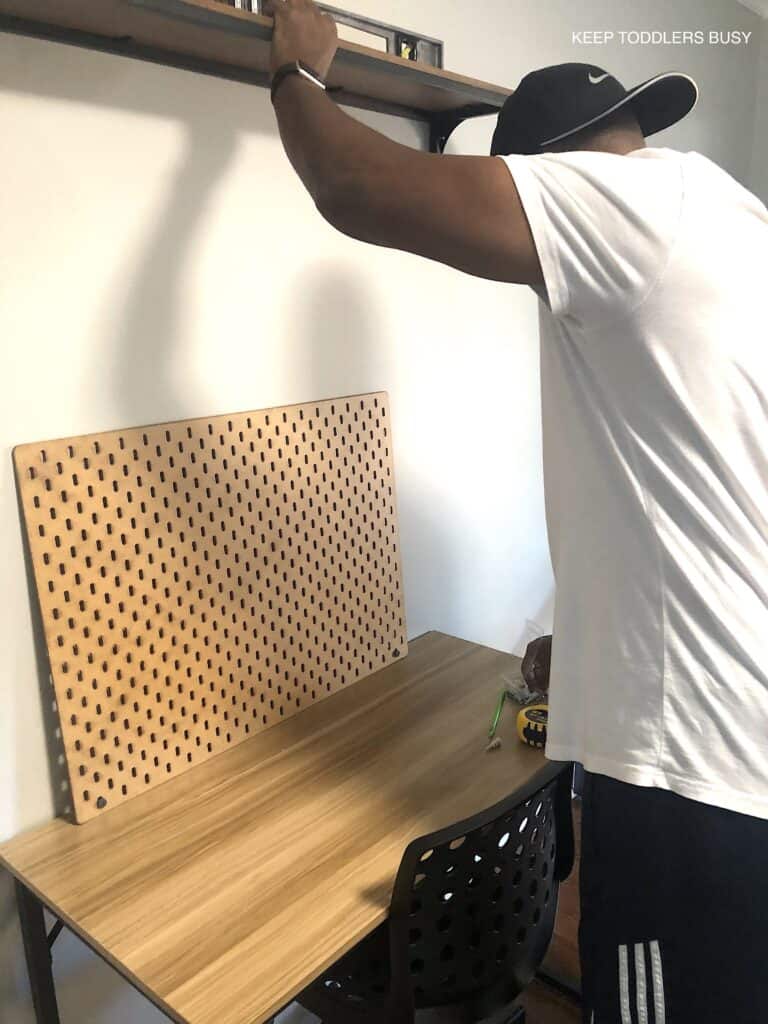 Wall Shelf Storage, Bulletin Boards, and Wall Art
As I said before, my goal was to have a budget friendly homework station for the kids. Right now it's actually a homes school setup but God willing that won't last to much longer. I found some great items from places like Target and Amazon, and of course I got items from IKEA.
The wall shelves and both the peg board and bulletin board are from IKEA, along with the peg board storage boxes. I got the chalk clock, "HOME" sign, and plants from Target. The little house and wall art on the shelf for my daughter came from Dollar Tree. I also got the little chalk board name tags from the Dollar Tree.
I was going for a "styled" look but didn't want to pay top dollar for it and I was pretty happy with how it turned out!
The family rules wall art in the middle was a garage sale find, courtesy of my hubby! Boy was I shocked and super happy when he walked in the door with it 🙂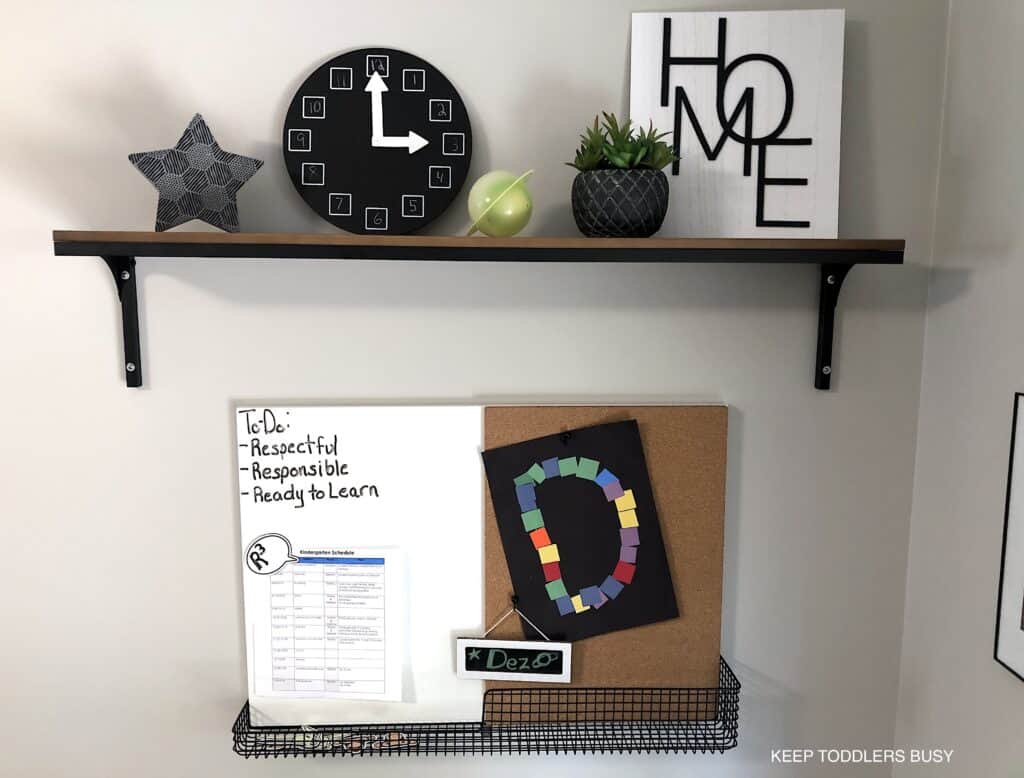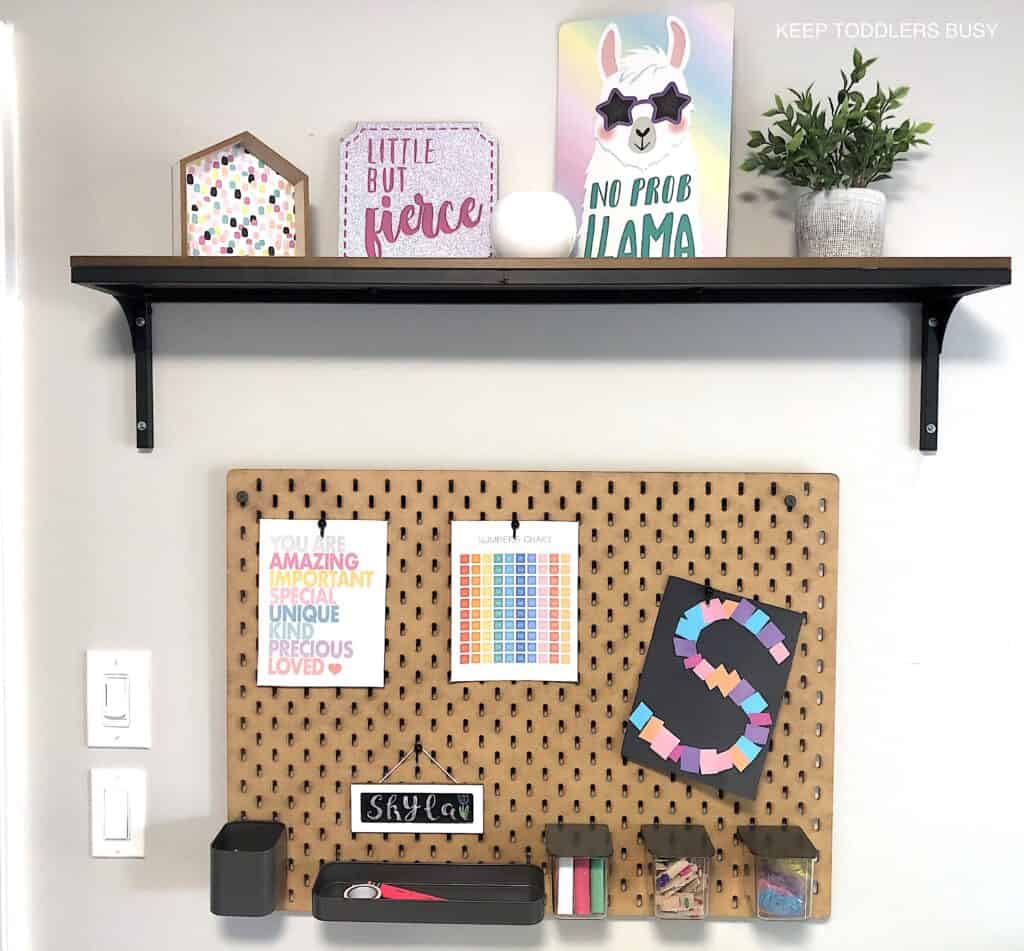 The Floor
I used a separate metal chalk board basket to store the larger books. My goal was to keep black storage at a minimum since we already had black shelving, picture frames, and other accessories, but I just loved this crate and decided that black was the best color to paint it. I used Rustoleum black spray paint to update the look of the metal basket. Just make sure it's big enough!
We lucked up on a very budget friendly 8×10 gray and white geometric rug from Wayfair! We centered it in the room and not the desks but it is a great price for a great looking rug that helped pull the look of the whole room together. I just don't believe in spending large amounts of money in kids rooms. They are kids, so things will get messed up, and I don't want that truth to stress me out everyday.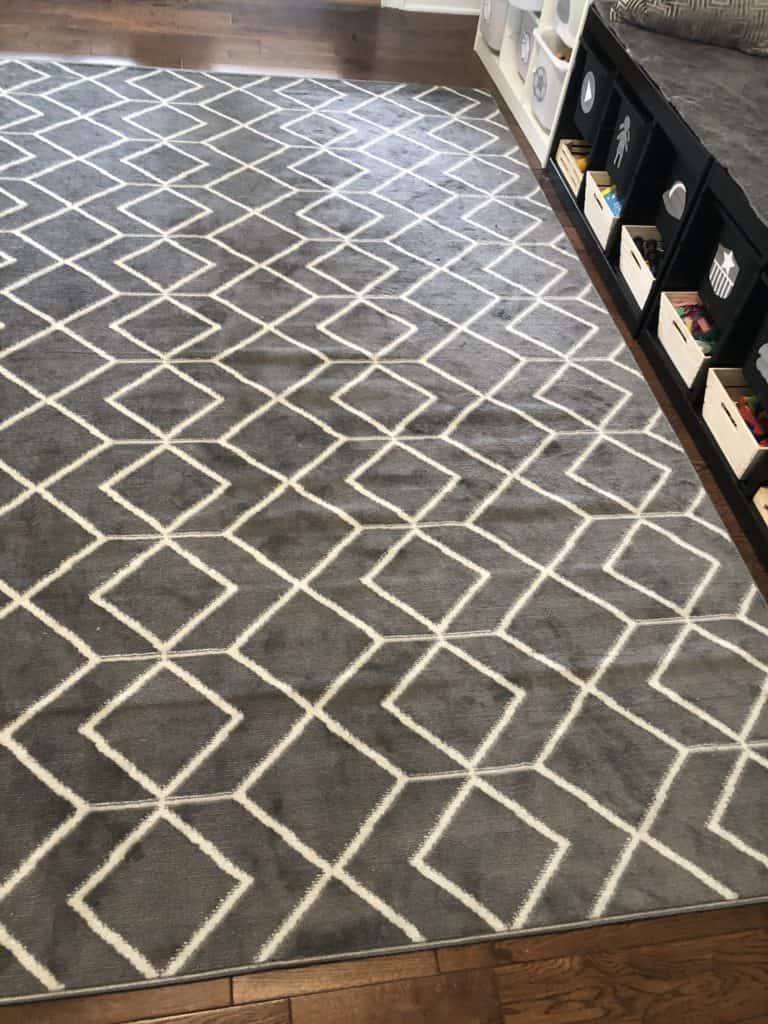 Storage Shelf and Accessories
Okay so this one is kind of exciting for me lol. I actually got the standing shelf from IKEA for $9.99. It was actually a silver metal plant holder that was meant for inside or outside. We decided to spray paint it black using Rustomleum Black paint, and it turned out great.
My husband really took his time to get the paint right and make the black look super uniform and finished so I'm so thankful!
The gray supply holder and mint boxes came from IKEA as well. The mint boxes are filled to the brim with crayola paint bottles and lots of other supplies. The Gray Baskets at the bottom are an old Home Goods purchase from last year.
Get a closer look below!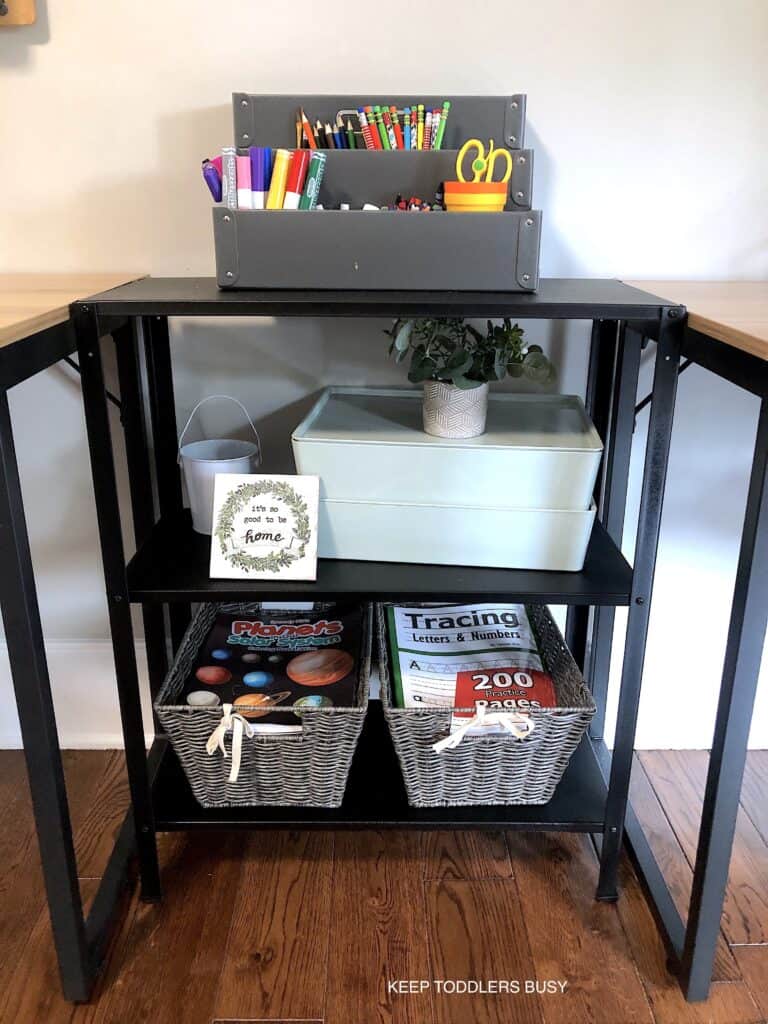 And last but certainly not least, the photos of my babies on the wall at the right side. I got the frames from Walmart and printed out sephia tinted "black and white" photos of them on plain paper. I made sure to leave white on the outside to give a classic look.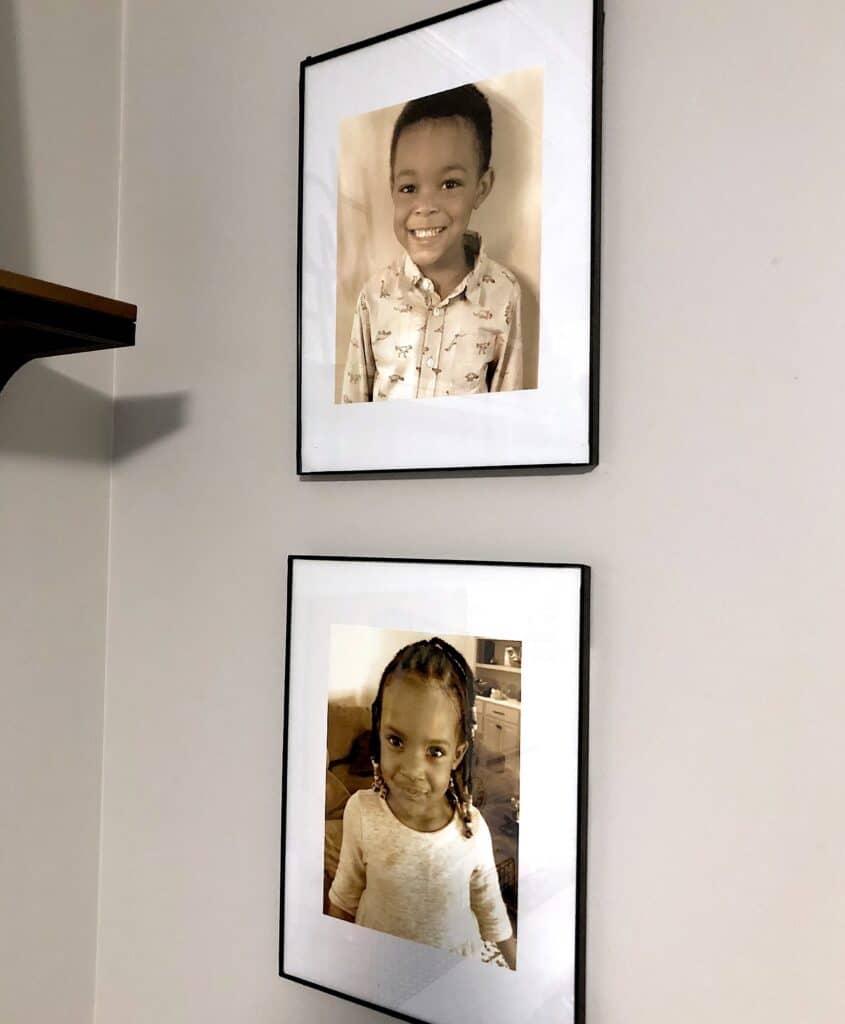 So that's it! That's my kid's new home work and homeschool space in a nutshell. Now obviously they don't always keep it this clean, but I am forever grateful that they have a space during this crazy time in the world. The little things really count and I think this kid's homework station came at a great time.
My hope is that someone can use this as inspiration!
If you would like some free playroom prints, make sure to sign up for our newsletter and get them sent to your inbox!
For your convenience I have put together all of the products we used in our homework station design! (Some of them are affiliate links) I hope it helps if you are taking on a project! It seems like so much more when we list it out but we kept the price tag pretty reasonable.
Wall color: Benjamin Moore Repose Gray
Door color: Benjamin Moore Grizzle Gray
Update: Christmas Kid's Space
We decided to add a few subtle Christmas Decor touches to the kid's playroom and homeschool room for Holidays! This Will be a Great Place To Do Their Christmas Crafts and Christmas Games. We started a little early this year since it seems we really needed it lol. I plan to add more as the weeks progress so bookmark us and come back to check in!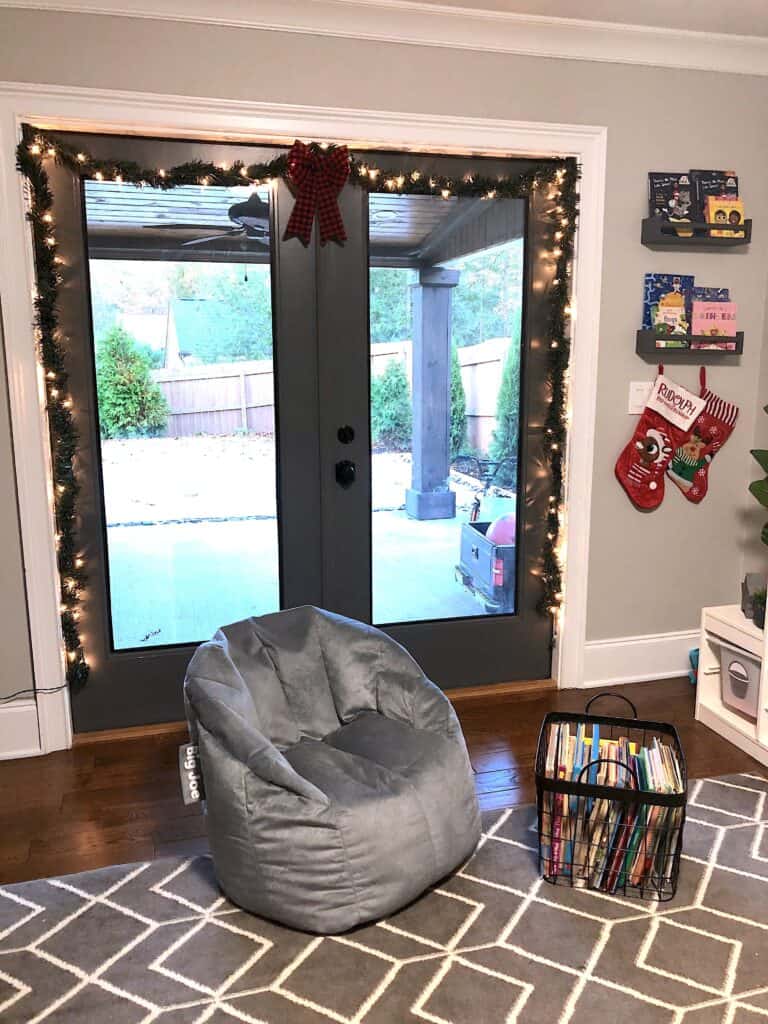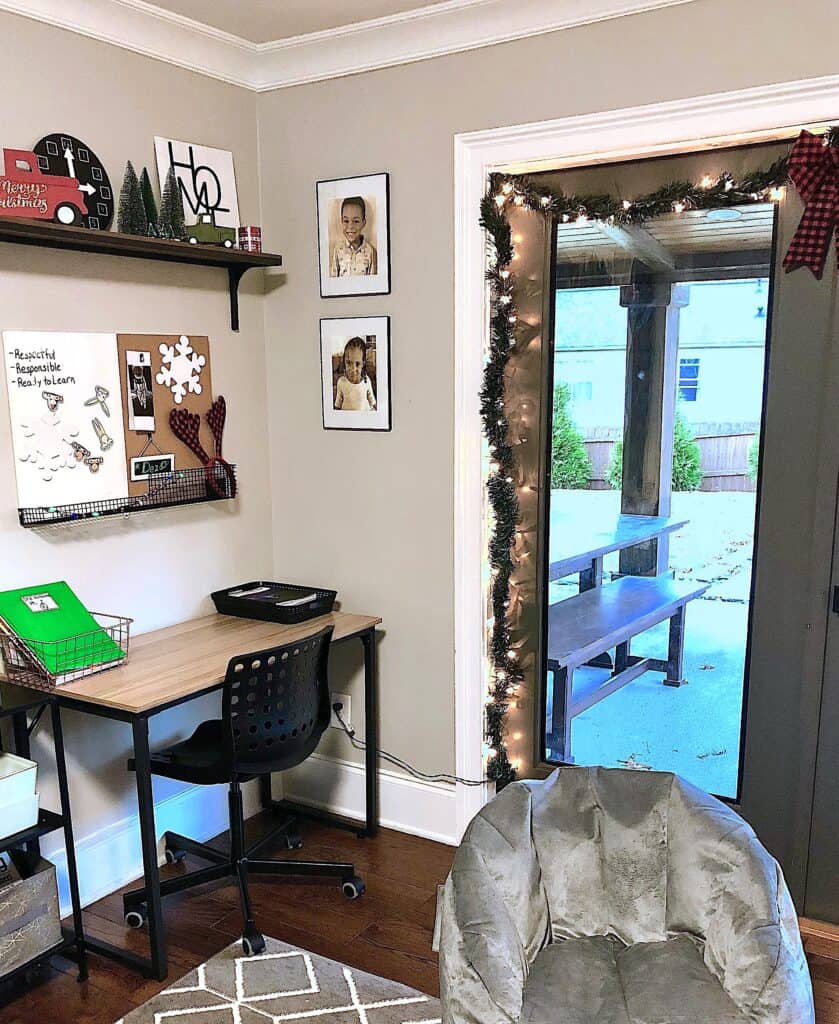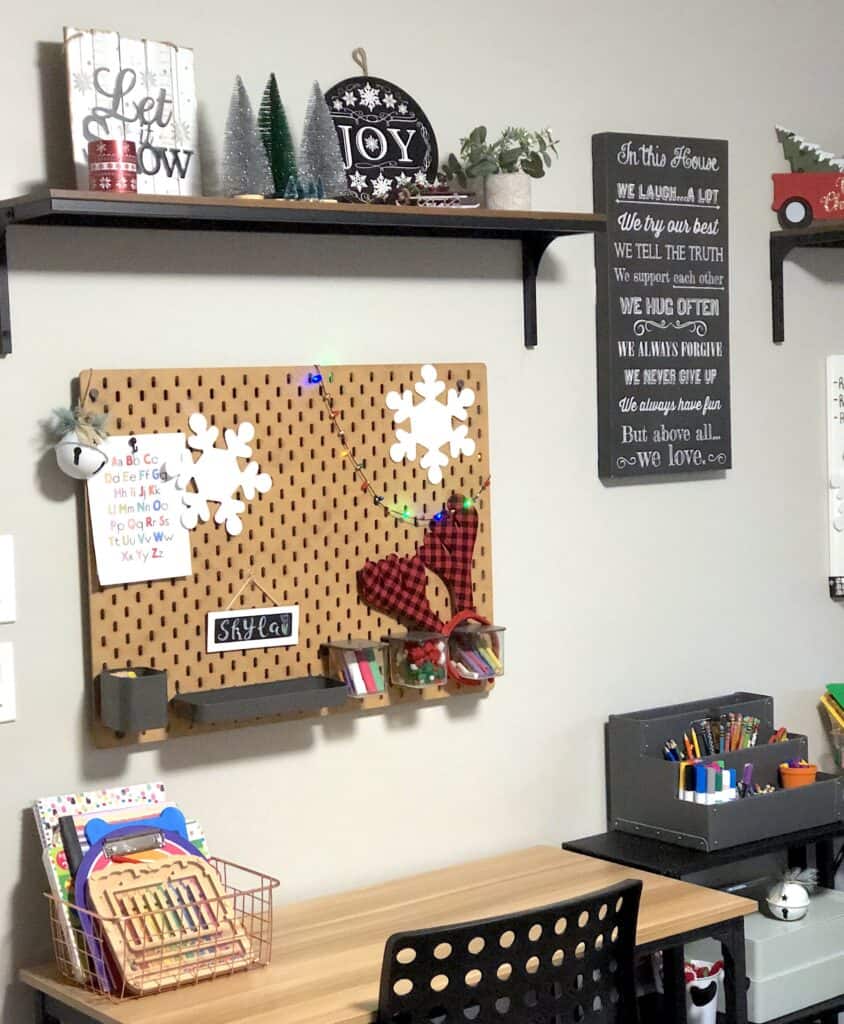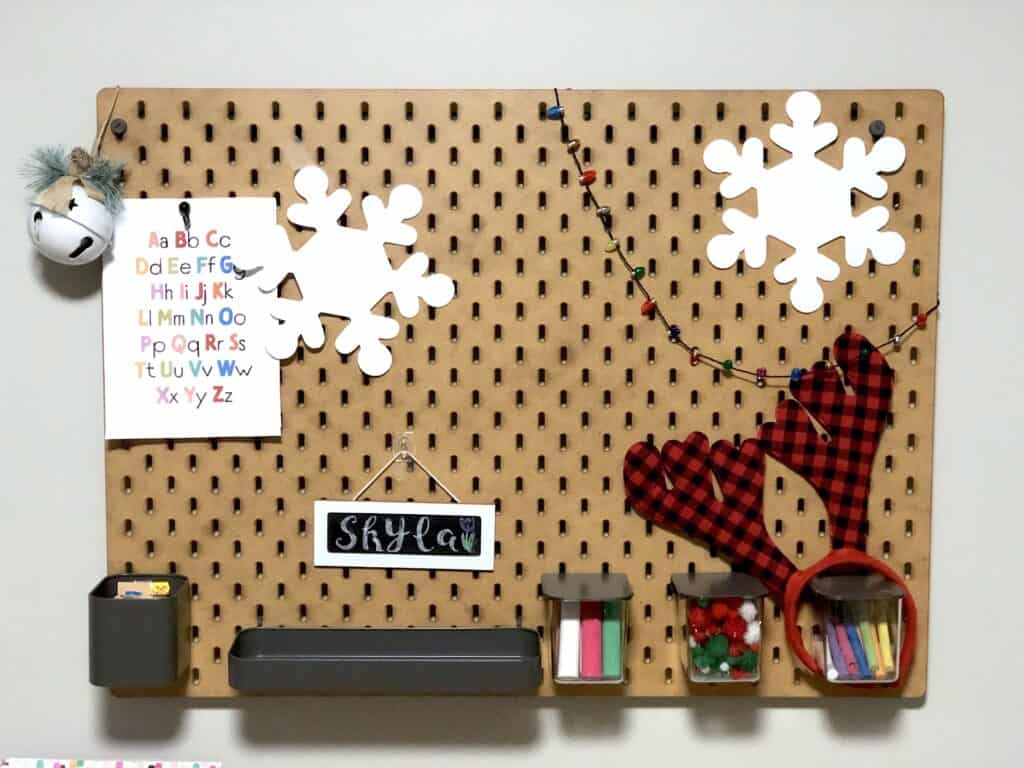 Make sure to hover over the top left of the images below and click "Pin" so you can save this post for later!!
I've been an activity mom for almost 9 years and have over 15 years of experience crafting, writing, and creating. My mission is to bring fun, balance and learning to your busy homes with activities, tips, inspiration, and organization!