20+ EASY Popsicle Stick Crafts For Kids
Today I thought I would talk about some great popsicle stick crafts that my kids love! It is so easy to get the supplies so we do them all the time!
Popsicles are one of the greatest joys of childhood. Ask any kid and they would eat popsicles for almost every meal of the day if they could! (mine would) So I thought it would be a great idea to do a post on popsicle stick crafts kids will love!
 At one point in most of our lives, whether at school, summer camp, or home, we have all made something out of popsicle sticks! These crafts are so fun and easy, so look out for future popsicle craft projects and activities as well!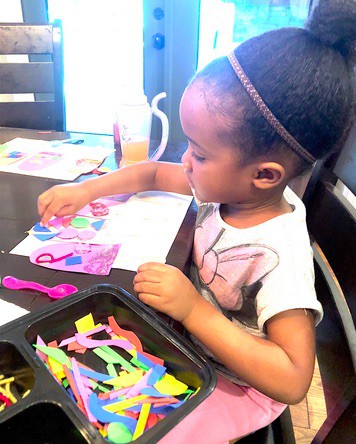 The crafts may not turn out perfect, but I like to make sure my children are included in the process every step of the way, if possible. The great thing about many of these craft activities is that they are absolutely free or almost free as well if you know where to buy.
If you would like to see more amazing projects I have done with my children that are extremely budget friendly, check out my post on dollar store crafts or my chicka chicka boom crafts! And be sure to check out my Pinterest board on Crafts! Don't forget to follow me for more ideas!
–
Easy Popsicle Stick Crafts

–
1. Popsicle Decorating Craft

Supplies
You will most likely have some of these supplies in the house, but for those who don't, the most you need to spend in 3-4 dollars at the dollar store.
A pack of  craft sticks. I actually Love these Jumbo Popsicle Sticks for extra fun. Or get your regular colored sticks here.
Glue Stick and Colored Glue (only because the kids love it)
Scissors for you
Markers if you like
I used felt paper sheets for the shapes
I needed a craft sorting tray instead of plates (I have my eye on this one!)
–
We hope you like the products we recommend. Just so you are aware, Keep Toddlers Busy may collect a share of sales from the links on this page. As an Amazon Associate I earn from qualifying purchases. Read more about our links in my disclosure policy.
–
Popsicle Stick Crafts For Kids: Craft Preperation
This project is pretty self Explanatory so I will just let the pictures do the talking!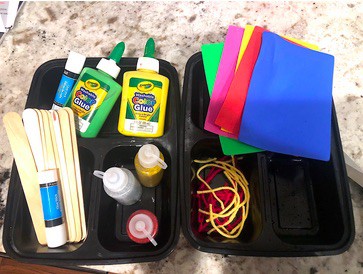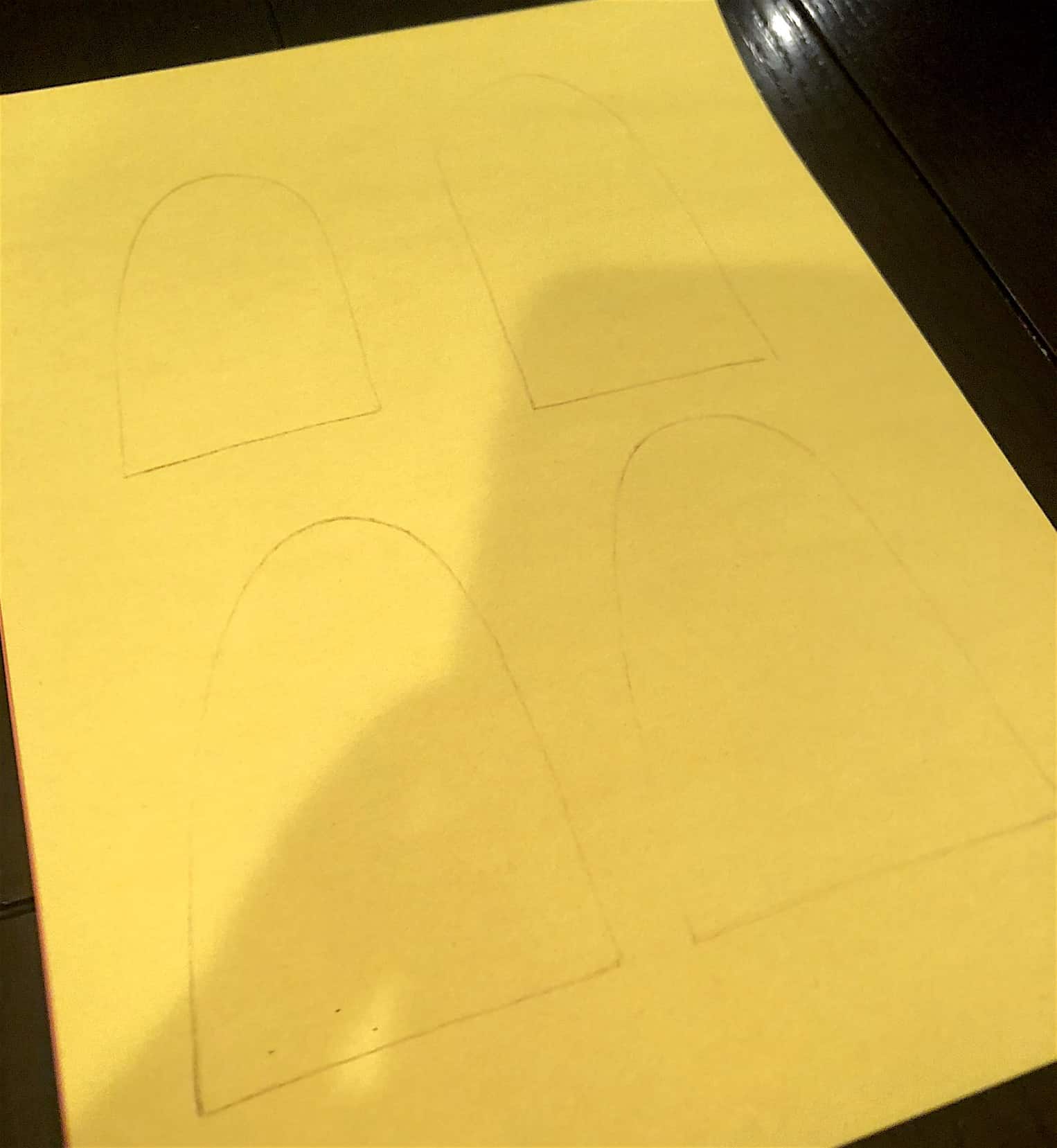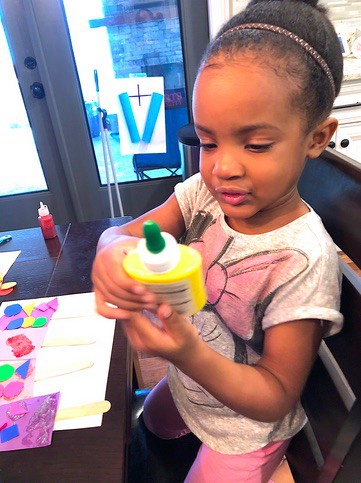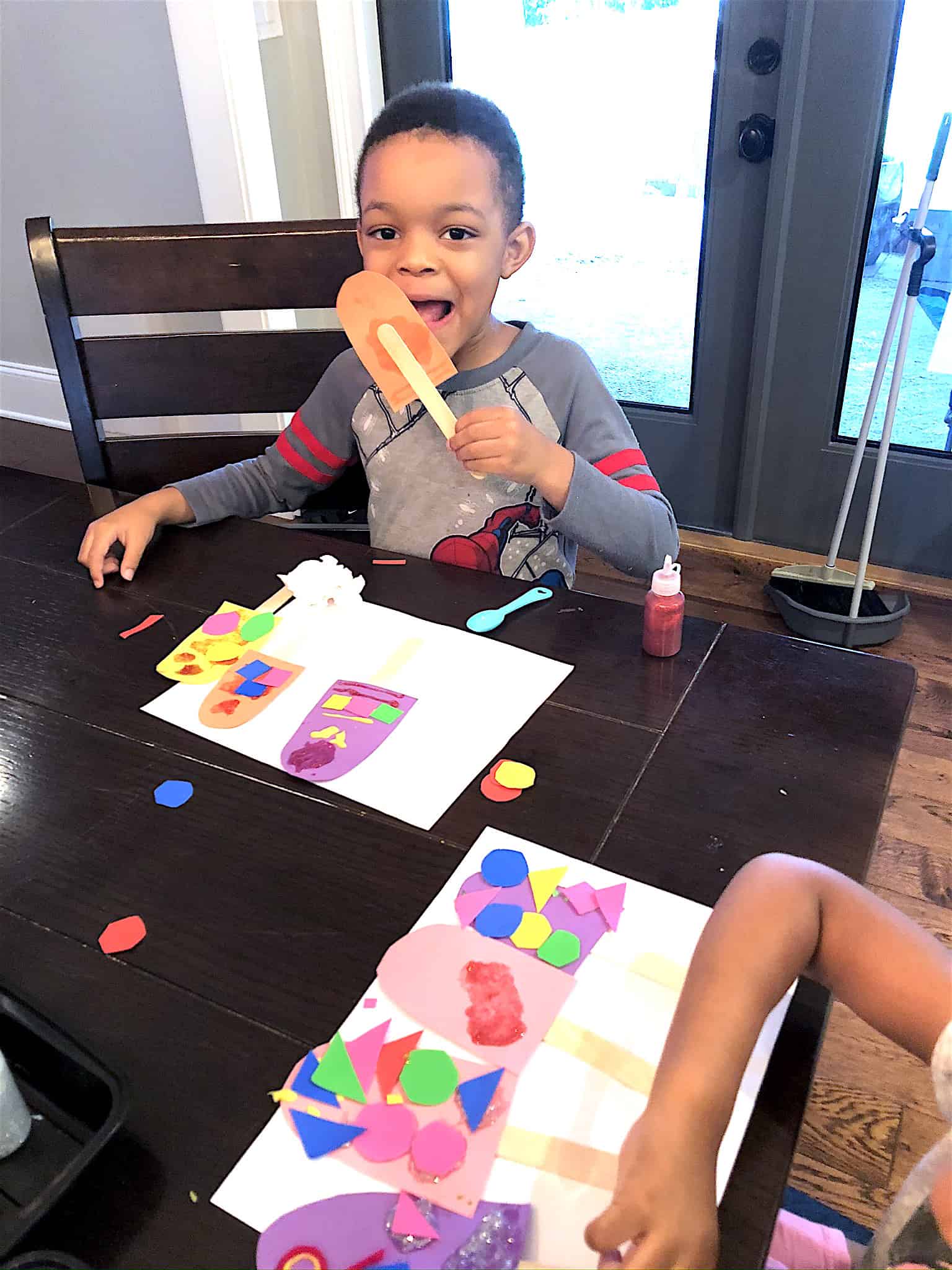 2. Rainbow Popsicle Stick Craft
–
Popsicle Stick Crafts For Kids: Supplies
You will most likely have some of these supplies in the house, but for those who don't, the most you need to spend in 3-4 dollars at the dollar store. (I should buy stock there ha)
A pack of colored craft sticks. I actually Love these Jumbo Popsicle Sticks for extra fun. Or get your regular colored sticks here.
Glue Stick/ or HOT Glue Gun (you can get a fairly cheap one here)
Scissors
Construction Paper or white paper
Index Cards

–
Craft Preparation
–
This is a work around popsicle gluing hack if you don't have a hot glue gun.
Popsicle sticks don't stick to each other very well with normal glue (unless you are able to allow ample time to dry), but the sticks do stick to paper very well.
You can create many of these arts and crafts by gluing the sticks to the back and front of any type of paper! Just cut the paper into the correct shape!

1. If you are using pre-colored sticks, all you do is start gluing! I used face wiping pads for the clouds, but you can use cotton balls or construction paper cut into the shape of a cloud. My son insisted on doing clouds on both sides 🙂
2. If you have regular tan sticks, most markers will do the trick! My son took his rainbow everywhere!
–
–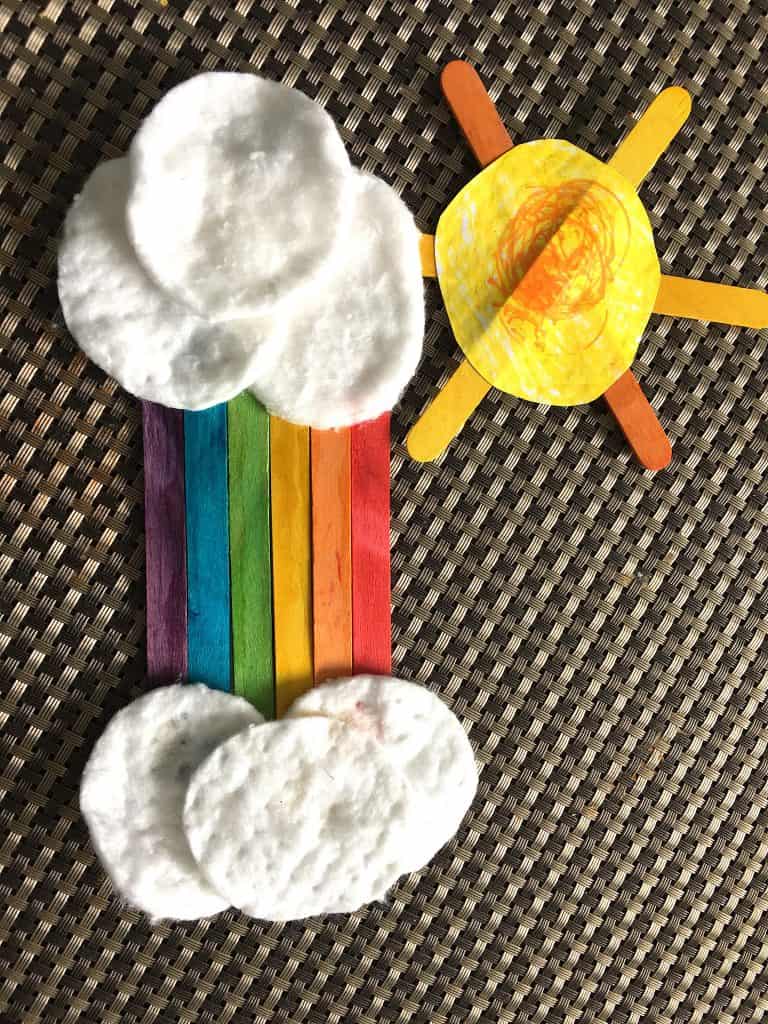 –
–
3. Sun Popsicle Craft
–
Craft Preparation
–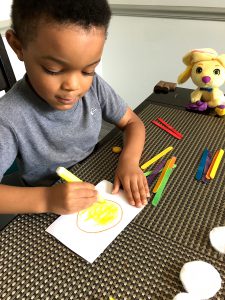 The preparation is easy, short and sweet.
1. Pre-cut your sun first! We ran out of yellow construction paper so my son colored white paper with a yellow and orange marker.
2. Next either glue your stick together with a hot glue gun or glue it to the paper! Make it as simple or elaborate as you want!
–
4. Popsicle Stick Fans
–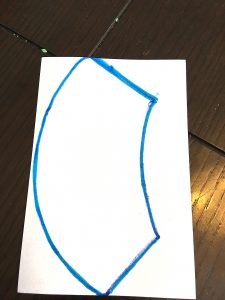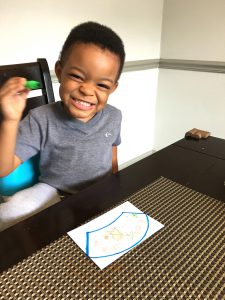 In honor of the hot summer we have had, the kids designed their own fans!
1. I started with a fan shape outline on a white index card. Then I allowed them to have at it. My baby girl did scribbles and my son drew circles, squares, and triangles.
2. I love to name and date these activities to save for future reminiscing
–

–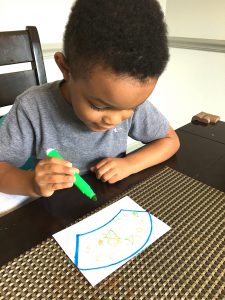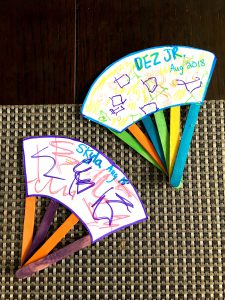 –
This is such an easy and cute idea! My little boy is super into any silly right now so this idea from iheartartsncrafts.com is perfect! I love using these googly eyes 🙂
–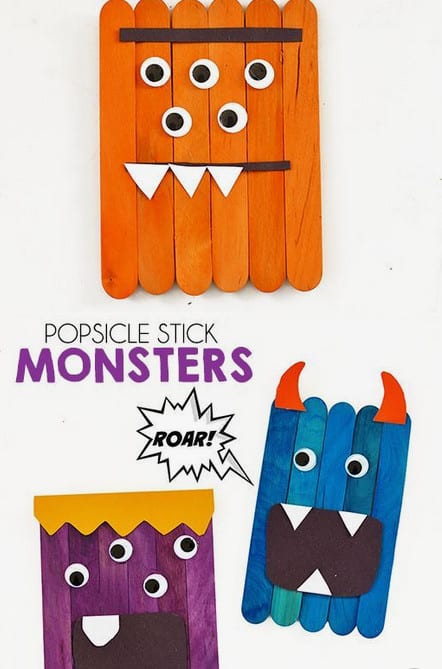 –
6. Stick Superhero Idea
–
This one reminds me of my painting arts and crafts post due the the superheroes! Can go wrong with this idea from gluedtomycraftsblog.com
–
7. Popsicle Stick Rocket Ships (Valentine hearts optional)
–
So have I ever mentioned my preschooler has been obsessed with planets for about 1.5 years? Not joking. So for you space moms out there, this one is perfect. Check out gluedtomycraftsblog.com.
For updates, family life, and activity ideas in real-time, follow my Instagram 🙂
–
8. Frame
I love keepsakes crafts, because you can look back at them and think of only the good memories of parenthood 😉 I dont have a website for this one, but @jsigler posted this on her instagram page! Check it out and make sure you follow me as well! Find some great craft jewels to use here!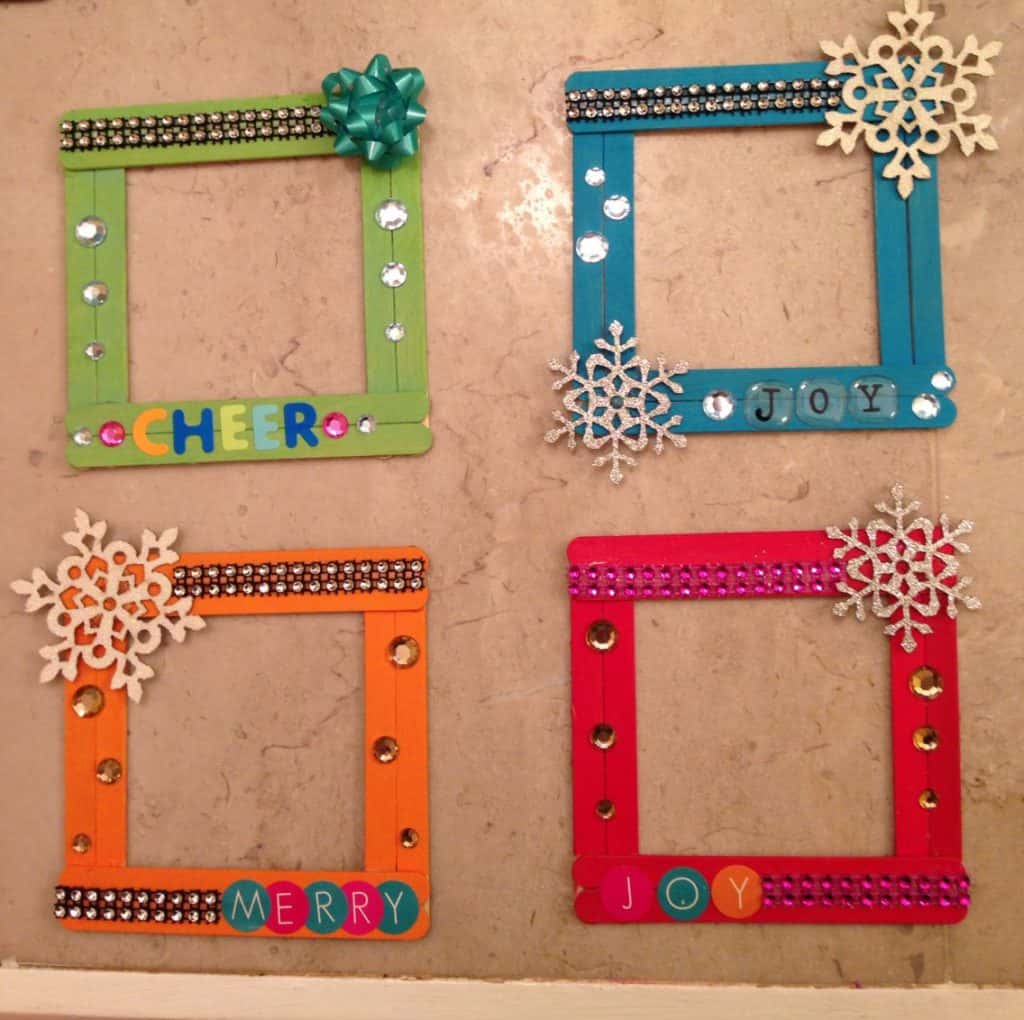 –
9. Cars
–
Another simple Popsicle stick craft for preschoolers or toddlers that will provide great imaginative play! Learn how it was done at
10. Caterpillar
–
Aww something I'm not used to: cute caterpillars! Sticks, some fuzzy balls, and some eyes from the dollar store and your set. allkidsnetwork.com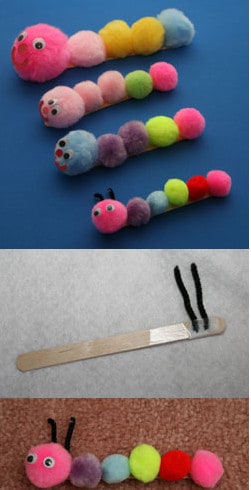 Psst.. Another great activity idea! Check out my Chicka Boom Boom Alphabet activity.
–
11. Shapes
This is a great learning activity for kids. Simple and fun!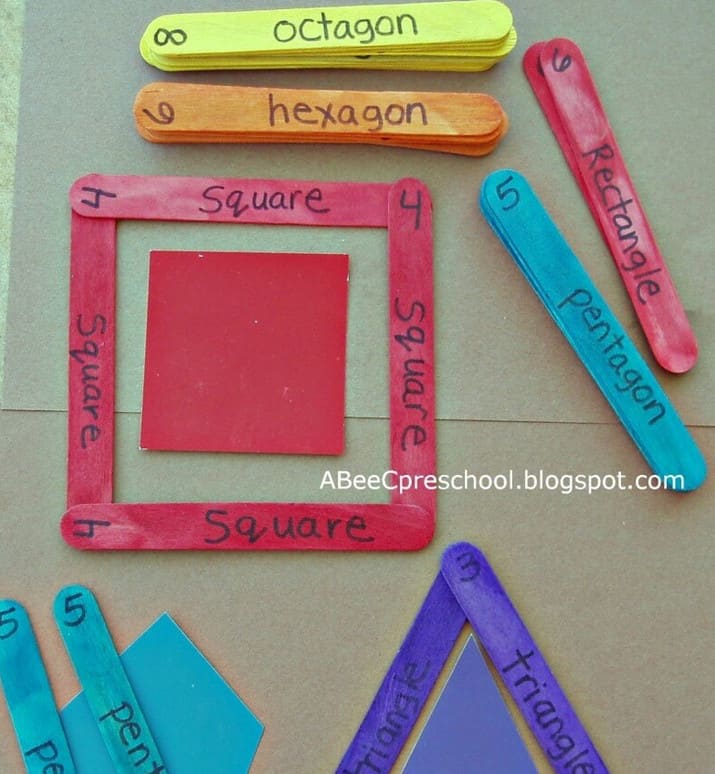 –
–
12. Animals
So many cute animals. Ideas galore in this post! craftionary.net
–
13. Butterfly
My daughter would love this heart butterfly stick idea! Cute and great for imaginative play. annmariejohn.com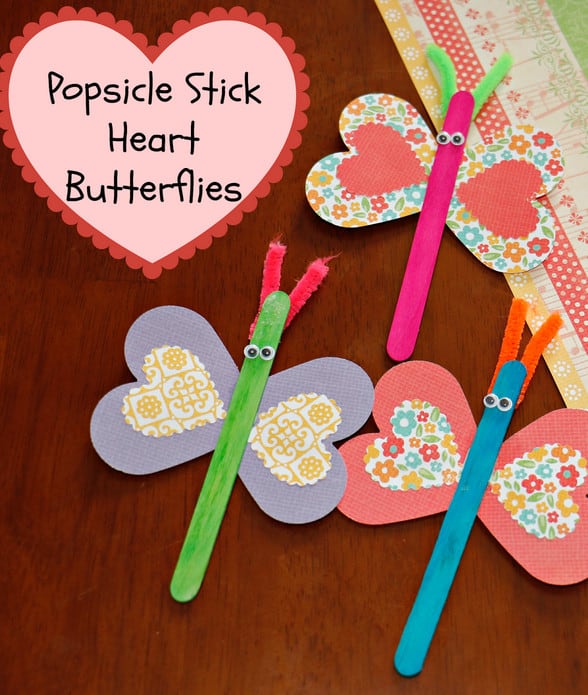 –
14. Treasure Chest
If it involves hiding toys, I'm all for it. I love this simple treasure chest idea! powerfulmothering.com
–
15. Bird
I added this one because it's just adorable. Again, imaginative play is awesome. Young minds can be stimulated by the smallest things. makeandtakes.com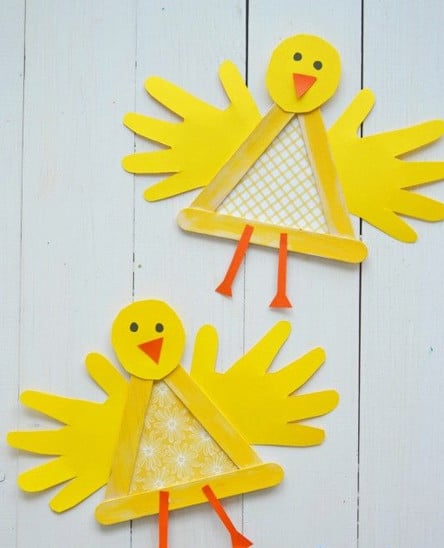 –
Holiday Popsicle Stick Craft Ideas!
–
16. Spider
Halloween can be so fun with little ones. Get into some Halloween fun with this spider craft at makingofamom.com
–
17. Web
Super fun Halloween webs at buggyandbuddy.com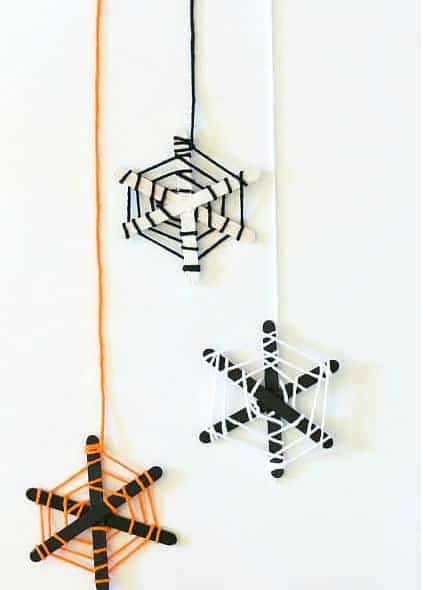 –
18. Pumpkin
Popsticle Stick Jack-o-lantern anyone? Find this at todayscreativeideas.com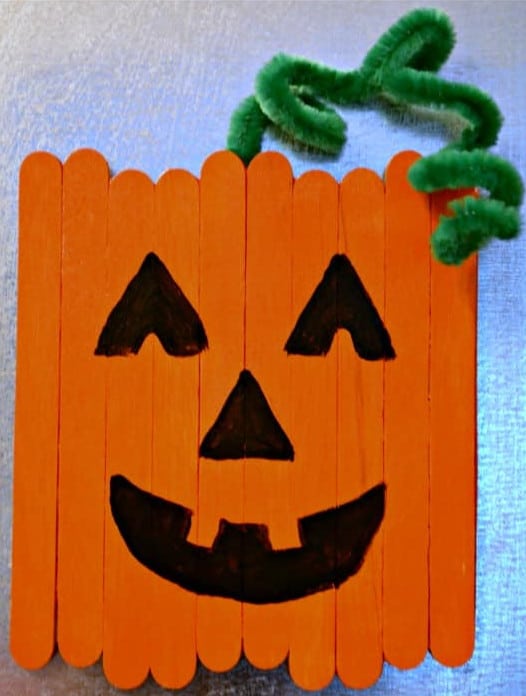 –
19. Turkey
Rainbow Turkeys are a great way to master colors 🙂 Check it out at thepinterestedparent.com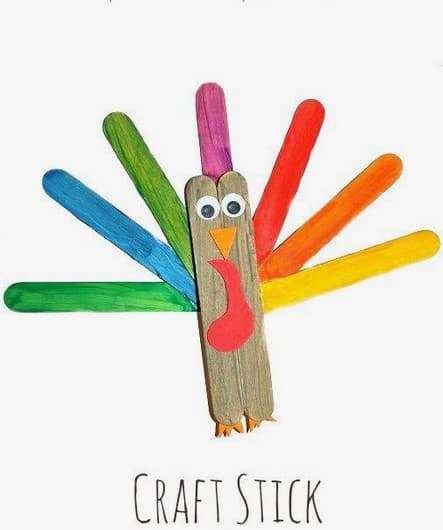 –
20. Christmas Tree
I LOVE Christmas, so you know I had to include some for the Christmas holiday! gingersnapcrafts.com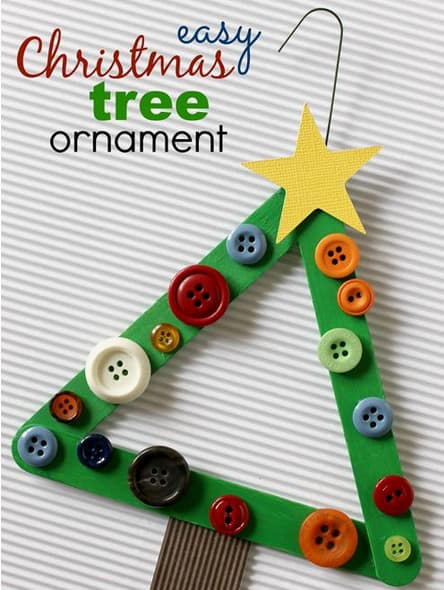 –
21. Ginger Bread House
Ok so this does not look quite as easy as the other, but hey it's Christmas 🙂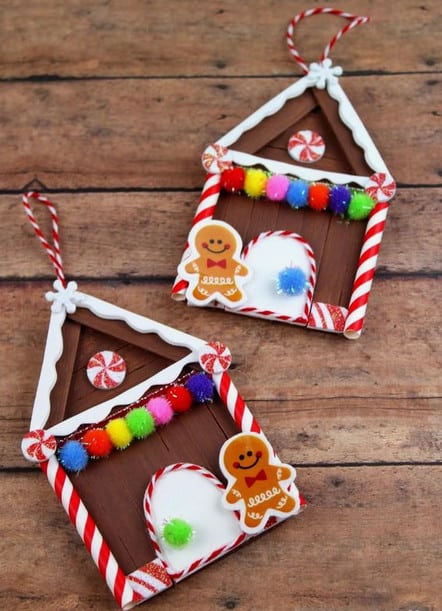 –
22. Snow Flake
These are so pretty to me! For a project like this I love using this white gel pen.
–
23. Reindeer
Another simple and cute ornament project using popsicle sticks. thekindergartenconnection.com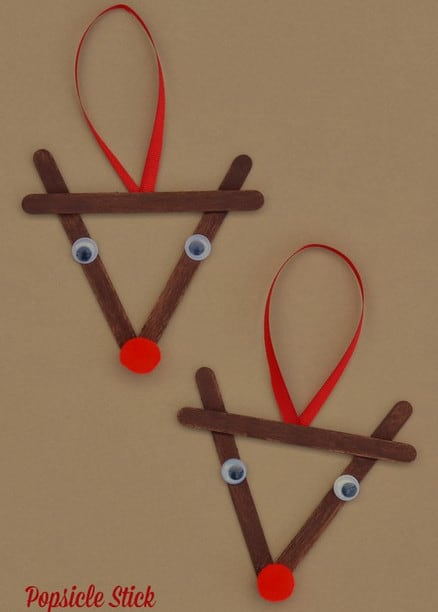 –
=
–
–
–
I hope you enjoyed these crafts! They have certainly brought joy to my children!
Do you have any other ideas that you think I should add to the list? Please let me know in the comment section below! I would love to hear from you!
Also, remember to sign up for your FREE weekly activities planner on the top or the right side of the page and check out my printables page!