Super Fun 2 for 1 Sensory Activity & Kid's Craft You'll Love
Are you looking for a fun kid's art and sensory activity that can capture your little artists' imagination while providing a fun sensory experience? We have one for you!
Our 2 for 1 pasta art project is not only a brilliant way to enjoy some quality time with your children but also an educational journey into the world of textures, colors, and shapes. With minimal supplies and a sprinkle of enthusiasm, you'll create vibrant masterpieces that might just become your fridge's latest gallery addition.
This kids enjoyed this for two separate days and that made me do a happy dance 🙂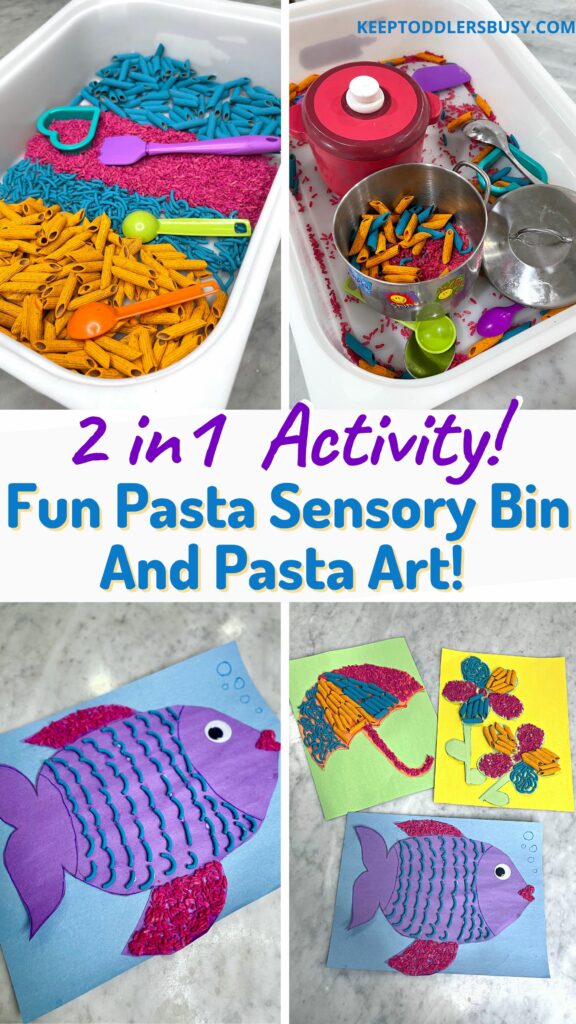 If you enjoy this project, you're going to love our other sensory activities too! For more exciting crafts and activities, don't forget to follow me on TikTok and Instagram!
So grab your aprons and put on your crafty hats; it's time to create some vibrant Pasta Art with your kiddos!
Sensory Activity & Kids Art Craft
We hope you like the products we recommend. Just so you are aware, Keep Toddlers Busy may collect a share of sales from the links on this page. As an Amazon Associate, I earn from qualifying purchases. Read more about our links in my disclosure policy.
Sensory Craft Materials
Pasta (any variety or shapes)
Acrylic paint (assorted colors)
Ziplock bags
White school glue
Cardstock or Construction paper
Pasta Art Activity Preparation
Now, let's break it down step by step:
Prepare the Pasta for the Sensory Activity
Gather various shapes and sizes of pasta that you hopefully already have in your pantry. This is a great way to use up those leftover bits from various packages or in my case the healthy pasta I wasn't going to cook LOL.
Color Your Pasta
Then, place the pasta in Ziplock bags and add your choice of acrylic paint. Seal the bag and let your kids squish and spread the paint around until all the pasta is covered. This in itself is actually a great sensory experience for the kids and oh so much fun!
Let It Dry
Once all the pasta pieces are well coated with paint, spread them out on a piece of parchment paper and let them dry. This usually takes a 30 minutes up to a few hours.
Sensory Fun Time!
Next, once your pasta is dry, it's time to create! This is the time for your kids to get creative will the various textures and colors. My kids decided to making a cooking show with their pasta 🙂
Create Your Masterpiece
For us, the next day it was time to create! We started by tracing out various shapes and pictures.
Then, using white school glue, let your child stick the colored pasta onto a piece of cardstock or heavy paper in any design they choose. Encourage them to create patterns, shapes, or even spell out their name.
Let Them Admire Their Work
Once your child has finished their pasta art, let it dry completely. Then, find a spot to showcase their beautiful work.
This 2-for-1 Sensory Activity and Kids Art Craft is not just fun, it's also a great way to develop your child's fine motor skills, color recognition, and creativity. And the best part is that you can do this project with supplies you likely already have at home.
Don't forget to snap pictures of your pasta art and share them with us on social media! We can't wait to see your kids' creations!
Remember, the goal is not to make perfect art but to have fun and create memories. Happy crafting!