Easy Preschool Portrait Activity: Shape Self Portraits
---
Today I thought I would share something quick and easy to do with your preschoolers! I LOVE doing projects with my children, but simple crafts like preschool portrait activities are also very necessary. Sometimes, all I have time to do is whip something together to entertain my child for a little while. Thus we have… shape self portraits!!
This is a low prep activity that involves cutting up some paper 🙂 And maybe a little help forming facial features depending on the age of you child. The great thing is the craft is an all day, on again, off again, activity. The kiddies can make multiple faces if they want to, or just one and call it a day.
You can do this craft activity with materials that you may already have in the house already (glue, construction paper, scissors, markers). A little cutting on your part and then the kids are set to go.
If you are looking for activities, visit my post on an awesome giant butterfly activity as well! Also, head on over to Instagram or Pinterest and follow me for daily update craft ideas!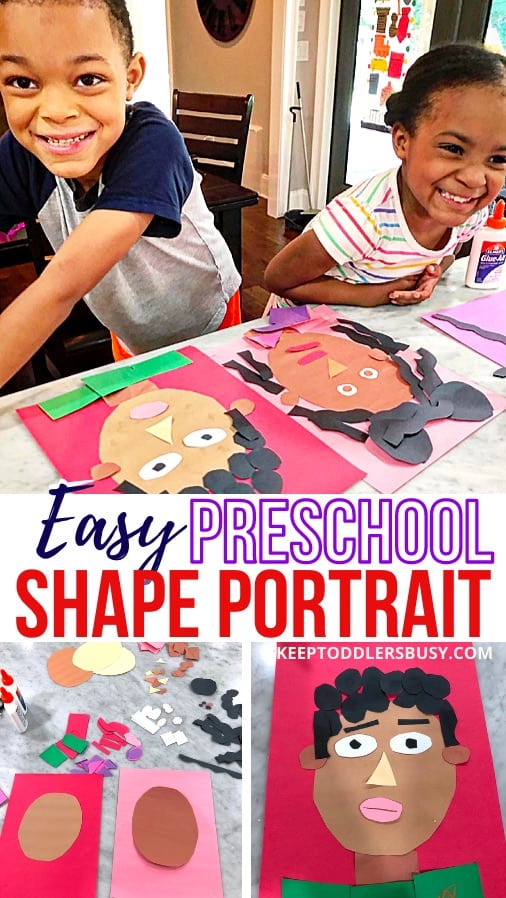 Self Portrait Activity for Preschoolers
Keep Toddlers Busy is a participant in the Amazon Services LLC Associates Program, an affiliate advertising program. As an Amazon Associate, I earn from qualifying purchases. Read more about these links in my disclosure policy.
Materials
1.You can use pretty much any type of construction paper want. I like using the big sheets of 10×18 construction paper for the canvas and the smaller ones for the shapes.
3. We used some cool scented markers for any features, etc.
4. Stick glue or school glue
Instructions
Grab Supplies
Cut Shapes and provide different skin tones for learning and fun
Form the self portraits 🙂
It was really helpful the kids to plan it out before they actually started to glue it down!
Take a look at the pictures below!
For more some awesome preschool activities visit Curls and Kids as well!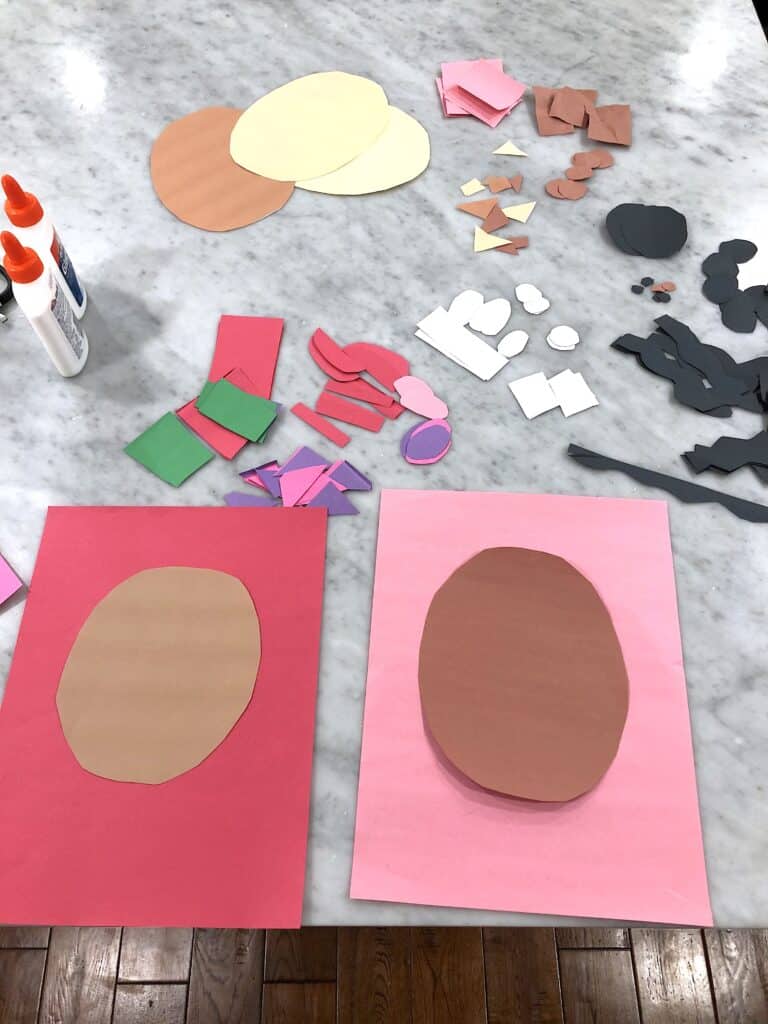 I hope you enjoyed this preschool portrait activity post and it gave you some great inspiration!
Please comment below and let me know some activities you do to keep your kids entertained! I would love to see some additional ideas!
Also check out my posts on a great shape sorting activity and popsicle stick crafts for more fun ideas!
Remember to sign up for your FREE weekly activities planner on the top or the right side of the page and check out my printables page!
I've been an activity mom for almost 9 years and have over 15 years of experience crafting, writing, and creating. My mission is to bring fun, balance and learning to your busy homes with activities, tips, inspiration, and organization!