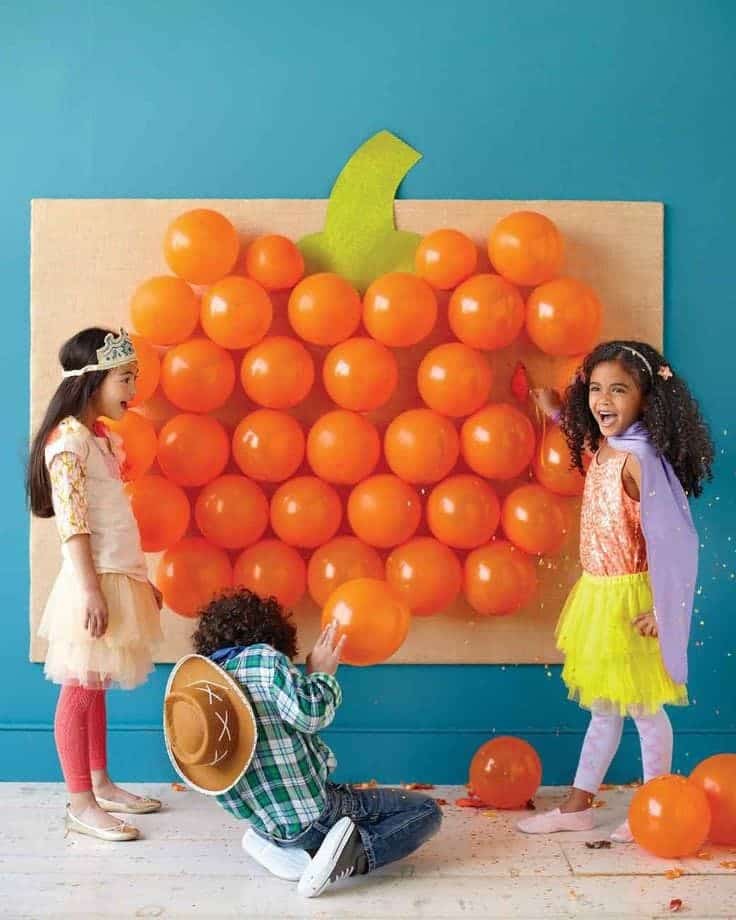 27 Fun and Easy Halloween Games For Kids
---
Are you looking for awesome Halloween games for kids? Well you don't want to miss these! We included DIY Halloween games, printable Halloween games, Halloween games for kids who are younger, and even fun Halloween part games and ideas.
I love Fall. So so much. And once October hits, we get to step it up a notch and and add a little more spooky fun. I love it all! It's never to early to start getting ideas for this year's fun!
I scoured the internet looking for ideas that I thought were worthy of being included on this list, including some ideas you can print out or order, and great DIY ideas too. So take a look below and I hope you get inspired!
If you check out my Holidays page under "Activities" in the top menu, you will also see a post for amazing family halloween costume ideas and Halloween decorations for kids as well!
If you love it too and are looking for even more family costume ideas, then check out my Pinterest account Costume board and also follow me follow me on Instagram!
DIY Halloween Games
We hope you like the products we recommend. Just so you are aware, Keep Toddlers Busy may collect a share of sales from the links on this page. As an Amazon Associate I earn from qualifying purchases. Read more about our links in my disclosure policy.
–
1. Witch Hat Ring Toss
For an easy, entertaining game for little ones, set up a ring toss with witch hats as cones. DIY your own rings by cutting the center out of paper plates.
2. Ghost and Pumpkin Bowling
Sacrifice a few toilet paper rolls to convert into ghoulish bowling pins. Cut the stem off a pumpkin and you're all set with the perfect festive ball.
–
3. Pumpkin Tic Tac Toe
Use mini pumpkins as the pieces (one color for Xs, and another for the Os) for this spirited take on the classic kids' game.
4. Candy Corn Matching Game
This cute matching game for kids also functions as a festive candy corn banner! When you're done playing, create the banner using some clothespins and rick rack.
–
5. Decorating Contest For Real or Fake Pumpkins
Decorating has become somewhat of a tradition in my home. Make it into a competition and you may just step up the fun! These are some or our pics from October 2020 Fall ideas!
Printable Halloween Games
This is great if you don't have time for a do-it-yourself project or you need something last minute. Take a look at the ideas below and shop the look under the pictures!
6. Halloween BINGO
You don't have to run to the store to find a fun activity for the kids this Halloween! This is a printable high resolution PDF file. Just print off of your computer!
7. Halloween Riddles
This super fun Halloween riddle game is great for the season. The one with the most correct is the winner.
8. Pumpkin Maze
Try your luck with this fun pumpkin maze!
9. Spooky Maze
Try this spooky maze and many other printable learning games from Mommy Made That!
10. Halloween Game and Puzzle Bundles
A great way to take some of the pressure off! Try this 29 game bundle.
–
11. Roll A Skeleton Game
Perfect for the little ones and super cute. If you don't have time to DIY, I found an adorable bubblegum machine costume!
–
Halloween Game Ideas For Younger Kids
12. Halloween Fun with a Mummy Game
–
13. Cup Knock Down
Draw little faces on white cups and assemble them in a tower. Kids can then try to knock as many as they can down with a small ball. Whoever gets the most is the winner!
–
14. Pumpkin Ring Toss
–
Take pumpkins with long stems and glow sticks and you've got yourself a seasonal, DIY ring toss game. Color the pumpkins with glow-in-the-dark paint and you can even play it at night!
15. Trap The Pom Poms and Rescue!
My kids still have this from last year!
For AMAZING costume ideas, check out my post on other DIY Halloween Costumes as well as our awesome post on our S'mores family diy costumes!
16. Pin The Spider on The Web
–
17. Bean Bag Toss Game Halloween Party Kit
–
18. Spider Races
Check out this fun game from Still Playing School!
19. Tarantula Toss
Spread spiderwebs (the white stretchy kind) in a space (doorway, corner of the room, etc.). Have players stand behind a line and toss little plastic spiders at the spiderweb until they can get three spiders stuck in the web.
–
20. Pumpkin Memory Game
Fun Halloween Party Ideas and Games
21. Mummy Bowling Game Halloween Party Kit
–
Clearly a classic! This is perfect for a Halloween Party for all ages 🙂
22. Eyeball Halloween Party Pinata
How awesome is this. I love when I find things that I've never seen before.
-F
23. Halloween Party Games: Pop Goes the Pumpkin
–
Love this! Get the tutorial at here!!
–
24. Truth or Scare
Take a look at a great Halloween spin on this classic game!
25. Spider Toss Game
–
Step 1
Nark off a web: First make a giant asterisk, then connect the lines with strips of tape, working from the middle out.
Use number stickers to assign points to each tier. Get the rest of the tutorial here!
26. Pumpkin Run
–
Grab a bunch of mini pumpkins and you instantly have a fun activity. See more pumpkin games!
–
27. Would You Rather Halloween Edition
That's it!
I hope you enjoyed these kid and family Halloween Game ideas ideas and your kids enjoy it as well. Please comment below and let me know some costumes that you have done in the past or plan to do this year! I would love some ideas!
Also, remember to sign up for your FREE weekly activities planner on the top or the right side of the page and check out my printables page!