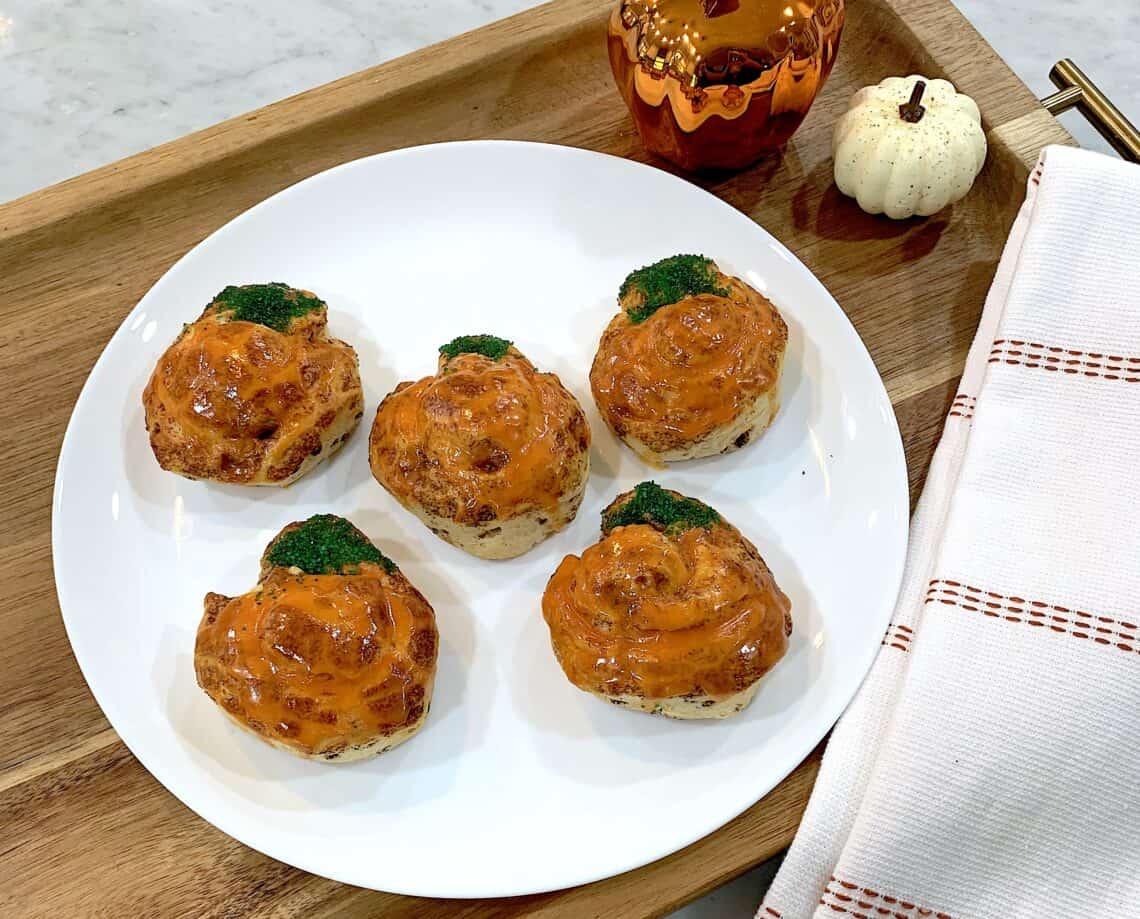 Fun and Easy Fall Desserts For Kids: Cinnamon Roll Pumpkins
---
Hey there, calling all Fall lovers! I love Autumn so I have jumped feet first into the seasonal crafts and also fun seasonal food ideas for the kids. This one is easy enough for kid participation at all ages.
If plain pumpkin spice desserts alone are getting a little old this year, I would recommend trying this super quick, super fun and easy Fall dessert for kids.
Does anyone love cinnamon rolls? Well we have some that are perfect for the season and so fun for the kids!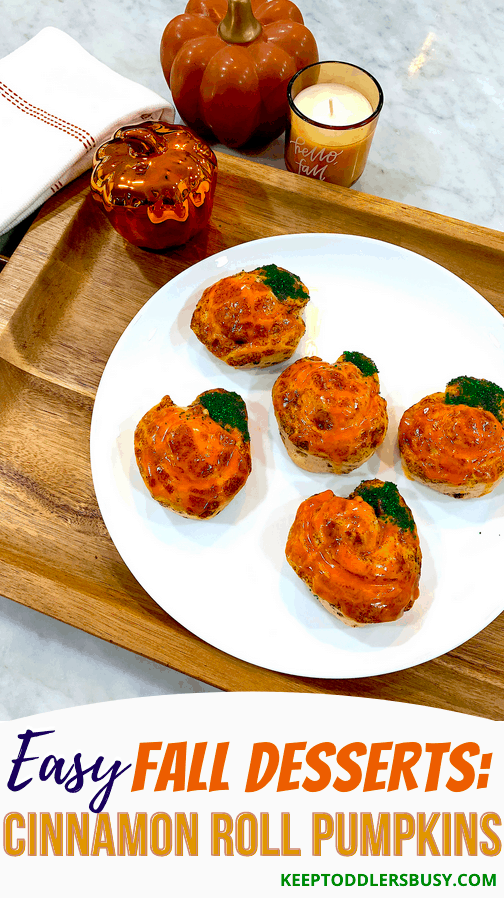 The great thing about these cinnamon roll pumpkins is that the setup is very simple: Orange colored icing and green sprinkles slathered on top of warm cinnamon rolls made into the shape of pumpkins. That's it!
It's a great opportunity the get the kids baking, or you can have it prepared for a cozy afternoon 🙂
A highlight of this awesome fall dessert is how easy it is to use a little food coloring to get your orange icing. (I found this food coloring at my local grocery store. Check it out)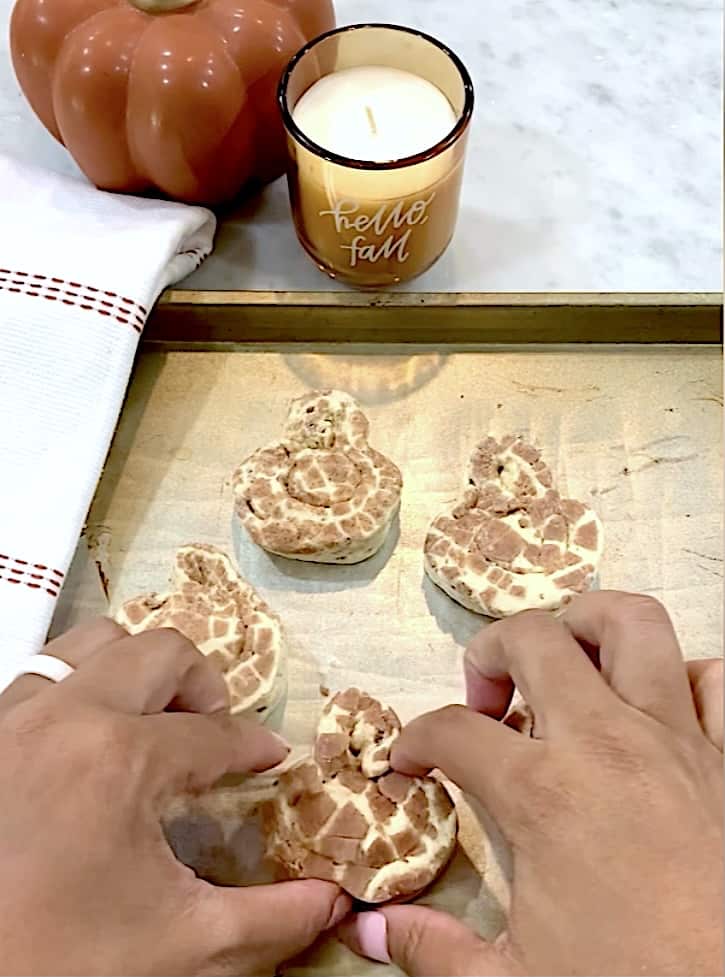 Here you can see how easy it is to pull apart a small section and form the pumpkin stem before putting them in the oven.
If you are also looking for Halloween dessert ideas in particular, then you won't want to miss my post on 20 Halloween Dessert Ideas.
Also be sure to follow me on Instagram and Pinterest for daily updates, posts and stories!
Easy Cinnamon Roll Fall Dessert
If you love cute Fall themed desserts, then take a look at the how-to below! I included a few materials, easy instructions, and even a video to check out the process.
Pumpkin Rolls Ingredients
Keep Toddlers Busy is a participant in the Amazon Services LLC Associates Program, an affiliate advertising program. As an Amazon Associate, I earn from qualifying purchases. Read more about these links in my disclosure policy.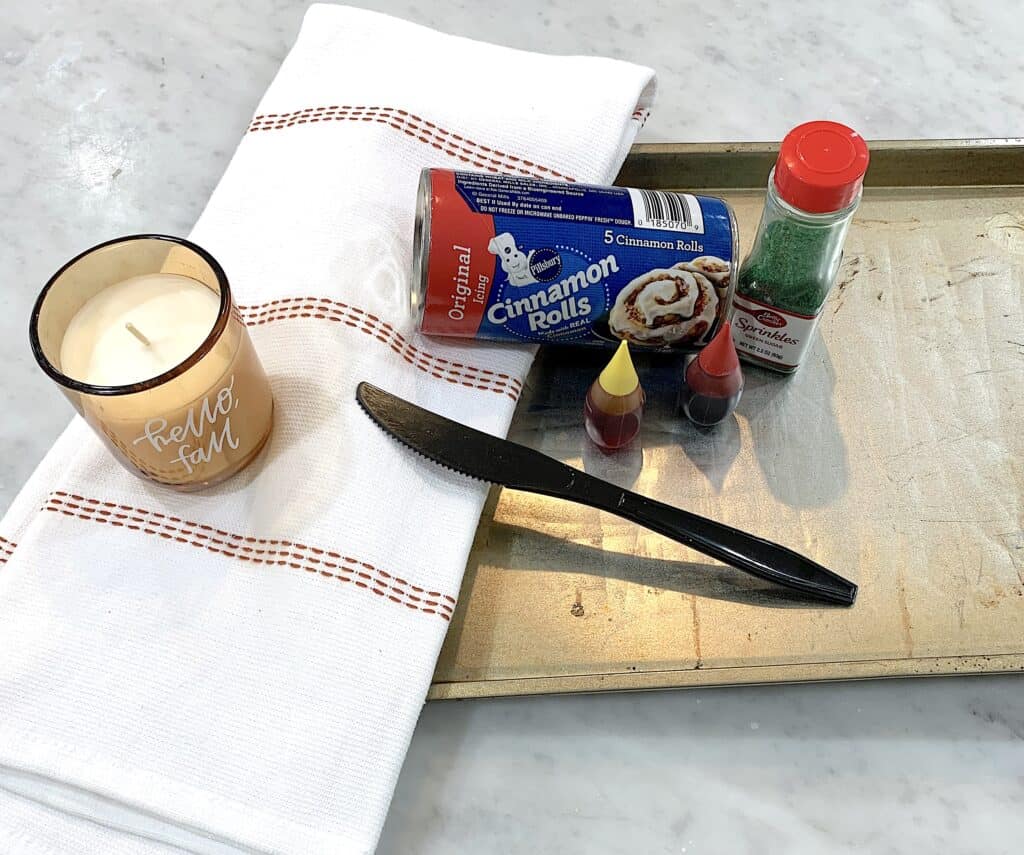 Instructions
Take out your baking pan and grab the can of cinnamon rolls while the oven is preheating
Then, open the rolls and pull up a small part of the roll to form the pumpkin stem, then place each cinnamon roll on the pan with enough space to grow as it cooks.
Put the now pumpkins shaped cinnamon rolls in the oven and follow the directions found on your brand of rolls for timing.
While the rolls are cooking, warm the icing in the microwave for a few seconds to make mixing easier.
Next start with adding TWO drops of yellow food coloring, mixing the coloring into the icing completely.

Next add ONE drop of red icing and mix completely. This should give you a nice orange color!
When the pumpkin rolls are done, spread the orange icing ON THE ENTIRE PUMPKIN, EVEN THE STEM.
Next you will add the green sprinkles to the stem (they will stick to the orange icing :))
Let cool, transfer to a plate, and you are done!
Take a look below at the at our pumpkin dessert process!
Need more visuals? Take a look at video below!
Did you try this recipe?
Share it with the world! Mention @keeptodlersbusy or tag #keeptoddlersbusy
The kids really enjoyed this fun dessert and next time I plan to include the in the baking process since it was so easy! So grab a small mixing utensil for the kids and have some fun with this seasonal version of cinnamon rolls.
I hope you enjoyed this post on how to make a fun and simple Fall dessert for the kids!
Comment below and let me know how your pumpkin rolls turned out and also remember to sign up for your FREE weekly activities planner on the top menu of this page!