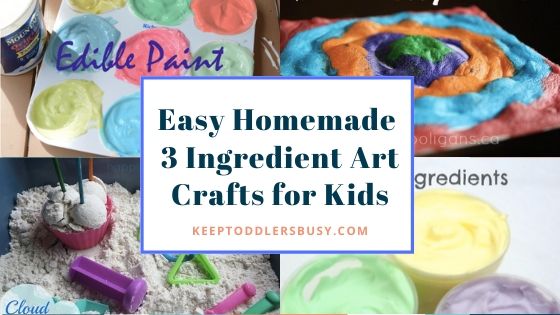 3 Ingredient Art Crafts For Kids
---
Hello all! Kayla here. I'm back with another awesome post on easy art crafts for kids! I love to talk about simple ways to keep our kids busy and happy, because I believe we have one of the most important jobs in the world.
I also believe that entertaining little children for extended periods of time is one of the hardest jobs in the world, go figure. A little help with entertaining them really goes a long way, so I took some time to put together an infographic (I think that's what they call it 🙂 ) with some of my favorite artsy crafts that inspire creativity in out little ones as well as provide a great example of the perfect sensory craft.
If you made it here and happen to be looking for something a little less messy, be sure to check out my posts on dollar store craft ideas, Popsicle stick crafts, or even check out my latest post for the best learning toys for toddlers!
So anyways, let's get to it! I scored the internet and found some of the top recipes that are loved by my kids and loved by may more. These easy toddler crafts are simple to make, fun, safe, and will take a little clean up time too, but soo worth it! Keep this infographic bookmarked and check it out again when you want to try another art activity!
–
Easy Art Crafts for Kids : DIY Dough, Paint, and Slime
–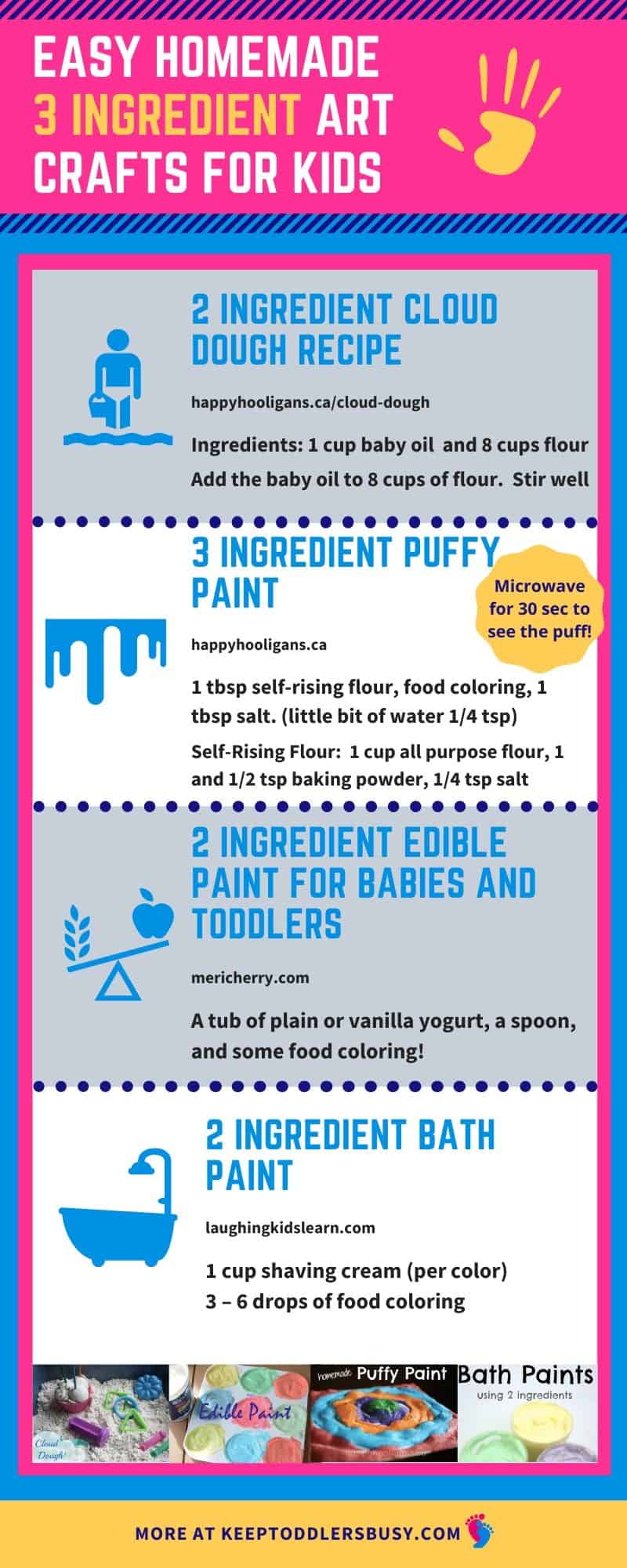 –
I hope you enjoyed this list! As I said earlier, I researched the whole entire internet and found some of the top kids arts and crafts dough, paint, and slime that would entertain over and over again. The following blogs contributed to this infograph and they are absolutely amazing!
–
Dough and Puffy Paint Recipe- Remember! happyhooligans.ca – For the Puffy Paint, when you're happy with your masterpiece, pop it into the microwave for 30 seconds and watch your painting puff up! This site is an awesome resource and you will find so many recipes!
Edible Paint- mericherry.com – This idea is just genius. Sometimes we can't stop babies and toddlers from putting things in their mouth. So why make it hard on ourselves 🙂 The consistency of the yogurt is actually pretty perfect.
2 Ingredient Bath Paint- laughingkidslearn.com – What a wonderful way to have fun in the tub! And easy to clean up too! Make sure you visit this site for the pictures and fun.
–
Please let me know how you enjoyed these recipes in the comment section below! Should I add more to the list! Also if you are feeling festive, head on over to my post on Christmas crafts as well! Also be sure to check out hands on as we grow's post for more ideas!
–
Want More DIY Craft Ideas? Check out the video below!
–
–