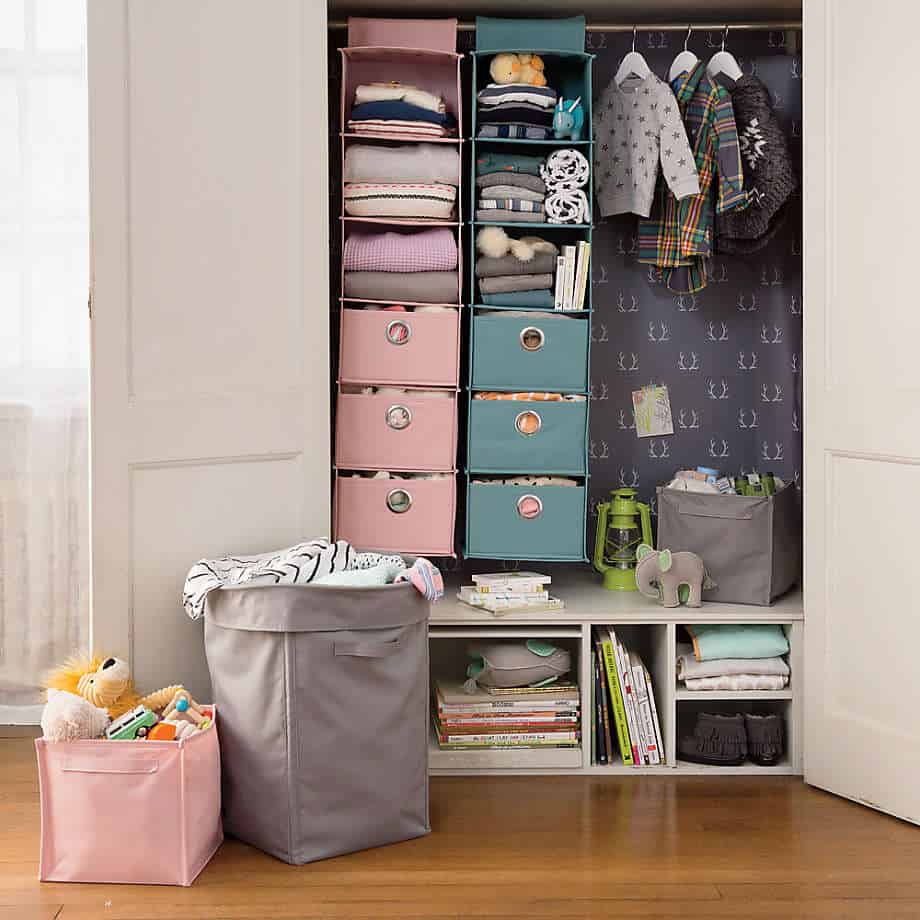 15 Awesome Kid's Closet Organization Ideas
---
This week as we started settling into our school reality for this year, I started thinking about getting the home balanced and back to a fairly organized and kind of peaceful state again. It's been slightly colder the past few days so I'm already thinking about closet organization ideas for the kids!
We love activities soo much and I always feel that we enjoy ourselves more when we can find things and move around freely. So today I thought I would post some great inspiration as we transition into the Fall season.
Whatever the size of your child's closet or space may be, today I've collected all kinds of awesome ideas for how to tackle kid clutter and get your spaces organized and tidy once and for all!
–
–
I personally love to see my toddlers being creative and imaginative. But I also believe that if we are more organized and balanced at home (as much as we can be lol) it allows us to enjoy our time with the kids on another level 🙂 So hopefully the list below will inspire all of that!
I did some serious Pinterest research so that I can figure out my best picks for closet organization ideas, but if you are looking for even more kid's ideas, then check out my Pinterest account for more ideas! (also follow me on Instagram) For bedroom ideas, be sure to read my post on kids bedroom storage.
–
Quick Closet Design Hacks
---
Before we get started, remember to keep these tips in mind. You will see examples of these tips in storage ideas below!
Add a second rod! (like you would do for a shower curtain) This will provide a whole new row of space for hangers
2. Add Storage drawers and organizers inside of the closet. You will see some examples below.
3. Make use of the floor space by putting a shoe shelf or bench in the closet.
4. Install an organizing system in your closet
5. Rotate your clothes out twice a year, warm and colder weather.
6. Get rid of old clothing.
7. Roll t-shirts to maximize space
8. Stores hats, scarfs, a purses on hooks
9. Use the top rack for storage containers
–
I love built in storage so much! It's actually not that hard to find places that will design or install this into a closet for your kids. Check these ideas out below to get some great inspiration!
We hope you like the products we recommend. Just so you are aware, Keep Toddlers Busy may collect a share of sales from the links on this page. As an Amazon Associate I earn from qualifying purchases. Read more about our links in my disclosure policy.
–
–
Closet Organization Ideas for Kids
1. Hanging Storage Organizer
–
As so as I saw this, I loved it! I love the fact that it hangs anywhere, including a closet, so that I can organized, but it's also numbered. That's a pretty helpful feature when cleaning up. Shop the look here.
and fi-
2. Delta Storage Set
I love the use the of the pink hanging storage with the closet racks for organization. So cute. Shop the look here.
–
–
3. Kids Dress up Storage with Mirror and Storage Bin
I love, love, love this storage even if its just used for dress-up! If you don't really have any shelves set up in your kid's closet, this is a great way to add some organization. Shop the look here.
–
–
4. Use Dresser Drawers Closet Systems
So in love with this look. They did awesome with this closet system and it's one of my favs! My daughter would absolutely love it! Find the how-to at Tidbits!
–
–
5. Canvas Hanging Organizer
I love the colored hanging organizer. It's such a great idea for folded clothes in the closet! Paired with the storage unit on the floor and you have plenty of storage.
–
–
6. Fabric Cube Storage
Such a great way to store clothes but also and display trinkets! Find cube storage like this here and the shelf here.
–
–
7. Kids Storage Unit w/ Toy Organizer
If your child has lots of toys in the room, you can't go wrong with this design. I love the extra closet storage and the Isabella & Max line. So cute! The baskets are a must in any kid's room.
–
8. Clear Container Storage
Well in the closet you won't be losing anything! If you dare to do it this look, grab these clear baskets and clear organizer!
–
–
9. Containers Inside Hanging Storage
This is on of my favs because it's unique! These days there are so many creative products to keep a closet organized and putting containers in the organizer is another creative one. Shop this awesome look here. Find some additional containers here!
–
–
10. Decor Basket Storage and Organizers
This is another one of my favorites because it's so customizable! Baskets and organizers are not hard to find! Couple it with the wall decals and cube storage structure and you have something special.
–
11. Hanging Door Organizer
You can't go wrong with hanging door storage for kids, you just can't. Kids stuff is everywhere and this just saves you the time it takes to look for things. Find it here!
–
12. Grow with Me Closet System
If you want to get serious about your kid's closet storage and organization, check this out here! Tall is always better when it comes to getting organized.
–
–
13. Sea Grass Cube Storage w/ Tin Basket
This is great if you are looking for a modern farmhouse look. I love the sea grass baskets and then the tin basket at the top. Well done.
–
14. Elfa Custom Closet
–
I'm obsessed with this look. When we are talking about closet organization ideas for kids, this is the big leagues. And it's completely customizable. This one is certainly on my to-do list. Find it here!
–
15. Wood Basket Organization
Some people just have talent! Love this look from Her Latest Love!
–
–
16. Finding Lovely Storage
This built in storage is just lovely!
I hope you enjoyed this list and that it gave you some great closetstorage and organization ideas to try with you family!
Do you have any other ideas that you think I should add to the list? Please let me know in the comment section below! I would love to hear from you!
Also, remember to sign up for your FREE weekly activities planner on the top or the right side of the page and check out my printables page!