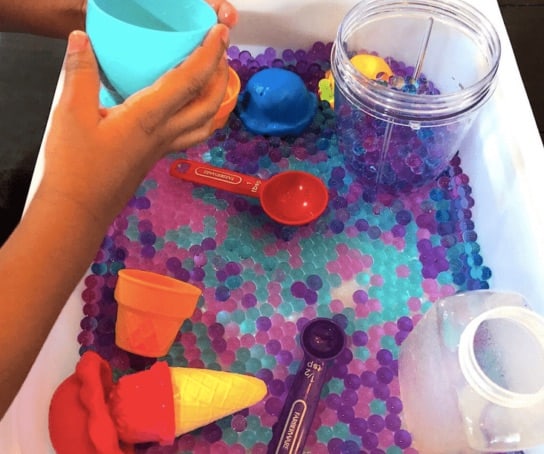 Sensory Activities Toddlers Will Love: Water Bead Bin
---
I'm excited to share this activity today! It has been really fun to search for sensory activities toddlers and preschoolers will enjoy in particular and judging by my kid's reactions, I think I succeeded.
A sensory bin is usually just a plastic container filled with items and materials specifically chosen to help stimulate a child's senses, like touch, feel, and sight for example. These sensory activities stimulates a young child's exploration skills and encourage development in vital areas.
So please enjoy and don't stop there! Be creative with your bin and check back here for more ideas!
Just an FYI, when using water beads, definitely supervise your child if they have a tendency to put things in their mouth. Because water beads could be a choking hazard for little ones.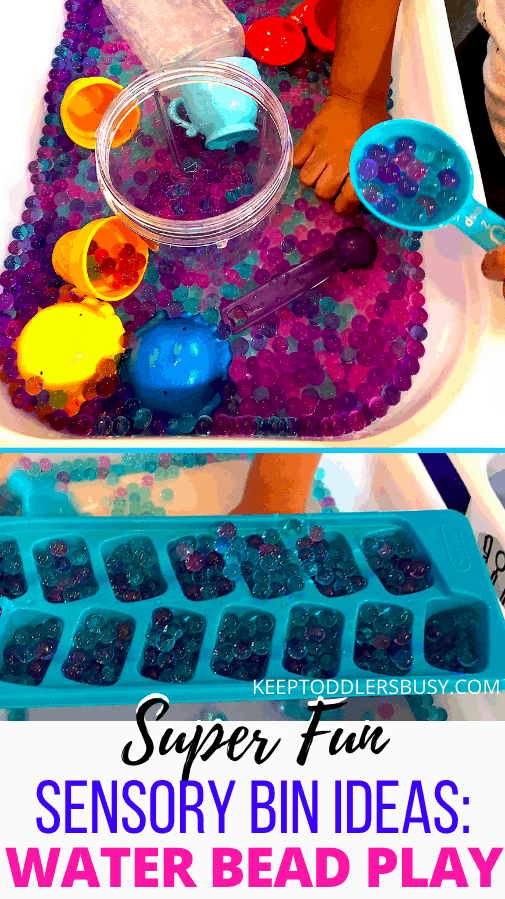 Activities like these expose children to many new experiences, textures, and materials and can actually be pretty calming. I notice that the kids play with these types of activities for longer periods of time. So I hope your child enjoys.
If you love activity ideas, check out my recent post on fine motor activities and also my water bead sensory activity post to prepare for home schooling if you are new to it! Also, head on over to Pinterest and follow me for daily update craft ideas!
Water Bead Sensory Activity for Toddlers
Materials
Non-toxic Water Beads for kids (my kids call them orbies)
Spoons, Cups, bottles, bowls, or ice tray
Toys!
We hope you like the products we recommend. Just so you are aware, Keep Toddlers Busy may collect a share of sales from the links on this page. As an Amazon Associate I earn from qualifying purchases. Read more about our links in my disclosure policy.
Preparation (a few minutes)
Grab a container that's big enough to hold a lot of water beads but shallow enough for small kids to enjoy. it.
Grab some water beads and slowly pour them in the bin. Be careful because the beads actually bounce a lot LOL
Add spoons, cubs,toys, ice trays, or whatever you like
Grab your kid for some fun 🙂
And their you have it!
Take a look below! Click on the picture to enlarge it.
For more sensory bin activities, check out Happy Toddler Playtime!
Here's another sensory activity from my Instagram page and be sure to follow!
I hope you enjoyed this fun toddler sensory activity! Please comment below and let me know some sensory activities that keep your kids entertained! I would love to see some additional ideas!
Also check out my posts on a great bead sensory activity and popsicle stick crafts for more fun ideas!
Also, remember to sign up for your FREE weekly activities planner on the top or the right side of the page and check out my printables page.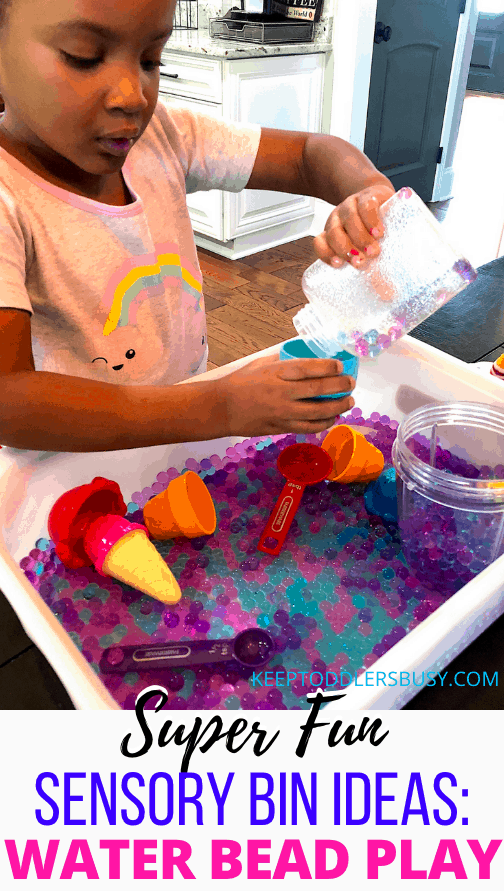 I've been an activity mom for almost 9 years and have over 15 years of experience crafting, writing, and creating. My mission is to bring fun, balance and learning to your busy homes with activities, tips, inspiration, and organization!