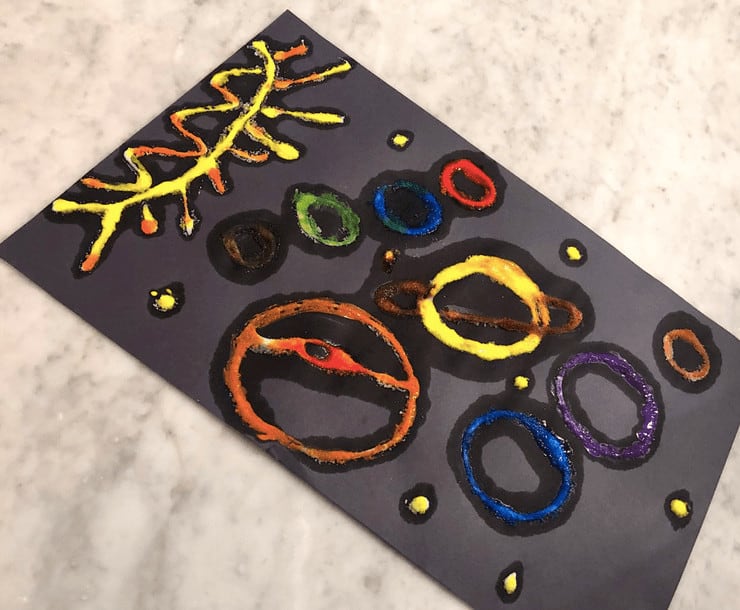 Awesome Solar System Salt Painting for Kids
---
I'm excited to share this activity today! Salt painting for kids will definitely be a staple in our house because it is so easy, yet super fun for the kids. I have been meaning to try this for so long with the kids, and now that we have, we are definitely hooked!
There are so many different ways to create to create art with these materials. All you have to do is draw, spread, and paint. (You will see what I mean below)
Allowing for creativity is such a great way to allow the kids to learn and development. So if you are thinking about doing this activity, I suggest allowing your kids to pick the drawings or words and the paint colors to see what they come up with!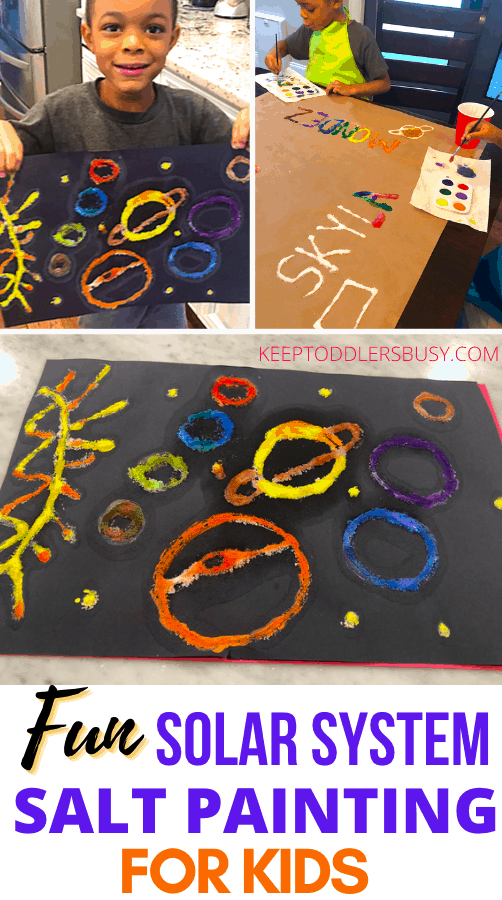 They expose children to many new experiences, textures, and materials and can actually be pretty calming.
The set up for this is super easy but takes a few to get all of the supplies prepared. So take a look at how we did this toddler project quick and easy!
If you love activity ideas, check out my recent post on fine motor activities and also my learning activities post to prepare for home schooling if you are new to it! Also, head on over to Pinterest and follow me for daily update craft ideas!
Salt Painting Activity for Kids
Materials
Large Black Construction paper (I used 12×18 but it's not necessary)
Brown Butcher Paper if you are using a larger canvas
Regular Iodized Salt
Paint Tape or Packing Tape to hold the brown paper down
Bowl and spoon
Keep Toddlers Busy is a participant in the Amazon Services LLC Associates Program, an affiliate advertising program. As an Amazon Associate, I earn from qualifying purchases. Read more about these links in my disclosure policy.
Preparation (5 minutes)
I got the materials ready ahead of time while the kids were sleeping. I wanted my daughter to have something to play with in the morning while my son was doing virtual kindergarten. It's not necessary thought because my son ended up participating during break and the setup doesn't take long at all!
First I taped the brown butcher paper to the table and also grabbed black construction paper just in case my son wanted to do the solar system. (spoiler alert: of course he did :))
Next I gave both of the kids a small bowl of salt and a little bit of paint in their paint palettes.
Then I grabbed the glue and wrote out both of their names in glue. I also drew a shape for them.
Next, I allowed the kids to sprinkle salt over the glue using spoons. This was super fun for them lol. Then I went back over it to make sure all the glue was covered.
A good tip is to make sure that you don't use too much salt because it will stick. Also shake the salt off quickly as well.
Finally, I had the kids lightly blot the salt with paint! They just loved it.
We had an awesome round two later salt painting the solaer system and it turned out even better. I guided my five year old with the glue for that one.
And their you have it!
Take a look below!
And that's it! We also did some salt painting on the brown butcher as well 🙂 The kids both picked a name and a picture to go along with it.
For more great salt painting activities, check out Babble Dabble Do!
Check out another painting activity from my Instagram page and be sure to follow!
I hope you enjoyed this fun salt painting activity! Please comment below and let me know some paint activities that keep your kids entertained! I would love to see some additional ideas!
Also check out my posts on a great pom pom frame craft and popsicle stick crafts for more fun ideas!
Also, remember to sign up for your FREE weekly activities planner on the top or the right side of the page and check out my printables page