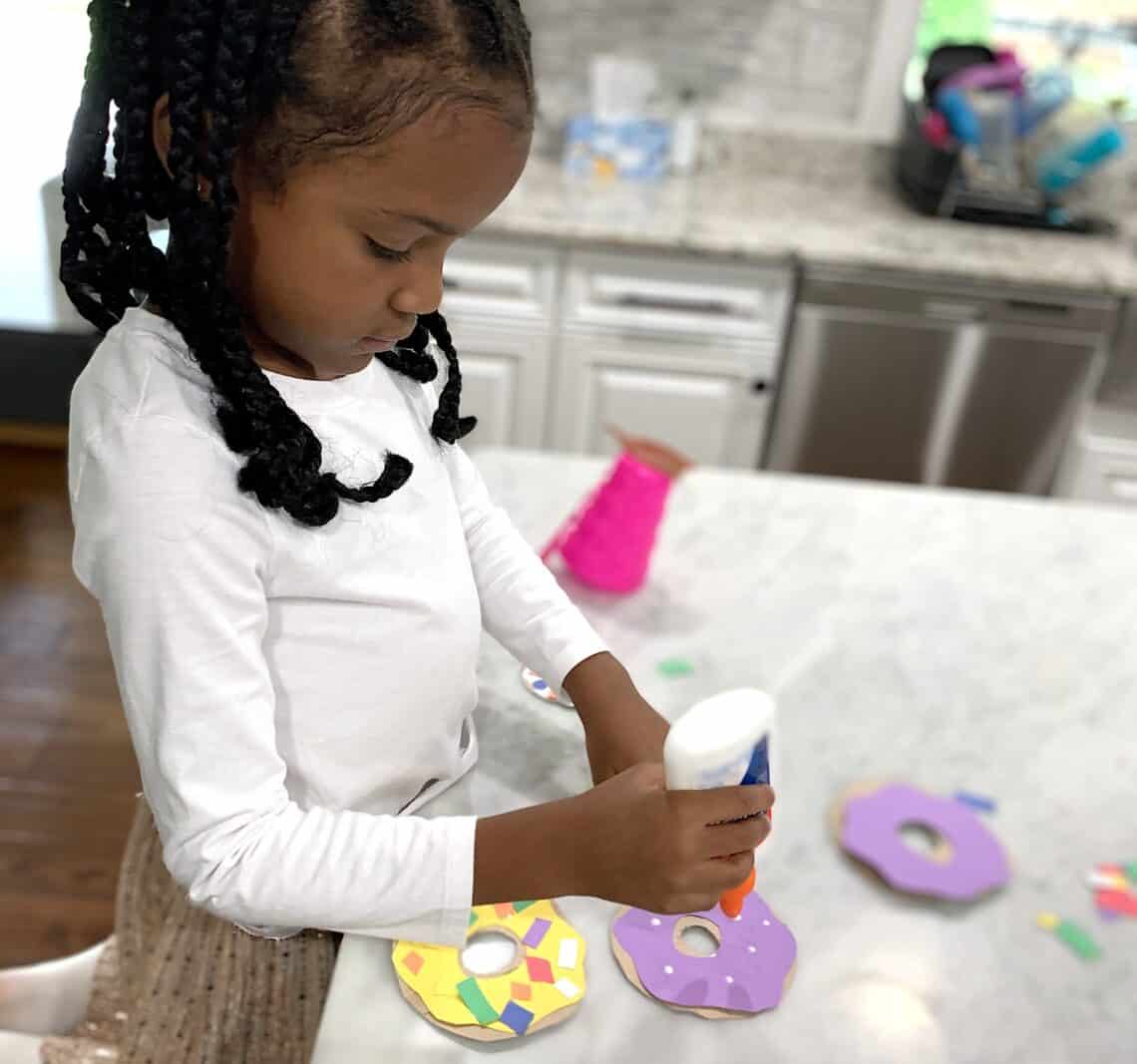 11 Easy Paper Crafts For Kids That You'll Love
---
A few days ago both my 5 year old and seven year old created some fun and cute doughnut paper crafts for that involved cutting, designing, and decorating. So I thought I would share!
This activity is create for multiple ages too. The younger they are, the more you will need to provide support with the cutting, but the decorating is fair game.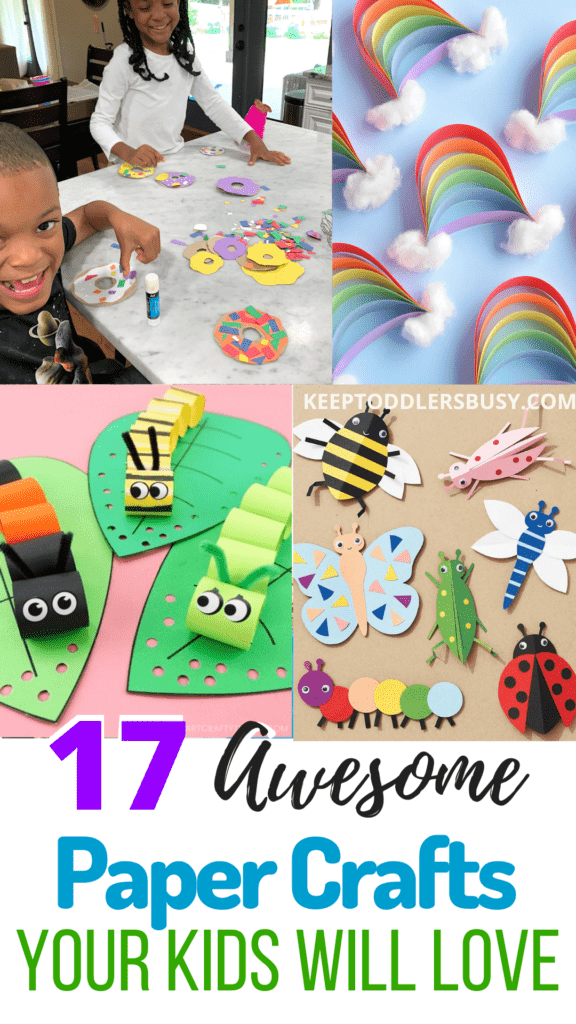 The set up for this was easy but did take some prep time. It took a few minutes to get all of the cereal boxes cut, so that may be something you want to do ahead of time.
If you love this activity idea, check out my recent post on shape self portraits as well! Check the wrap up of this post at the bottom to find more awesome learning activities. Also, head on over to Pinterest and follow me for daily update craft ideas!
Paper Crafts For Kids
Paper Donuts Activity
Keep Toddlers Busy is a participant in the Amazon Services LLC Associates Program, an affiliate advertising program. As an Amazon Associate, I earn from qualifying purchases. Read more about these links in my disclosure policy.
Materials
The Materials were super easy! That's the best part about paper crafts 🙂
And old cereal box
Construction Paper. I usually buy three or four bundles at a time because they can be used for sooo many things.
3. Paper, Pom Poms, buttons, Stickers, or whatever extra material you like.
4. Stick glue, marker, and/or scotch tape
5. Scissors
Paper Craft Activity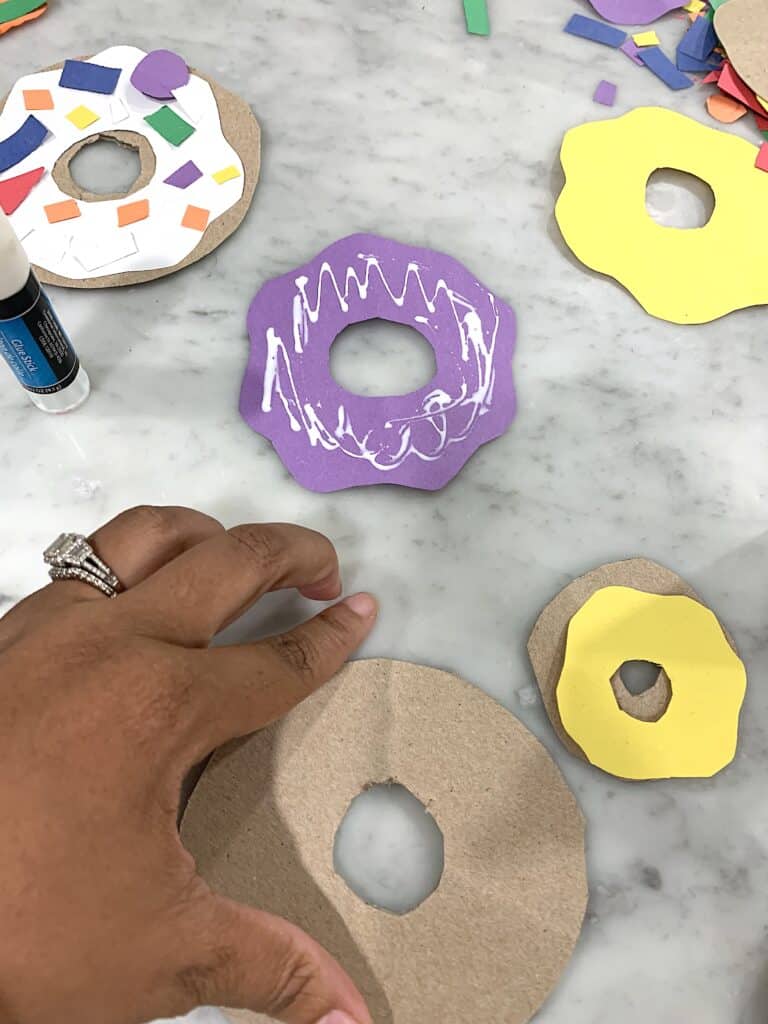 I have included the corresponding websites from some amazing mom bloggers shown just under the pictures below! (In the same order) BE SURE TO VISIT THEM!
2. Hand Print Flamingo Card – Simply Everyday Mom
3. Crab Craft by Easy Peasy Fun
4. Paper Snail Craft by Crafty Morning
5. Fruit Slice Corner Bookmarks by Frugal Mom Eh!
6. Rainbow Craft by One Little Project
7. Paper Dinosaur Hat by Paper and Glue
8. Paper Icecream by Fun Family Crafts
9. Hand Print Lillies by the One Little Project
10. Caterpillar Craft by I Heart Crafty Things
11. Bug Craft Kit by Paper Source
Check out another paper craft from my Instagram page and be sure to follow for more ideas!
I hope you enjoyed this fun compilation of paper crafts and activities for kids! Please comment below and let me know some activities that keep your kids entertained! I would love to see some additional ideas!
Also check out my posts on great learning boards and also a preschool learning activity for more fun early learning ideas!
I've been an activity mom for almost 9 years and have over 15 years of experience crafting, writing, and creating. My mission is to bring fun, balance and learning to your busy homes with activities, tips, inspiration, and organization!