A Fun And Easy Preschool Corn Craft for Fall
---
This fun corn craft for preschoolers and toddlers was a great activity for the kids! They were able to celebrate the season and even practice some fine motor skills.
Like many of my kids crafts and small projects, this particular craft took about 5 minutes to set up and has an easy level of difficulty once everything is ready to go. I helped a lot with the initial cutting of the corn shapes.
I hope you enjoy the craft and please leave a comment if you have any questions or ideas after checking out the setup! I suggest allowing your kids to pick the colors for the corn and just let them get creative. (and a little messy)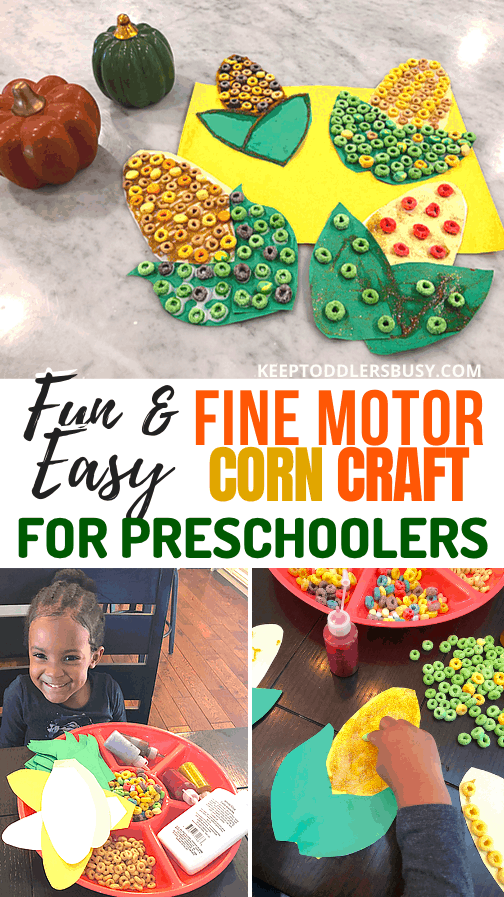 Again, the set up for this is super easy so take a look at how we did this toddler fall project quick and easy!
If you love seasonal activity ideas, check out my recent post on Thanksgiving Turkey craft and also my Thanksgiving games post!! Also, head on over to Pinterest and follow me for daily update craft ideas!
Preschool Corn Craft
Easy Craft Materials
Keep Toddlers Busy is a participant in the Amazon Services LLC Associates Program, an affiliate advertising program. As an Amazon Associate, I earn from qualifying purchases. Read more about these links in my disclosure policy.
Preparation (a few minutes)
I got the materials ready within a few minutes and put them all in my craft sorting tray.
Next I cut the corn and stalks ahead of time and put those in the tray as well.
We then glued the ALL of the corn and stalks together first, before we added anything else.
Then we used glue and glitter glue to attach the cereal and cherios to the paper. Make sure to add ample glue so that it sticks, but not so much that your paper breaks.
Then we let it dry for a few hours! The more glue you add, the longer it will take to dry.
Remembering to allow enough time for drying is super important since we used construction paper. But also it's a good ideas to DOUBLE UP ON THE CORN PAPER. The glue and sticking will make the paper wet.
And their you have it!
Take a look below!
And that's it! With this activity the best part is the process of making the touch and feel corn. I ended up saving just one in my box of kids crafts 🙂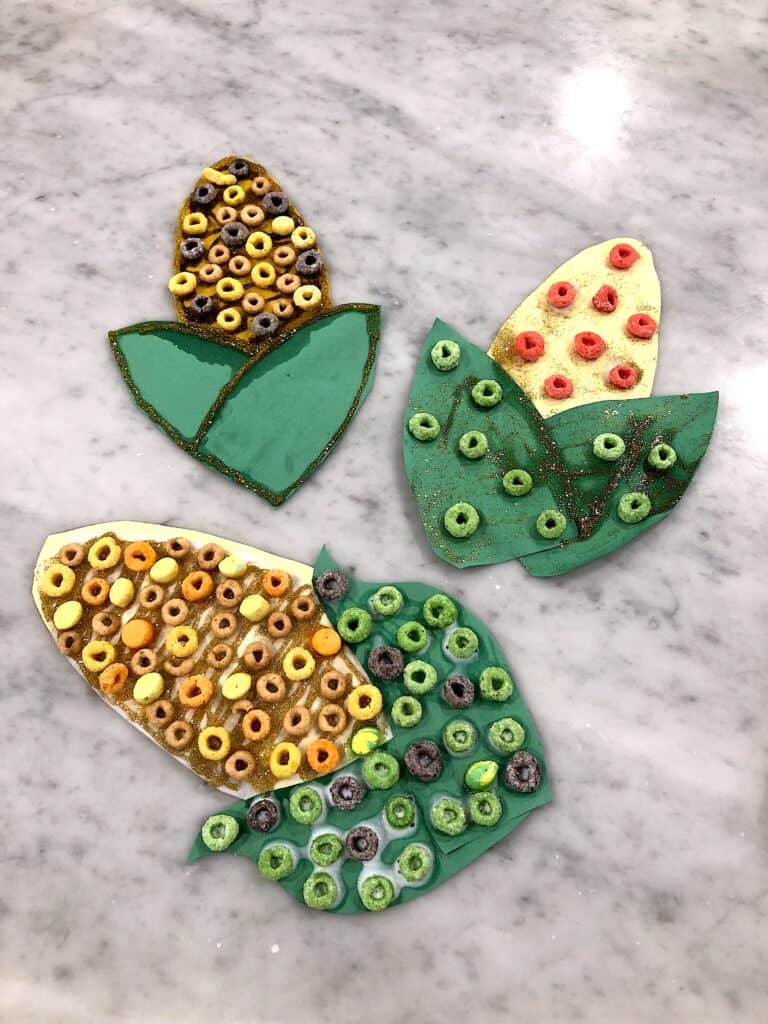 For more great fall craft activities, check out Good Housekeeping!
Check out another fun activity for Fall from my Instagram page and be sure to follow!
I hope you enjoyed this fun and easy corn craft for preschoolers and toddlers! Please comment below and let me know some paint activities that keep your kids entertained! I would love to see some additional ideas!
Also check out my posts on a great fall crafts for kids and fall craft ideas toddlers will love for more fun ideas!
Also, remember to sign up for your FREE weekly activities planner on the top or the right side of the page and check out my printables page
I've been an activity mom for almost 9 years and have over 15 years of experience crafting, writing, and creating. My mission is to bring fun, balance and learning to your busy homes with activities, tips, inspiration, and organization!