Easy Preschool Learning Activity: Clothespin Counting Wheel
---
Fall has recently started so we are going full swing with Autumn crafts, but I still like to make sure that we keep up the learning crafts as well ! So a few days ago we did a preschool learning activity involving counting and had a great time. It's great for preschoolers, but if you have been working on counting with your toddler, it's great for them as well. So Skyla got some great practice with her numbers wheel!!
This is a fairly low prep activity but it depends on how nice you want the wheel to look ? I chose to switch up the colors and add an area for a name. The great thing is the craft is an all day, on again, off again, activity. The kiddies can practice multiple times if they want to, or just one and call it a day.
You can do this craft activity with materials that you may have in the house already (glue, construction paper, scissors, markers, cardboard). A little cutting and pasting, a little drawing, and then the kids are set to go.
If you are looking for learning activities, visit my post on 15 learning activities or a cute preschool math activity I wrote about! Also, head on over to Pinterest and follow me for daily update craft ideas!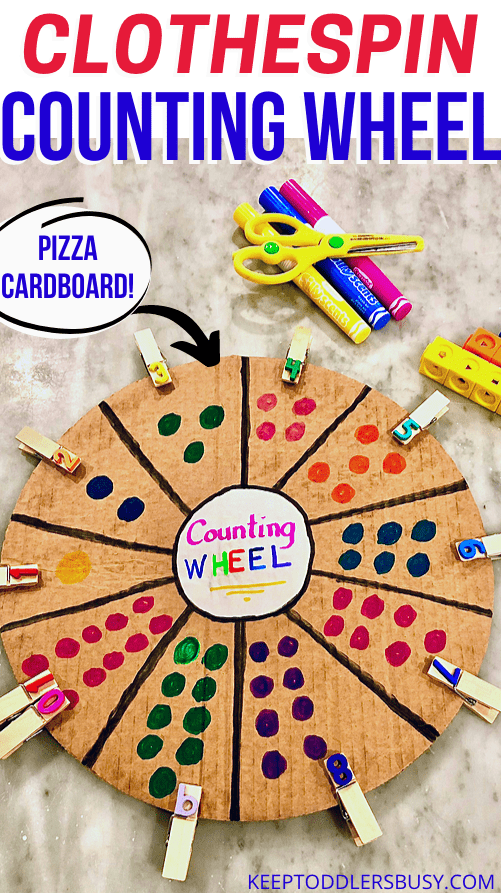 Preschool Learning Activity
Keep Toddlers Busy is a participant in the Amazon Services LLC Associates Program, an affiliate advertising program. As an Amazon Associate, I earn from qualifying purchases. Read more about these links in my disclosure policy.
Materials
1.You can use pretty much any type of cardboard you want, cut into or circle. Or you can use the cardboard found under a freezer pizza like I did! I totally got my recycle points in 🙂
2. Numbered Clothespins I got mine from the target $5 section. (or you can write the numbers on standard clothespin)
3. We used some cool scented markers for the dots!
4. White Paper
5. Stick glue and scissors
Instructions
Divide the cardboard into 10 pieces with a marker
Cut a piece of paper into a circle and paste it in the middle. Add whatever title you like to your Number wheel. I actually added this because I messed up the middle LOL.
Starting with one and ending with 10, draw the dots on each slice.
Finally have your toddler or preschooler add the corresponding clothespin to the "slice".
It was also helpful for me to teach my daughter about the clothespin as well. My son, the big boy kindergartner, finished it quickly, but I didn't realize my daughter would need a little practice with the clothespin.
So it turned into a fine motor development and learning activity as well and I was pretty delighted by that.
Take a look at a few pictures I have below!
For more some awesome preschool learning activities visit Family Education as well!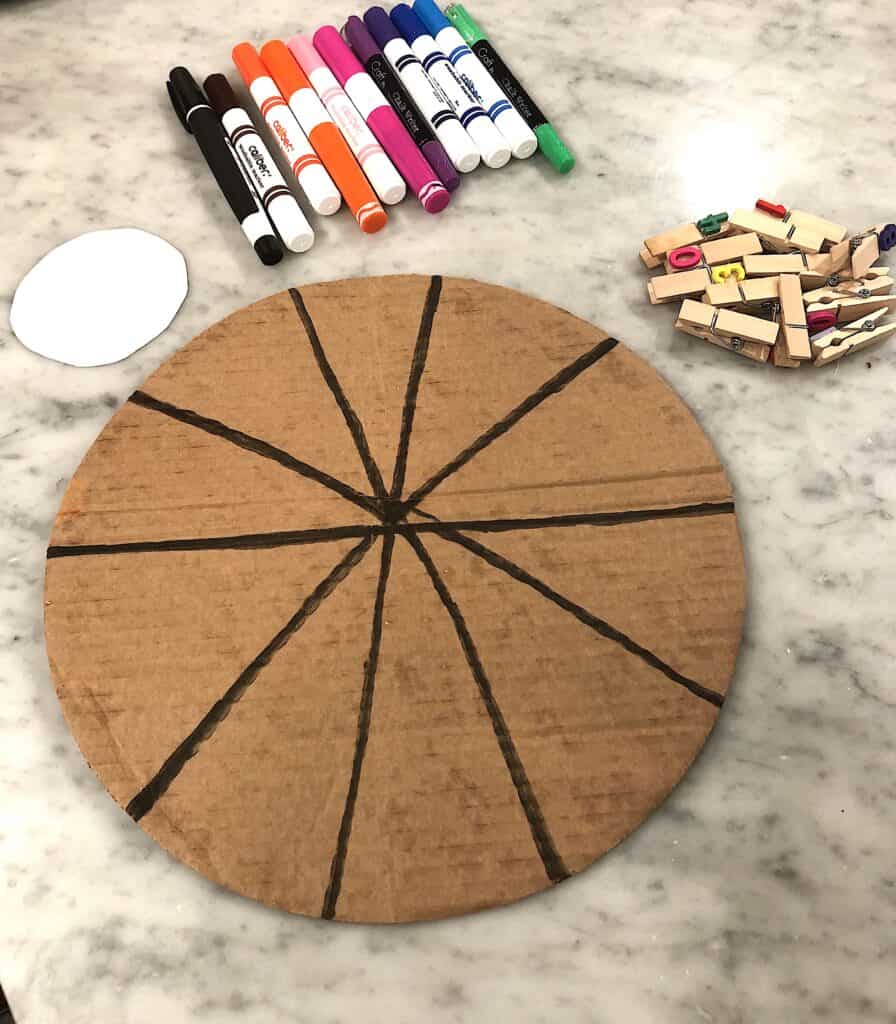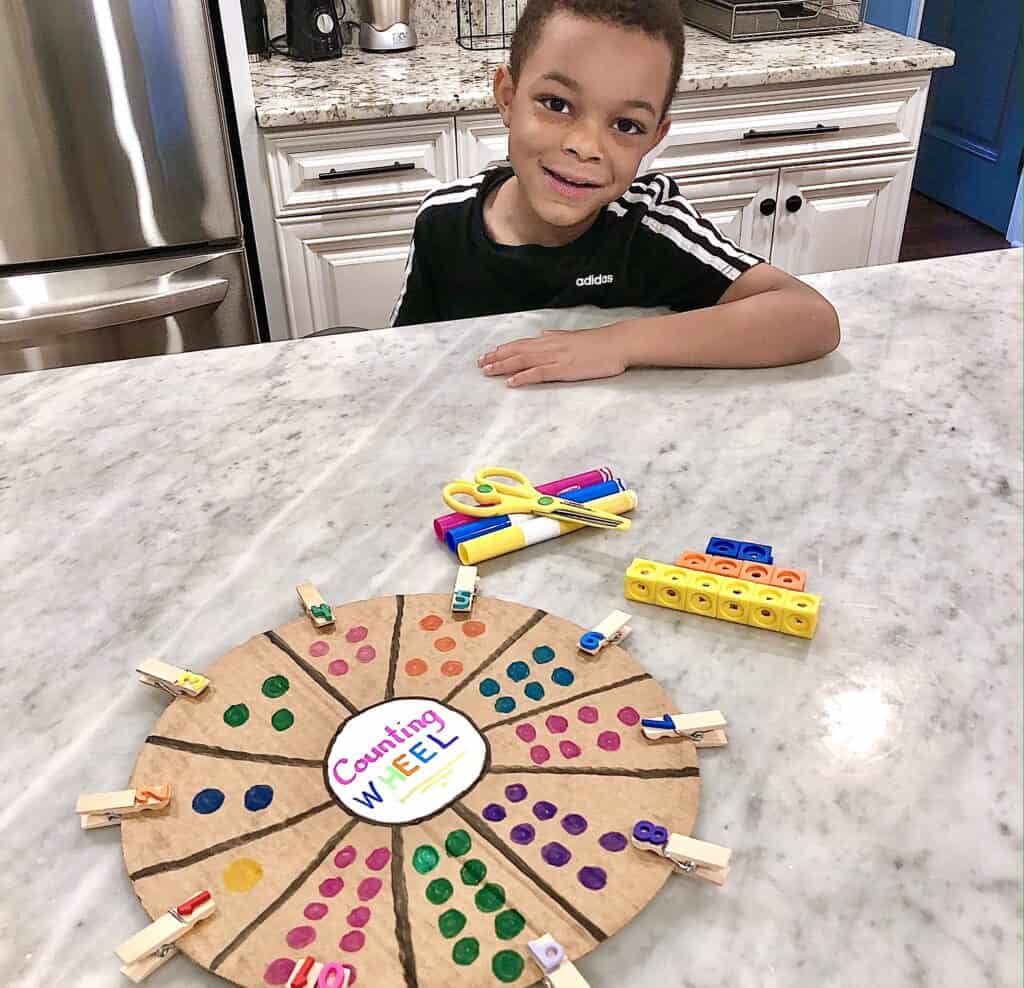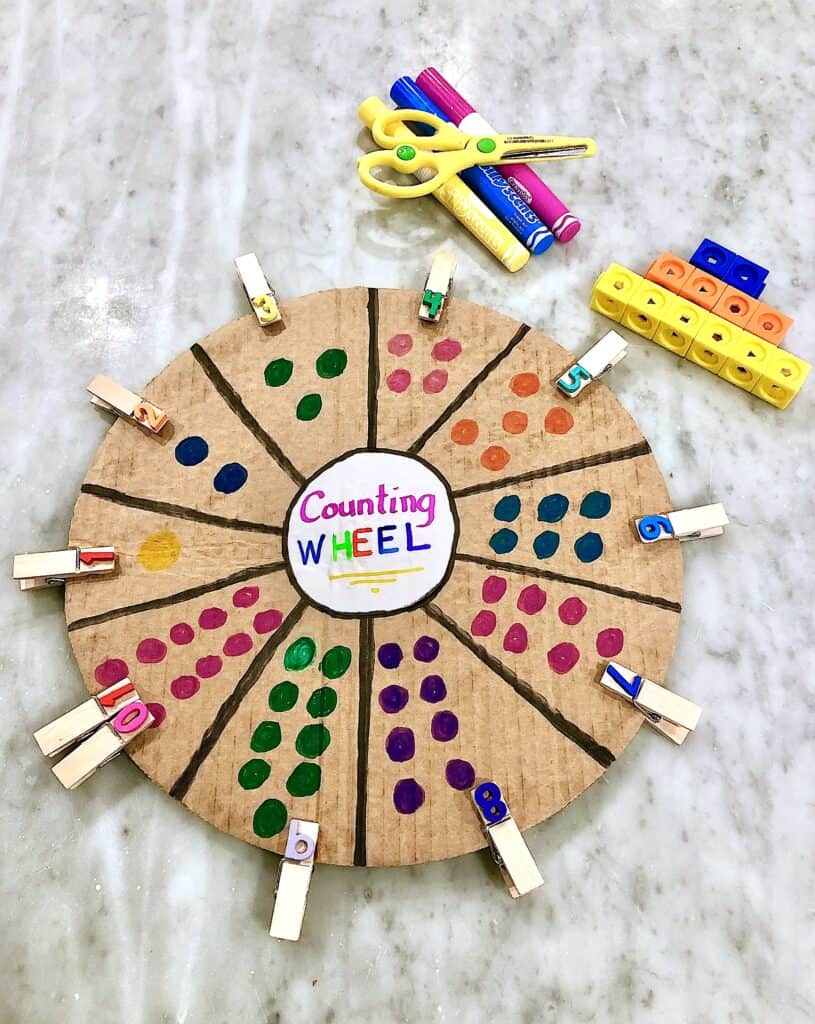 I hope you enjoyed this preschool learning activity! It's pretty easy to set up and your child can practice over and over.
Please comment below and let me know some activities you do to keep your kids entertained! I would love to see some additional ideas!
Remember to sign up for your FREE weekly activities planner on the top or the right side of the page and check out my printables page!
I've been an activity mom for almost 9 years and have over 15 years of experience crafting, writing, and creating. My mission is to bring fun, balance and learning to your busy homes with activities, tips, inspiration, and organization!