A Color-Matching Snowflake Photo Ornament Craft For Kids
---
If you are looking for a great photo ornament craft for kids, you landed on the right page! The kids had a great time matching colors and decorating their snowflake ornament. Adding the photo in the center just brought this little craft together.
Before you take a look, if you love Christmas activities, check out my recent posts on Christmas tree crafts or Christmas games for the family. Also, head on over to Pinterest and follow me for daily updated craft ideas and much more!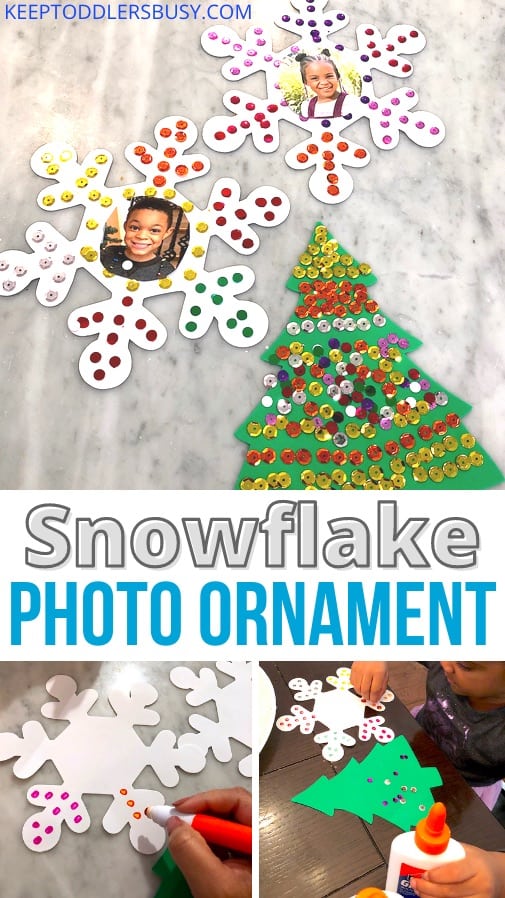 If you have already start shopping this year, also stop by and take a look at my toddler learning toys post or my cool stocking stuffers post!
Enjoy!
Photo Ornament Craft For Kids
Snowflake Decorating Materials
Large roll of Brown Paper or a White plastic table cloth like the one I have in the pictures for some of my other messy crafts. You can get thicker butcher paper rolls online here as well.
2. I use paint tape to hold the paper down because it comes up easy and doesn't leave residue behind.
3. Foam snowflakes (I got mine from the Dollar Tree)
4. Large Sequins, markers and school glue
(You can also use alternative: Glitter glue, Christmas Pom Poms, small buttons, Christmas Stickers, etc
5. Craft Tray
We hope you like the products we recommend. Just so you are aware, Keep Toddlers Busy may collect a share of sales from the links on this page. As an Amazon Associate I earn from qualifying purchases. Read more about our links in my disclosure policy.
Holiday Craft Setup
1. I started by spreading the butcher paper and taping the edges to the table so the paper wouldn't move.
2. Next I put all the supplies together on the table and proceeded to draw the dots on the snowflake with marker, paying attention to the color and pattern so your child can match them.
3. Leave room for the picture in the middle
4. Next allow time for gluing and color matching!
5. Once the sequins were glued down, print out a small picture of your tot on regular paper and cut it out in whatever shape you like. (I cut out a circle)
6. Then use double sided scotch tape, stick glue, or anything you like to stick the picture to the snowflake.
7. I did not add holes and string at the top because the size and shape of the snowflake easily sits on a tree, bit it would be a nice touch!
Take a look at the pictures below!
Before you do, check out another Christmas activity on my Instagram page and be sure to follow!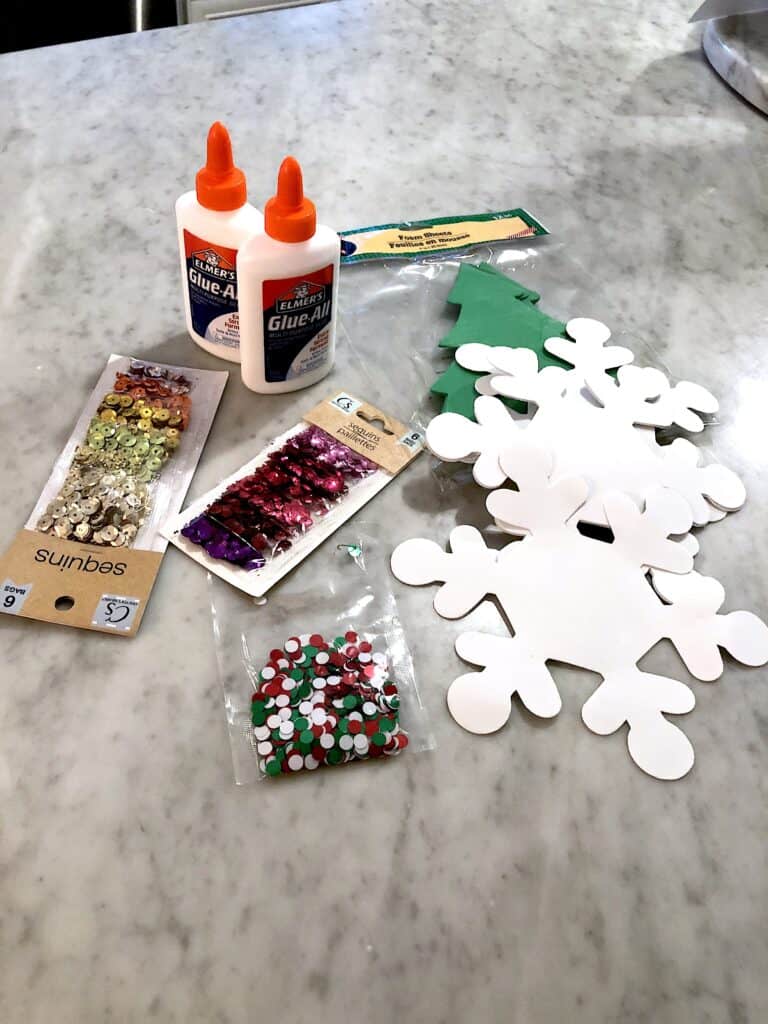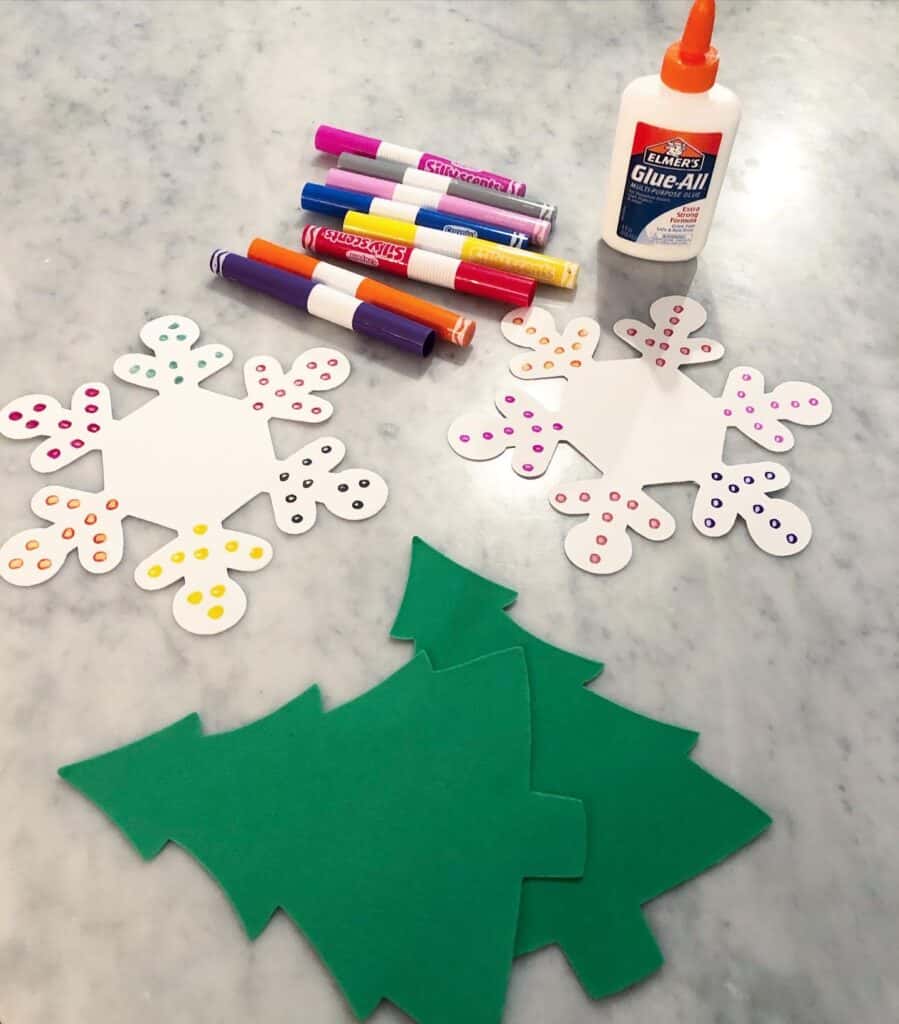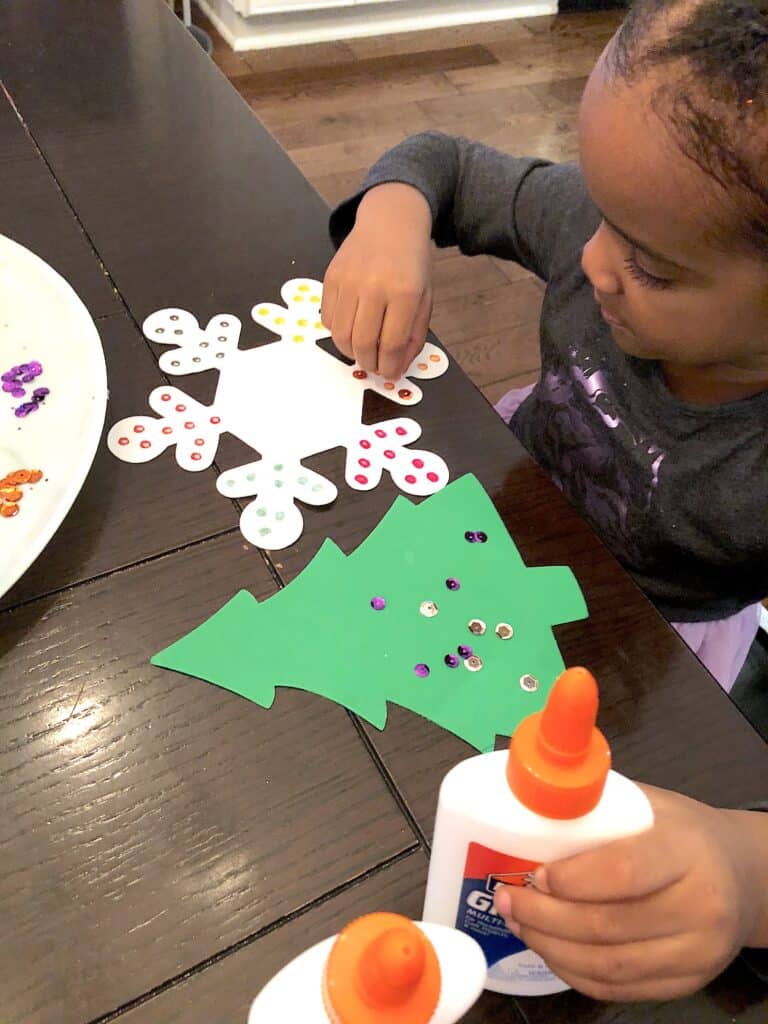 ---
I hope you enjoyed this fun photo ornament craft! I wanted to try something different this year and it turned out to be really fin for the kids. If you have already started your Christmas crafts, please share below. Or let me know if you try this one!
Also check out my posts pages on great Halloween and Holiday crafts for more fun ideas! Best Ideas For Kids also has amazing holiday craft ideas for kids.
Also, remember to sign up for your FREE weekly activities planner on the top or the right side of the page and check out my printables page.