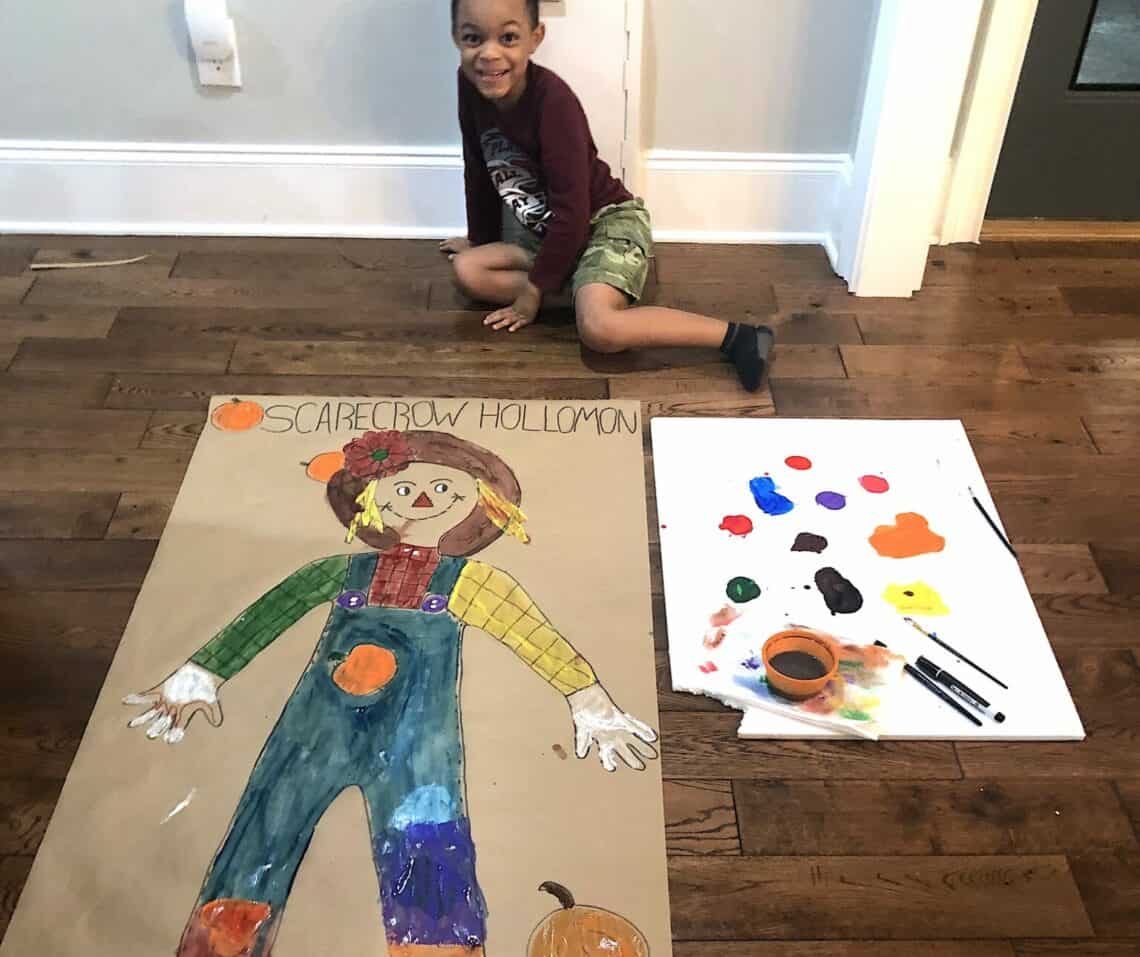 Fall Crafts For Kids: Life-Sized Scarecrow Painting!
---
Looking for super fun fall crafts for kids? Well this one was a huge hit for the kids and I'm excited to share it today. Both of my kids have been painting a lot lately and we have a huge stash of paint to go through, so I thought this was a great way to kick off the Autumn season, my favorite season, and do something really fun.
This year in particular I plan to celebrate my butt off with anything that I can celebrate. We will be doing all sorts of Fall and Holiday crafts and I'm really looking forward to it.
So, the set up for this is not hard, but it did take some time to get the scarecrow drawn out. I explain below how I was able to that. Most of the materials you may already have in the house, you should be able to set this activity up nicely for some fun with the kids. I hope you enjoy!
Oh and before I forget, If you love fall activity ideas, check out my recent posts on Fall Craft Ideas Toddlers Will Love or 3 Easy Turkey Thanksgiving Crafts for Toddlers. Also, head on over to Pinterest and follow me for daily updated craft ideas and much more!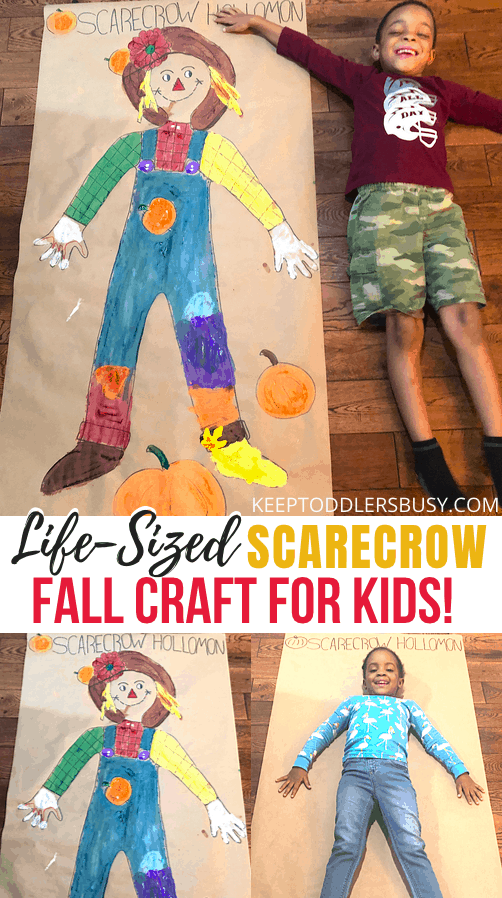 Fall Crafts For Kids
Giant Scarecrow Art Materials
We hope you like the products we recommend. Just so you are aware, Keep Toddlers Busy may collect a share of sales from the links on this page. As an Amazon Associate I earn from qualifying purchases. Read more about our links in my disclosure policy.
1.Large roll of Brown Paper. I usually buy three or four at a time because they can be used for sooo many things but you can get thicker rolls online here.
2. Washable Paint for Kids- My favorite brand is Crayola washable paint.
3. I use paint tape to hold the paper down because it comes up easy and doesn't leave residue behind.
4. Art smocks of art bibs for the kids. I currently use this smock but I'm looking to get one with sleeves like this one. Or just throw on an old shirt!
4. A bowl for the water, and napkins to wipe off the paint brushes.
5. Large kids paint brushes!
6. Since we were on the floor i wanted a big canvas for the paint, so I grabbed a styrofoam sheet and it worked perfectly, no bleeding.
Scarecrow Painting Setup
The first thing I did was hop on Google and download a cartoon scarecrow to print out for inspiration! It really helped with the setup 🙂
2. Then, I started by spreading the brown paper on the floor and taping the edges to the table so the paper wouldn't move. I tried to set this up before the kids saw, but as soon as they saw what was going on they hardly let me finish setting up lol.
3. Next I had my daughter lay down on the floor and traced her body outline in pencil first. I then went back over it in marker! I did the same thing with the title at the top. Trust me, you will make mistakes!
4. Next, using my picture of the scarecrow for inspiration, I drew overalls, face, hair, hat, and shirt with the black marker. When that was done, the kids were pretty excited to get started 🙂
5. As they painted, I helped to guide them with colors and painting in some areas, but in other areas I let them free paint and be creative 🙂 The great thing is afterwards they want to show me what they did all by themselves lol
Take a look at the pictures below!
Before you do, check out another painting activity on my Instagram page and be sure to follow!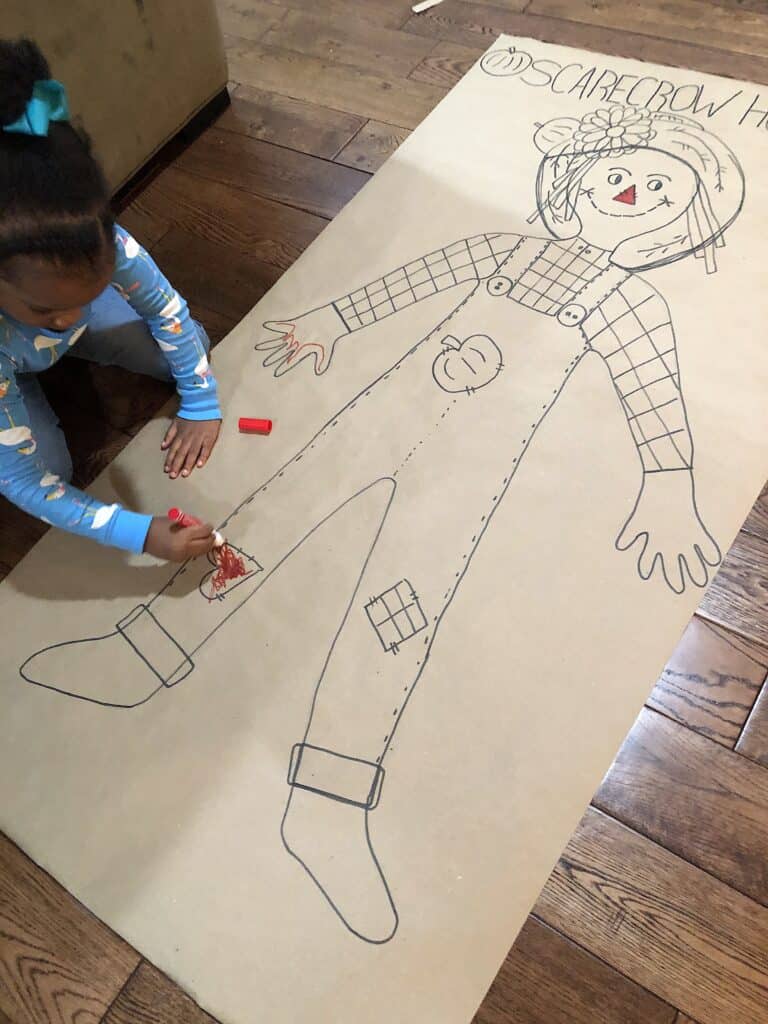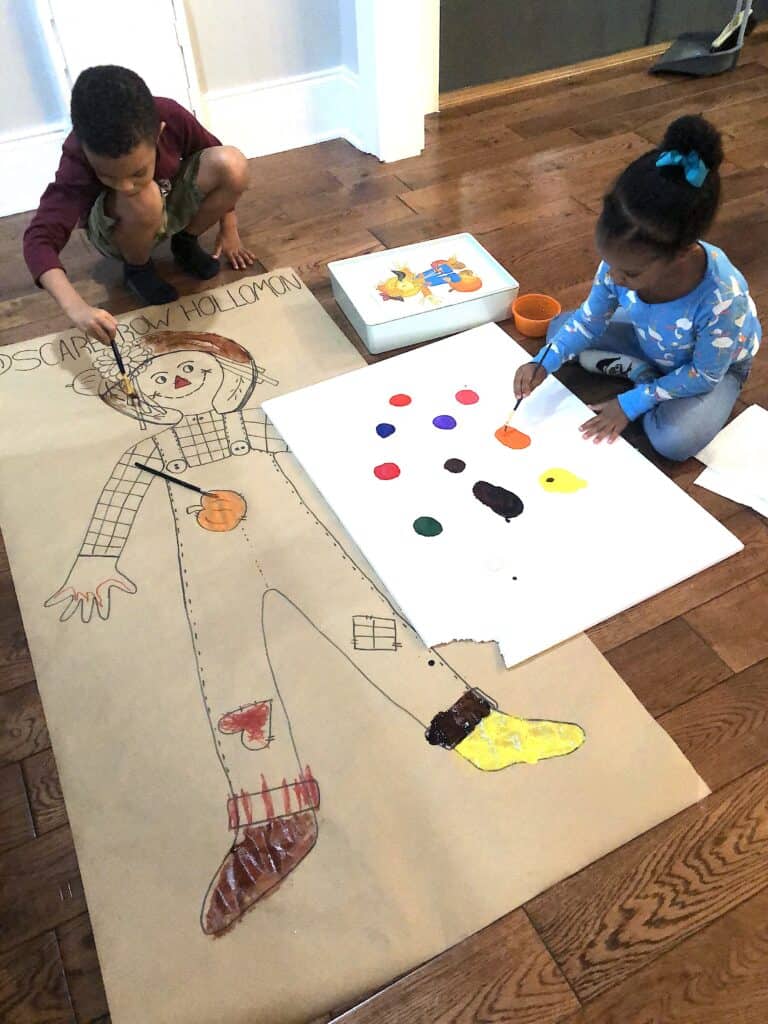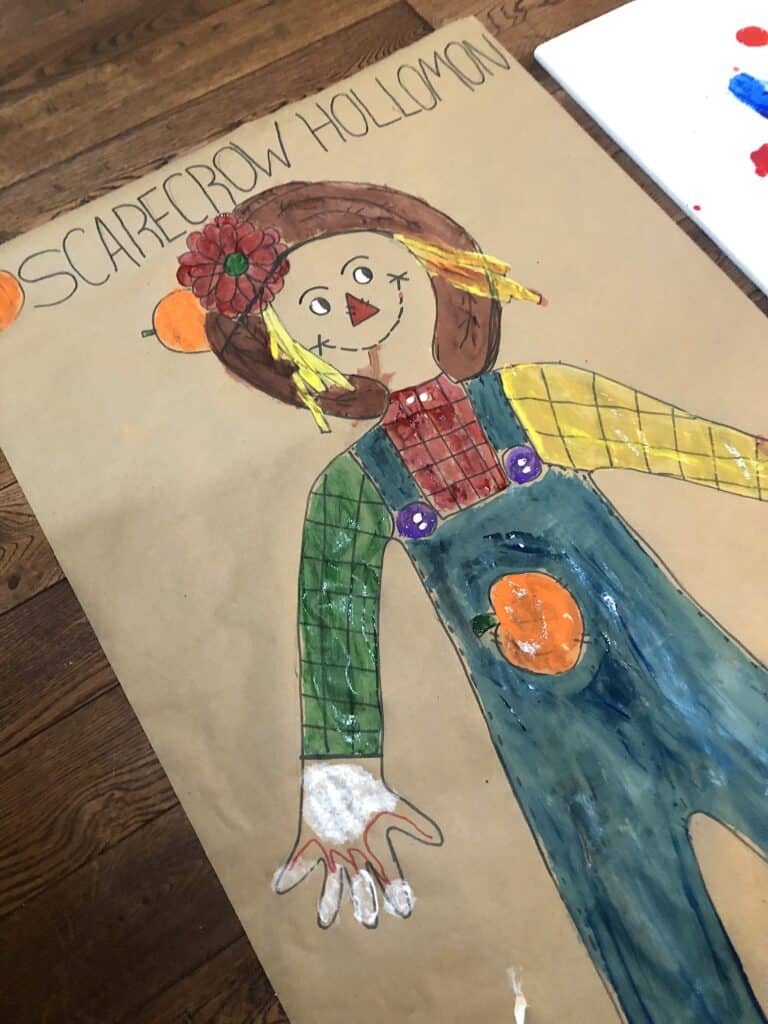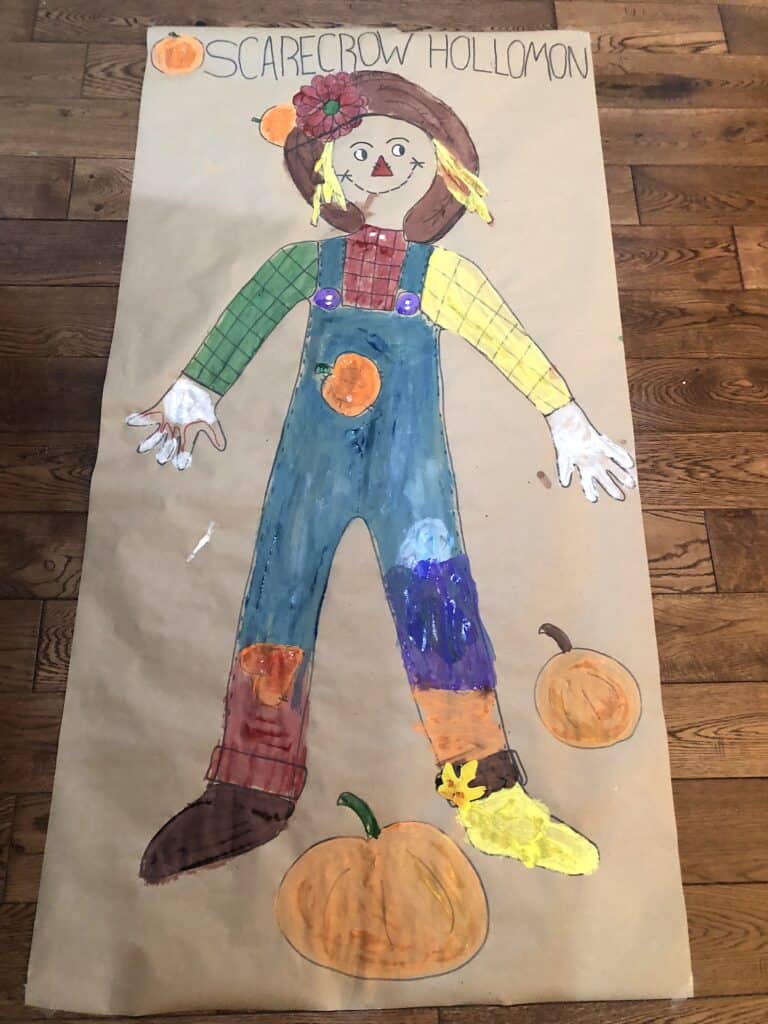 ---
I hope you enjoyed this fun giant scarecrow painting fall craft post! I wanted to try something different this year and it turned out to be a hit. If you have already started your fall crafts, please share below. Or let me know if you try this one!
Also check out my posts pages on great Holiday crafts for more fun ideas! Red Ted Art also has amazing holiday craft ideas for kids.
Also, remember to sign up for your FREE weekly activities planner on the top or the right side of the page and check out my printables page
I've been an activity mom for almost 9 years and have over 15 years of experience crafting, writing, and creating. My mission is to bring fun, balance and learning to your busy homes with activities, tips, inspiration, and organization!