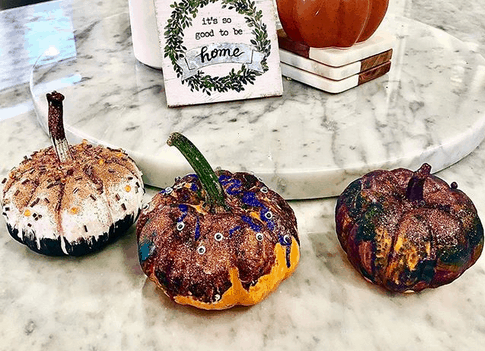 18 Amazing Pumpkin Painting Ideas That Will Blow Your Mind
---
Check out this awesome list of some of my favorite and amazing pumpkin painting ideas It's only a few days until Halloween and we have been getting into the spooky season.
I love Fall and all the year in festivities. So so much. I just do. Pumpkin spice, weather, sweaters and boots, and the anticipation of the upcoming holidays. I love it all! It's never to early to start getting ideas and as a DIY and crafting mom, I do crafts with the kids and by myself as well.
I scoured the internet looking for ideas that I thought were worthy of being included on this list and you wont be disappointed. So take a look below and I hope you get inspired!
Check out my Holidays page under the "Activities"tab in the menu and you will also see a post Halloween games as well!
Last thing! Make sure to check out my YouTube account and also follow me follow me on Instagram!
Pumpkin Painting Ideas
We hope you like the products we recommend. Just so you are aware, Keep Toddlers Busy may collect a share of sales from the links on this page. As an Amazon Associate I earn from qualifying purchases. Read more about our links in my disclosure policy.
–
1. Monster Eye Pumpkins
Paint your pumpkins white, and then decorate the pupils in various colors! This is amazing!
2. 90's Pastel Pumpkins
My daughter would love these! Pick some pastel base colors and let the fun begin!
–
3. Pattern Pumpkin
A super fun I love the idea of adding a pattern to a pumpkin. Start with a base color and the add the lines with a paint marker!
4. Creative Halloween Pumpkins
I love these!
–
5. M & M's Pumpkins
Candy themed pumpkins!
6. Frankenstein
Get the tutorial + video from Instructables! I love the polymer clay bolts
7. DIY Moon and Stars
8. Glitter Frosted Pumpkins
These are actually plastic pumpkins by Bre Pea with acrylic paint, glitter, and metallic spray paint!
9. Glittered Ghost Pumpkins
These are absolutely beautiful glittered/painted pumpkins by I heart naptime
10. Donkins!
I love this title! LOL By Darby Smart
11. Spooky Gold Pumpkin
Love the gold metallic paint & foam letters, so creative! The Craft Patch
–
12. Cinderella Pumpkin
I love a good Disney-inspired pumpkin! Grab some glitter paper and start painting!
Get the Cinderella Pumpkin tutorial at A Pumpkin & A Princess.
–
13. Galaxy Painted Pumpkin
My son loves anything out of this world and this Jack-o'-Lantern is perfection!
Get the Galaxy Pumpkin tutorial at Dream a Little Bigger.
–
14. Painted Popcorn Bucket Pumpkin
How creative, it's perfect for my Halloween movie Night Dollar Store Haul!
Find this tutorial at Aww Sam!
–
15. Rainbow Walkway Painted Pumpkins
–
This rainbow pumpkin-covered porch is just dreamy and magical. So worth the time.
16. Little Mermaid Pumpkin
Given the recent movie (and my mermaid obsessed daughter who will in fact be a mermaid for Halloween), this is perfect for this year!
17. Spider Web Pumpkins
–
Grab thin and long strips of tape and some spray paint for this look!
18. Family Candy Costume
Last but not least! I love this design.
–
Check Out My YouTube Channel for More Halloween Ideas
That's it!
For more amazing pumpkin painting ideas and how to paint pumpkins the right way , check out this site as well!
I hope you enjoyed these ideas and your kids enjoy it as well. Please comment below and let me know some pumpkin decorating ideas that you have done in the past or plan to do this year! I would love to see!
Also, remember to sign up for your FREE weekly activities planner on the top or the right side of the page and check out my printables page!