The Absolute Best Winter Sight Word Activity For Kids
---
The end of the year holidays are nearing the end, which means we get to plan and head right in to winter season activities! School has started as well so we are getting back to doing our learning crafts and activities.
So a few days ago both my daughter and son did this super cool sight word activity as a continuation of our Christmas tree sight word activity. We included matching and and letter sounds too, so I thought I would share!
I read somewhere (lol) that kids know about half of what they need to know to read if they know the first 100 sight words. I recently tested my daughter on the previous set of 15 sight words after not reviewing for more than and week and she knew them all. So we put up the next 16.
It's a fun way to practice words and we leave it up on the door to practice a few minutes a day! This contact paper has been such a neat way for the kids to learn. I'm loving it.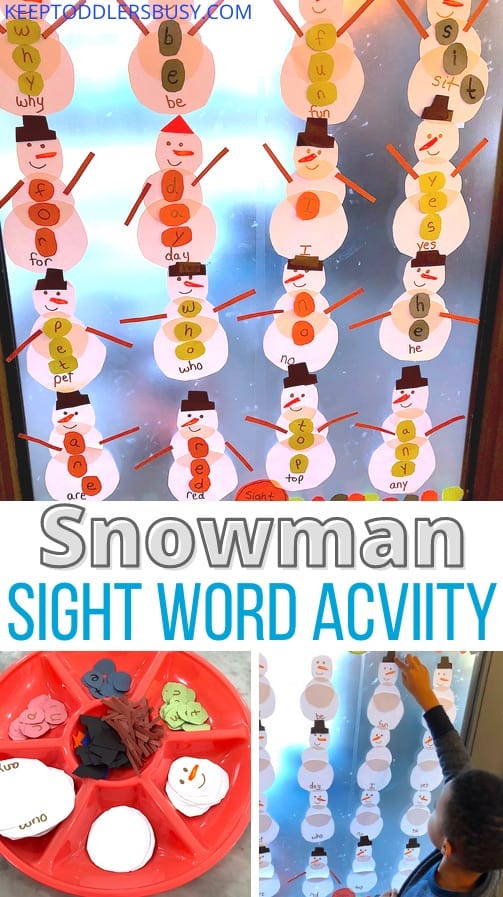 I also want to make a point that expose our children to new concepts can be good if we are not expecting perfection. In this case, big brother took the lead, but Skyla was actually able to learn from him. I plan to keep these words up until they are recognizable to my little one, and then we move on to the next.
If you love winter activity ideas, check out my recent post on preschool Christmas craft and also my learning toys post! Check the wrap up of this post at the bottom to find more awesome learning activities. Also, head on over to Pinterest and follow me for daily update craft ideas!
Winter Snowman Sight Word Activity
Materials
The Materials were super fun for the winter learning activity and the outcome was so adorable! It looked so good that we decided to keep it up and continue to learn from it.
Con-Tact clear adhesive paper or clear adhesive liner ( this is what I used, bought from Walmart pickup :))
Construction Paper. I usually buy three or four bundles at a time because they can be used for sooo many things.
3. Pom Poms, small buttons, Stickers, or whatever extra material you like if you want to add extra decoration.
4. Stick glue, marker, and scotch tape
5. Scissors
Keep Toddlers Busy is a participant in the Amazon Services LLC Associates Program, an affiliate advertising program. As an Amazon Associate, I earn from qualifying purchases. Read more about these links in my disclosure policy.
Preparation (20 minutes)
I prepared this activity ahead of time while the kids were playing in another room.
First start with cutting out all of the circles and buttons. I cut out 16 big circles,16 medium circles, and sixteen small circles with the white paper.
I then added eyes, nose and a mouth to the small circles.
Then fold the construction paper multiple times so you can cut multiple multi-colored buttons at one time.
I cut out some extra circles to decorate the top and bottom of the adhesive paper as well.
Next I cut out little hats and arms. Folding the paper helps this process go really quickly.
Next write your chosen word on the bottom of each big circle.
Then I wrote the letters on the circular snowman buttons.
Now we grab the contact paper. Cut a portion that is large enough to add your desired amount of snowmen. I actually cut pieces that were a little too small so be sure to allow room for the hats.
Next, peel the edges of the contact paper down to expose the sticky side. Attach some scotch tape to the paper with the sticky side up and tape it to the wall or door around the edges of the sheet.
Your little one will then be able to build the snowmen first, then match the sight words by adding the buttons!
And there you have it! Take a look below!
Sight Word Matching, Words, and Spelling
I chose to make a sight word matching sorting activity that included colors by adding little snowman buttons.
This part is certainly open to preference, but I will say my daughter really enjoyed it.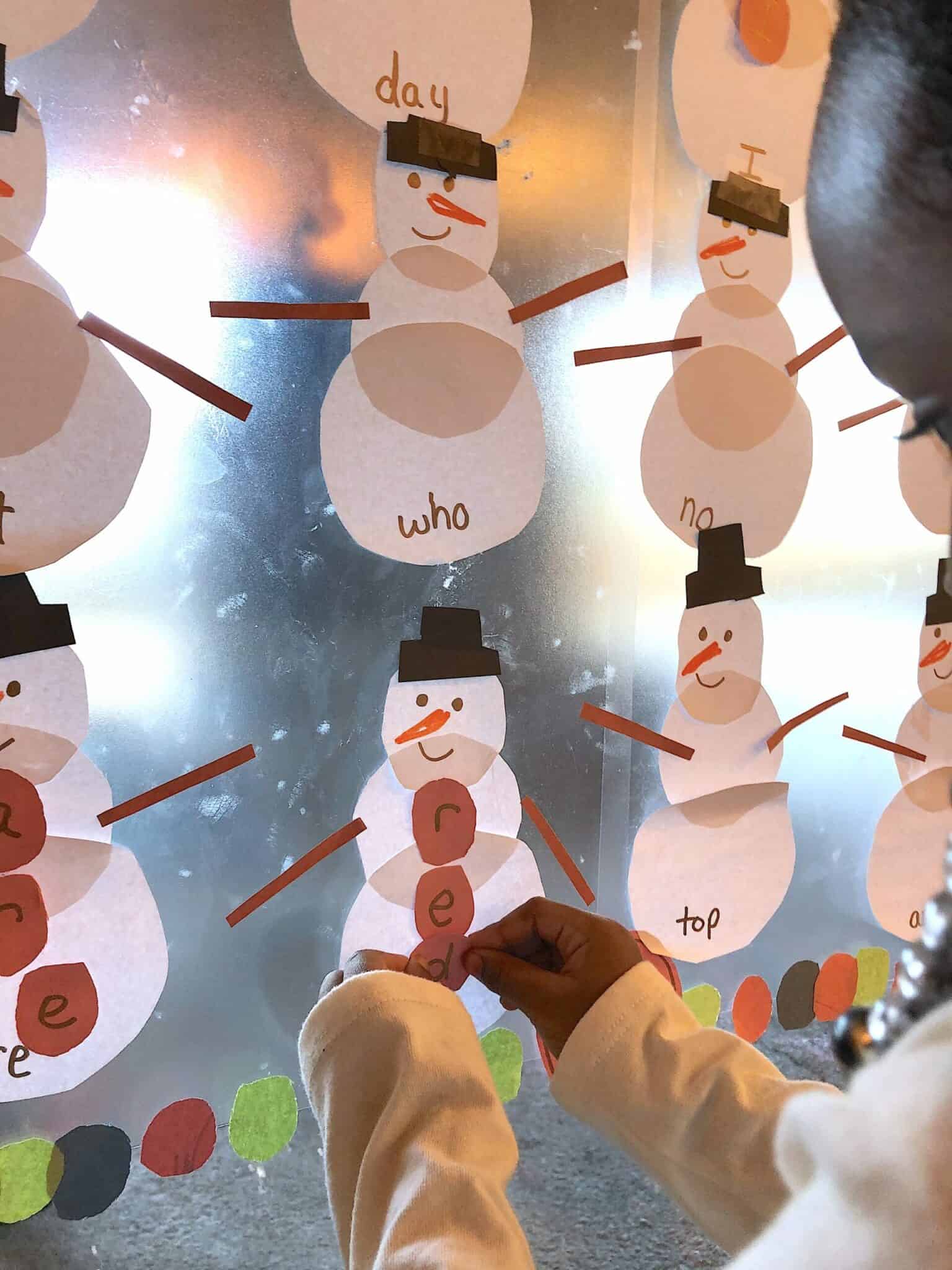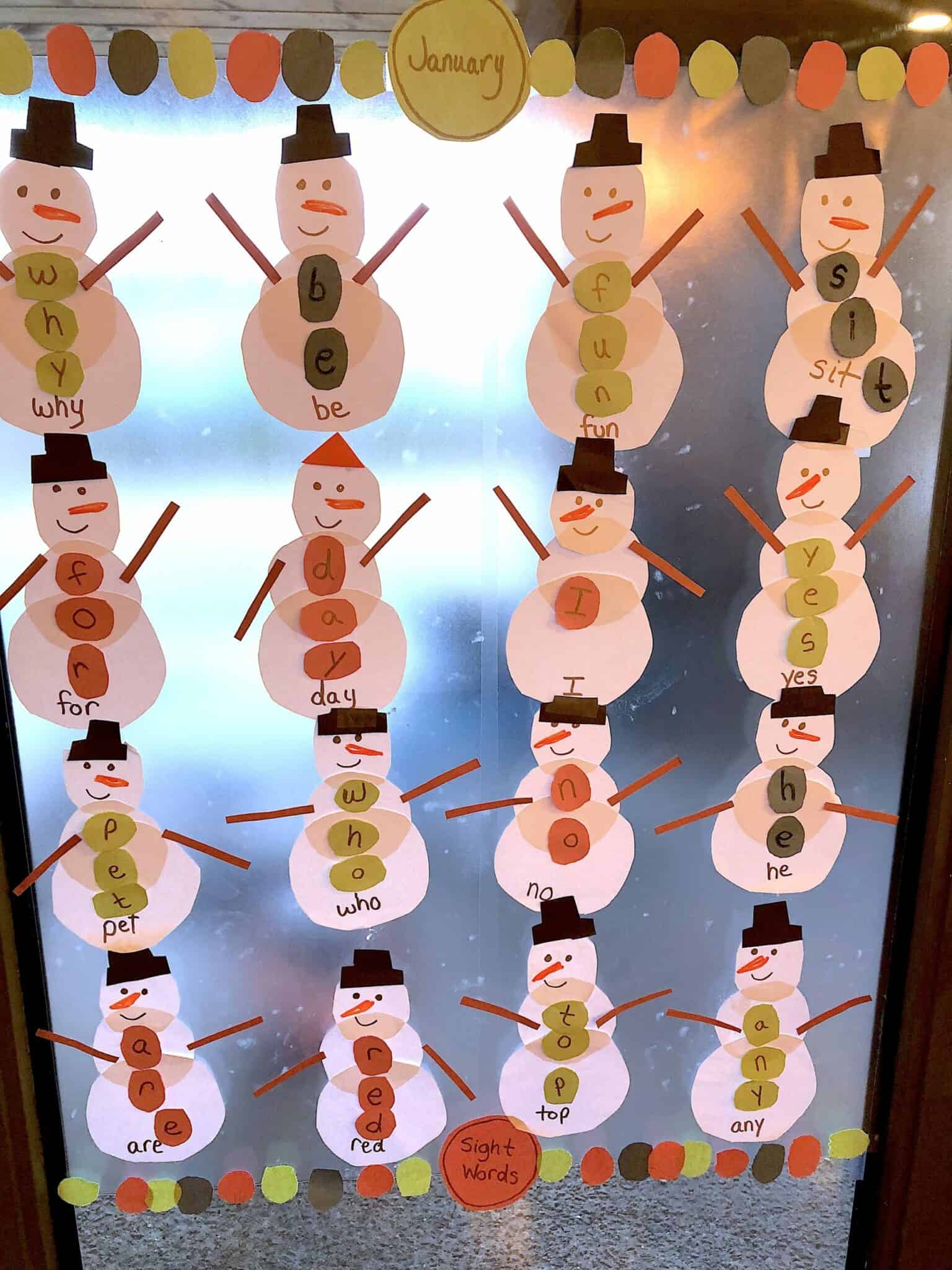 They had a great time ?
I hope you enjoyed this fun snowman sight word activity for kindergartners and preschoolers! Please comment below and let me know some sensory activities that keep your kids entertained! I would love to see some additional ideas!
Also check out my posts on great learning boards and also a preschool learning activity for more fun early learning ideas!
Also, remember to sign up for your FREE weekly activities planner on the top or the right side of the page and check out my printables page.
I've been an activity mom for almost 9 years and have over 15 years of experience crafting, writing, and creating. My mission is to bring fun, balance and learning to your busy homes with activities, tips, inspiration, and organization!