17 Easy Mindfulness Activities Kids Can Add To Their Day
---
Check Out These 17+ Mindfulness Activities and Techniques To Help Teach Your Child How To Be Mindful and Present!
Today I wanted to take some time to talk about something that doesn't always get a lot of attention when we talk about what our kids should be learning.
Mindfulness is so important. There are so benefits to practicing mindfulness, including providing skills to cope with stress, increasing happiness, providing skills to help your child to stay calm and focused, and even to be more emotionally aware.
Mindfulness is not just all about meditation or yoga, although those are great ways to srart but we can use different activities to promote better relationships and awareness of ourselves.
What is Mindfulness?
Mindfulness is the ability to focus on the present without obsessing about the past or worrying about the future.
Your attitude and outlook during these moments are positive and you are more aware of yourself non-stress related thoughts and feelings.
–
Mindfulness helps kids to:
Improve concentration
Increase self-awareness and emotional intelligence
Manage stress and anxiety from life
Mood Regulation
Building Better Relationships
These factors alone can have positive a positive influence on multiple other aspects of out kid's live. Below take a look at how I help my own children participate in mindful activities, as well as some great ideas from other blogging moms like myself!
If you are looking for more kid's play ideas, then check out my Pinterest account (also follow me on Instagram)!
–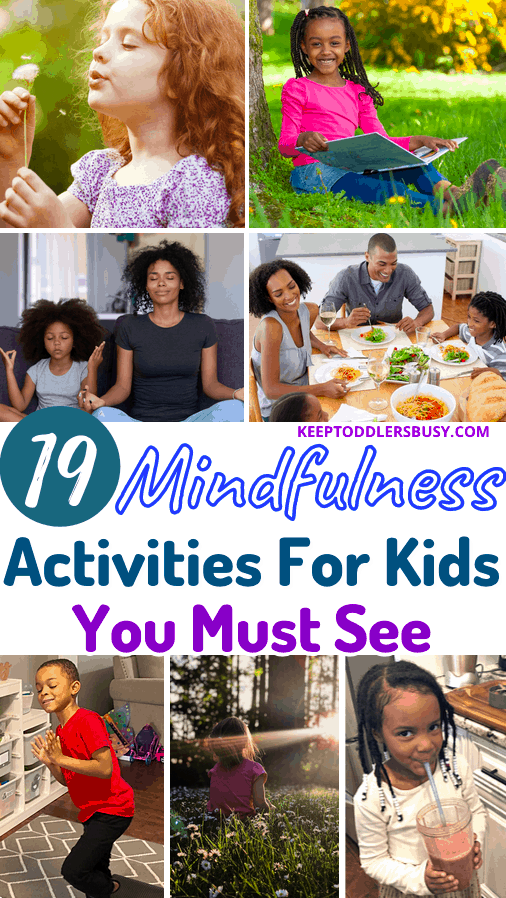 We hope you like the products we recommend. Just so you are aware, Keep Toddlers Busy may collect a share of sales from the links on this page. As an Amazon Associate I earn from qualifying purchases. Read more about our links in my disclosure policy.
Mindfulness Activities For Kids
1. Kid's Yoga
Yoga and meditation can be just as beneficial for kids as it is for adults! Their are so many resources online that will provide a great mindful experience for your child. Take a look below!
2. Learning to Cook
If we consciously think about the ingredients we choose, preparation, and the way we cook , it can contribute towards the development of mindfulness. The social aspect of working together with a loved one also creates an amazing and focused bonding experience!
–
3. Cloud Gazing
I love this relaxing, mindful activity!
Tips:
Choose a day when you will be relaxed lying on the ground looking up at the sky.
Find a comfortable spot.
Look at the clouds in the sky.
Can your child identify shapes, people, or familiar objects?
4. Take a Mindful B.R.E.A.K.
I love this concept! Check out the details at Simply Snapping Mom!
–
5. Healthy Eating
Being mindful about what we are eating and teaching our kids to think about the importance of food can yield dividends in their lives! In the first picture shown below, my daughter was able to embrace the moment and pick out her own fruits and vegetables to make her smoothie.
6. Mindfulness Books and Workbooks
Check out some of my favorite resources for fostering mindfulness in your home!
–
7. Spend Time with Nature
Water your plants together. Plant a bean plant in a cup. Pull weeds together. There are so many ways to be present in the present through activities in nature! It's even better when we can do it with them.
8. Breathing Exercises
Fun and easy. What more can you ask for?? 🙂 This one is def on my to-do list. Check it out on What We Do All Day.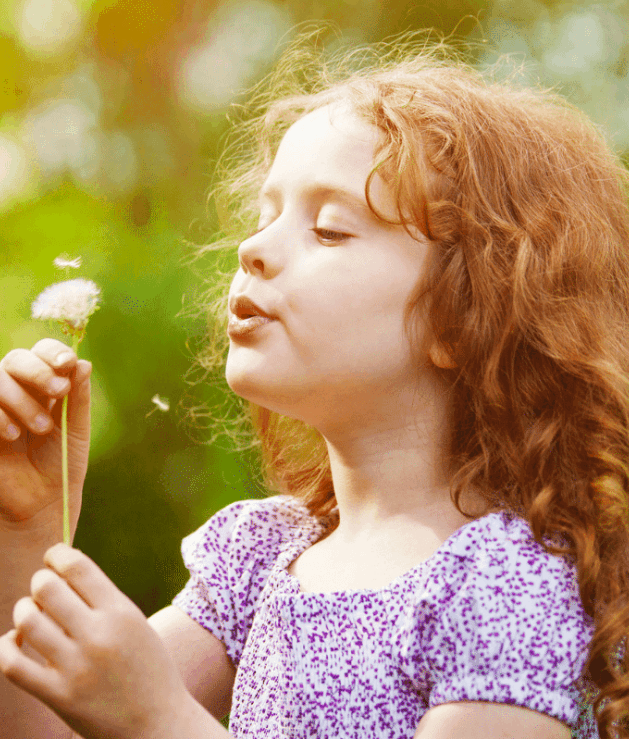 9. Take a Fun Bath
Sometimes simple is best! Grab toys, bath paint, or even so cups and bottles and the kids can enjoy a relaxing and fun moment with no electronics. Water is soothing and it doesn't always have to be in a pool or before bath time. You can get more great ideas by following me on my Instagram page!
10. Create a Sensory Jar
Recently the kids got a chance to do a space themed activity with their J&J friends via zoom. We read "Ada Twist Scientist" along with an astronaut in space, built a model planet, learned about African American scientists, and made these quick and easy galaxy bottles! So fun.?

After a little trial and error (the order that you add the materials counts ?) I came up with my personal favorite recipe! You can find the details on my galaxy sensory bottle post!
11. Mystery Sensory Bag Play
I love this simple and affordable game channeling mindfulness through touch 🙂 Ask your child to describe how the object feels, what they think it may be, how heavy it is, what it can be used for, and so much more. Get the details at Confidence Meets Parenting.
12. Bedtime Affirmations
One of my kids favorite bedtime activities. Check it out at Rock It Mama!
–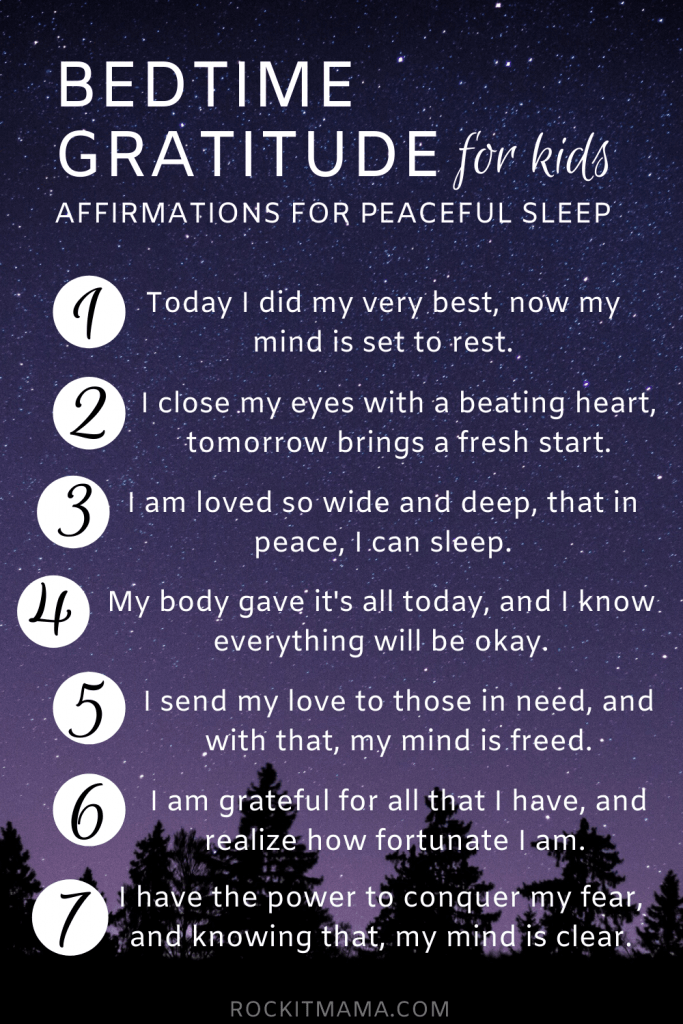 13. Mindfulness BINGO
Check out this cool activity from Beauty and the Bump!
–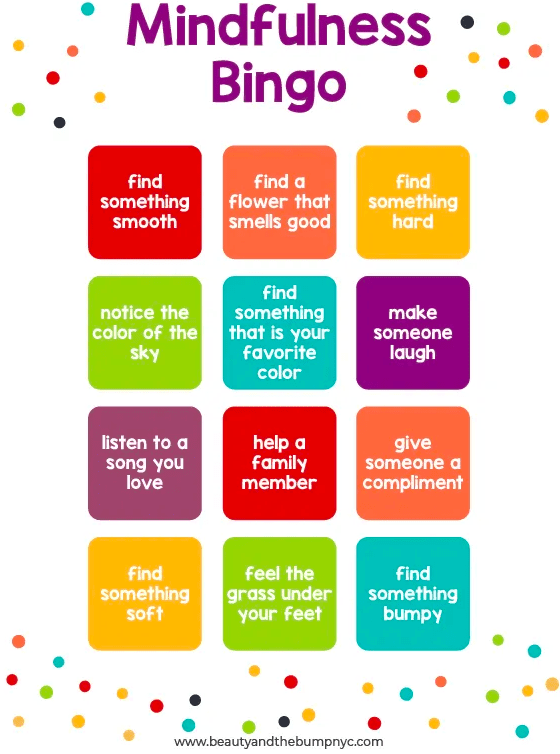 14. Eat Dinner With Gratitude
–
Mindfulness around the table can help your family be more grateful for the time you share, an improve our overall well-being, and promote healthy relationships! Take away the electronics and talk about the food and the day!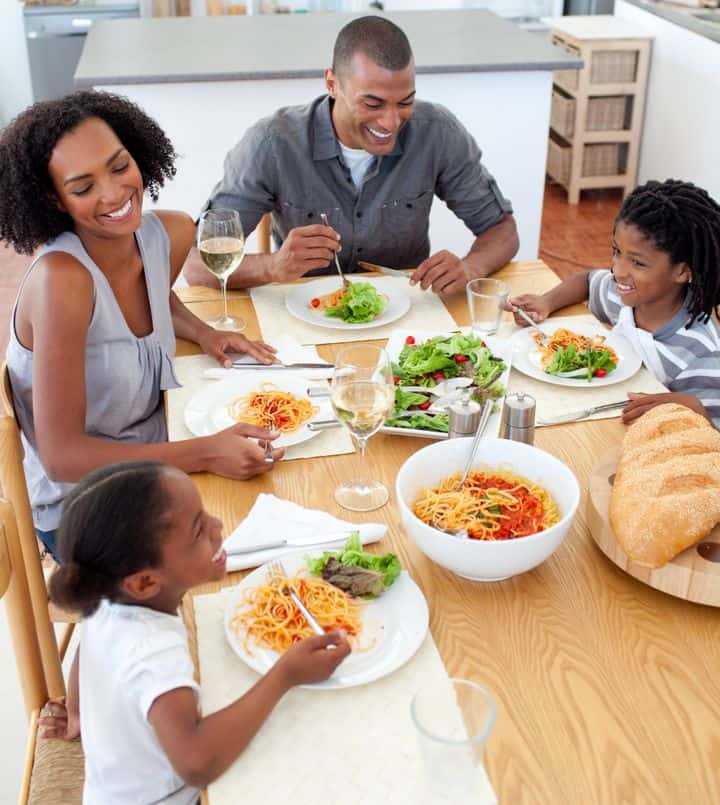 15. Paint Rocks
Isn't this this the cutest! It's a great, artistic way to focus and concentrate on the moment. Check out the how-to on these lovely painted rocks at Four Cheeky Monkeys!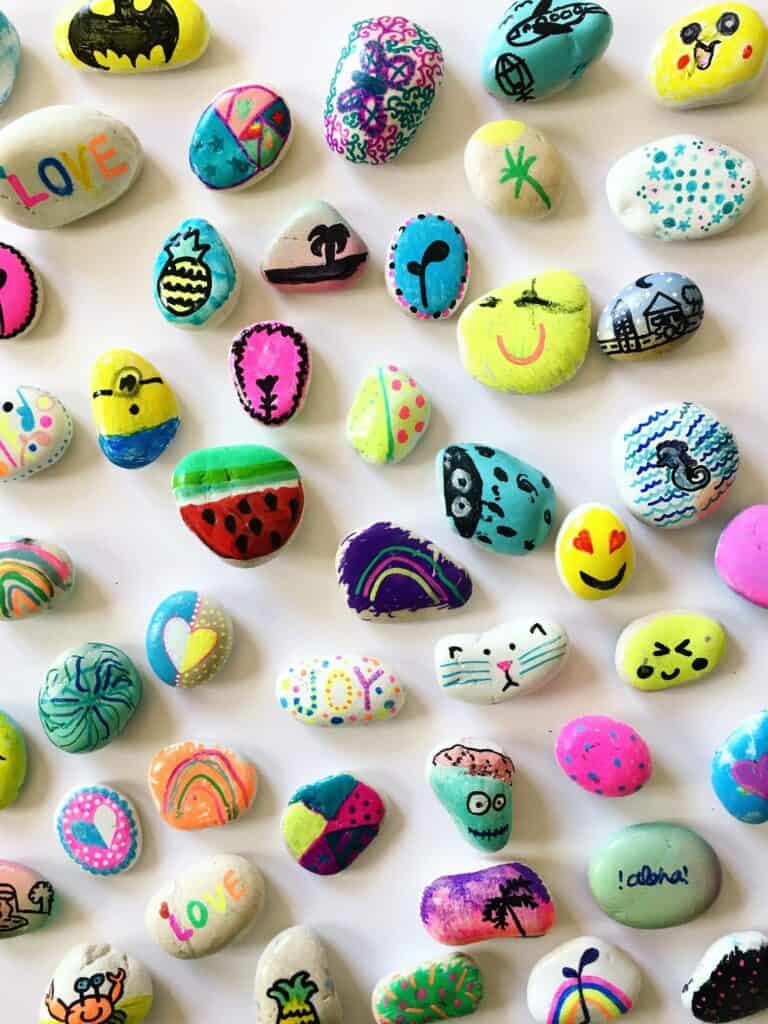 –
16. Mandela Hands
–
Check out this activity at Counselor Keri!
17. Reading For Fun
Reading. When you tune into a good book, you also tune out the world, making it a great activity to practice mindfulness. Reading is one of the best things we can do for ourselves, and it is a habit among successful people; but it's also a meditative practice!
–
I hope you enjoyed this list of mindfulness activities and that it gave you some great peaceful ideas to try with the kids at home!
I would just use these ideas as sheer inspiration and incorporate them into your kid's day as your start to get more mindful with their activities.
Do you have any other ideas that you think I should add to the list? PLEASE let me know in the comment section below! I would love to hear from you!
Also, remember to sign up for your FREE weekly activities planner on the top or the right side of the page and check out my printables page!