15 Valentine Crafts Toddlers Will Adore
Hi Everyone! Thanks for stopping by today 🙂 I'm excited for you to check out these adorable Valentine crafts toddlers will absolutely adore.
Every year around this time, we start to hear all the talk about how Valentine's Day isn't a "real" holiday, but I  have always viewed it as a great day to take even more time out to express how much we love each other.
It's especially great for young kids to be able to celebrate love between themselves and the ones who love them. So I decided to do a post for the Valentine's day "holiday"! lol. I love these cute craft ideas and I think your kids will too!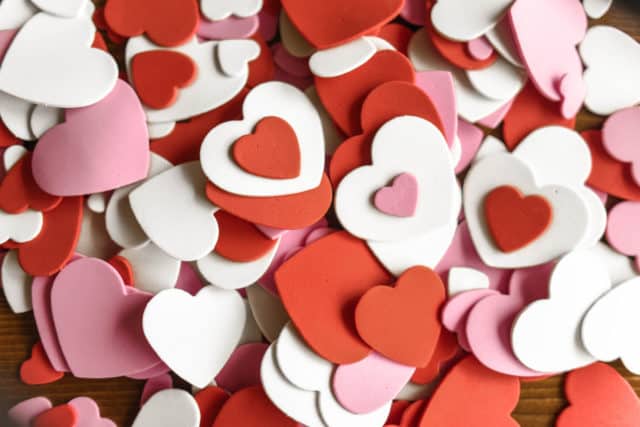 Quick and easy activities are the necessary for young children because  there is absolutely no guarantee a toddler will give your activity the time of day. That's one reason why I love to do crafts that can be used over and over again like my Chicka Boom Boom Tree Craft
Below I share a collection of V-Day activities that I view as simple, quick, fun, and creative 🙂 Enjoy! Also, if you are looking for cute gifts,  check out my post on personalized necklaces for mom to get some inspiration!
–
One of my favs. This heart tree project is a fun and easy way for your toddler to be a creative! Check out this DIY craft project out at artycraftykids.com
2. This cool crayon hearts arts project is creative and amazing! Very Cute. I will DEFINITELY be doing this project using this hearts baking pan. Check it out at princesspinkygirl.com.
3. I love activities that are simple and easy for my toddler! ( and involve tearing) Check out this DIY heart at loveplayandlearn.com
4. I love doing hand print crafts with children because they make great keeptsakes. They are so fun to look back on to see how small our little darling used to be. Check it out at nannyshecando.com
5. Kids love paint. It's a fact. Probably because it's messy. This is a great way to have a fairly mess free and simple craft idea for kids. See how it's done at fantasticfunandlearning.com
6. This one may get a little messy as well, so make sure to prep your table with a barrier. See how it's done at craftsonsea.co.uk
7. Again, keepsake craft ideas for kids are some of my favorites because they really last a long time and create great memories! Take a closer look at this at hellobee.com. (Scroll Down)
8. How cute is this craft? You mean scribbling is aloud and we still get something adorable? Genius! mymundaneandmiraculouslife.com
9. Again, toddlers can't get enough of paint and it's even better for. us parents when its mess free paint. Gasp! This is a great idea for all ages. mymundaneandmiraculouslife.com
10. These Thumbprint Hearts are so fun! Find it at redtedart.com
11.  This is an endearing and fun footprint art idea for Valentine's Day. Dads need love too!  youandkids.com
12. Keepsake projects are the best! They may take a little extra material and preparation, but the last forever. Check it out at www.inspirationalmomma.com
13. This is a great creative craft idea for kids. Personally did this one yesterday and my son LOVED it. Noise is good lol.  sunshinewhispers.com
14. Aww this one is a great Valentine's Day craft idea and its simple too! Check out this DIY activity at thepinterestedparent.com
15. My son loves chalk. Seriously, I mean he LOVES it. This is such a great way to allow toddlers to explore and play for this holiday of love! buggyandbuddy.com
–
More Cool Craft Ideas for the V-Day Holiday!
–
So I was back on YouTube the other day, looking for new hairstyle ideas (and how to do them), and I got sidetracked once again because, well, my children are clearly my life. I started looking up toddler crafts and activities videos for Valentines. I came across this great video that had even more ideas for you to look at.  Check it out!
It's amazing what you can find on Pinterest 🙂 I just love these ideas and I know my children do and will love them too. If you enjoyed this post let me know below in the comment section! Show me what some of your ideas are as well!

We hope you like the products we recommend. Just so you are aware, Keep Toddlers Busy may collect a share of sales from the links on this page. As an Amazon Associate I earn from qualifying purchases. Read more about our links in my disclosure policy.