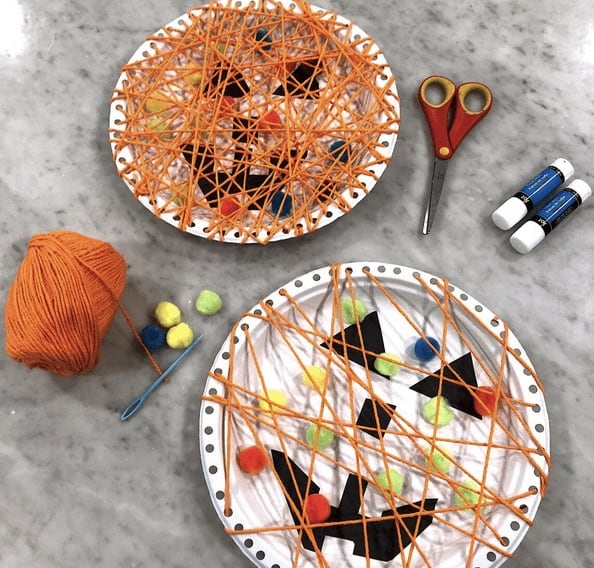 Fun Halloween Crafts for Kids: Trap The Pom Poms!
---
Create Some Amazing Memories This October With Super Fun Halloween Crafts For Kids! This Simple Paper Plate Pom Pom Trap Craft Is Easy Enough For Young Kids To Practice Fine Motor Skills & Fun For Older Kids Too!
The kids had a great time with this activity and it was a plus that they were able to build on their fine motor skills as well. They spent a considerable amount of time threading and then my son had a great time rescuing the pom poms too! My youngest child was tired after the first part lol.
I don't know about you but activities that are fun, work on skills, AND tire out the kids are what I call unicorn activities! This craft took about 10 minutes to set up and has medium difficulty.
This year in particular we are really getting into the spirit of celebrating and this is a great way to keep the Halloween festivities going this month. We will be doing all sorts of Fall and Holiday crafts and I'm really looking forward to it.
I hope you enjoy the craft and please leave a comment if you have any questions after checking out the setup!
If you love fall activity ideas, check out my recent posts on Halloween Crafts for Kindergarten or our giant scarecrow Fall Craft for Kids! Also, head on over to Pinterest and follow me for daily updated craft ideas and much more!
Fun Halloween Crafts For Kids
Pom Pom Trap Materials
1.I used large Paper plates for this craft activity but if you have younger children than mine, I would go with smaller paper plates.
2. Plastic Sewing Yarn needles
3. Orange Sugar and Cream Medium (4) Yarn
4. Stick glue and black construction paper for the jack-o-lantern face
5. Pom Poms
6. Single Hole Puncher
7. Scissors
8. Kid's plastic fine motor Tweezers
We hope you like the products we recommend. Just so you are aware, Keep Toddlers Busy may collect a share of sales from the links on this page. As an Amazon Associate I earn from qualifying purchases. Read more about our links in my disclosure policy.
Halloween Activity Setup
1. Gather all materials! (preferably while the kids are doing something else)
2. Punch holes around the circumference of the paper plates with the hole punch. Then prepare multiple pieces of cut yarn for each plate. Thread a piece of yarn with each yarn needle and keep the additional cut pieces nearby.
Again, this part will happen when the kids are not around if possible. My kids WERE around and I had the hardest time with them begging me to punch holes and wondering what I was doing with the string LOL. I had to slow down considerably to allow for this and proceed to punch holes with them.
Normally that would be fine, but the activity itself gives them PLENTY of time to have fun 🙂
3. Help the kids cut out and paste a Jack-o-lantern face on the paper plate using the construction paper! I used triangles for the eyes, a small square for the nose, and I helped them draw a toothy grin.
4. Add the pom poms!
5. Finally, tie the end of your prepared yarn to one of the paper plate holes, and allow your tot to push and pull the yard through the holes!
6. Try to guide them in going across the plate when they are going to a new hole!
7. You can either use a really long piece of yarn which will create lots of pulling, or you can do shorter pieces and re-thread the needle when necessary!
8. Later, my son got a kick out of rescuing the poms poms from the "jack-o-lantern web"!
Take a look at the pictures below to see what we did and how it turned out!
Before you do, check out another fine motor activity on my Instagram page and be sure to follow!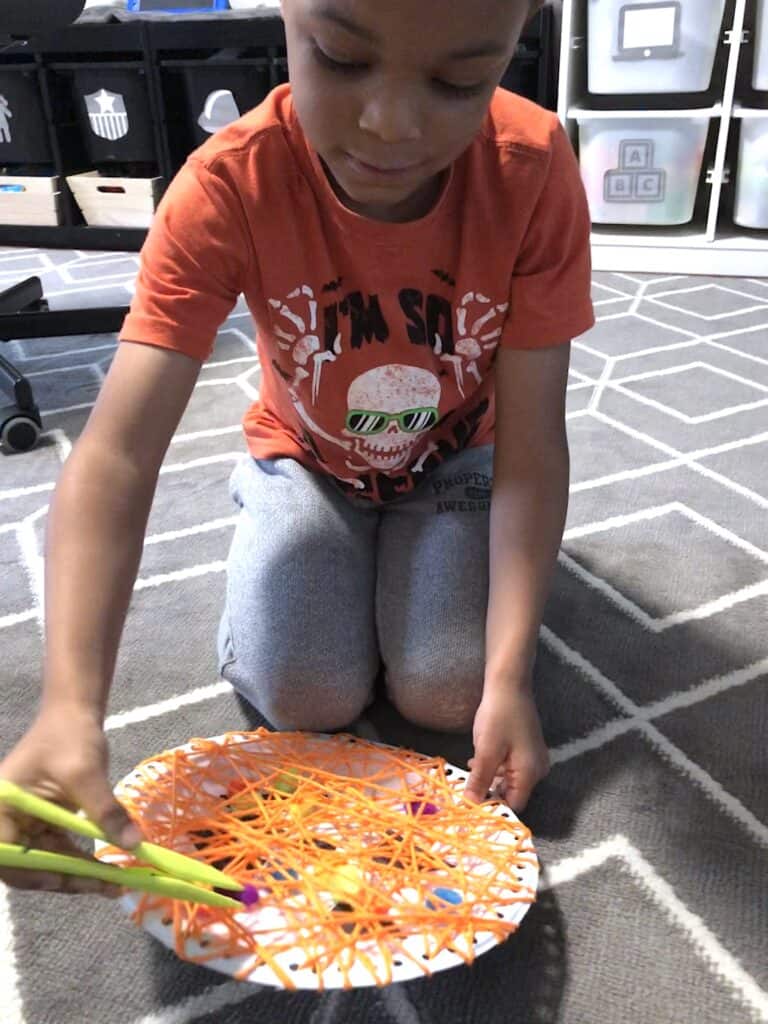 ---
For More fun, check out this video!
---
I hope you enjoyed this fun Halloween craft for kids! I wanted to try something different and also through in some fine motor skills for my daughter. We were pretty happy with the way that it turned out! If you have already started your fall crafts, please share below. Or let me know if you try this one!
Also check out my posts pages on great Halloween and Holiday crafts for more fun ideas! Crazy Little Projects also has amazing Halloween craft ideas for kids.
Also, remember to sign up for your FREE weekly activities planner on the top or the right side of the page and check out my printables page.