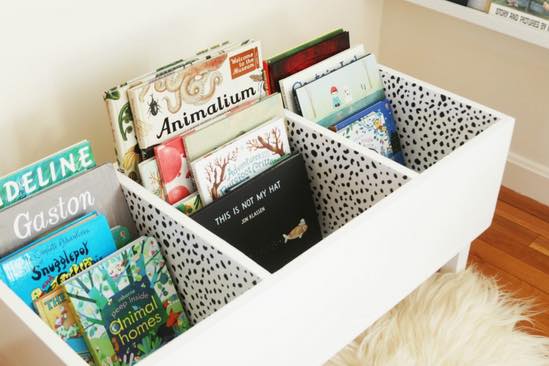 50 Clever Kid's Bedroom Storage Ideas You Won't Want To Miss
---
Hi Everyone! Welcome to my site and thanks for visiting. Please take a look around after checking out this post!
Today I wanted to take some time to talk about kid's bedroom storage ideas. I few weeks ago I published a post about adding kids playroom storage ideas into my home. A lot of people loved the post and I got a few messages asking for a kid's bedroom organization version of that post. Well I thought that was an awesome idea so here we are! Also if any of your kids are sweet little babies, be sure to check out my post on beautiful baby girl nursery ideas.
It's takes a lot of research to do these posts and I'm up for it! So here is some of the awesome research I've been doing. I am actually working on updating both my children's bedroom decor so its perfect timing.
Whatever the size of your kid's room; today I've collected all kinds of awesome ideas for how to tackle kid toy clutter in the bedroom and get your kid's sleeping space organized and awesome!
–
For kid's bedrooms, personally I love to see my toddlers with plenty of storage, but also room to be creative and imaginative. I love to see them with books, areas to play with toys , and areas to run around, especially if they don't have a separate playroom.
I started with some serious Pinterest searching. I LOOOOVE Pinterest!! Can't say it enough. If you love it too and are looking for even more kid's playroom ideas, then check out my Pinterest board on Playrooms and Kids Bedrooms!! Don't forget to follow me on for more ideas!
–
Bedroom Declutter Tips
---
Here are a few declutter tips before you tackle decor!
Take it step by step! Everything doesn't have to be done in one day. Too much stress for me lol.
Fill an entire trash bag. If you are switching things up, don't save everything. Fill a bag and donate to Goodwill or give it to a family member.
Create a clean up checklist. It's a lot easier to clean and design when you have a plan. Write out what you want to do.
Always take before and after photos! This will give you a lot of motivation to keep going. Move some things around, clear a few things to look at the difference.
Use the Four-Box Method. Get four boxes and label them: trash, give away, keep, or re-locate.
Get help inspiration Whether it's online, or you have a friend or family member with a declutter or design eye, get someone elses advise. You would be surprised what people think of that you havn'e thought of.
–
We hope you like the products we recommend. Just so you are aware, Keep Toddlers Busy may collect a share of sales from the links on this page. As an Amazon Associate I earn from qualifying purchases. Read more about our links in my disclosure policy.
Kids Bedroom Storage Ideas!
–
Closet Storage
–
1. Organized Closet Bins
Closet storage is the best storage in my opinion! Getting creative with your closet space allows more sleep and play space in the bedroom. All you need is some cube shelves, and beautiful baskets!
–
2. Door Racks and Containers
I love to use the closet door racks and containers for bedroom organization. So much awesome storage.
–
3. Doll Baby Closet Shoe Rack
Well, they are kids. Toys kind of their MO. What a great way to hold the dolls with no clutter! I love this closet shoe rack for dolls.
4. Cube Shelve and Cube Baskets
So in love with this pretty playroom and the open shelf storage. The tie-dye colors of the cube baskets are so unique but still perfect for kids!
–
5. Closet Door Hooks and Totes
Such a great idea! Shop this cool look here or basically anywhere!
6. Closet Storage and Seating
Such a great way to store and display toys.
7. Closet Rack and Shelf Look
This example pairs the closet rack with IKEA Trofast shelves and bins.
8. The Ultimate Organization
So Cozy, organized, and filled with toys. Perfect! If you don't have a built in shelving, use tall bookcase shelving.
9. Cube Shelve and Cube Baskets- Girls
Another favorite that is sure to please the kiddos. The basket and cube shelf combo is so easy and so customizable! Shop the striped cube and baskets now!
–
10. Cotton House Toy Storage Bag
This is another one of my favorites. Shop this look in here!
10a. Pillowfort Bedroom Storage
I love the entire Pillowfort Collection! Super affordable but super cute for any room. Find these amazing coiled rope storage baskets here!
10b. Rocket Shaped Wicker Storage!
–
Bed Storage
–
11. Bed Draws Combined with Containers
Love this.. Clean lines and still colorful. Book shelves, containers and a bed with storage makes for a great look. If you already have a bed with no drawers underneath, you can insert this.
–
12. Rolling Bed Drawer
My son is currently looking over my shoulder asking for this lol. I love the under bed wood storage without a train and I think it can easily be made into a train station!
–
13. Bed and Shelf Storage
I love how this shot has inconspicuous storage to keep the look clean. Such a great way to store and display books. I as;s LOVE the nugget play couch. I found a cheaper version here and a great rug here..
–
14. House Storage Bed for Siblings
–
I'm obsessed with this look. Two must haves in one. You can find this beautiful bed here! Took me forever to find it but so worth!!
15. IKEA Trofast Bed Hack
This is gorgeous, I love it. Get the how-to here! It may not look exactly the same, but a bed like this, with Trofast bins and Violà! You will have a beauty!
–
16. Bed with Double Drawers
–
Desks, Bookcases, and Shelf Storage
17. RiverRidge Toy Organizer
Love these shelves. The perfect combination of simple, colorful and cute.
–
18. Car Shelves and Road Tape
–
This is a great idea. I love the bumper shelf look.I found some awesome car tape for the road way look!
19. Wall Shelves
Again, the cozier, the better. Make it inviting for little one! Try a similar floor cushion look here! Great for a bedroom corner!
–
20. Multi- Sibling Desk Workspace
This desk is a hack from IKEA! It's actually a Svalnäs wall-mounted workspace combination. I love it and it took some digging to find the source lol. I WILL find a replica.
–
21. Wire Basket Wall Storage
–
I love these simple baskets! Shop this look here!
22. Desk Nook w/ Chalkboard
I love this little nook. I just love nooks in general. Find a chalkboard like this and pick up some desks and tin bins too and you can easily complete this look!
-F
23. Beautiful Cubby and Wardrobe
–
I LOVE THIS SO MUCH. Get this cubby and wardrobe here!
–
24. Toy Organizer Bin Shelf
Is this cute or what? 🙂 So much storage and easy on the pockets. Check it out here!
24a. Kidcraft Little Dreamers Reading Nook
25. IKEA "Lack" Shelf
–
Well they did it again. Shop the look here or head over to IKEA!
26. Tall Shelves and Toy Chest Seating
–
This is called maximum storage ans sometimes its just needed. Put all the stuff that you don't want your kids to reach up top! I found a similar toy chest here and I'm getting it! Check out ChesapeakeChic for how the look came together!
–
27. Beautiful White and Wood Bookshelf
I love this room! I found the bookcase here and here and it's on my to-do list. I also love the wallpaper and bed.
28. Four Cube Shelf With Animals Boxes
I love this cute idea! It's perfect for young toddlers. You can find the animal cube baskets here and the four cube shelf as well.
29. Gorgeous House Book Shelf
Why is this soo adorable?? I meeeaann. Ugh! My daughter would love it. Shop a this look here! I also love the wallpaper.
30. Adorable Desk Space!
This is super adorable for a girl's room, young and old.
Amazing Boy's Rooms
31. Double Desk and Shelving
I love this simple yet awesome setup. A white desk with storage and great chairs compliment the daybed!
32. Serene Room w/ Ladder Shelf
What a gorgeous boys room. Light and early looks with a unique ladder for books. I like this version a little better but it's lovely.
33. Superhero Room with Colored Bins
I love these oversized bins for storage! I would also through in some lego drawers!
34. Reading Nook and Storage Bookcase
Another great look. Amazing.
35. Neutral Pom Pom Cube Baskets
Some people just have the gift of design. Another great look. Shop the pom pom baskets here.
36. Dresser Storage
You cant go wrong with a dresser! Green seems to be IN. Gorgeous. The woven bean bag chair and crib is awesome.
37. Unique Farmhouse Shelving
This is so well put together! You can find the detailed tote , banana book ends, Shelf , and cinema board easily!
38. IKEA Svalnäs Work-Space
This desk is the same hack from Ikea above, but with a different take! It's actually a wall-mounted workspace combination. I love it and it took some digging to find the source lol.
39. Another IKEA Hack
Using IKEA Trofast structure, shelves, and tension rods, You can achieve this look!
Beautiful Girl Room Ideas
40. Beautiful Neutral Wood Bedroom
This look is whimsical and beautiful!
41. Window Seating Bedroom
In love with this bedroom! Thank you Pinterest! The seating can be made simply by getting wicker baskets and cube shelves. Shop the rug here! As well as the floor cushions, baskets, and curtains!
42. Rainbow Shelves
Gorgeous! You have to put multiple shelves together to complete the look, but you can find this beauty here!
Train Wall Shelf
This is an awesome little DIY project if you are handy! I love a good DIY project,but if that's not you, check out some other great kids shelves here.
43. Girl's Hexagon Shelving
So pretty! Grab some paint samples and use these hexagon shelves or these to achieve this look! I also found a kids dresser, chair, wall decals, and night stand that I think complete this look!
44. Farmhouse Wall Basket Storage
I have always wanted the wall basket down in my office area and I LOVE it. I've been anxiously waiting on it to come back in stock so I can grab it. This basket is great alternative!
05/12/2020 UPDATE: Woohoo! For those who asked, this rack is finally back in stock! Not sure how long it will last!
Matrix Kids made GREAT use of this rack! Take a look!
45. Sleepy Time Bedroom
Just Dreamy 🙂 This is what bedrooms are for. So sweet. I even love the star comforter.
46. Books and Baskets, Cube Shelf Combo
You can scroll up and find these cute cube shelves.
47. Doll House Room
Love this idea. So feminine and pretty if your child is into dollhouses. There are so many ways to pull this off, often with just a little paint. I love this doll house book shelf.
48. Rainbow Canopy Reading Corner
Every kid deserves a room like this at some point in their childhood! Reading is such an awesome hobby and habit to form. I really love the canopy tent, pink bean bag, and shelves.
49. Neutral Ladder Storage
I love a neutral room! We don't need pink every time! The ladder shelf, rug, crib, and baskets are gorgeous.
50. Pink Cube Basket Tags Room
I absolutely love this! Shop this look easily with the custom name tags and hanging tassels as a nice feature.
Their bedrooms are such an important part of our child's life. If not just for the simple fact that they spend a significant amount of time there. I truly hope that this post is utilized and I hope you enjoyed this list.
It should give you some great kid's bedroom storage and organization ideas to try with you family!
Do you have any other ideas that you think I should add to the list? Please let me know in the comment section below! I would love to hear from you!
Also, remember to sign up for your FREE weekly activities planner on the top or the right side of the page and check out my printables page!
–
–