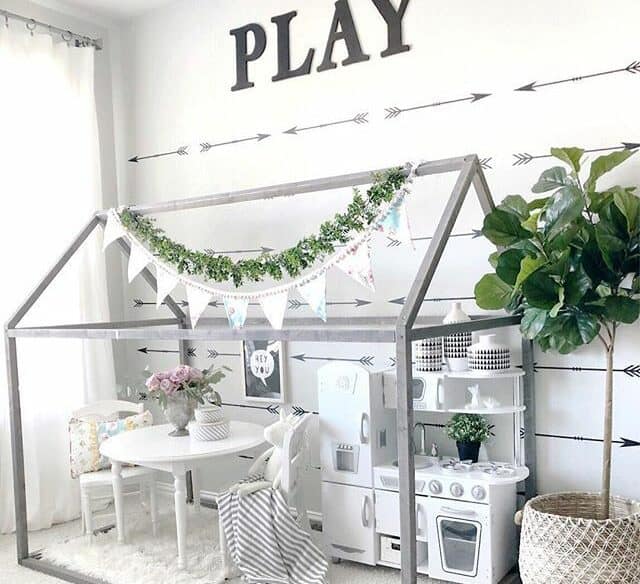 40+ Girls Bedroom Ideas With An Awesome Play Space
---
Hi Everyone! Welcome to my site and thanks for visiting. Feel free to take a look around after checking out this post!
Today I wanted to take some time to talk about girl's bedroom ideas with play or reading spaces in particular. Last year I published a post about adding kids playroom storage ideas into my home. A lot of people loved the post and I got a few messages asking for a kid's bedroom organization version of that post. So I added that, but then other's wanted ideas for a multi-use bedroom, so I'm back again!
So here is some of the awesome research I've been doing. I spent some time searching for ideas where our little girls can enjoy playing, reading, and pretending in their rooms. Sometimes a separate playroom is not feasible, so this is a great alternative for a fun kid's space!
Whatever the size of your kid's room; today I've collected all kinds of awesome ideas!
Also if any of your kids are sweet little babies, be sure to check out my post on beautiful baby girl nursery ideas as well.
–
For kid's bedrooms, personally I love to see my toddlers with plenty of storage, but also room to be creative and imaginative. I love to see them with books, areas to play with toys , and areas to run around, especially if they don't have a separate playroom.
If you are looking for even more girl's bedroom ideas, then check out my Pinterest board Kids Bedrooms!! Don't forget to follow me and out Keep Toddlers Busy on Instagram as well!!
–
Bedroom Organization Tips To Make Room For Play
---
Here are a few declutter tips before you tackle decor!
Take it step by step! Everything doesn't have to be done in one day. Too much stress for me lol.
Fill an entire trash bag. If you are switching things up, don't save everything. Fill a bag and donate to Goodwill or give it to a family member.
Create a clean up checklist. It's a lot easier to clean and design when you have a plan. Write out what you want to do.
Always take before and after photos! This will give you a lot of motivation to keep going. Move some things around, clear a few things to look at the difference.
Use the Four-Box Method. Get four boxes and label them: trash, give away, keep, or re-locate.
Get help inspiration Whether it's online, or you have a friend or family member with a de-clutter or design eye, get someone else's advise. You would be surprised what people think of that you haven't thought of.
–
We hope you like the products we recommend. Just so you are aware, Keep Toddlers Busy may collect a share of sales from the links on this page. As an Amazon Associate I earn from qualifying purchases. Read more about our links in my disclosure policy.
Kids Bedroom Play Space Ideas!
–
Girls' Bedrooms with Pretend Play
–
1. Kitchenette Pretend Play
My daughter loves her kitchen so I thought it would be great to have some bedroom kitchen ideas. Getting creative with your space allows more sleep and play space in the bedroom. Shop the table set, and pink play kitchen!
–
2. Sparkle and Shine Dress Up Station
I love a good dress up station! The dress rack and shoe rack is so adorable! I also love the sign.
–
3. Princess Dress-up Rack
How perfect is this for a little princess? What a great way to hold organize dresses! I love ideas of the crown at the top with the wall mounted racks.
4. Built-ins with Market Stand
So in love with this pretty room and the moss green built-in shelf storage and bench. The small market stand is a great addition to a bedroom.
–
5. House Mural Wallpaper and Doll House
Such a great idea! Shop this cool look here add the dollhouse for the perfect pretend play setting!
6. Chalkboard Closet Door Play Area
The is a perfect way to add an art space to a bedroom! You can use chalkboard paint or buy chalkboard contact paper rolls to complete this look.
Loft Bed Play Spaces
7. Cotton House Toy Storage Bag
This is another one of my favorites. Can we say multi-purpose? Shop this look in here!
Here it is with another design! Love this soo much.
–
–
8. From Closet To Playhouse
Love this.. A bed with a play space makes for a great project! If you like this, check out this great how-to on how to make a DIY closet Loft!
–
9. Tree house Bed
I love this Pottery Barn tree house bed! The reading nook underneath is the perfect bonus.
–
10. Bed and Shelf Storage
This is a next level loft bedroom with a play space and I'm loving it 🙂
–
11. Jojo Bunk Bed Accessories
–
You can find this beautiful bed accessories here! Took me forever to find it but so worth!!
12. Princess Castle Bed
This is a great way to sleep and play! I love the slide and my daughter would love the castle.
–
13. Bed with Double Drawers
–
Here is some great inspiration for an amazing playroom. I love the built- in loft. I would try this look with a loft bed, curtains, heart lights,and dress rack! You can also go with a higher loft bed for longer curtains!
Bedrooms Ideas with Book Nooks
14. Reading Nook Rug
A simple way to add a reading nook! Love the plush rug. The perfect combination of simple, colorful and cute.
–
15. Built-In Closet Reading Nook
–
This is gorgeous! Check it out here at Katie Lamb!
16. Wall Shelves
Again, the cozier, the better. Make it inviting for little one! Try a similar floor cushion look here! Great for a bedroom corner!
–
16. Space-themed Reading Nook Bedroom
Girls can enjoy space too right?? 🙂 I had to include this awesome bedroom with a space-themed reading space.
–
17. Reading Nook and Storage
–
I love these simple reading nook and storage for the bedroom! Shop this look here!
18. Closet Book Nook w/ Beanbag
I love this little nook. I just love nooks in general but this is a great closet design. Find floating shelves like these, a cute rug, and pick up a great beanbag too to easily complete this look!
-F
19. Whimsical Book Nook
–
I LOVE THIS SO MUCH. Get the how-to at The House of Hood Blog. Get this shop this rug and super cool hanging egg chair look here!
–
20. Rainbow Canopy Reading Corner
Every kid deserves a room like this at some point in their childhood! Reading is such an awesome hobby and habit to form. I really love the canopy tent, pink bean bag, and shelves.
Girl's Bedrooms with Tents
21. Sheer Castle Tents
I love this simple yet awesome castle tent!
22. Cottage Bedroom Tent
What a gorgeous little tent!
23. Superhero Room with Colored Bins
Another great tent for the little one that loves pink! This colorful tent is perfect for reading, pretend play, and just relaxing 🙂
24. Whimsical Garden Bedroom Tent
Another great look. Amazing. Check it out at Bless This Nest.
25. Natural Canvas Playhouse Bed
Some people just have the gift of design. Check out this beautifully designed look here!
26. White on White Bench Nook
I LOVE this look! Shop similar looks below!
Dresser Night Stand | Curtain Lights | Tufted Bed | White Bench | White Shag Rug | Faux Fur Ottoman Cube
HGTV Worthy Girl's Rooms
27. Beautiful Natural Wood Bedroom
If you have the space, an art station in the bedroom is a must! I love the tray, pom pom garland, and table set!
28. Fun Pastel Bedroom
In love with this bedroom! Thank you Pinterest! This room has it all. Shop the loft bed here! I also love the table set and rug!
29. Bedroom Swing
Gorgeous! I'm not this brave but if you are, you can find this beauty here!
30. Colorful Fun Room
Check out this awesome bedroom at Mooui.com
31. Jungle Gym Play Bedroom
Okay this design is amazing! . I get so much inspo from this playroom room.
32. Sleepy Time Bedroom
Just Dreamy 🙂 This is what bedrooms are for. So sweet. I even love the star comforter.
33. Green Dream Bedroom
I'm in love with the moss green color used here! Shop another cute green table set here or here !
34. Doll House Room
Love this idea. So feminine and pretty if your child is into dollhouses. There are so many ways to pull this off, often with just a little paint. I love this doll house book shelf.
35. Natural Wood Bunks
I so love this bunk bed combo. Shop the look here!
36. Forest Table Set
I love this room! Especially the rug, bear chair and table set!
37. Two Story House Bed
38. Soft Cushion Reading Nook
For your sweet kids who love to read, how cute are these little cushion nooks to cuddle into with a good book?
39. Garden House
40. Pastel Room
I absolutely love the bed and seating combo!
Their bedrooms are such an important part of our child's life. If not just for the simple fact that they spend a significant amount of time there. I truly hope that this post is utilized and I hope you enjoyed this list.
It should give you some great kid's bedroom play space ideas to try with you girls!
Do you have any other ideas that you think I should add to the list? Please let me know in the comment section below! I would love to hear from you!
Also, remember to sign up for your FREE weekly activities planner on the top or the right side of the page and check out my printables page!
–
–