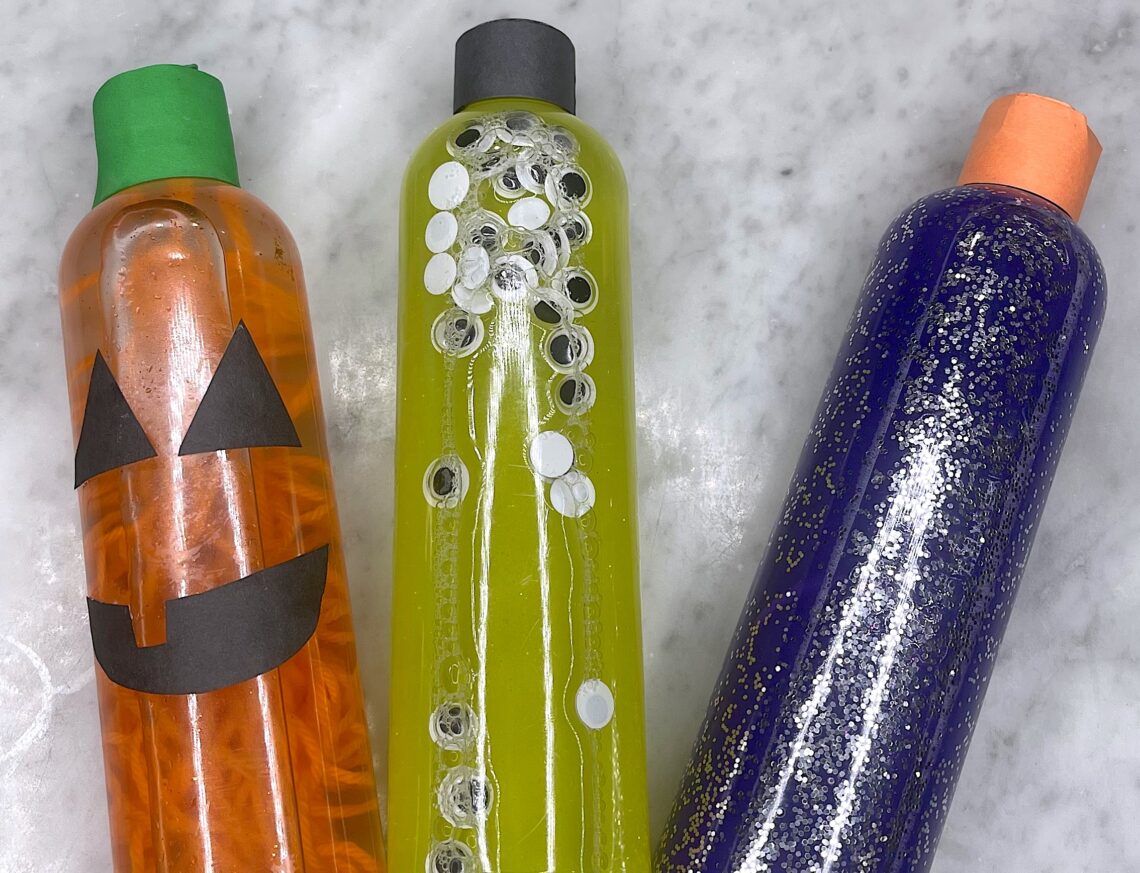 Three Fun and Easy Halloween Sensory Bottles For Kids
---
These three Fun and Easy Halloween Sensory Bottles For Kids will be a hit in your home this October!
Halloween Sensory Bottles are the perfect activity for you and your kids to get into the spooky spirit! Not only do these bottles provide a unique sensory experience, but they also double as festive decorations. So, let's roll up our sleeves, have some crafty fun, and create these eerie, yet oh-so-cute sensory bottles!
But wait, before we do that! If you enjoy this Halloween-themed sensory bottle craft, make sure to check out my other posts, like the Family Halloween Costumes post and Halloween Movie Night. And for daily craft and activity updates, don't forget to follow me on TikTok and Instagram.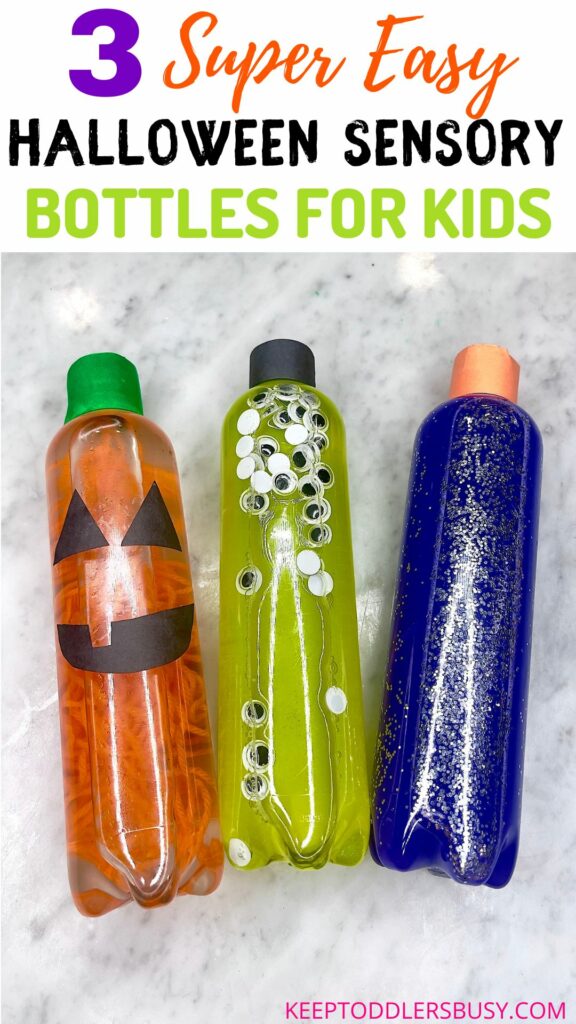 Halloween Sensory Bottles
We hope you like the products we recommend. Just so you are aware, Keep Toddlers Busy may collect a share of sales from the links on this page. As an Amazon Associate, I earn from qualifying purchases. Read more about our links in my disclosure policy.
The Orange Pumpkin Sensory Bottle
Supplies:
Recycled bottle
Water
Glue stick
craft foam
Construction paper
Directions:
Fill your bottle 3/4 full with water.
Cut medium pieces of orange yarn and place them inside the bottle until it resembles the color of a pumpkin.
Using your construction paper, cut out a pumpkin face (think eyes, nose, and a quirky mouth).
Glue the face onto the front of your bottle.
Glue green craft foam or construction paper on the cap
Tighten the cap, give it a shake, and enjoy your adorable pumpkin bottle!
The Goopy Googly Eyes Monster Sensory Bottle
Supplies:
Water
Yellow glitter glue (Dollar Store)
Yellow food coloring (Dollar Store)
Yellow/green washable paint (Dollar Store)
Directions:
Fill your bottle halfway with water.
Add a generous squirt of yellow glitter glue and a few drops of yellow food coloring.
Add a splash of the yellow and green washable paint for an extra layer of color.
Close the lid, and shake until well combined.
Stick googly eyes onto the front of the bottle to create your quirky little monster. The more eyes, the better!
Add construction paper of your choice to the cap. I chose black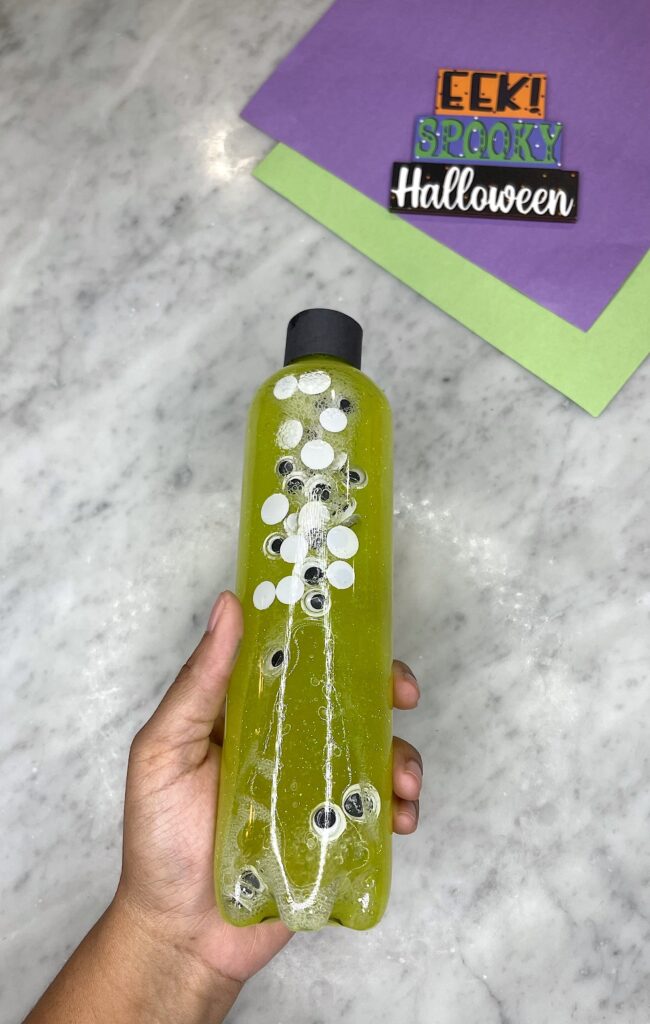 The Purple Galaxy Bottle
Supplies:
Water
Purple glitter glue
Purple washable paint
Directions:
Pour water into the bottle, leaving a few inches at the top.
Add a generous amount of purple glitter glue and purple washable paint.
Sprinkle in your chunky silver glitter to resemble stars in a far-off galaxy.
Close the cap tightly and shake until your galaxy forms.
Add construction paper of your choice to the cap
There you have it – three delightful Halloween sensory bottles, ready to thrill and mesmerize your little ghouls and goblins. They're not only entertaining but also a great way to enhance tactile and visual sensory play.
Lastly, if you're looking for more art inspiration, Mod Podge Rocks has a fantastic post with spooky crafts! Happy crafting, and may your Halloween be filled with joy, laughter, and lots of crafty fun! 🎃👻🍂
I've been an activity mom for almost 9 years and have over 15 years of experience crafting, writing, and creating. My mission is to bring fun, balance and learning to your busy homes with activities, tips, inspiration, and organization!