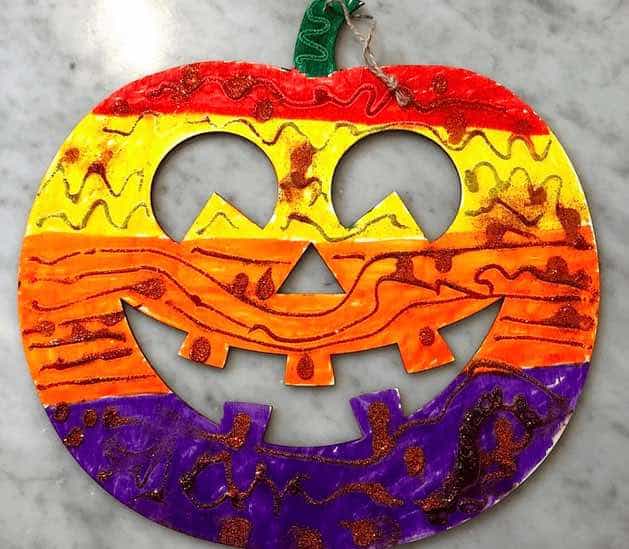 Fun and Easy Halloween Craft For Kindergarten
---
If you are looking for a great Halloween craft for Kindergarten you are in the right place today. The kids had a great time decorating their jack-o-lantern with glitter and markers. It sounds kind of funny, but smooth wood is a great canvas for markers. It glides on very smoothly.
Both of my kids have been painting a lot lately so we switched it up a little, and had a great kick off the Halloween and Autumn season.
This year in particular I plan to celebrate my butt off with anything that I can celebrate. We will be doing all sorts of Fall and Holiday crafts and I'm really looking forward to it.
I hope you enjoy!
Oh and before I forget, If you love fall activity ideas, check out my recent posts on Fall Craft Ideas Toddlers Will Love or Fall Crafts for Kids. Also, head on over to Pinterest and follow me for daily updated craft ideas and much more!
Halloween Craft For Kindergartners
Jack-o-Lantern Art Materials
1.Large roll of Brown Paper or a plastic table cloth to catch the mess. You can get thicker butcher paper rolls online here but this time i chose the table sheet.
2. I use paint tape to hold the paper down because it comes up easy and doesn't leave residue behind.
3. A wooden craft jack-o-lantern
4. Glitter glue, markers, regular glue, glitter
5. Craft Tray
We hope you like the products we recommend. Just so you are aware, Keep Toddlers Busy may collect a share of sales from the links on this page. As an Amazon Associate I earn from qualifying purchases. Read more about our links in my disclosure policy.
Wood Craft Painting Setup
1. I started by spreading the white plastic table cloth and taping the edges to the table so the paper wouldn't move.
2. Next I put all the supplies together on the table and also put down a poster board to catch the extra glue and glitter.
I honestly try to stay away from glitter but the kids love it so much lol. So every once in a while I take out the glitter and pray for my sanity 🙂
3. I let the kids know that we would color the wood with the markers first, then we would use the glitter. I had to say it a few times but it makes the activity go so much more smoothly!
4. After coloring I allowed them to be creative! I helped to guide them and give them ideas, and they ran with it.
5. We started with squiggly lines using the glitter glue, then we used regular glue and sprinkled more glitter on top of the glue.
6. Make sure you save the glitter for reuse!
Take a look at the pictures below!
Before you do, check out another painting activity on my Instagram page and be sure to follow!
---
I hope you enjoyed this fun Halloween Craft for Kindergarten! I wanted to try something different this year and it turned out to be a hit. If you have already started your fall crafts, please share below. Or let me know if you try this one!
Also check out my posts pages on great Halloween and Holiday crafts for more fun ideas! Best Ideas For Kids also has amazing holiday craft ideas for kids.
Also, remember to sign up for your FREE weekly activities planner on the top or the right side of the page and check out my printables page