Celebrate Craft Month With the Klutz Bio Chem Creatures Kit!
Thank you Scholastic and Klutz for sponsoring this post!
---
March is Klutz craft month and we are excited to join in on the fun this year!
When it comes to our kids, what can be better than fun and learning at the same time. As an activity mom, I am constantly striving to achieve this for the kids, especially if it can be done independently. (my happy place)
I am a huge believer of bringing science into the home at an early age so I was super excited for the kids and I to get a chance to partner with Scholastic Klutz and try out the Bio Chem Creatures squishy, gooey STEM kit. (Just those words alone piqued my kid's interest :))
II was happy to grab the kids and headed over to the kitchen island, and later the dining room table, to get started with this uber fun experiment kit.
These experiments were perfect for my 7 year old to enjoy independently. There were ample instructions, with pictures (yay), that allowed for independent play. However, my almost 5-year-old daughter was not having it. The allure of the squishy bio monsters was just to much to resist so I stepped in to help her participate as well!
In fact, she was first in line as you can see in the pictures below!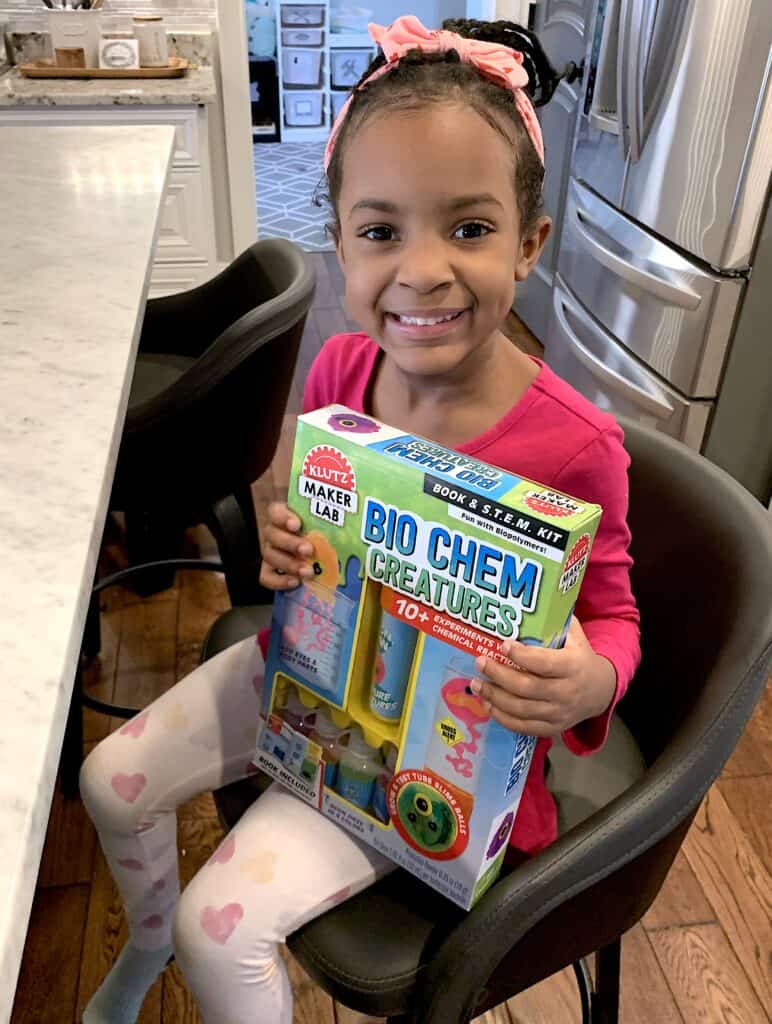 The great thing about this craft kit is that the instructions allowed for some flexibility. We started with a few experiments (there are 10 in all), and then we took a break and completed a few more experiments later.
All in all, the experiments provided us with hours of fun and the kids really learned some lessons about science, patience, and following instructions. That's a pretty sweet deal if you ask me.
Below, I share some of my best tips and takeaways to get the most out of your Scholastic Klutz Bio Chem Creatures Experience!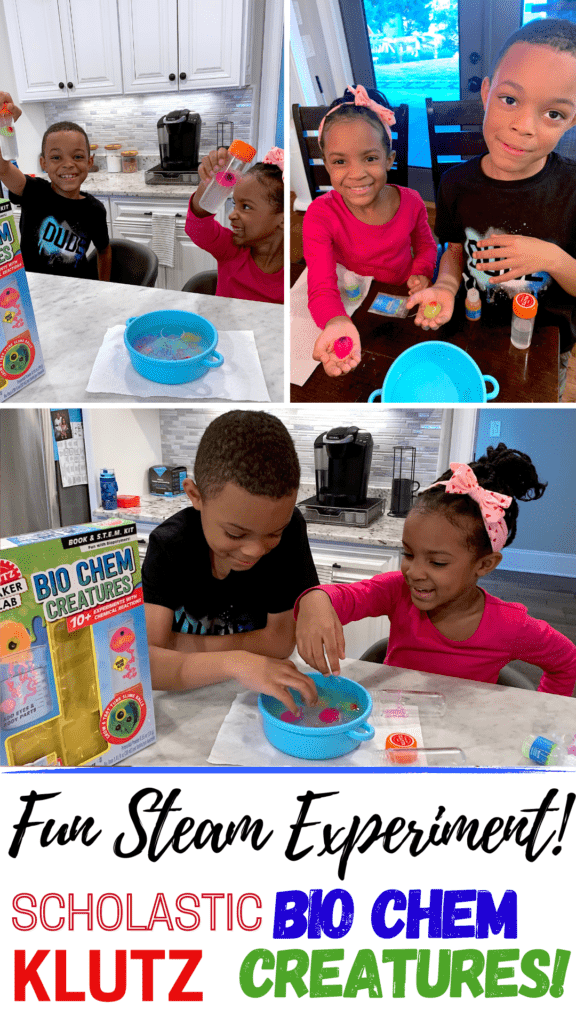 Klutz Bio Chem Creatures STEM Book & Kit
Craft Materials
This craft kit has a lot of cool materials for the experiment. Take a look at the list below:
32-page book of bioscience, experiments, and more
4 bottles of neon bio ooze
Primordial powder
Creature parts
Specimen sticker sheet
Scoop
Pom-poms
2 test tubes with caps
Eyes
Here's what you should provide:
I suggest taking out all of the materials and taking a look at which experiment you want to do with the kids first. As you can see below,this step gets the kids excited, but also allows for planning.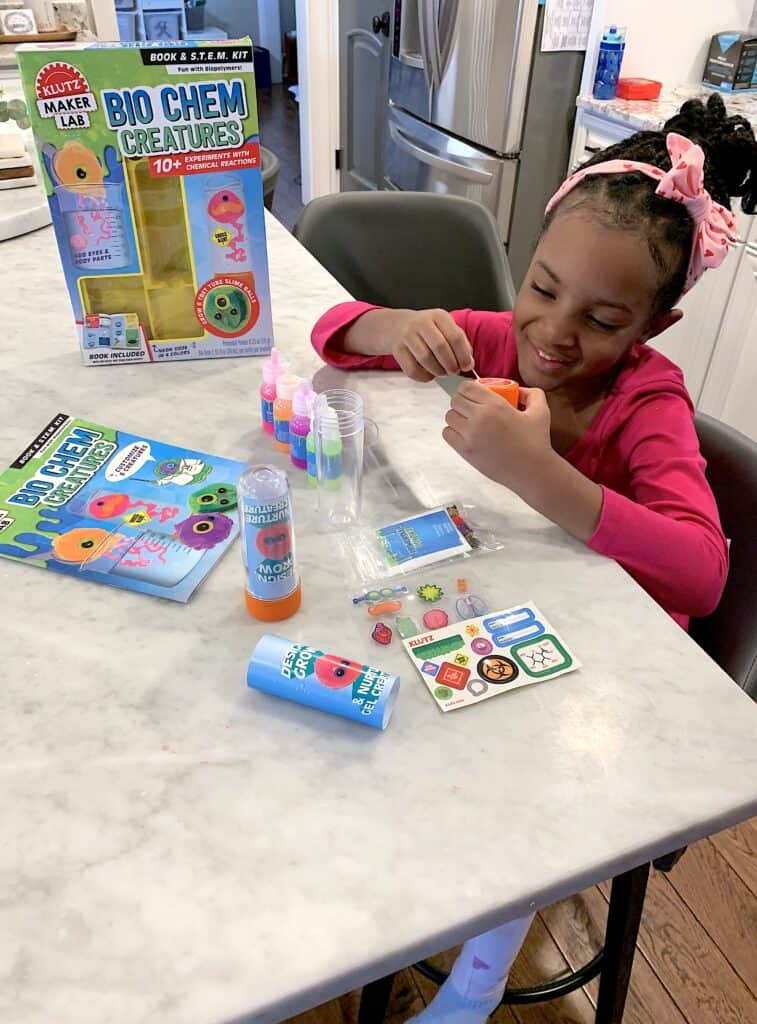 The Bio Chem Creatures Book is Amazing
The book will guide you through the experience! With this project you will create 6 creatures in an aquatic terrarium. My son and daughter poured neon colored gel to form biopolymer blobs from the chemical reactions.
The 32-page book contains tips and tricks as well as information on the setting up your own laboratory, the scientific method, metamorphosis, chemistry and so much more.
There are ten activities to explore life cycles, adaptation, and everything science related. The kids were able to showcase their creations in their test tubes as well.
They were even able to make gooey blob faces. It's like dream-come-true science for kids.
I felt like the Scholastic and Klutz Bio Chem Creatures Kit provided instructions that were perfect for school aged children and up, but also provided a family project that allowed our daughter to learn how to complete an experiment step by step.
They were very clear and easy to follow and all the materials needed were supplied.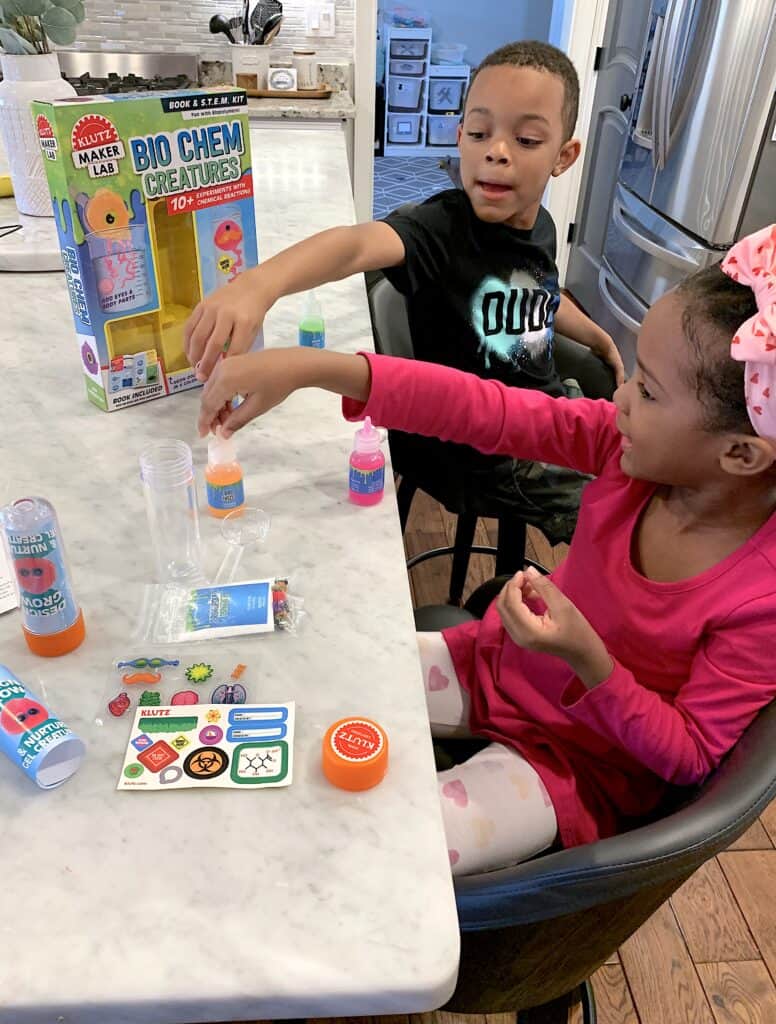 My Takeaways
Oh the sliminess of it all! 🙂 The. Kids. Had. A. Blaast! This was the perfect mix of science, gooeyness, eyes, and fun!
If you happen to have an older child who can follow simple instructions, this is also a great rainy day weekend project to complete independently. But it's also great for a family to complete together.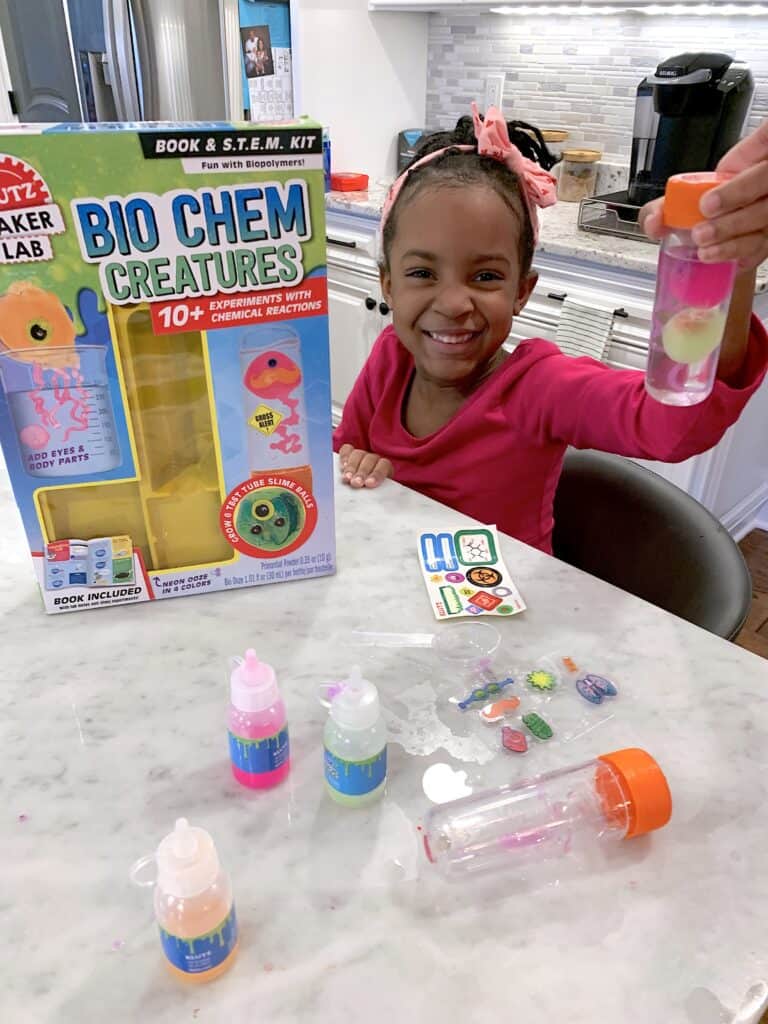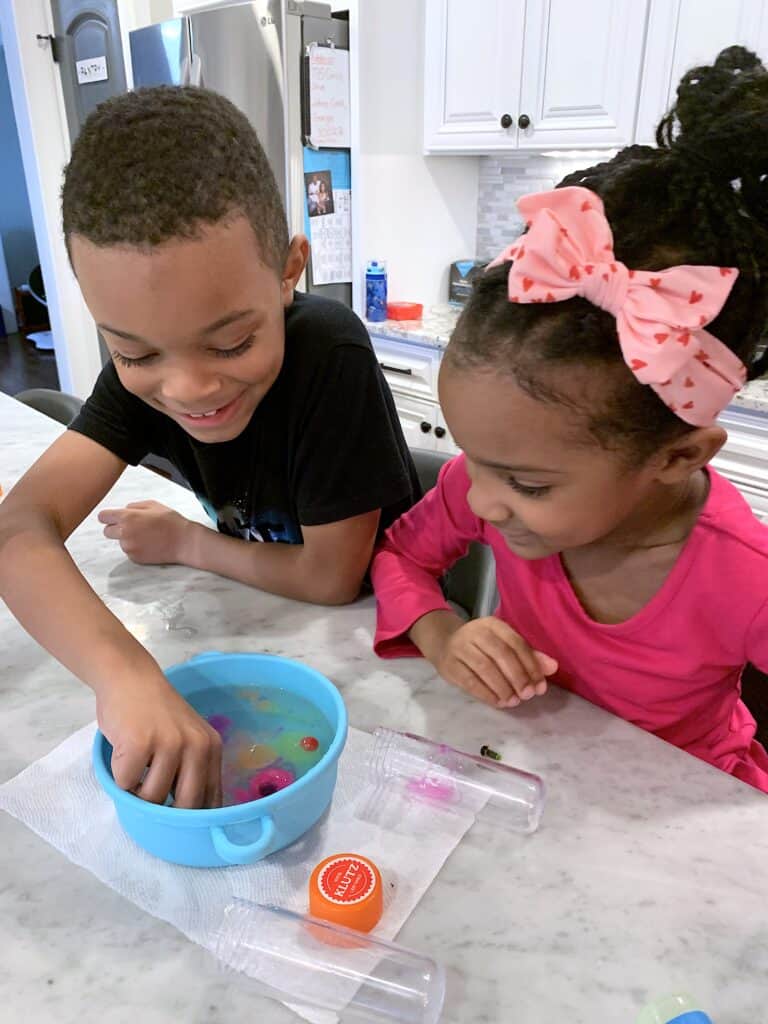 I hope you enjoyed this fun Bio Chem Creatures STEM post! Please comment below and let me know if you have had a chance to enjoy any of the Scholastic and Klutz DIY craft kits!
I've been an activity mom for almost 9 years and have over 15 years of experience crafting, writing, and creating. My mission is to bring fun, balance and learning to your busy homes with activities, tips, inspiration, and organization!