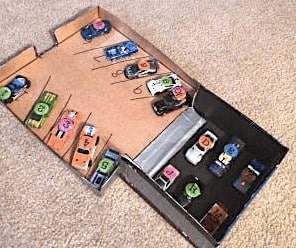 Awesome Toddler Matching Activities using Cars
---
Here is an awesome toddler matching game that the kids really love! I love when you can included toys within the learning process of crafts. The crafts tend to last much longer and they are often more enjoyable in general!
If you're like me, you are constantly looking for free, fun, and easy ways to help your toddler stay active and happy. If you throw in a little bit of educational learning time then you score bonus points.
That is why I was ecstatic when this easy toy car garage project was completed at no cost. All the materials used were found in my home, so I will share how this particular project turned out. But honestly, you can be as creative as you want and go as big or small as you want.
Make sure to check out my other fun learning activities including toilet paper crafts, and Fine motor counting activities as well! Also, head on over to Pinterest and follow me for daily update craft ideas!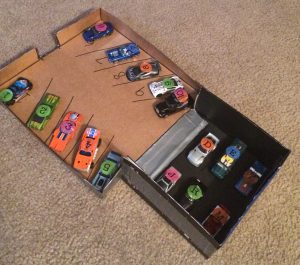 –
–
Car Garage Number Matching
–
Keep Toddlers Busy is a participant in the Amazon Services LLC Associates Program, an affiliate advertising program. As an Amazon Associate, I earn from qualifying purchases. Read more about these links in my disclosure policy.
–
Materials
–
As I mentions before, I basically used materials I found around the house!
An old pizza box
2. A second empty box
3. Brown paper
4. Duct tape
5. Markers
6. Alphabet and/or number stickers (or paper and clear tape)
–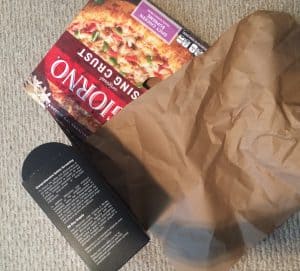 –
=
Instructions



–
First, if you are using an enclosed box, you will want to cut the top off of the box. Next, if the box needs it, you will tape up any sides that are lose. Next, I decided to duct tape the cardboard paper on the bottom of the pizza box and also duct tape the sides. This was purely for aestheticsI just wanted to cover up the pizza signs. 🙂
Next, you can cut out an opening square out of the box to allow cars to "roll in" and you can even attach a separate "VIP" garage with duct tape as shown in the first picture at the top of this post. Haha!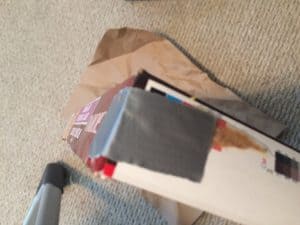 =
Number Match
–
Next, I used a black marker to make parking space lines and draw numbers and letters on each parking space. I then used the stickers I had laying around to match those numbers and letters to corresponding cars.
–
Let's Play!
–
Depending on how old your toddler is, you may need to show them how it works. With my son, I rolled the cars in through the openings and "drove" the cars to the corresponding number and/or letter parking spots. Before I knew it, he was having fun on his own! Does your toddler love cars or matching? Please share below!
–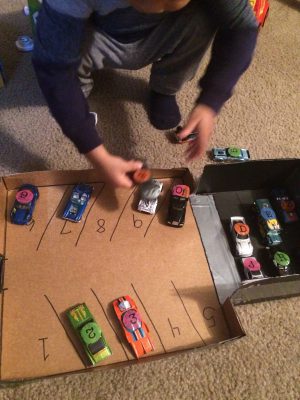 –



If your toddler is just starting out with matching, here is a great video to help them learn the concept.
–
–
I hope you enjoyed this Car matching game activity post and it gave you some great ideas!
Please comment below and let me know some activities you do to keep your kids entertained! I would love to see some additional ideas!
Also check out my posts on a great shape sorting activity and popsicle stick crafts for more fun ideas!
Remember to sign up for your FREE weekly activities planner on the top or the right side of the page and check out my printables page!