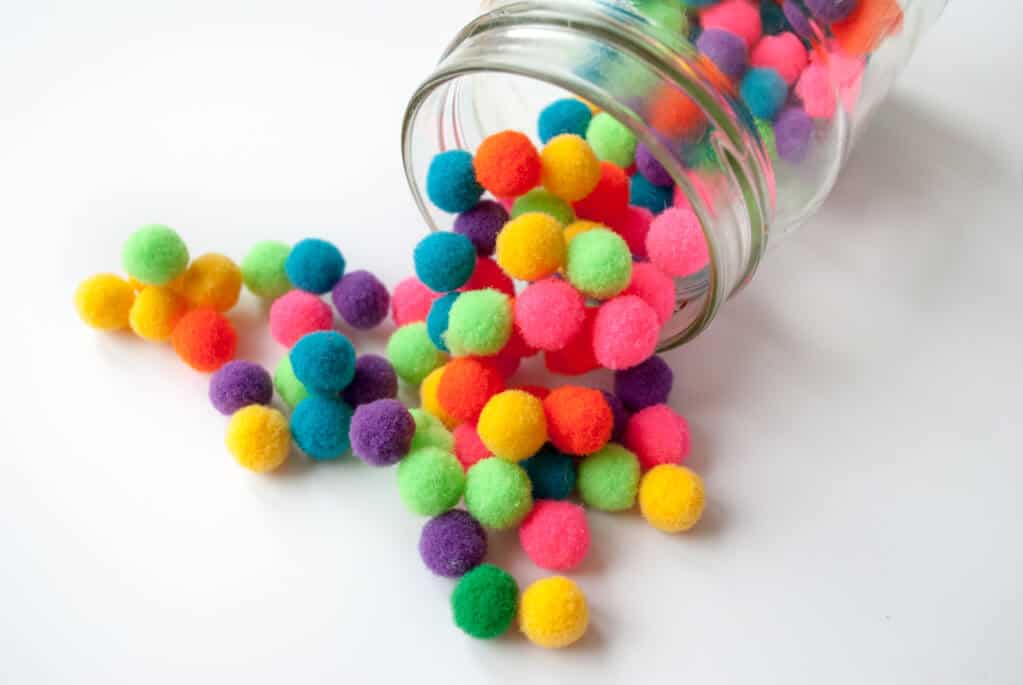 6 Awesome Pom Pom Crafts for Kids
---
Pom pom crafts for kids are my absolute favorite. It's so easy the do and the kids love it. The great thing is that pom pom activities can also double as sensory activities for younger kids, and then you can more detail and creativity for older kids.
I love to find creative ways for my children to both learn AND have fun. Babies, toddlers, and preschoolers have such an innocent curiosity to learn anything they possibly, and they really do learn from anything, not just sitting in a classroom.
So it honestly doesn't take much at all for us parents, grandparents, and caregivers to be creative and teach our children during our day to day activities.
–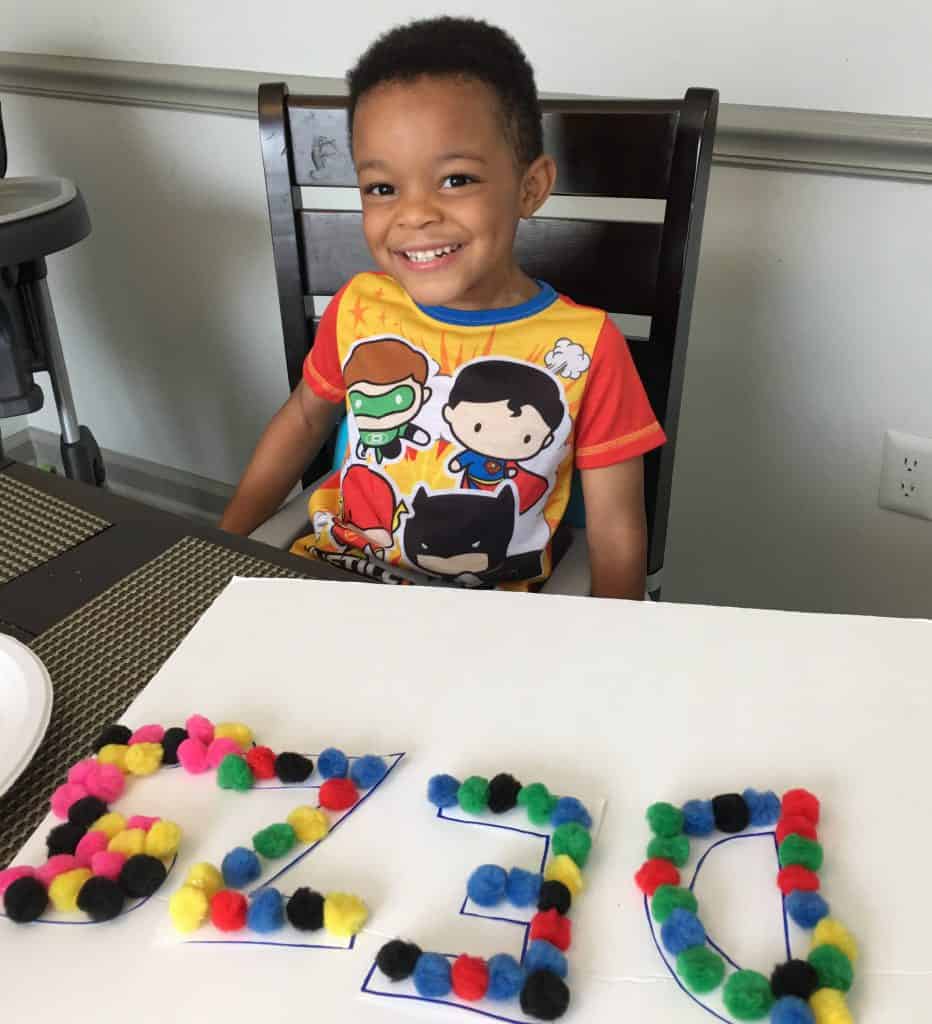 The great thing is that sometimes the simplest things can turn into the absolute best toddler activities! This pom pom crafts for kids post will give you some great ideas that your child will definitely enjoy and also use over and over again! When you are done, head on over to my Pom Pom Frame post!
If you love these ideas also be sure to check out my post on 3 ingredient art crafts and dollar tree craft ideas as well! You can never have too many ideas lined up to keep your toddler busy. Also be sure to check out hands on as we grow's post for more ideas!
–
–
–
The Best Pom Pom Crafts!
=
1."Spell Your Name" Pom Pom Craft
–
Get Your Supplies

This is probably one of my favorites parts of this activity. I LOVE shopping and I LOVE finding value for cheap prices even more! Everything you need can be found with one trip to the dollar store and shouldn't cost any more than 2-3 dollars! Here is a list of the items you will need if you don't already have them at home.
A bag of Pom Poms (if you plan to do a lot of crafts you can get larger bags here)
Index cards or any strong paper
Glue
Scissors
We hope you like the products we recommend. Just so you are aware, Keep Toddlers Busy may collect a share of sales from the links on this page. As an Amazon Associate I earn from qualifying purchases. Read more about our links in my disclosure policy.
–
Draw and Cut out Your Child's Name
After drawing out the letters onto the index cards, just cut them out! I shortened my son's name to his nickname and I only did the first letter of my 18 month old's name.


–
Apply Glue and Let the Fun Begin!
This part of the activity is very simple and fun for your child! The trick is to apply a line of glue section by section and allow your toddler to apply the pom poms as you go. If you do it this way, the glue will not dry out and there is also less chance of a glue disaster 🙂
As for colors and design, whatever you are feeling that day, just go with it ? I will say that one of my most important tips for any activity involving toddlers is to try your best to have things already set up before you present activities to you tots, if possible. Prevention is Key! Having the letters already drawn out was a life saver for me because my son is not into waiting lol.

–

–
Finished Product!
Let them do it however they want! Toddlers LOVE to show their independence, so I always try to allow for flexibility with these types of activities. Enjoy!

–
–
2. DIY Pom Pom Frame
–
I love keepsakes! This super easy craft idea would be super cute with a little photo added inside. Check it out at theartkitblog.com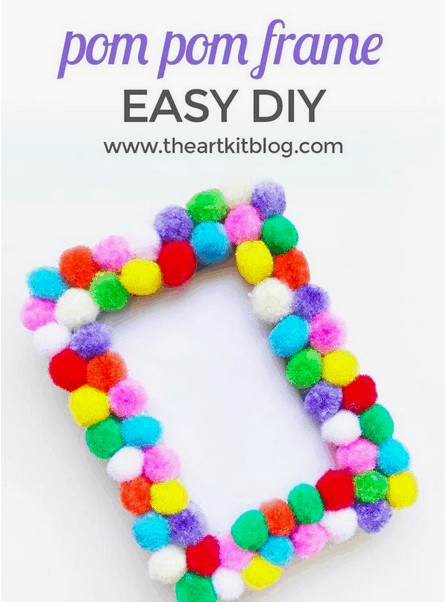 –
---
Sidenote: I Loove Green Craft Kids. If you are looking for Hands-on science and art kits delivered each month for ages 2-10+, check this out!
---
–
3. Pineapple Pom Pom Craft
–
Who doesn't love pineapples? 🙂 This is a great activity to promote imaginative play! Learn more at mypoppet.com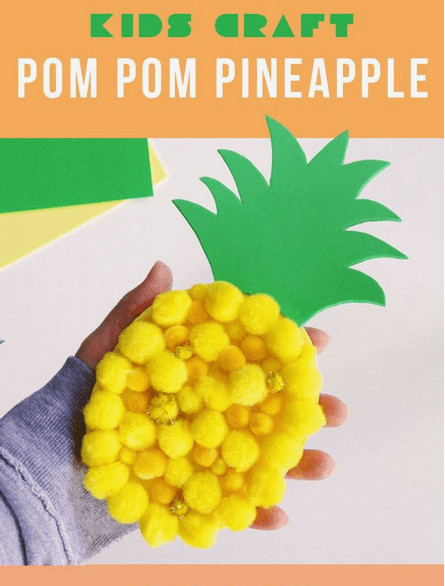 –
4.Pom Pom Apple Tree Craft
–
A simple yet beautiful craft. Check it out at www.craftsonsea.co.uk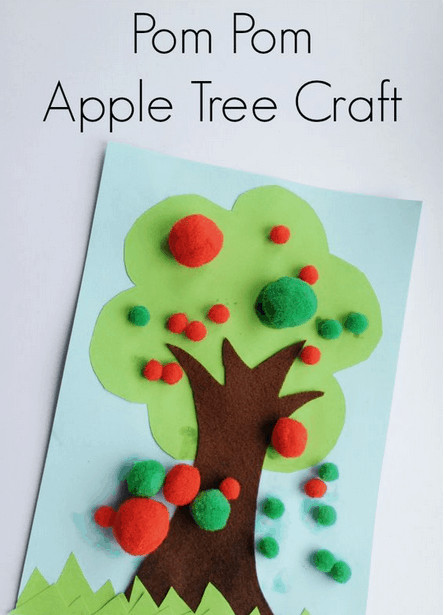 –
5.Galaxy Butterfly Pom Pom Craft
This is another beautiful pom pom arts and crafts activity that your toddler would love. See more at www.easypeasyandfun.com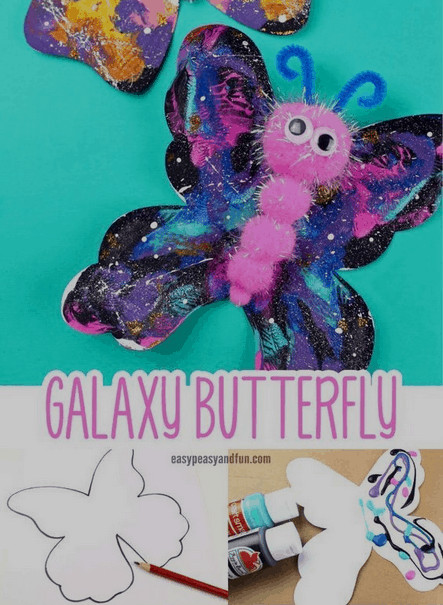 –
BONUS
This pom pom activity is great for the holidays! Start with a little glitter glue and Christmas colored pom poms from the Dollar Tree, add a little creativity, and you have the perfect holiday craft project!
–
–
BONUS #2

For all of the kids heading back to school, check out this great video of pom pom ideas for school supplies!
–
I hope you enjoyed these crafts! They have certainly brought joy to my children! Please tell me some of you ideas below. I would absolutely LOVE to see them.
–
–
–
I've been an activity mom for almost 9 years and have over 15 years of experience crafting, writing, and creating. My mission is to bring fun, balance and learning to your busy homes with activities, tips, inspiration, and organization!