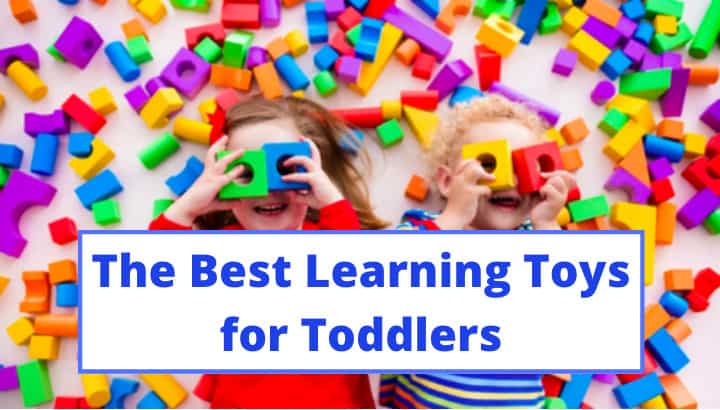 18 of the Best Learning Toys For Toddlers in 2022
---
I'm excited to talk about my top list for This is for moms, dads, grandparents, aunties, and all of the other many wonderful caregivers in our children's lives! I'm Kayla. Welcome to my website! I'm so glad you are here.
If you are in the market to buy the best learning toys for toddlers but you want them to be a value-add, and you're looking for some recommendations you have landed on the right page.
–
My children play with some of these toys and I honestly think watching kids have fun with exciting and educational toys is one of life's small pleasures. (as long as we clean up the toys )
So I'll just say it. This list is amazing :). After completing it (I did A LOT of research before writing) I even added some toys to my own children's Christmas list , to go along with their Christmas crafts . It's just that good 🙂 Take a look and let me know what you think!
If you are looking for even more, check out my post on this Tabletop Easel and follow me on Pinterest for tons of ideas for kids!
---
At A Glance: My 5 Picks for Kids Learning Toys
---
–
3 Things To Consider When Choosing The Best Toys
So let's start here first before we get to the toys. The toy industry is a booming industry across the world. In the U.S. market alone, the size for the total toy industry is approximately $28 billion. That is just absolutely bonkers. So it's no wonder why we can often become overwhelmed with the vast options when it comes to picking toys for our children.
TV commercials often have my kids begging for toys that I know they will only use for two weeks, so sometimes I have to just take a step back, do some research, and make an effort to spend my hard earned money on toys that will actually benefit them!
If you have had these thoughts before, then here's how to make the right choice for finding perfect toys for your kids.
–
1. Check Out The Reviews
I am a believer in checking out the reviews on the internet. Believe it or not, they can be very helpful. Often times, the number of reviews can be just as valuable as the rating given by the reviews.
If I see that there are 1400 reviews on a toy, that means maybe 10,000 have probably purchased. Pair that with a 4 or 5 star rating, and you can be pretty confident in the toy. If there are more bad reviews than good ones, you'll probably want to look for a different brand or product instead.
If you want to know if buyer reviews are legitimate, check out Fakespot.
–
2. Consider The Product Features
So my son has an amazing Sesame Street phonics book that sounds out words for him. The problem is that there is no volume control! He LOVES it but it is so loud that I have hidden it on multiple occasions! I know you have been there lol.
Some products in the same genre will have very different features on them too and it's up to you to decide what makes one set of features better for your child.
–
3. Choose Toys That Do More Than Entertain
A large amount of the toys you pick for your children will be for just pure fun. But other toys will also be able to teach them valuable cognitive, emotional, adaptive, and social skills.
Things like water tables, puppets, or even toy kitchens can all provide an opportunity for your child to learn new things like social awareness, how to do communicate, new words, feelings, and even new languages.
And then there are also other toys that can help children build self awareness and self-confidence such as pretend toys or musical instruments.
If you would like more information, take a look at the video below for more tips on how to choose the best educational toys for kids.
–
–
Keep Toddlers Busy is a participant in the Amazon Services LLC Associates Program, an affiliate advertising program. As an Amazon Associate, I earn from qualifying purchases. Read more about these links in my disclosure policy.
---
After taking a look at the table, scroll down to get more details!
---
–
Kids Educational Toys : 0 – 2 Years
–
This awesome little toy is the best of both worlds. Not only is it soft and cuddly like a teddy better so your little ones can give it a good squeeze, but it is also a great way to give your young child an introduction to a lot of the concepts that will be learned in school! This toy is not new but it's still a top favorite among many
I know that my kids can get bored of toys fairly quickly and then only play with it once in a while. The 75+ songs, sounds, tunes & phrases ensures that your kiddo will not only enjoy this toy, but be able to grow and learn with it as well.
The puppy's hands, feet, ears, and light-up heart respond to a toddler's touch, teaching them about body parts and providing sensory stimulation in a fun way. (There 5 activations in all!)
With this Learn Smart Puppy, you can have your little one well on the way to speaking and identifying words as this cute bear introduces 100 first words, parts of the body, shapes, counting, the alphabet and more!
The 3 Smart Stages learning levels grows along with your child as well. Press & hold Puppy's light-up heart to hear all his songs!
A Reviewer Said: "My one year old grandson sometimes gets restless on his car rides to and from daycare every day, about 1/2 hour each way. I bought him this musical pup for Christmas to keep him company on his car rides. He loves it! His parents named the pup "Otto" ("Auto"). "
–
–
Now this is a toy that I just think every baby and toddler should experience. With so many fancy gadgets and learning toys out there, many of which I love, some toys just stick out. Leapfrog toys have been a crowd pleaser for generations and my daughter really enjoys it!
Six double-sided, interactive pages feature animals from 12 categories such as the forest, the ocean and the shore.
Explore three play modes that teach about animal names, animal sounds and fun facts.
This fully bilingual book lets kids learn about animals and sing songs in English and Spanish Fun facts about animals provide an early introduction to science concepts.
"The 100 Animals Book inspires young readers to learn animal names and fun facts in both English and Spanish. Animal classifications help your child make connections about similarities and differences among the animals. The 100 Animals Book is a great way to learn about the world of animals." Tiffany Sakaguchi
–
–
Take two! Same toy but different book! I actually have both for my daughter. If you get a chance to experience this cute toy, then you will meet learning friends Turtle, Tiger and Monkey! They will introduce more than 100 age-appropriate words chosen by learning experts, ensuring that your child is learning words that are significant to develop and having fun at the same time.

The word categories for this toy include: pets, animals, food, mealtime, colors, activities, opposites, outside, vehicles, clothes, body parts, fruit and more.

As your child taps on the words on the pages, they will not only hear words, but they will hear exciting sound effects and even fun facts if you can believe it. Your kiddos can hear the learning songs by pressing the light-up star button.

One of the things that really impressed me about this product is that the words, songs, and even the instructions come in both English and Spanish! Imagine being able to introduce your child to these academic concepts as well as other languages 🙂 This one is on my Christmas list 🙂
–
–
I made a decision when I decided to do this post that I wasn't going to do only electronic learning toys. Those toys are great, don't get me wrong, but so much can be learned from the toys that we grew up with when I was a young kid. This classic activity cube has tons of learning potential and will keep your child entertained so that you can get some other things done!
This toy has bright and colorful artwork on every panel so that colors can become second nature for your little one.

There are 21 beads for pushing and pulling along the lines as well as winding tracks, turning gears, and spinning pieces that can be used for practicing the alphabet and counting. Don't forget the benefit of hand-eye coordination.
What I love is the classic Abacus included for counting as well!
A Reviewer Said: "After much research, I ordered and received this product today. I am pleased. My boys love playing with it together. Probably the only toy I've brought where they actually play together. Two parts and four screws later, it was assembled. Literally took me less than 5 mins. That alone made me happy, and my husband happier."
–
–
Toddlers are learning so much in these early years, and that includes a lot more than abc's and 123's. Work on motors skills with the cute learning turtle!
Your child will hold the wooden toy hammer to strike the colorful non-removable wood pegs, and as the pegs go up and down, turtles head, tail and legs will pop up.
The wooden toy hammer is specially designed for little hands and suitable for an easy grip, which is ideal for toddler preschool early training.
It helps with hand-eye coordination, improves dexterity.

–
I love this musical book! I have seen numerous studies over the years that show the proven benefit of music and instruments to positive development of children. It's amazing the affect that these musical notes can have on the brain. So I made sure to include a toy that involves playing music!
The inside of this toy is interactive with buttons that slide to make sounds or play music. The 5 buttons on the right side with pictures of musical instruments on it can be used as a mini piano when the book is closed. So not only are you getting nursery rhymes, but getting a little color instrument as well.

Learning and music modes introduce age-appropriate vocabulary, music and instrument sounds,
and five colorful piano buttons play music and introduce instruments and colors.

My children love music and this would quickly become one of my daughter's favorite toys. You can't beat encouraging reading readiness and brain growth through rhymes and music.
–
–
This highly bought and reviewed`toy has been a staple in my household for about four years now! Even when the children outgrow the concepts and move on from just the alphabet, they still use this little chair to sit on or use it for their toys to sit on lol. The chair could stand to be slightly bigger, but I think it's a great addition to anyone's household.
This toy has 50+ sing along songs, tunes and phrases to keep any child play for as long at that child plays with a single toy. Let's be real, no toy will last the two hours I see advertised literally ALL the time.

It also includes Smart Stages technology where the learning content changes as baby grows.
The three levels of play offer fresh songs, phrases and sounds for your little one's age and particular stage.
My son spent a good amount of time enjoying the first two stages before he moved on to the final stage. But just over 1 years old seems to be the age that works the best initially.
When you first activate the toy, you
enter baby's age for automatic Smart Stages level changes 🙂
Reviewer Said: "I bought this cute singing and learning chair for an 18 month old girl that I babysit. She plays with it all the time! She loves opening the seat and hiding her toys in it. She also loves to sit in it when she's eating her snacks or watching her favorite show Daniel Tiger's Neighborhood."
---
–
Kids Educational Toys : 2 – 4 Years
–
–
So this toy was not a part of the original list because I was unaware of it quite frankly. But just recently both of my children had the pleasure of giving this toy a try and I must say we all absolutely loved it! Melissa and Doug is a popular brand of toys known for their great wood construction and simple concepts that allow kids to use toys in multiple ways. Check out my post on this Tabletop Easel.
The process of switching between the chalkboard and dry erase board is easy enough for a four year old and the addition of a paper roll is great for me. My four year old spent nearly an hour and a half on this! (literally unheard of lol)
The age limit says 3-8, but my two year old had a great time with it as well. Although she didn't stick around as long as her brother did. Check out the great
This tabletop easel includes a dry-erase board and chalkboard, a built-in wooden paper roll holder, a 50-foot-long paper roll, one dry-erase marker, 5 pieces of colored chalk, an eraser, and 36 letter and number magnets.
The sturdy and durable dry-erase board/chalkboard is made from high-quality wood that folds flat for easy storage. The 42-piece set stimulates the imagination and inspires hours of hands-on, screen-free play.
Melissa and Doug toys are called the "Gold Standard" toy by NBC News and they offer a 100% HAPPINESS GUARANTEE. If your child is not inspired, you just give them a call with the number on the product and they make it right 🙂
–
"If you're in the market for an activity desk that can really teach a multitude of concepts, this is one that you should consider. The reason I say this is because this product is multi use and had the potential to grow with your child :). Plus, it won't cost an arm and a leg.
The Touch and learn activity desk deluxe is an interactive desk and includes five activity pages to explore that are filled with engaging content that your child can learn from in a fun way.
Extend the fun with expansion packs (each sold separately) that include a wide curriculum; I personally would get the separate expansion packs to get your money's worth.
LED display illustrates letter and number stroke order and how to draw basic shapes.
It transforms from a desk into an easel and chalkboard with storage space for art supplies to encourage play and discovery. This of course is great to reduce the chances that your child become bored with the same activity. This toy ultimately promotes education, but also creativity as well with the chalk board and drawing clip.
The stool is included and pretty sturdy, just keep an eye on pulling the table down during transition.
For more ways to play, your tot can pretend to make a call on the toy telephone or listen to fun tunes on the music player. A progress button reports on child's progress too.
What you are getting:
Interactive desk that includes five activity pages to explore
Expansion packs that include a wide curriculum
Transforms from a desk into an easel and chalkboard
As you can see there's a lot to love here. In fact, there's thousands of reviews on Amazon about this product and most are overwhelmingly positive. If you want to see what other customers are saying about this product, click the link to the right!
–
—
So Peppa Pig is a show on Nick Jr. that I attempted to ignore for a long time. I'm not joking. The cartoon is about a family of pigs that stort when they talk, and their shenanigans. Oh and they all have British accents ha! Well guess what, my daughter is hooked and A WHOLE LOT of other kids are too. My daughter now has Peppa pajamas 🙂
So you can imagine that this toy is pretty popular and honestly a cute toy, as well as a Best Seller at Walmart. If your child is a fan of the show, it's a great way to practice the alphabet and reading.
You can listen to Peppa Pig read stories about her day with her family and friends and hear phrases in the characters' real voices Toddlers can read along with Peppa all by themselves with this easy-to-use interactive book.
Practice and learn the letters of the alphabet and new vocabulary words with Peppa Pig. This 14-page book has four learning modes: letters, music, story and search-and-find the objects on the page.
–
–
Another Classic toy Alert 🙂 Spark imagination when your little one explores endless construction possibilities with this amazing set of 150 brightly colored building blocks. Younger kids prefer these larger blocks because they fit together more easily and allow toddlers and preschoolers to be creative and imaginative. Kids can start building with these by the time they're a year old and keep play with them for years.
This set includes 150 classic colored blocks, including new shapes and is perfect for small hands. It also comes with a reusable duffel bag for easy storage.
Your little ones can use the classic colored blocks to build tall towers, crazy castles, funny creatures, or whatever else your child can dream up
When playtime's over, cleanup is easy!
–
So my son still loves dinosaur. It is an absolute love affair and I dare not interrupt the creativity and confidence he shows while playing with his dinosaur toys! It's so classic and simple, and I had to include this on my list. .
The Mix and Match-a-Saurus helps kids role-play with 27 possible tile combinations of emotions, music and characters.
Three emotion tiles help children identify and understand their feelings: happy, angry or sleepy Three music tiles provide sounds and motion options for the dinosaur toy: hip hop, marching or ballet.
Three character tiles let preschoolers to choose a character: dinosaur, robot or monster
–
So I believe they say, "Kinetic Sand is 98% sand & 2% magic!". You can literally pull it, shape it, and mold it to create incredible sand art. The great thing about it is that it sticks to itself and not to kids so it can be easily cleaned up and stored! This really puts me in the same frame of mind as the Play-Doh. It is incredibly important to foster creativity and the freedom to explore and make things as a young child.
This sand oozes, moves, and melts right before your eyes. It flows through fingers like real sand & leaves them completely dry. When pressed together it sticks to itself & keeps its shape.
A Reviewer Said: "DOES NOT LOSE MOISTURE! Do you have any idea how nice it is not to care if the container was left open all night?! If only Play-Doh could do the same…but I digress. – If it gets wet, all you have to do is allow it to dry and it will be good as new. Just don't get it on anything while it's wet!"
Sensory play is very important for all ages and it deserves to be a part of our children's lives. So if fine motor skills, bilateral coordination skills (using both hands together to mold, and visual motor skills such as eye-hand coordination is an interest for your family, definitely give this toy a try!
–
–
Getting started early with a writing skills toy such as this is such a great way to get ahead of the curve. Most toys do not focus on this skill directly, but preschools sure seem to focus on it. Expectations of mastered skills seems to be much higher for Kindergarten than they use to be. I will never forget the nice conversation I had about my son's habit of writing a capital E in his name at four years old lol. (She was a great teacher, though :)) So toys like this one can be an important part of our children's development.
This magnetic drawing board provides a fun way to get a head start on learning how to write.
This toy has animated demonstrations that allow children to follow along and learn proper stroke order for uppercase and lowercase letters! Say What?
In addition, the doodler allows toddlers to customize the creative center with their name to teach them how to learn to write their name step-by-step.
EDIT TO ADD *** I will say there have been some reviews about the length of the string. So if any one of your little ones are lefties, this may not be the best writing tool!***
–
–
You can't go wrong with this 100 piece magnetic tiles set! This fun and creative building set is designed with non-toxic ABS plastic and 100 multicolored, vivid pieces with magnetic connections for safe fun.
This set includes a car base and 7 different shapes to create towers, cars, pyramids, shapes and many more! This will encourage imagination, creativity, and the perfect toy for STEM.
I imagine that problem solving skills and motor skills is one of the many benefits of this toy as well.
I believe that this toy can be good for hand and-eye coordination, problem solving, sensory issues and motor planning!
A Reviewer Said: " It has the rivets that reviewers of similar products prefer, I think it makes them more durable. My kiddos have thrown them, stepped on them, dropped them on tile floors, not a one has been broken yet."
"I did a lot of research before purchasing these for my 2 year old grandson for Christmas. They more than meet my expectations. I HIGHLY recommend them to anyone for all ages".
–
–
I thought I would throw in some books on this toy list just out of principle 🙂
My kids have loved the wildly popular Paw Patrol for about a year and a half now and they don't appear to be letting up. They own all of the non-education toys, hehe, was I was delighted when I saw this educational set included their favorite characters.
If your child loves Paw Patrol then this is worth taking a look at to see if it's something the kids would enjoy.
This Step into Reading boxed set includes twelve full-color phonics readers, of course featuring the pups of Nickelodeon's PAW Patrol!
Each book features a specific phonics concept that will give boys and girls ages 3 to 7 the tools they need to begin reading on their own or improve their reading.
These MINI books are great for little hands and perfect to carry along on outings.
Bonus Sensory Busy Board!
This is the ultimate busy board! I love it and had to include it! (this one is big). Find it here!
–
---
–
–
Age Guide: How Toddlers Play
–
1-2 Years
According to psychologist Robin Goodman, Ph.D., director of NYU Child Study Center's Website, found here, "Your baby is fascinated by cause and effect at this age and will enjoy any toy that responds to his actions and makes use of newly acquired motor skills".
So an example of this would be that our toddlers love fun toys that allow him to hit a ball with a bat as well as toys with buttons that cause music to play or characters to pop up. I remember those cute button popup toys 🙂
In my research, I have found that many of the more high-tech toys for this age will teach academic principles as well that can give an early start to confidence that can last a lifetime. But we have to be careful to limit time with toys that have super interactive screens.
–
2-3 Years
At this age our children's play is now more purposeful, and they now have the fine motor skills needed to complete a puzzle or build with blocks on their own. They will start to enjoy pretend play that imitates the actions of people around her.
They'll also like high-tech toys that make real-life sounds, such as telephones that ring or dolls that talk. You can also introduce a ride-on toy at this age!
4-5 Years
There's a tremendous explosion in learning ability at this age, and it's a good time to introduce interactive educational toys that teach math and verbal skills, such as phonics boards or mini computers.
"Choose toys that say positive things like 'Good job. Let's try again' instead of ones that make negative beeping noises whenever kids get an answer wrong," suggests Marianne Szymanski, president of www.toytips.com. Kids are now able to imagine that they're someone else and may fantasize about being airplane pilots, police officers, doctors, or teachers.
Find Educational crafts and Tips on Inspiring the Love of Learning Here.
–
---
–
Now Its Time To Clean Up! Check Out These Tips!
–
1. Try Not to Give In!
This is my number one tip! So be as consistent as you can and hold on! Don't let that cute little face get out of cleaning up toys!
2. Clean Up At A Convenient Time
3. Have Organizational Tools
It also helps to have specific places for him/her to put toys so that there can be one less thing for your tot to worry about. It also makes it easier to put things away and take them out as well. I use the Trofast bins from Ikea and love it!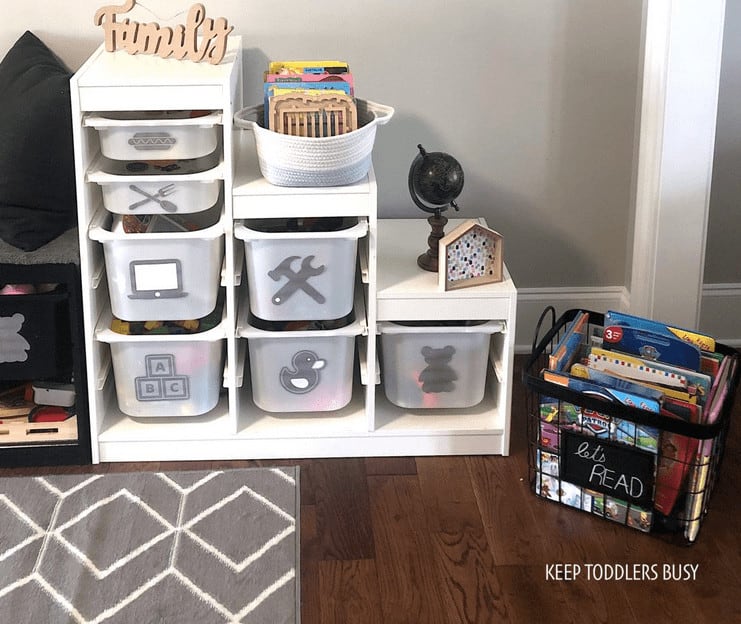 4. Consistency
5. Limit The Number Of Pieces
Too many toys to clean can be intimidating when it comes time to clean up, so you are more likely to run into resistance.
6.Clean Up By COLOR/SIZE/SHAPE/ETC.
One thing I plan to do is put numbers on his toy bins and number stickers on his toys as well. Then when we go to clean up, he can check the number and we can make it a game.
7. Know You Are Doing The Right Thing
Know that expecting your child to clean up after herself is not an unreasonably high expectation — it is perfectly in line with natural child development and actually works to fulfill their inner need for order and predictability.
–
---
Last but not least, keep in mind that no educational toy is perfect! So the aim is to get the best toy within your budget range.
Well that's it! I really hope that you enjoyed this list and make good use of it. Please let me know what you thought about the toys and let me know if you have any to add in the comment section below!
–